"Love is oration, like an elation, love speaks to us in tongues. Natural as teething, simple as breathing, air in the love-starved lungs." Andrew Lippa's take on love through the morbidly delightful lens of Gomez Addams. Everyone has their own approach to love. A.R. Gurney probably never imagined that his words of love would be used as a benefit fundraiser for the theatergoers of Baltimore to show their love of theatre and in particular their love of Spotlighters Theatre. Running a limited three-weekend engagement, with a different couple paired up each night, Love Letters as directed by Fuzz Roark will have audiences melting over, well, you guessed it— love!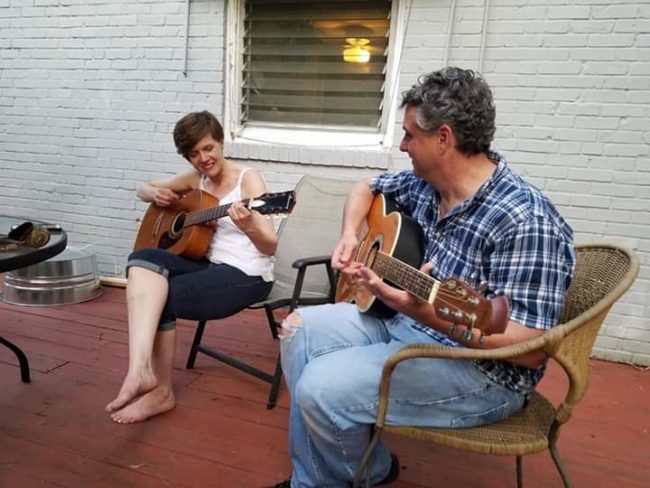 In a TheatreBloom interview series, we've asked some questions of three couples involved with the Love Letters production. And not just any couples, but actual married couples! Featuring the three married couples who are featured during the production's run, we delve into married life with three of the couples and what it's like to perform with their spouse in this production.
First up to bat, with their performance as the first in the run on Friday 8/2, is Laura and Larry Malkus.
Laura Malkus is a Baltimore native who was last seen as Chic in Vagabond Players' production of Crimes of the Heart. She is the Vice President of Fells Point Corner Theatre and is a singer/songwriter, musician, writer, producer, mom, and arts management and fundraising professional.
Larry Malkus is also a Baltimore native who holds a BFA from Brooklyn College. He was a co-founder of The Flying Tongues Comedy/Improv Group and was last seen as Oscar in the Vagabond Players' production of The Odd Couple. He is also a director, fight choreographer, teacher, dad, and playwright.
How long have you two been married?
Larry: Not long enough
Laura: We've been married 16 years this June.
Have you ever sent love letters to each other?
Larry: Yes. Love letters, love emails, and love texts. Some with pictures!
Laura: Early when we were dating, I moved to New Jersey so that I could study in an acting program in New York. I still have the letters he sent me in the mail.
What drew your interest in getting involved with the Love Letters benefit performance at Spotlighters?
Larry: I was honored that Laura wanted me as her partner on the project.
Laura: Spotlighters gave me my first opportunity to perform in 1992 and I know so many people for whom that is true. It is so vital that there is a place for that, that is open and welcoming. When Fuzz (Artistic Director of Spotlighters Theatre Fuzz Roark) asked me to help, I said yes immediately because of that. Then when Fuzz asked if I had a suggestion of whom to read with, I, of course, thought of Larry. He's so talented and we don't get very many chances to do projects together.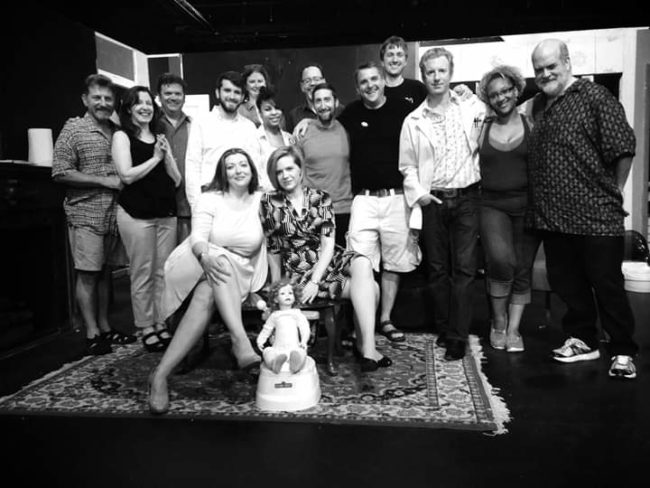 What is it like to work together on stage and is this different from other on stage experiences that you may have had together?
Larry: I'm always envious of the actors who get to work with Laura, so I'm thrilled to get the chance again.
Laura: I love working with Larry because he is so present and so solid as a stage partner— just like in life. He also makes me laugh a lot, so I have to watch out for that. I'd say it is very familiar acting with him, but it was different than working with him as a playwright, which we have also done together. He's much more of a stickler in that role.
What is the key to your successful marriage?
Larry: Unconditional love and my tremendous sex appeal.
Laura: Even when we disagree I never, ever doubt who he is as a person or what his intentions are. I think that is an enormous gift that he gives me.
Do you remember your first date? What was it? Where was it? Tell us about it!
Larry: It was dinner and a movie at my house. Footloose, spaghetti, and a salad. A culinary masterpiece.
Laura: We watched Footloose because he was directing it for a summer camp and he fed me spaghetti sauce out of a jar. I was obviously charmed.
What is your favorite thing to do together?
Larry: Travel.
Laura: We love to travel together. We have the best time thinking up and planning trips. We'll go just about anywhere.
Larry: Except camping.
Do you have a place or event or thing that is "your thing"?
Larry: Eating? Parenting? Family?
Laura: I don't think there is one thing. I think we like lots of things together, but we frequently like them in different ways We both love music and plays and movies, but often very different kinds. I think that more than anything else, our thing is being supportive of each other's things.
What does marriage mean to you?
Larry: Mawiage is what bwings us togevah today.
Laura: Marriage is making our family an equal if not greater priority than any one of us. Marriage is the fundamental agreement that we're in it together.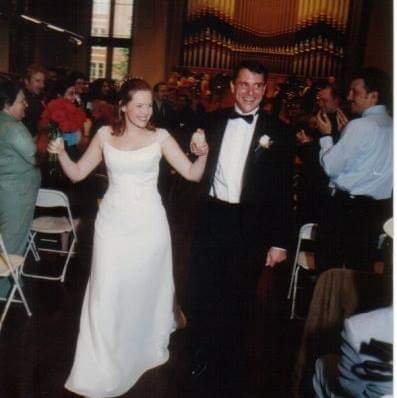 If you could plan a dream renewal of the vows ceremony, where money was no object and there were no other restrictions, where would you go, how would you do it?
Larry: The Apollo-11 Moon Landing. It would be pretty cool. One small step for man, one giant leap for Laura and Larry.
Laura: We had a big party for our 10th so I feel like we did that part. We wanted to go to Greece for our honeymoon but couldn't afford it. After our 15th wedding anniversary, Larry set up a savings account so that for our 20th wedding anniversary we will go to Greece, and we've invited our parents and will bring the kids. While it isn't a renewal of vows per se, it's a dream that we haven't realized yet. But we do have a plan!
What have you learned about yourselves and about your marriage throughout this project?
Larry: We are so grateful that Spotlighters is still around. I'm just happy to ride Laura's coattails.
Laura: I hope that we can learn that we have enough people who will come that it will be helpful to Spots! But to answer your question, we'll have to see. Ask me after.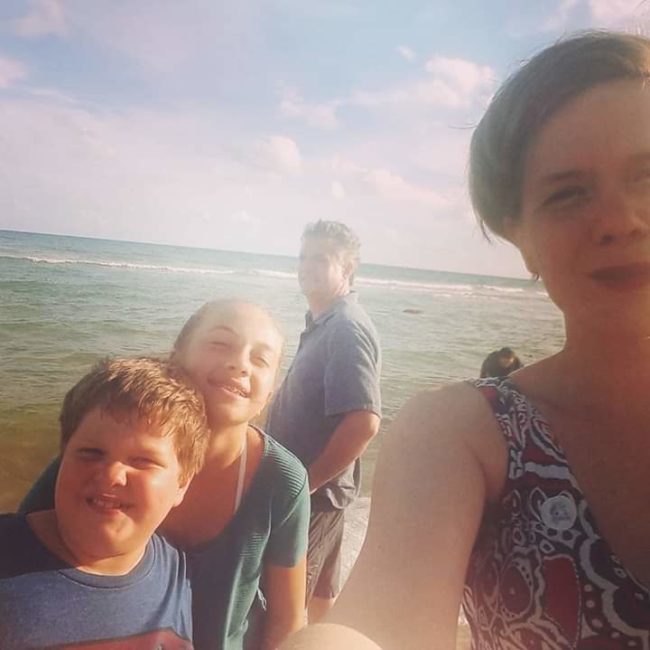 What do you hope people will take away after seeing you, or any of the other couples, in this production of Love Letters?
Larry: Gurney clearly has a deep appreciation for letter writing that I think is still possible today. So maybe the value of that form of communication.
Laura: That complicated love is maybe the most touching. That time is short and each soul is important. That small theatre can be great theatre.
Love Letters, a benefit fundraiser performance, plays through August 18, 2019 at The Audrey Herman Spotlighters Theatre— 817 St. Paul Street in the historic Mount Vernon neighborhood of Baltimore City in Maryland. For tickets call the box office at (410) 752-1225 or purchase them online.