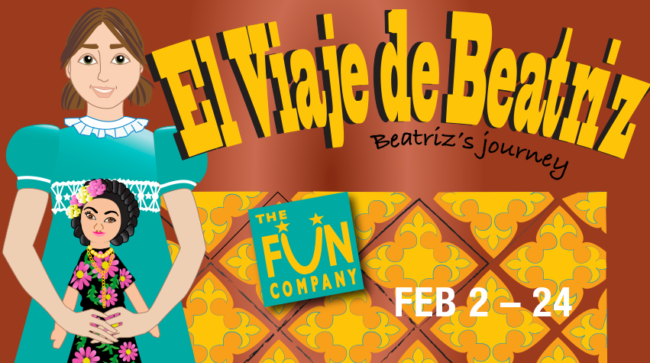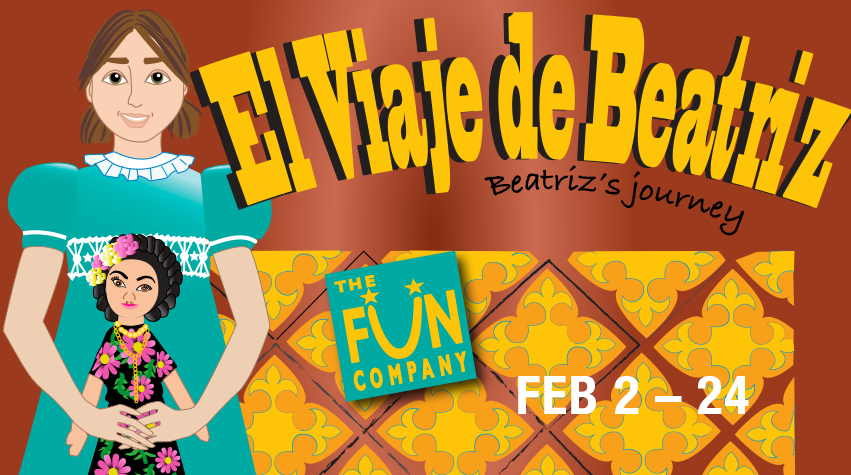 A real family helps each other when they stumble, not kick each other when they've fallen; a paraphrase of just one of the profound insights found inside Andrea Moon's El Viaje de Beatriz or Beatrice's Journey, now appearing at the MET FUN Company as a part of their 2018-2019 season. Maryland Ensemble Theatre and its familial branches— like the FUN Company— uplift this message with great consistency in their work. El Viaje de Beatriz is no exception and what's more, the production is the company's first bilingual production. Company member Daniel Valentin-Morales makes his directorial debut with the production and we've taken a moment to sit down and discuss both the play and its significance with him.
Thank you for giving us a quick minute of your time, if you'd just tell us real quick who you are and how long you've been a company member with the MET?
Daniel Valentin-Morales: I'm Daniel Valentin-Morales and I've been a MET Company member for maybe the last two years or two and a half? But years are sort of flying by through my brain and it's easy to lose track of time when you're having fun.
How long have you been working with the MET even if it wasn't as an official company member?
Daniel: My first production with the MET was their unofficial production of West Side Story. It was a community organized event. I played Tony in that production and that was right before I left for college back in 2011. I've been working with them ever since. I would come back and work with them during summer breaks; I would work with their FUN Camp. That's what I do now. And I work the FUN Company shows. I help Julie (FUN Company Artistic Director Julie Herber) with her in-school programs. I've been working with them for eight years now, which is kind of crazy when you think about how long it's been, but I love it.
Before the show, the audience heard you give the pre-show curtain speech in fluent English and Spanish. Would you tell us a little bit about your heritage and background?
Daniel: I'm a "Nuyorican." For those not in the know, that's a Puerto Rican New Yorker. I was born on Long Island in 1993, but we didn't live there for super long. We moved around a lot when I was younger for my dad's job and then we settled down here. But we would also go back to Puerto Rico a lot. That's where my family is originally from. My father was born on the island and he moved to New York in his late 20's. My mom was born in New York but she did sort of what I did when I was younger; she went back and forth a lot. So we got to experience a lot of the island and experience a lot of that culture in our house as well.
Did you learn Spanish by going back and forth to Puerto Rico when you were growing up?
Daniel: Spanish is actually my first language. I learned that first in my house, and then I learned English at school. Obviously now, my lingua franca, or the one that I'm able to use with the most ease is English because I use it every day. But I personally do make an effort to use Spanish whenever I can because it is so valuable.
What drew you to this project, El Viaje de Beatriz?
Daniel: Well I've been working with Julie Herber for a while and she's the one that sort of built this company, the FUN Company, from the bottom up. I love it. I think theatre is so educationally important. It teaches us so many different things, like cooperation, mutual aid, respect for others. It teaches us that we have to depend on and trust one another. Then for kids there's a whole educational aspect. They get to read, they get to experience themselves on stage, they gain confidence, etc. As soon as I came back from college I had started working with the FUN Comany and transitioned over to the Main Stage as well, but I also work with Julie for the in-school residency program that we've do. That's where we teach little kids theatre in the public school systems.
What really drew me into this project was Julie. She said, "Hey, I've got this bilingual play, do you want to take a look at it? I'm considering it for next year's season." And I looked at it and I thought, "Yeah, with some work, this could look good." So I told her that. I told her that she should absolutely put it in the season and she said, "Great, would you like to direct it?" And I just thought, "well, sure, why not? Let's go!" I was nervous. It was my first production outside of ones for educational purposes. I mean I was really nervous but I am really happy with the way it turned out.
Are any of the actors involved with the production also bilingual?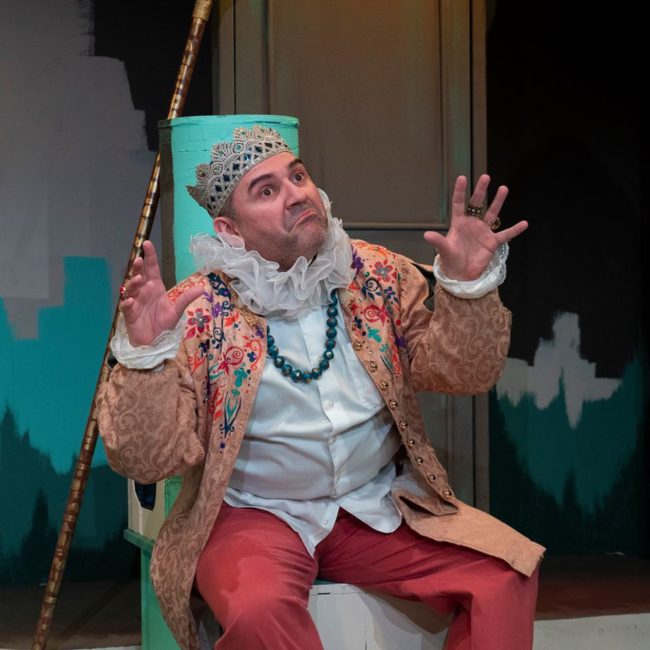 Daniel: Yes, actually, Ivan (actor Ivan Diaz, playing Tree, Paca, King) he is bilingual. I believe he's from Venezuela. But he and his family moved here about five years ago. He's got two little ones. He does speak both English and Spanish but he is more comfortable speaking Spanish. He's awesome. He's new to us and new to the company and I am so happy that we brought him on for the project. I love his performance style and I love his liveliness on stage; he's very good.
What does it mean to you to be able to bring the first bilingual production to the MET FUN Company stage?
Daniel: Honestly? I don't think of it that way. It's another project that I get to work on. But when you put it that way, I feel really honored, honestly, that Julie would trust me with this project, that she would outright ask me about directing it, that she thought of me initially because it is bilingual. I'm proud to be able to represent my culture in the theatre. Especially right now, Puerto Rico is going through some tough times and it is due to our government. I'm not going to bandy words around. It's our fault. We need to own up to that. I think it's important that my people and everyone else— folks who are being held at the border, folks who are being rejected from this country because of their background— that they know that in the community where they live that maybe the justice system or the government isn't for them but the arts will always be here for them. This will be a place for them to come express themselves. This will be a place for them to learn about themselves and to see themselves adequately represented on the stage. That's what I want. That's what I view in theatre and arts.
What was the biggest challenge you had taking on this project?
Daniel: Oh! The biggest challenge was just not knowing some of the stresses that come with being the director of a show. There were certain times where things were just a little unexpectedly crazy. Our rehearsal schedule was out a little late, because of me, but those are lessons that you learn. I would say the hardest bit was actually just that scheduling. Everything else was great because I had a great team.
Stephanie Hyder's costumes— she does a whole bunch of our stuff— are awesome and I just trust her wholeheartedly. Our Set Designer, Matt Vance, does great work, I was really excited for what he put up; it looks great. I had included some younger folks on the team and it was just great. Our Properties Designer, Emily Loecken, she's a high-schooler still, she's one of our apprentices, and she's awesome, she does great work. I really had the support of a team. So my job was made really easy because I just got to have fun. I got to direct the actors and then I just got to give my vision to these folks. And they just looked in my brain basically. What you see in there on the stage is what I was hoping far in regards to how it looks, with the lighting design (Doug Grove), the sound design (Laruen Johnson), etc. This show is obviously not a one-man job. I had immense support, especially from my stage manager. PLEASE give her a shout-out— Rachel Smith!! She's kept me on track, she's kept all of us on track, she's been an awesome resource to have for this production.
It sounds like the MET core values of really being an ensemble company that works together to produce great theatre has come shining through here.
Daniel: It really has. We have the trust. It's integral, you have to trust. You have to be able to say, "this thing isn't my specific expertise," and know that you can trust that that person is going to take your ideas and translate them effectively. And we have a team that does that very well here.
What are you hoping that kids who come to see El Viaje de Beatriz are going to take away from this experience?
Daniel: Specifically, children from Latin-X backgrounds will be able to see themselves on stage and see that someone like them is on stage. They can just enjoy it and be kids. But maybe later on in the future they don't remove themselves from their culture or their language because they're trying to access theatre that's only in English. But they know that there is a potential for theatre to be bilingual or completely Spanish in their own communities. Hopefully, that will empower them to participate in the arts in both the future and here in the present.
What's your favorite part of the show?
Daniel: Ugh! It's so hard! I think my favorite part…oh, well…I guess my favorite part of the show would have to be the tree scene. I know it's just a couple of seconds, it's not really very long, but for me it's one of my favorite scenes because it's so mystical. They move slowly, it's a little creepy, and it reminded me a little of when Snow White goes into the woods after she's run away. That's what I had in mind when I blocked that scene. When all of the elements came together for that scene I was pleased. This is the mystical nature of it— you've just entered into dreamland. I know as small as it is, that moment, it really is one of my favorites. But I guess to choose one of the others, The King & Queen scene always gets me. The slapstick comedy of it all is great. And I love Lia (actor Lia Seltzer playing Queen) and Ivan together because they've got such expressive faces and physicality that it really just makes that scene work.
What has taking on this experience taught you about yourself in any capacity? As a director? As a member of the arts community? As someone of Latin-X origin? As a human being?
Daniel: I would have to say that it has taught me patience. Patience is the ultimate virtue when it comes to this kind of work. You just have to learn to be patient and willing to roll with those punches. That is probably the biggest thing I have learned out of all of this. With people's scheduling, or maybe a costume piece the way I had wanted it didn't work, or they didn't have something ready the day we needed it, etc. Those little things happen and those are hiccups, but you have to learn to take a deep breath and just say, "it'll be fine, we'll move on, and it'll work." Patience was definitely the biggest lesson for me here. As an actor too, seeing it from the other side, I'm so used to being backstage or on stage or in the dressing room. So from this side, for me it was like "Wow. The workings outside of what the actor does— it takes a lot." And it just takes patience. Patience, patience, patience.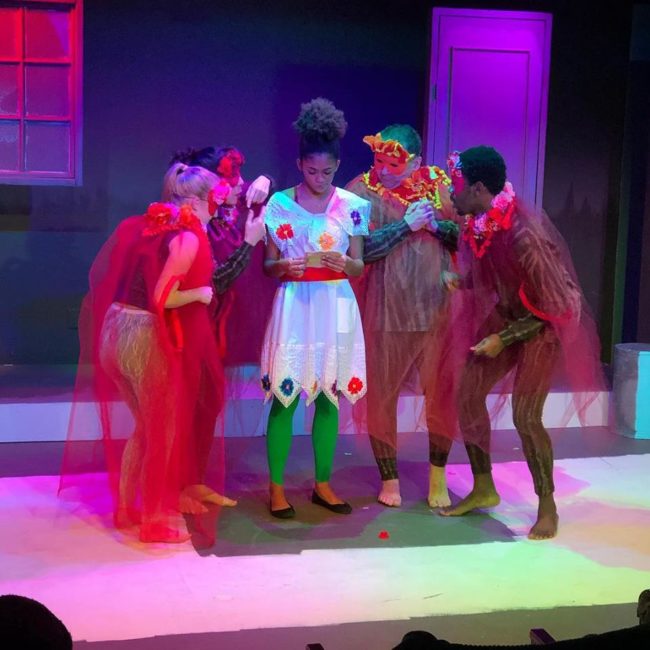 Why do you want people to come and see El Viaje de Beatriz?
Daniel: Why do I want them to come see it? Because it's fun! Because it's a great story and I think it introduces the topic of loss for young kids, which is really tough. It's hard to get kids to understand that when someone dies that they're gone. I feel like this play does a good job of addressing what you're going to feel. It shows you the anger that you might feel towards it but then it gives you the coping mechanisms. It also does not give you false hope that in some fake dream world you'll be able to bring your grandma back. No, she's gone, and this play puts that out there. But it also puts it out there that the love that your grandma felt for you will always be with you. Or those that you lose will always be with you in that love that they shared with you. I'm really hoping kids come and that they have a good time, that they enjoy the show, all the lights, the colors, the costumes. But maybe when they get older, as they start to lose folks— like maybe their grandparents— that they can look back on this show and say "well, I'm angry now but maybe I should talk to somebody." Maybe they learn those things and have them in the backs of their mind for when they get older.
El Viaje de Beatriz plays through February 24, 2019 at The Maryland Ensemble Theatre's Fun Company in their Stage2 Performance Space in the Historic FSK Hotel building— 31 W. Patrick street in downtown historic Frederick, MD. For tickets call the box office at (301) 694-4744 or purchase them online.
To read the TheatreBloom review of El Viaje de Beatriz, click here.