It's time to make a joyful noise and "Raise Your Voice" for Scottfield Theatre Company and their latest production: Sister Act the Musical! Based on the film of the same name starring Whoopi Goldberg, this disco fairytale follows the misadventures of Deloris Van Cartier, a nightclub singer forced into the Sisterhood after witnessing a crime! Directed by Allan Herlinger with Musical Direction by Niki Tart and Choreography by Becky Titelman, this family-friendly production is sure to bring a smile to your face, get you in the groove, and give you a case of the "Sunday Morning Fever"!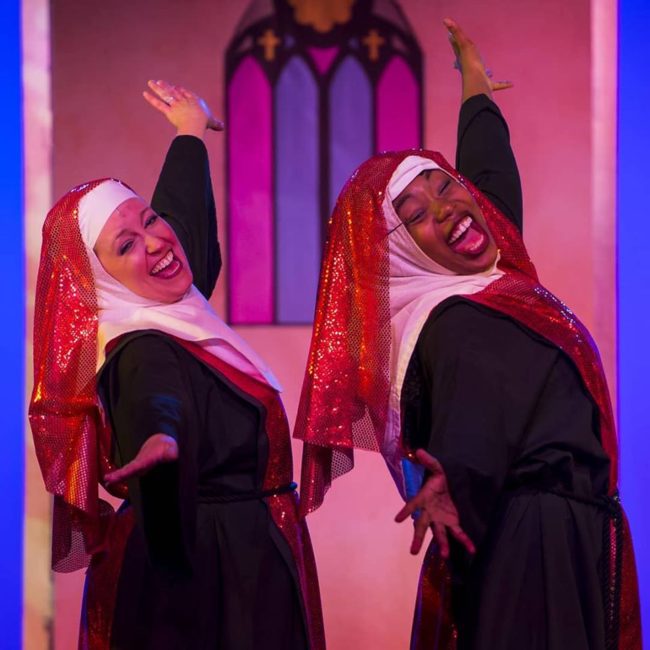 I must begin by saying that Scottfield Theatre Company should be applauded for the great amount of love and energy that clearly went into this production. There were many fans present on Opening Night cheering the cast and production team along, and it was evident that, though this show faced a couple technical snafus, the audience had a great time and left the theatre feeling satisfied—the mark of a strong community theatre. When presenting a show as technically challenging as this, a company must be sure it has the resources to keep up in all areas of production. While this presentation of Sister Act finds some successful technical footing, most notably in the areas of choreography, costume design, & lighting design, there are also a couple undeniable technical missteps.
To start, the overall sound design of this production was disappointing. It did not work to serve the actors and many times became a hindrance to the story being presented. While pre-recorded tracks are, in my opinion, a great choice for smaller companies, the volume of the music was so underwhelmingly low at times that performance energy was unfortunately affected. Because of the music's volume issue, the balance of the microphones then had to be adjusted down creating a sound vacuum, making it frequently difficult to understand dialogue and lyrics. Hopefully, as this was the first night of the show, some of that was addressed and will not continue to be an issue going forward.
Secondly, the set for this show, even with the best of intentions in mind, looked a bit inconsistent and unfinished. I understand the idea behind it: using columns with different facing on each side to account for the numerous locales throughout the show, in coordination with a few smaller set pieces, to create easy transitions from one place to another. Execution, though, didn't quite seem to go as planned and the backgrounds lacked any sort of character or dimension. Luckily it did not detract at all from the individual performances or dances onstage, which were indeed the bright spots of the show.
With those problem areas addressed and out of the way, I must move to commend what parts really shine and successfully bring the spirit of Sister Act to Scottfield's stage. Choreography by Becky Titelman is the amazing-saving-grace of this production; the dances are superbly crafted and very well-coordinated. The many tight formations that are presented, mainly during the nuns' large group numbers, are pristinely performed and transition smoothly from one to the next, creating beautiful stage pictures and a strong sense of ensemble movement. Titelman captures the rousing spirit of the disco age with her fun and bouncy routines and clearly understands the space in which she's working. Bar one very brief and unnecessary section of tap dancing in "Sunday Morning Fever," the choreography was hands down my favorite element of this production and gave this ensemble the shining moments they all deserved. Bravo!
Costumes for Sister Act are deceptively expansive and designer Elizabeth Marion carries the challenge off swimmingly (while also filling a spot as a large supporting role in the show, no less)! Creating just the right balance of sparkly spectacle and Seventies shtick, the garments are a bright and welcome delight and fit the cast well. Of particular note are the dazzling scapulars the sisters wear during their big numbers as well as the beautiful robes worn by Monsignor during the Mass scenes. And speaking of sparkle and shine, lighting design by William A. Price III also serves the show quite successfully and transitions the action appropriately throughout, indicating various locale and mood shifts with ease. Some of the washes used, especially in the Finale, offer exciting bursts of color and help to elevate the spirit when it's most needed! Thank Heaven!
In terms of performances, this cast is full to the brim with naturally gifted individuals who do the very best they can with the tools they are given. There are a great many standout moments from this entire ensemble of actors that impress and delight throughout the course of this show. Right from the start, Breonna Lewis and Cheyenne Harris live it up as Deloris' sassy backup singers Michelle and Tina respectively. These actresses are both memorable dancers and draw the audience's attention with their infectious energy moving from one character to the next as the show progresses. Speaking of moving from one character to the next, Charlie Musante must be commended for wearing quite a few hats, playing at least five different roles in the show (oftentimes back-to-back) with seamless ease and a great deal of comic intelligence. And I'd be remiss not to mention Sam Ranocchia as Monsignor O'Hara. He has a way of stealing the spotlight, especially in his hilarious moments addressing the congregation and finds a good deal of humor in his character. Great work!
As Curtis' henchmen, Chuck Hamrick as TJ, Eric Bray as Joey, and Terry D'Onofrio as Pablo portray a fun and silly trio of goons straight out of a comic book. It is both in their interactions with Curtis—played with a dry & sinister spin by Chris Barsam—and in their trio number "Lady in the Long Black Dress" that they get to display their well-developed character work and comic energies to the greatest effect, slaying the audience in the process. And rounding out the male side of the show, Falan Laguerre in the role of "Sweaty Eddie" Souther is a vocal standout. Crooning with a sultry John Legend-esque vibe, he really pops in his song "I Could Be That Guy" with smooth finesse. While I occasionally craved sharper annunciation from his dialogue, especially considering the sound issues, I was quite impressed to learn that this was only his second show ever! Amazing work and hope to see and hear more of him in the future.
And what would Sister Act be without our convent-dwelling women of the cloth? These nuns sure know how to get down! Notable performances abounding, there were definitely a few standouts from within the cloister. Mary Kramer as the hip-hoppin', bee-boppin' Sister Mary Lazarus shows us that even a nun can lay down a sick rhyme or two and entertain with a biting and wildly sarcastic brand of humor. She kills in her sections of "Take Me To Heaven (Reprise)" & "Sunday Morning Fever" and leaves the audience craving more. Another notable nun is Elizabeth Marion, who plays Sister Mary Patrick with infectious joy and a childlike naiveté that makes her funny moments pop with vibrancy and zip. Her facial expressions alone are enough to make you burst out laughing and she does a fabulous job balancing the comedic and the meaningful. And taking her turn as the sweet lost lamb Sister Mary Robert, Sophia Williams plays the role perfectly, exploring the characters journey from silent bystander to seeker of life and purveyor of courage. While some of the music seems to challenge her, Williams does not shy away from pushing it to the limit, creating an experience of honesty and catharsis for the character which is simply put, a joy to watch.
Every convent needs a Mother Superior, and these ladies find theirs in Anne Acerno. From the second the lights hit her, Acerno fully embodies the sweet-but-stern leader of this group. She owns the stage, capturing and embracing the dry wit of the character while showing honest investment in the more serious moments. Her journey through the show is the most rewarding to watch as you see the growth of a person resistant to change to someone who accepts the path God lays for them with an open heart and mind. It is her rapport and banter with Deloris (Tara Nicole Vinson) that gives the show its heart and carries the audience through to a happy ending.
And, speak of the devil, Tara Nicole Vinson as the disco diva Deloris is a sheer delight to behold! A brilliant actress, Vinson embraces every bit of boisterousness required for this iconic role, while still practicing a surprising and refreshing amount of reflectiveness and internalization as the show proceeds. I felt like she started off a bit vocally-tentative but had fully blossomed by Act Two, letting us have it in her larger-than-life numbers "Take Me to Heaven (Reprise)" and "Fabulous Baby (reprise)" and making her way softly and beautifully through her heartfelt "Sister Act." Her interactions onstage, particularly with Laguerre and Acerno, are full of honesty and life and ultimately make this show one worth seeing.
So throw on your best Sunday vestments and head on over to Scottfield Theatre Company to take in their fun and heartfelt production of Sister Act!
Running Time: Approximately 2 hours and 30 minutes with one intermission
Sister Act plays through April 14, 2019 at Scottfield Theatre Company as guests of The Historic Havre de Grace Opera House— 121 N. Union Street in historic downtown Havre de Grace, MD. For tickets call the box office at 667-225-8433 or purchase them online.