Hey, mamma, welcome to the 60's! Whoa-oh-ooooh— go, mamma! Go, go go! Wait— no. That's a different musical. But such is par for the course these last few months at The Audrey Herman Spotlighters Theatre where stumbling blocks like pulled rights have failed to thwart the creative and artistic efforts of staunch thespians in Baltimore's Mount Vernon neighborhood. Despite being three weeks into rehearsal for Smokey Joe's Café (and having the rights pulled due to a potential national tour) the cast and crew at Spotlighters was able to switch gears and turn out a pretty impressive production of Beehive…the 60's Musical. Directed and Choreographed by Quae Simpson with Musical Direction by LeVar Betts, this nostalgic stroll to a time of change will have everyone singing and dancing and grooving along to the iconic tunes of women of the 1960's. Bring your dancing shoes as Spotlighters intimate staging allows the cast to jump right into your lap and invite you up into the spotlight for a twist or the mashed potato!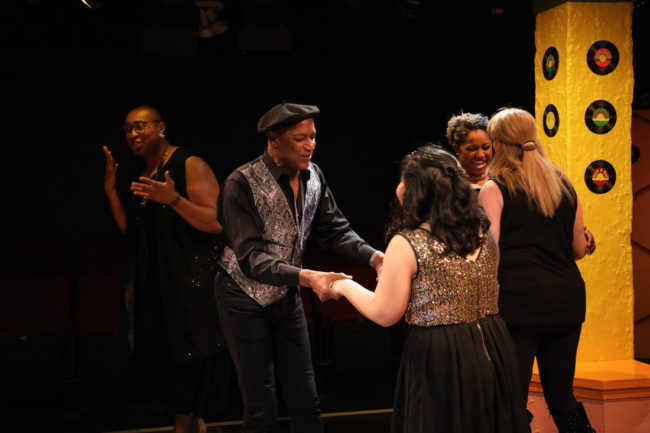 Aesthetically the show looks unbalanced; Resident Set Designer Alan Zemla has become a rainbow burglar and stolen all the colors from everywhere and kept them all for his set design and psychedelic floor painting. This puts the cast in various states of modern dress blacks (a point that was explained post-performance that had largely to do with the sudden shift in shows and not a lack of wanting to outfit the cast in glamourous 1960's regalia.) But with Zemla's intensely saturated colorful set, it seems difficult to imagine the performers in anything but black as their outfits would have clashed wildly in the intimate space. The show's swift pace also makes imagining elaborate costume changes something of a conundrum and the dress blacks don't detract from the powerhouse vocals of the singers. Lighting Designer Tyrell Stanley steps up the illumination game by adding large splashes of groovy dance lighting all throughout the performance, augmenting the vibrant floor, columns, and wall painting that Zemla has set forth for the show.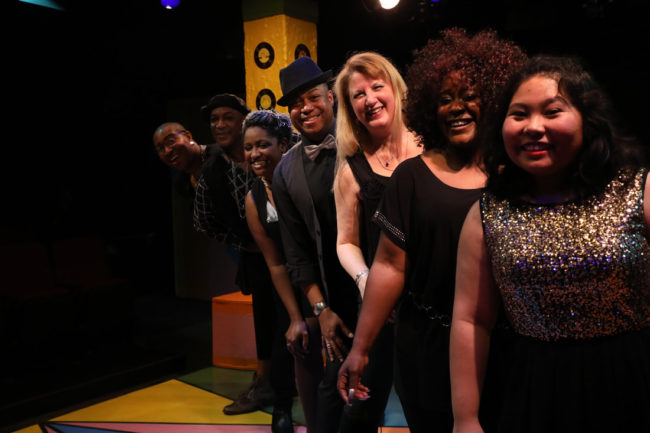 The show's only real detracting issue was pit balance. A live pit for "theatre-in-the-postage-stamp" can be problematic and at times gets the better of the pit conductor— who for this show is Musical Director LeVar Betts. While the pit sounds pumped and keeps a good pace for the snappy delivery of up-tempo numbers, large sections of the first act are overplayed in volume, often drowning out solo performers, which is astonishing considering how powerful some of these individuals are when it comes to songs of their passion. Betts seems to mostly correct this issue in the second half of the performance, so this fault could simply be of the "at this performance" variety rather than a consistent error for the run of the production.
Director and Choreographer Quae Simpson is tying this substitute-show-turned-sensation into the overarching Spotlighters' season theme of "Strong Voices" by bringing three fabulous male voices to the ensemble of the show. Traditionally Beehive is an all girls show. Taking a casting list of six women and bringing to the stage instead five women and three men, Simpson really adds an element of equality, support, and strength to the show. Putting the iconic beehive hairdos on the men and having them soulfully sing various numbers really adds an impressive and indescribably pleasant element to the performance, the result of which is a balanced and well-received, feel-good show. Simpson's choreography is true to the footloose-n-fancy-free style of the era, with a lot of callbacks and nods to popular dances of the time. Lots of step shuffles make their way into the various dance routines. The dancing isn't A Chorus Line perfection but it isn't meant to be, and little missteps actually enhance the good time that the performers are having on stage. The infectious atmosphere of jubilation and enthusiasm bubbles right up over the lip of the stage, directly into the audience! (Lucky front-row members even get the opportunity to dance in the show if they'd like!)
Despite the pit-balancing issues, Musical Director LeVar Betts has brought the sounds of eight stellar voices together to create potent harmonies, strong choruses, and a vibrantly resonant sound that just feels good as it rolls through the group numbers. Asia-Lige Arnold, Timoth David Copney, Danielle Harrow, Rikki Howie, Nicholas Miles, Marela Kay Minosa, Quae Simpson, and Karen Steelman come together to recreate the 1960's and all the impressive female voices that were erupting as a cultural revolution throughout that decade. As they say, "It was a dawn of a new era and everything was changing." (That statement alone is a subconscious guideline that ties the show's nostalgia into present day and supports Simpson's directorial choice to include men in the production.)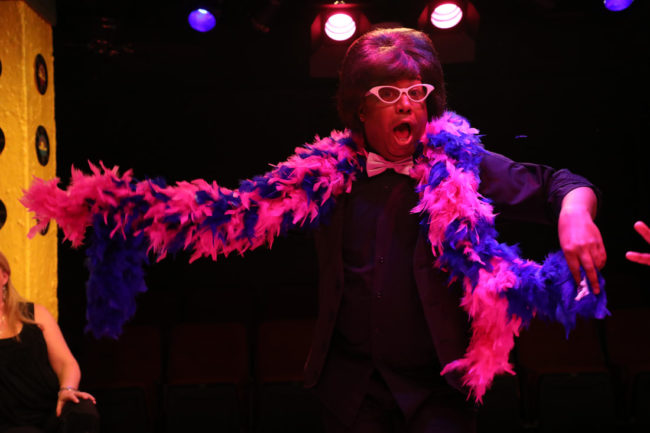 Watch out for Nicholas Miles. Because as he struts onto the stage to take point for "My Boyfriend's Back" he is selling some serious sass in not only his vocal presentation but his stage attitude. Miles would be a background scene-stealer if this show had any moments of background to steal. The nature of the show either has you in the spotlight or off-stage, even in the group numbers, so when Miles is on stage, he's drawing all the attention. Watch his fierce dance moves during group numbers as well, because they add a vivacious layer of flavor to the show. Quae Simpson takes point on "Where the Boys Are", leading himself, Miles and Timoth David Copney around the stage for charming hilarity all decked out in their 'hives, glasses, and feather boas.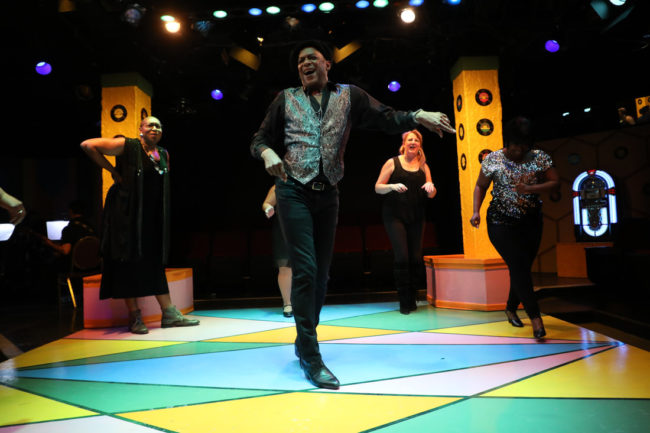 When Timoth David Copney sings a song it lays down sung and doesn't get up for the rest of the show. Charisma, charm, poise, and a flair that defies description, Copney holds his own against this cast of modern belttress women going note for note in his big-finish numbers like any proud woman. With three sensational solos it's hard to choose which one he does best. "Will You Still Love Me Tomorrow?", "Cry Baby", and "Son of a Preacher Man" all receive a revitalizing facelift in the pipes of Timoth David Copney. His soul-aching falsetto-ends to these songs put him in league with David Ruffin of The Temptations, minus all the drugs and ego.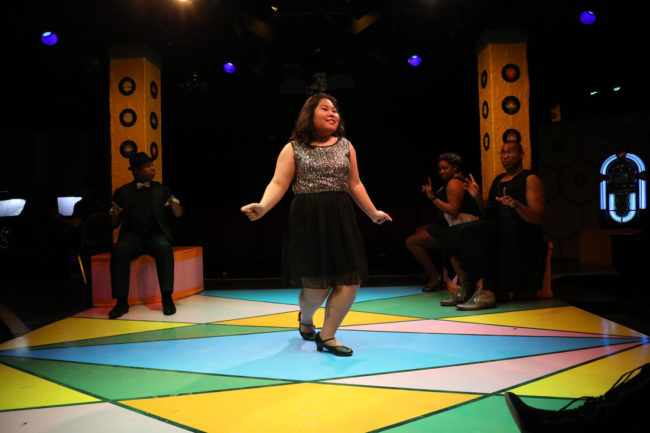 Marela Kay Minosa gets the proverbial party started when she introduces "The Name Game" (and adorably flubs her way through her own name! Intentional mistake or actual mistake it added this deliriously delightful element of fun and humanity to the song as a whole.) With a lot of the show's spoken text under her care, Minosa takes on a more narrative quality than some of the other performers, but it makes her character songs like "It's My Party" all the more enjoyable. Minosa provides the appropriate blended harmonies in doo-wop style background numbers as well, perfecting the little rock-n-shift step shuffle in those moments.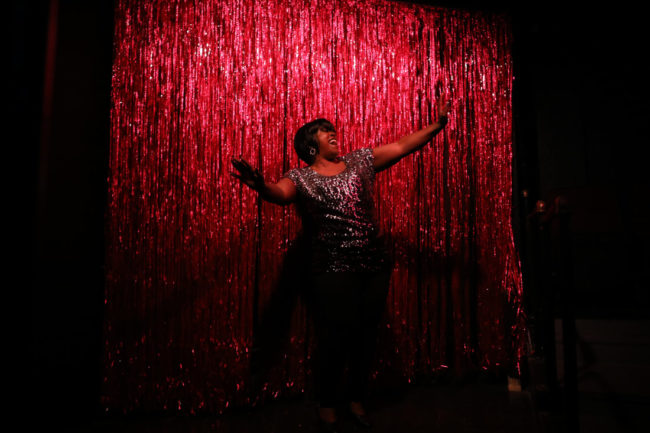 Catty and modern, Rikkie Howie is living her stage presence large and in charge. With a deeply emotive voice for her paired solo series of "Walkin' in the Rain" and "Junkman", Howie brings the audience into the heartache side of the 60's— because it couldn't all be fun and games! (Though it's mostly fun and games.) Putting a ferocious sound on display when her solos are featured, Asia-Lige Arnold is a vocal force to be reckoned with. "Academy Award" features her in front of the shimmer curtain, really putting that number out there. And she brings a hard-burning spirit forward for her segment of the Aretha Melody "Never Loved a Man."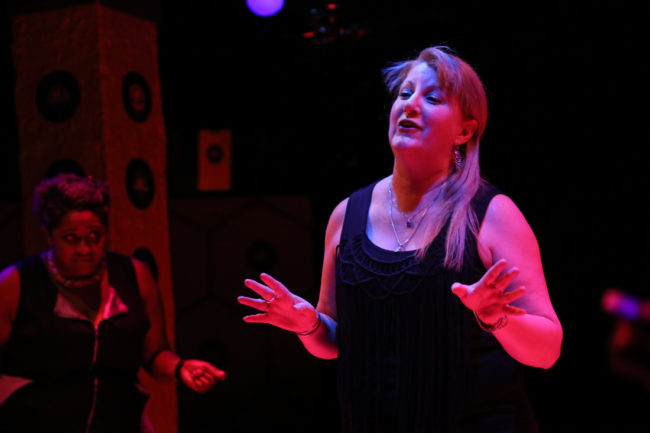 Dusty Springfield would be proud at the homage Karen Steelman presents as the iconic British legend of the 60's in this production. Steelman, who dons the glasses and the mellow attitude, slips onto the stage and just lays down "Piece of My Heart" (with thunderous support from the audience) followed by "Me and Bobby McGee" in true Dusty Springfield style. Both of these numbers sit well within Steelman's wheelhouse and the vocal timbre she creates to emulate Springfield's sound is more than passable, creating a flashback to a time in history long since passed. Vying with Steelman's Dusty Springfield run (and Copney's rendition of "Son of a Preacher Man") for the most memorable moment of the show, Danielle Harrow throws her hat into the ring when she tackles Tina Turner's "River Deep/Proud Mary." The iconic dance chaos ensues with "Proud Mary" and Harrow is a vocal inferno borrowing the living spirit of Tina all the way. Her segment of the Aretha Melody, "Natural Woman" is another excellent instance of her powerhouse belting capabilities.
Peace, love, and music is what it's all about. Come and hear these fine performers make their own kind of music and sing their own special songs, all wrapped up in your favorite numbers of the 1960's. Don't miss Beehive as it is a limited engagement show.
Running Time: Approximately 1 hour and 50 minutes with one intermission
Beehive…the 60's Musical plays through April 21, 2019 at The Audrey Herman Spotlighters Theatre— 817 St. Paul Street in the historic Mount Vernon neighborhood of Baltimore City in Maryland. For tickets call the box office at (410) 752-1225 or purchase them online.