Here it is— the moment you've been waiting for! Here it is— you know exactly what's in store! A story like you've never seen or heard before! Now's the time to head to Toby's Dinner Theatre of Columbia to see the DC-regional premiere of The Hunchback of Notre Dame. Directed by Toby Orenstein & Mark Minnick, with Musical Direction by Ross Scott Rawlings, this musical masterpiece inspired by the Victor Hugo novel with musical selections from the Disney animated feature film presents a hauntingly beautiful tale with striking, affecting music that is a spring seasonal must-see. Intimate storytelling unfurls in the world of Paris, filled to the brim with gypsies, priests, monsters, and men— all delightfully interweaving their intricate narratives into the glorious and stunning music and lyrics crafted by Alan Menken and Stephen Schwartz, respectively. Though the iconic numbers from the blissful animated film are present and beloved in their recognition, this darker, deeper tale captures the essence of Hugo's work in all of its tragic beauty.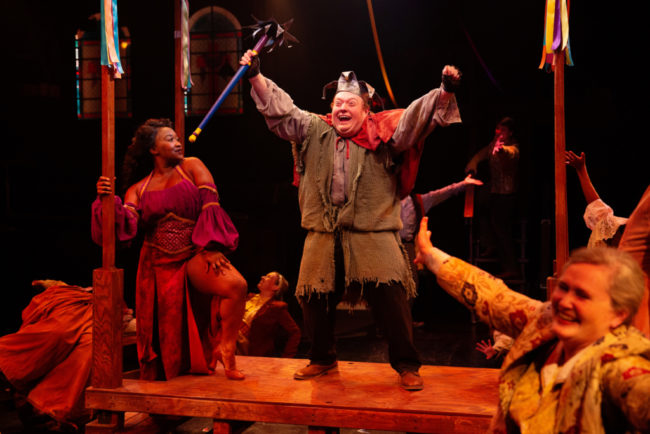 Resident Scenic Designer David A. Hopkins and Lighting Designer Lynn Joslin have teamed up once more to craft theatrical magic upon the theatre-in-the-round play space that is Toby's Dinner Theatre. Joslin's use of stained glass gobos projected directly onto the floor during particular moments is enthralling. The stained glass windows mounted around the audience, backlit with the glow of heavenly illumination renders forth a profound sense of spiritualism during the performance. Hopkins' set, which features moving platforms, and pull-cord bells which drop from the ceiling, lends itself to the cobbled-together storytelling nature of this production. Peter Parnell's book sets forth a shared recollection of events— not unlike the framework for Man of La Mancha— and Hopkins integrates this notion into his scenic work, comprehensively incorporating his seasoned working knowledge of the space into the illusion of Notre Dame Cathedral. The pull-cord bells are one of the most impressive features of the show's technical aspects as not only do they function but they are manipulated by the 'congregation' (full ensemble of players in the performance) whenever Quasimodo rings them, creating that suspended disbelief of theatrical magic in a truly wondrous fashion.
Props to Properties Master & Set Dressings Coordinator Amy Kaplan for her intricate attention to detail with the pastel-colored maypole ribbons and the woven band charm Esmerelda gives to Quasimodo. Further accentuating the mysterious element of storytelling from within the story, Costume Designer Janine Sunday fabricates garments that allow for the prompt transition from character to character with great consistency all throughout the performance. Hints of French fashion creep their way into skirts, vests, doublets, and hats— a great many patterns lightly accented with color appropriately clothe gypsies and revelers alike to distinguish them from the denizens of Paris— and there is a uniformity across the board that places the production in a realistically fantastical world that is straddled halfway between the reality of historic Paris and the fantasy of the tale.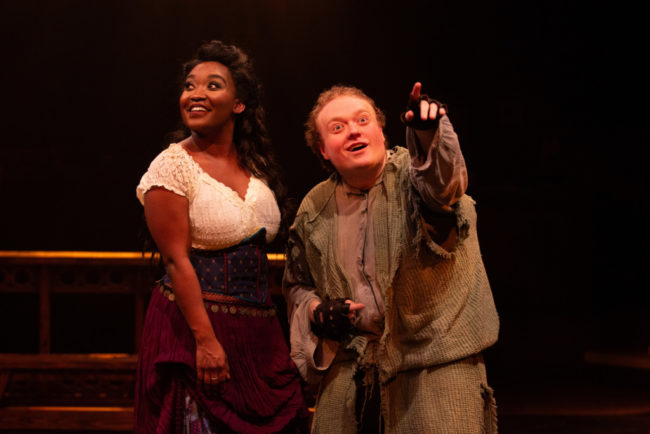 The Hunchback of Notre Dame engages the audiences' imaginations in unexpected ways under the time-tested direction of veteran directors Toby Orenstein & Mark Minnick. Gargoyles and Statues are ordinary townsfolk with a hint of gray— in scarf, shawl, shroud, or wings— draped over them; costumes are stepped into by principal players on the stage amidst the narration, aided by members of the congregation— making them a seamlessly fluid function in the movement and progress of the show. Orenstein and Minnick take care in crafting little moments that shock the audience with profundity and beauty. When Sam Korben steps out from the ensemble in the opening narrative number, "The Bells of Notre Dame" and slips into the guise of the titular character, with precision timing of his motions and movements to match the words "…what makes a monster and what makes a man…" it's breathtaking. When Late in the second act when Jehan and Florika stand as ghostly shadows behind Quasimodo singing specific lines as the hunchback watches in shock the events preceding on the streets below him that same sense of awe and astonishment is achieved.
Orenstein and Minnick are masters of their trade and craft when it comes to putting the story at the forefront of their production. The story itself is epic in size, grandeur, and emotional depth; Orenstein and Minnick work like unseen magicians to orchestrate swift pacing, exhilarating emotional charge, and exuberant bursts of energy into every moment of the show. Their miraculous combined efforts are only augmented by Minnick's signature choreography, which is really only on full display in the series of numbers featured in "Scene 2: Town Square", most prominently in the songs "Topsy Turvy" and "Rhythm of the Tambourine." The high-octane pulse of energy that informs the dancing motion of those numbers aligns with the enthusiasm of the performers and the music. With much of the story being darker in nature, these moments of tomfoolery and shenanigans are sharply focused by Minnick's energetic dance routines.
Breathtaking music— both the vocal sounds achieved by the ensemble, the evocative solo numbers, and the balanced precision of the pit— are roused to resplendent life by Musical Director Ross Scott Rawlings. Alan Menken's deceptively sophisticated music peels through the house with all its intended glory under Rawlings' guidance. All of the musical numbers— "Olim", "Agnus Dei", "Judex Crederis", "Kyrie Elieson"— reverberate with hallowed spirit all through the house. Rawlings creates en ecclesiastical sonic soundscape with sublimely blended harmonies and powerfully molded bursts of volume that drive the intensity of Menken's score and Schwartz' lyrics from the beginning of the show through to the astonishing conclusion. Directing the pit at this production, Rawlings succeeds in achieving harmonic balance with instrumentalists for each of the musical numbers as well as interstitial moments of the production.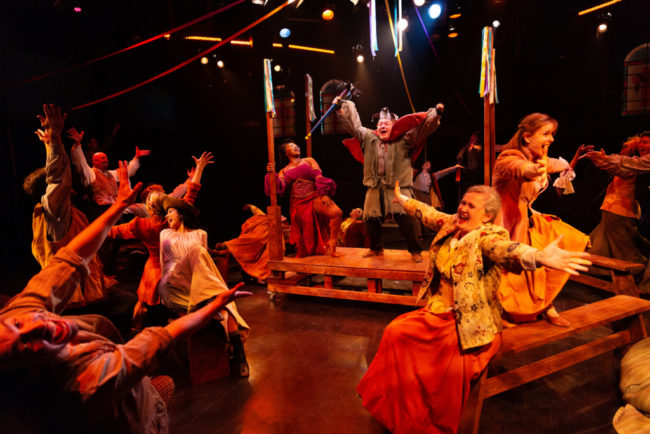 Truly an ensemble piece, directors Orenstein and Minnick have assembled a congregation full of leading performers to divinely deliver this overwhelmingly beautiful and affecting musical tale. Taking on over a half-dozen roles each as various gypsies, gargoyles, statues, soldiers, revelers, parishioners, priests, prostitutes, and Parisians, the 'Congregation' serve as the show's narrative vessel, working together as one storyteller shared across nearly two dozen voices. This extraordinary ensemble (Adrienne Athanas, Heather Beck, Brandon Bedore, Noah Beye, David Bosley-Reynolds, MaryKate Brouillet, Justin Calhoun, Coby Kay Callahan, Camille Capers, Samantha Deininger, Crystal Freeman, Sylvern Groomes, David James, Santina Maiolatesi, Matty Montes, Christian Montgomery, Beth Rayca, Louisa Tringali, Taylor Witt) brings statues to life with aching compassion, boldly emblazons gypsies with wily spirit, and transforms musical numbers into magnificent heart-stopping, tear-inducing, moments of aural delight.
Every member of the aforementioned ensemble brings their vocal panache to every moment of the performance, each swell of sound more marvelous than the last. By the time the show reaches its conclusion, the "Finale Ultimo" undulates with inseparable emotion and volume, resonating louder than the bells of the cathedral themselves. This ensemble, 19-deep, are the story, living and breathing it as it unfolds. Justin Calhoun and Louisa Tringali are featured players who take up their guises as Jehan and Florika, the haunting apparitions of Dom Claude Frollo's past and their appearances throughout the story are noteworthy. Calhoun triples up as St. Aphrodisius, leading the ensemble with his rich tenor tones through "Flight into Egypt" in a most enticing manner.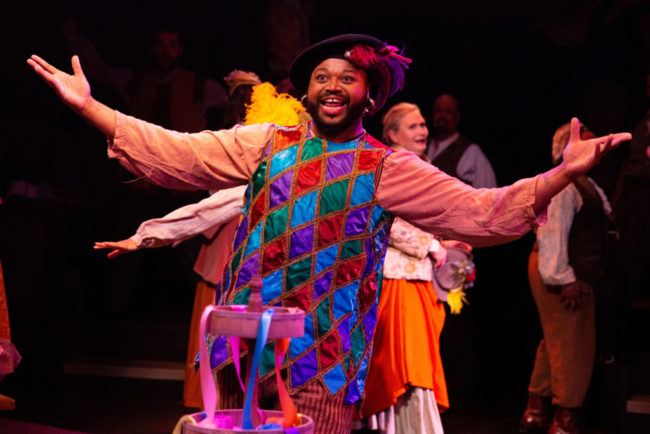 Crowned king of fools— at least king of the gypsies— DeCarlo Raspberry masterfully morphs from the show's opening-note narrator into Clopin Trouillefou in all but the blink of an eye. Raspberry's robust and hearty vocalization is a strong match for the character, though he is not without his pinched falsetto affectations, which add a layer of topsy-turvy excitement to Clopin. Spry of limb and sprightly of spirit, Raspberry is not without depth and versatility in his portrayal of Clopin. The character could readily be dismissed as comic relief, but Raspberry finds both humanity and severity inside the Gypsy King, presenting a well-rounded construct in his choices. Silly and whimsical, not unlike the animated Disney counterpart, Raspberry's rendition of "Topsy Turvy" (and all of its incarnations) blazes with festivity as he frolics his way through the number. A more sinister side of Clopin surfaces when Raspberry transitions the character with surprising ease into the "The Court of Miracles". The almost paternal nature he presents to Esmerelda is an endearing and unexpectedly pleasant character choice that draws the many faces of Clopin into one dynamic character.
Captain of the Cathedral Guard Phoebus de Martin (Jeffrey Shankle) struts with a smarmy swagger into "Rest and Recreation" but is quickly unveiled to be far more human and compassionate than such a cheeky and almost bawdy introductory number would have the audience believe. Shankle delivers a peak vocal performance, with lusty reels of quality balanced tenor sounds all throughout the production. Emotional fortitude creeps into his duet numbers as his entanglement with the gypsy Esmerelda expands; arrogant confidences are replaced with textbook Disneyesque charms. Shankle slides smoothly from the hardened exterior of a soldier to the compassionate essence of a lover over a series of encounters and musical numbers. Couriered by intrigue, Shankle's Captain Phoebus puts forth divine sounds both in "The Court of Miracles" and "Someday", both duets being shared with the enigmatic Esmerelda.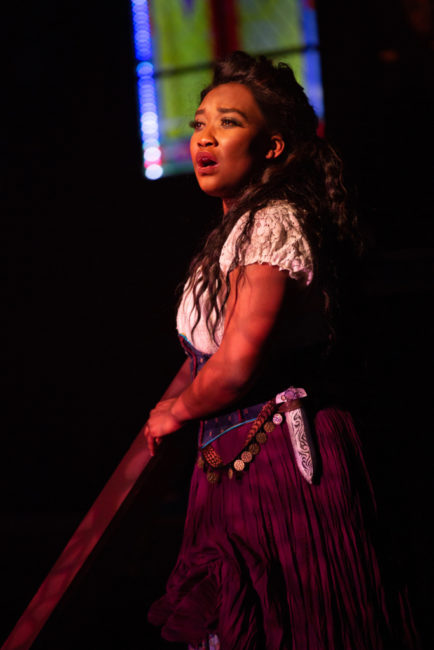 A versatile force to be reckoned with, Jessica Bennett wears the role of Esmerelda like liquid smoke. Titillating and undulating with the racy and fiery spirit of her gypsy-character namesake, Bennett bursts onto the scene for "Rhythm of the Tambourine" with dancer gesticulations that enslave the music to her body rather than vice versa. With a commanding stage presence as she ensnares the attention of Phoebus, Dom Claude Frollo and Quasimodo alike (and essentially every other living person on stage or in the house) in this number, Bennett's dynamism in the role becomes that much more impressive when radiant streaks of a soft, angelic humanity shine through her performance. "God Help the Outcasts" is filled with emotional depth and pristine vocal execution. Bennett engages with Quasimodo as an open emotional vessel— filling effortlessly with his childlike wonderment during their duet "Top of the World"— but also as a vibrant conductive channel, pouring her own humanity and compassion into each moment she shares with him and others throughout the production.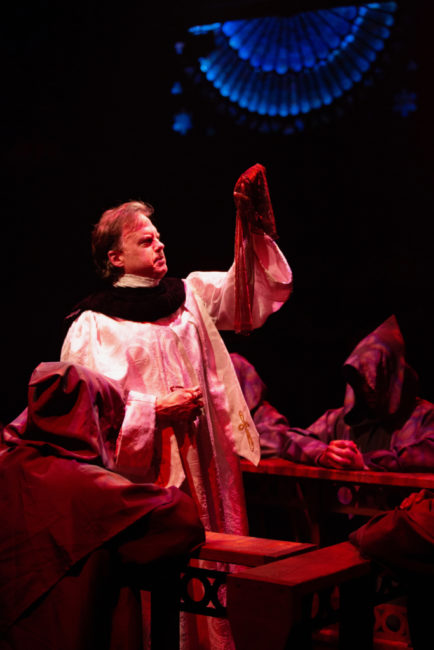 Who is the monster and who is the man? Even the bells of Notre Dame cannot answer that question when it comes to Dom Claude Frollo (Russell Sunday.) Exquisitely vile but surprisingly balanced in his villainy, Sunday creates a monstrous man or conversely a humanized monster out of his antagonistic character. Pious zeal and religious fervor amalgamate into a diabolically nuanced portrayal of Frollo. Sunday deftly avoids the trap of making this antagonistic character a simple man of evil, choosing instead to fill him with a vexed conscious and warped sense of humanity, which weaves a spidery thread of fascination into his portrayal. This is something disturbingly glorious about Sunday's voice and its robust potency when he sings "Hellfire", making it a deeply unsettling number to enjoy. Sunday's facial expressions are textbook conservative until the character reaches his breaking point (at various intervals throughout the show) at which time a myriad of indescribable pent-up frustrations explode in an animated series of movements across his face, body, and vocalization.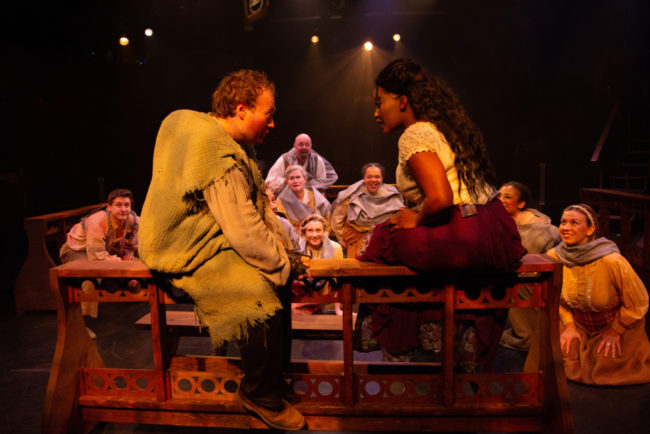 Graced by heaven's light, Sam Kobren is the pinnacle around which each narrative thread of this story is woven. Kobren's Quasimodo is an all-encompassing portrayal of raw humanity, exposed emotion, and phenomenal talent that traverses a multitude of performance planes— everything from physical choice and commitment, to vocal affectation, and stunning musical delivery— to create a sensational experience as the titular character of the show. To watch Kobren gambol and lollop across the stage, perpetually hunched to favor the character's hump, is to witness theatrical magic. Never once does he falter in his commitment; these choices extend into the way he moves every inch of himself from his expressive, disbelieving blinks of his eyes to the way he grabs at the pull-cord of the bells. Kobren allows the audience a full glimpse into the emaciated soul of an imprisoned being during "Out There", refusing to cave into the character's desolate situation by populating the number with indefatigable hope. The desperation for joy in his childlike naiveté is worthy of an ugly cry.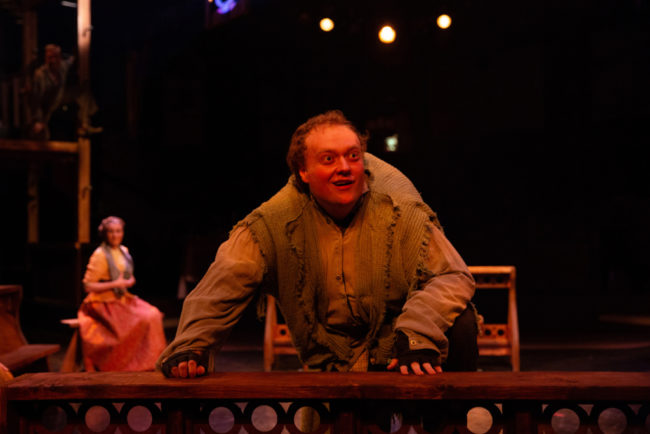 Delivering extraordinarily precious moments— like when he effortlessly lifts Esmerelda down from the bell-tower turret or slaps himself about like Dobby the house elf for talking to his friends, who are only made of stone and of course cannot talk back— Kobren lives each step, each breath, and each note in the full flesh of the least monstrous and most human character in the story. With a warm, beloved glow of bittersweet reckoning, Kobren delivers his rendition of "Heaven's Light" flawlessly. "Made of Stone" is the pivotal cathartic destruction of Quasimodo; it lands as an emotional explosion that sears the soul with every injustice that the character has experienced in life up until that point. Heart, soul, and spirit crumble like statues at the end of this affecting number; Kobren captures this moment superbly. Whether with Frollo, Phoebus, or Esmerelda, Kobren's Quasimodo becomes both story and storyteller; he is the shimmering soul-thread that binds the tale of The Hunchback of Notre Dame together.
So come one! Come all! And hear the bells— and exquisite talent— that is the Toby's Dinner Theatre of Columbia DC-regional premiere production of The Hunchback of Notre Dame. It is theatrical magic at its best, storytelling at its finest, and emotional substance in a deeply affecting way that will give you a theatrical epic to remember for years to come.
Running Time: Approximately 2 hours and 30 minutes with one intermission
The Hunchback of Notre Dame plays through May 19, 2019 at Toby's the Dinner Theatre of Columbia— 5900 Symphony Woods Road in Columbia, MD. For tickets please call (410) 730-8311 or purchase them online.