Oh workers, builders, and destroyers of the world! Heed the call— it is your destiny— in seats at Theatre Project for your bodies to be— feel the sweetness of Eurydice— and rest assured the show's lyricist (Craig Jaster) is far better at this rhyming stuff than me— and to prove it you must take yourself forth and see— Pantheon. The latest in the Happenstance Theatre realm of fantastical fabrications, this iteration of theatricality revolves around Greek Mythology. But this isn't your history book's folklore. The wailing, bemoaning macabre of Greek Mythology has been transformed into a wheelhouse that Happenstance Theatre company members and audiences alike will well recognize and appreciate. The classy and swanky feel of the 1930's and 1940's settles over this series of delicately interwoven moments like a fine film of illustrious silk. The whole experience is rather grand, enthralling, and not without the company's nod to slapstick humor.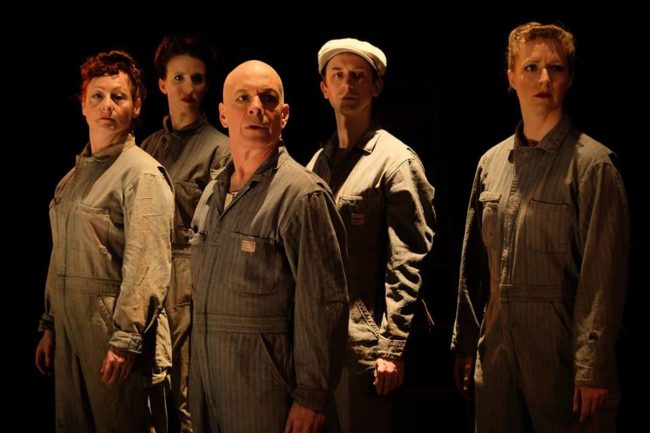 Created as an ensemble effort by performers Gwen Grastorf, Craig Jaster, Mark Jaster, Sabrina Mandell, Sarah Olmsted Thomas, and Alex Vernon, Pantheon is a broad-stroking examination of Greek Mythology through the lens of Happenstance Vignettes. Though there is something more mystical about this particular construct than other Happenstance Theatre shows, purely in the sense that these engagements— whether they be but brief moments or continuing episodic narratives— are all deftly woven together in an inextricable fashion. One myth informs the next, one character carries over like a serpent winding its way surreptitiously through the tales the company is unfolding. It's quite an intriguing take on Greek Mythology and movement-based performative theatre.
The vacuous black box nature of Baltimore Theatre Project lends itself to the work Happenstance creates, and subtle instruments of illumination come into play by way of Lighting Designer Kris Thompson. Most notable is the red wash Thompson uses to illustrate the disastrous derailment of Phaethon, reputed son of Helios, when things don't go according to plan. Musical accompaniment by Craig Jaster adds an unimaginably delightful layer to the performance. Jaster, who has composed several witty lyrical escapades for the performance— including "Orpheus' Song" and "The Song of Tiresias (which he performs whilst accompanying himself!)— plays a series of instruments throughout the show to enhance various atmospheres and moods of the scenes as they occur. At one point, a jazz scatting that sound identical to a trumpet stuffed with a mute occurs, and it's a shocker to discover Jaster playing nothing more than his lips and voice box.
Those familiar with the work of Happenstance Theatre will revel with glee to see Costumer Sabrina Mandell outfitting the company for this performance. Stepping away from the more macabre garments and chimerical collections of eras past, Mandell focuses on simplistic— often stunning— beauty, which results in lovely almost bridal gowns featured on the three focal Goddesses (Aphrodite, Athena, Hera) and a strikingly handsome suit for Orpheus. The fates wear 'Rosie the Riveter' style hair scarves and in general the performers wear construction site-style jumpsuits, that puts the belabored efforts of being a "working Greek chorus" to the visual forefront of the production.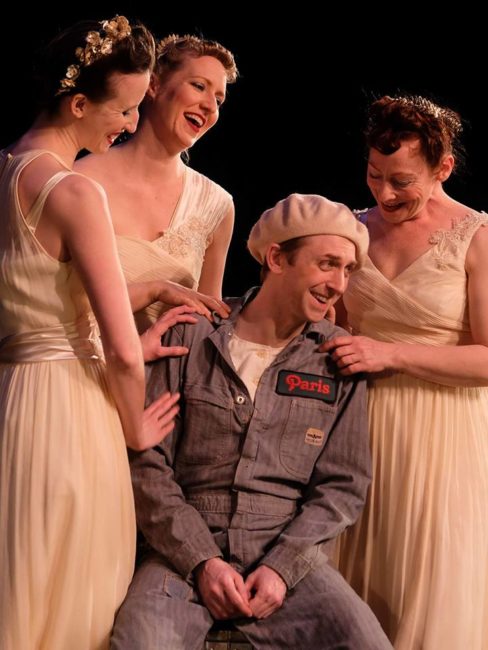 A Happenstance signature is the use of— in one form or another— puppetry. In this show, the puppets featured most prominently are silhouette shadow puppets, crafted by Puppeteer Alex Vernon. The use of these puppets, primarily during Orpheus' trek into the underworld, as well as some clever shadow-play with human bodies (for spoilers that simply must be seen to be believed!), is fascinating and makes the performance all the more mythical in its existence. Vernon, who like all of the company, plays multiple roles throughout the Pantheon experience, is tragically beautiful in his creation of Phaethon, enigmatically humorous when playing (one-half of) The Oracle— who sits blindfolded against the other half (Sabrina Mandell) and answers actual questions submitted to the audience before the show in the lobby— and gee-whiz naïve when playing poor Paris.
One of the focal points of Pantheon is the Orpheus-Eurydice storyline. Conceptualized around the 1930's/1940's vibe, Orpheus (played and crooned by the charismatic Gwen Grastorf in a stunning champagne cream suit and hat of the time) is a charming crooner who sings his way out every situation and encounter, including an encounter with the vicious 3-headed guardian of Hades, Cerebus (the heads of Mark Jaster, Sabrina Mandell, and Alex Vernon.) Grastorf is suave and possesses that 'je ne sais quoi' that really fits millennia-old Orpheus right into a Rat-Pack era existence.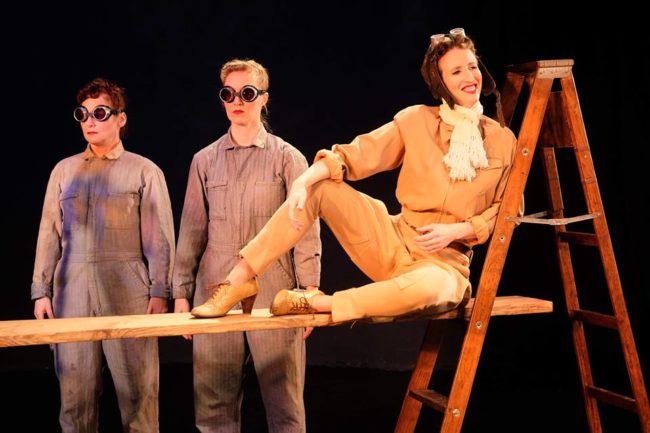 Sarah Olmsted Thomas, who plays the other half of the Orpheus-Eurydice pairing, is delightfully dolled up to be a 1940's-style housewife with a polka dot dress to match. Thomas' effervescent presence is felt strongly throughout the performance, particularly when she plays Aphrodite, amid the battle of the Goddesses— Athena (Gwen Grastorf) and Hera (Sabrina Mandell)— over who is the fairest. Thomas is also caught embodying the spirit of Amelia Earhart when she dons the flight-bomber jacket and goggles to sit astride the sun chariot as Helios. (The sun chariot itself is composed of the show's three most versatile props— two A-frame ladders and a sturdy plank.)
Meandering, meddlesome, and ultimately devious, Discordia roams unchecked throughout the performance. With the simple flip of a black skull cap, Mark Jaster transforms into this diabolical incarnation of the Greek God Eris, inciting subtle strokes of havoc wherever he walks. A maniacal cackle accompanies the simplest of acts, making Jaster's performance that much more menacing. But the most noteworthy of Jaster's performances in Pantheon is as the protean Proteus, a minor shapeshifting sea-God. Jaster adapts half a dozen accents or more to verbally showcase the malleable nature that is Proteus, before rolling through a series of animal physicalities to further express the notion of this changing God. The showdown between Jaster's Proteus and Aristaeus (Sabrina Mandell) is one for the books in the humor department.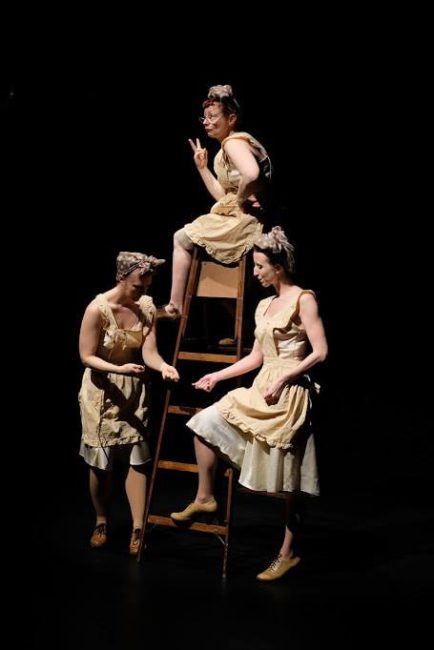 Mandell, who pulls Aristaeus— minor God of beekeeping— into the role of a 1930's/40's factory-project sight foreman— gets crafty and clever when it comes to facing off with Jaster's Proteus. Mandell drifts like the wind in and out of the minutia of this show, linking scenes and storylines as if she were the weaver of the tale. Seated the highest on the ladder of the Fates (three sisters in a factory measuring out the length of human lives whilst discussing after-work plans like seeing new pictures at the cinema) she oversees all the proceedings, and holds her own against Gwen Grastorf and Sarah Olmsted Thomas when playing Hera amid the great Goddess battle. Mandell is also one of the two sphynxes (along with Thomas) who have hilarious Greek Mythology-related riddles to throw at Orpheus when he comes along attempting to delve into Hades.
Happenstance Theatre is truly an ensemble of time-traveling individuals that earnestly convince their audience that they may have walked among the Gods of Greek Mythology and also stepped their feet in the 1930's and 40's. The amalgamation of both time periods brings a felicitous new twits to Greek Mythology as most know it. Be sure to catch Pantheon for a unique and inspiring piece of theatre this spring.
Running Time: Approximately 75 minutes with no intermission
Pantheon plays through April 14, 2019 with Happenstance Theatre at The Baltimore Theatre Project— 45 W. Preston Street in Baltimore, MD. For tickets call (410) 752-8558 or purchase them online.