Tweet, tweet! Let's greet the spring! So what if it's only the end of February? Spring is almost here! You know how you can tell? Because A Year with Frog and Toad is on the stage at Dundalk Community Theatre! Directed by Tom Colonna, with Musical Direction by Michael Clark, and Choreography by Angelique "Gigi" Cause, this delightful family-friendly show is perfect for young audiences and audiences young at heart! Showing what it means to be true friends, teaching life-long valuable lessons of patience and kindness, this wonderful show is a feel-good masterpiece, designed to lighten the heart, brighten the spirits, and awaken everyone's smiles just in time for spring!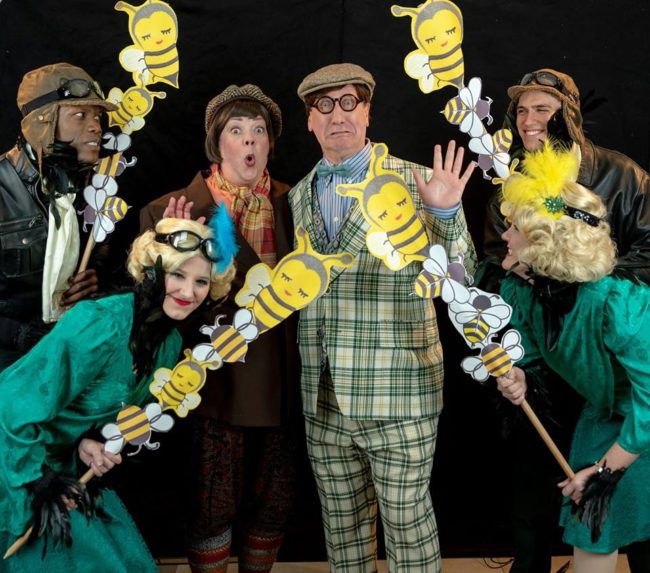 Production Mastermind Marc W. Smith, in charge of scenery, lights, and sound, creates an astonishing fantasy world in which this show plays out. The scenery is breathtaking and whimsical. There are shadowy trees in the distance of the backstage that help bring the show to the very front of the play space. Director Tom Colonna has pulled the show's action right to the very lip of the stage's apron, to bring you these fun and funky characters as close as you can get in the Ravekes auditorium! Smith has fabricated two turntables which feature realistic marsh grasses on one side and cozy home interiors for Frog and Toad respectively on the other. Smith is responsible for all sorts of scenic magic, including when the snow falls during winter time, and the great lighting for night and day. And of course let's not forget all the splishy-splashing whenever someone jumps into the water!
Costume Designer Eva Grove lives up all the hype created by Smith with these subtle nods to the animal-characters in the show. Refusing to be campy and do full-blown animal costumes, which would really saccharinize the overall effect, bringing it to a level of strictly infantile theatre, Grove creates sophisticated human looks that only hint at the animals which they are playing. The Snails are explorers with gently rolled sleeping bags on their backs. The moles have brown hoodies and shaded glasses on their eyes. Frog is always dressed in a dapper shade of green— even once in a cloudy mauve suit with bright lime trim! Grove's costuming creates believable theatrical magic without diving into the depths of campy children's theatre and it serves Colonna's overall vision for the show extremely well.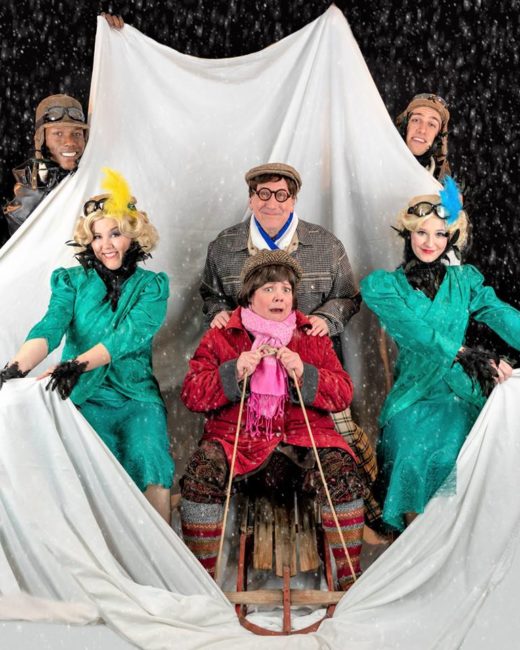 Originally and traditionally performed with two men playing Frog and Toad and three performers in the ensemble, Colonna embraces the notion of trying something new. He casts a female performer in the role of Toad and adds a fourth member to the ensemble, to create balance. His casting choices are superb and really keep the show lively and entertaining. Musical Director Michael Clark inspires brilliant harmonies across the six performers featured in the production and gives them hearty sounds that really tell the narratives behind these fun and fanciful songs. A nod of praise is also deserved of Orchestra Conductor Tim Viets, whose overall orchestrations sound particularly professional at this production, and really create a beautiful soundscape for transitional moments on the stage.
There's also a special shout-out required of Properties Mistress Tracey Anne Tokar Smith, for all of her brilliant little decorative bits that happen throughout the performance. The holly-bough bedecked mantelpiece near the end of the show is a lovely sentimental touch; Smith draws the eye with her effervescent rainbow kite for "The Kite" song and really delivers some smashing results with all of her super crumbly cookies featured in "Cookies" the Act I finale. (And boy oh boy do we love the froggy umbrella that pops up over Viets' head from the orchestra pit to protect him once it starts raining cookie crumbs!) Smith's pop-up flower garden is delightful as well.
There is a classically classy style and feeling to this production, one that Colonna captures by way of Choreographer Angelique "Gigi" Cause. The dancing is extremely simple but extremely fun. Because of its simplicity, it is impeccably crisp and really exemplifies the essence of these jazzy, snazzy songs. There is a feel of old vaudeville to a great many of the numbers and Cause nails that sentiment with dance routines featured in songs like "Getta Load of Toad." There's even some delightful soft-shoe featured during "He'll Never Know" the leaf-raking number, which comes to a grand Broadway kickline style finale, albeit solo, with rakes rather than canes.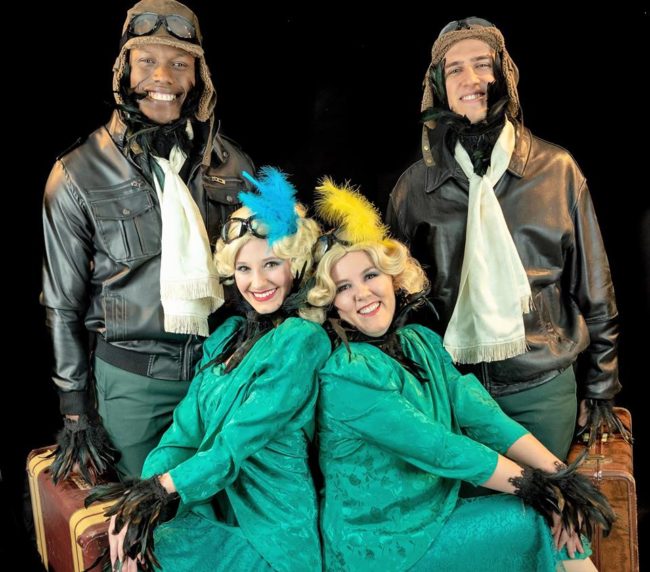 Colonna runs the ensemble all over the place with their multiple animal characters. Each performer has a unique voice and physicality for each animal that they play and it's truly enchanting to watch. Casey Lane, for example, is the snappy turtle, whose snappy commentary leads her headstrong into "Getta Load of Toad", the fine, aforementioned, vaudeville number. Hunter Lubawski is an adorable mouse with her chipper, squeaky sound, especially when she scurries in through the mouse-hole in Toad's home! Josh Schoff is a Snail, but more memorably he plays the Large and Terrible Frog, and his gritty little skip-rope rhyme is hilarious. Ryan Holmes belts out a lot of sounds, but is best noted for his fabulous role as Snail…with the mail. He really puts the 'go' in escargot!
As for Frog (Chuck Graham) and Toad (Jane C. Boyle) they are inseparably delightful! There is something too precious for words about the way they fit together, like two peas in a pod, true friends, through and through. Both Graham and Boyle have extraordinary singing voices. Boyle's sweet soprano sound is most soundly deserving of praise for her solo "Seeds", where she sings with sincerity in an attempt to coax her darling little seeds to grow. Graham has an equally impressive sound, at its finest during "Alone" a sentimental and heartwarming solo featured just before the Act I Finale. Graham and Boyle play exceptionally well together; Boyle's simplistic honesty in the role is not unlike the dazzling innocence of a Winnie the Pooh type, while Graham provides a more enthusiastic ribbon for flare and fun. They're unstoppable in duets like "He'll Never Know" and group numbers like the delicious "Cookies."
Be sure to hop along and see this delightful show, full of heart, full of reminders of what real friends are meant to be— a concept in this day and age that is all too readily forgotten by us grown adults. Bring the whole family for A Year with Frog and Toad, you most certainly will not be disappointed.
Running Time: Approximately 90 minutes with one intermission
A Year with Frog and Toad plays through March 3, 2019 at CCBC Dundalk in the John E. Ravekes Theatre— 7200 Sollers Point Rd. in Baltimore, MD. For tickets call the box office at (410) 285-9667 or purchase them online.