TheatreBloom rating:
Every Who out in Frederick liked Christmas a lot
So much that they rented Matthew Lombardo's new plot
See, now the MET— they LOVE Christmas! The whole Christmas season!
So they've picked this irreverent comic gem, I can guess at the reason
To festively light up their holiday stage slot
Who's Holiday, Directed by Gené Fouché, is the show that they got!
Maryland Ensemble Theatre does great works, it's true!
Just see how they handle this show that's brand new!
Well, brand new off-Broadway, as the story does go
About Cindy-Lou Who all stuck in a show
She's all grown-up now, but still has that holiday spark
Of course, Cindy-Lou now lives— in a trailer park!?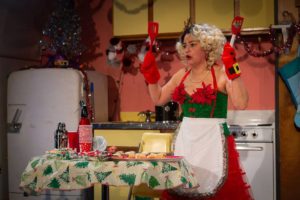 But I'm getting ahead of myself, I'm an overachiever,
So bear with me a moment, won't you, dear reader?
There's so much you must know about this holiday play
It's taken all night, and it's taken all day!
To correctly pen down and give credit where due
To all MET folk involved with this show about Cindy-Lou Who!
Where to start, where to start? What a fine question to ask
How about with Doug Grove, in whose lighting the show basks?
Festive holiday spirit twinkles down in droves
All thanks to the lighting design of Dough Grove
There's gobos— some are stationary and some move
The twinkling snowflakes will get you into the groove
But what makes Grove's lighting the best you've seen yet
Is what mastermind Cody Gillam has done with the set!
Festive festoonings hung far and hung wide
Tinsel and garland have quite occupied
Nearly every visible space in this trailer, so cute
Looks like Santa upchucked and coated it in holiday puke!
It glistens, it sparkles, it's filled with holiday hooray-ness!
There's so much Christmas— it's exploding from Santa's— magical sack!
And complimenting Gillam's work through the tin trailer of glee
Is Katie Rattigan on props— they're a sight to see!
I can't talk about some of the wild things Rattigan has created
Without making this review Triple-X Rated!!!
But mostly it's wholesome and in the true Christmas spirit
You'll see it— you might it eat— and you'll definitely hear it!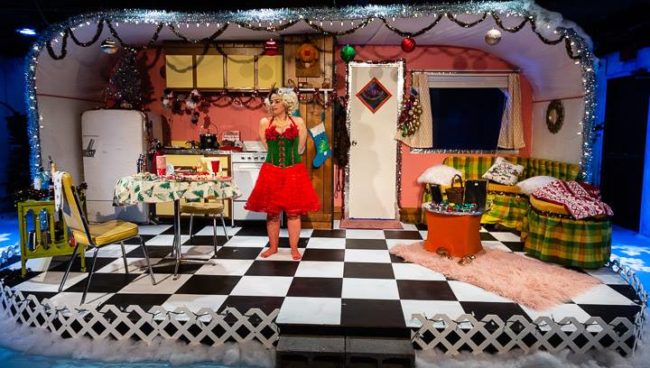 Alright, that's set, props, and lighting ticked off the list
What's next? What design element have I missed?
Oooh. COSTUMES! Easy peasy, being a one-person show?
Think again! Cody Gillam's masterwork is a glow!
A-glow and a-twinkle with glamour and glitz
It's a wonder Cindy-Lou Who doesn't show us her— fine collection of nicer things
Those dresses he picks out, are festive beyond reason!
Gillam knows how to deck out a Who for the season!
The show is a little raunchy, a little zesty, a little…risqué?
But tastefully and humorously handled by Director Gené Fouché.
She's got the timing down pat; she's got the pacing well-paced
It's a bite-sized Christmas hour, slam-dunked and aced!
Fouché has a stellar actress on hand, to deliver this zany show in a whirl
Playing the one and only Cindy-Lou Who, is the incredibly talented Miss Lisa Burl.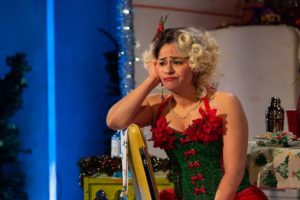 Now some might think a one-woman show is easy
But you try and remember all her lines and see if you don't get queasy!
Not only does Burl memorize, but she delivers with style
She squeaks, she laughs, she has fun, for a while.
Then Matthew Lombardo's plot takes quite a dark twist
Wait— that's not The Grinch from my childhood. What did I miss?
Lombardo has crafted a deep, dark backstory
That Burl delivers in somber but radiant glory
She strikes the right balance between humorous and sober
And blessedly, thankfully, things look up when it's over.
I guess it couldn't be Christmas if the ending was bleak
But it's not all fun and games for Cindy-Lou, so to speak.
The show is a riot. The show is a blast. Lisa Burl is the Whoviest Who at the ball
And this show is perfect, a Merry Christmas show for all (over the age of 14.)
Her rhyming is snappy, her patois smooth, her cadence divine
She'll have you invested, maybe even offer you some wine!
Burl and Fouché are quite the holiday team
And thank goodness there's no Grinch to be seen!
No Red Ryder BB's or leg-lamp kicklines
Trust me, buddy, that suits this show just fine!
It's a unique holiday experience, you'll laugh til you're sore
It's holiday maladies, Seuss-style, that's for sure.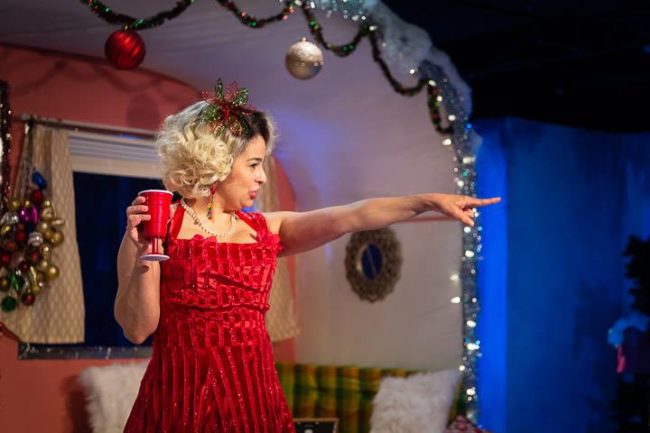 So get your tickets to Maryland Ensemble Theatre this December
They're putting on a show that you will always remember.
A one-woman Christmas extravaganza delight
Who's Holiday is a must-see tonight!
Well, not necessarily tonight— check their calendar for show times
As I wrap up this review, nearly exhausted from rhymes.
Who's Holiday is sure to put a smile on your face
It's the right season after all, and MET is the place!
For Christmas cheer of the Who-holiday feeling
My stomach still hurts from all the laughing and reeling!
Merry Christmas to all, as Cindy-Lou Who might say
Get your tickets very soon, do not delay!
Because when the month is over, the tin trailer will close down
And your face will then wear a permanent frown
If you missed Who's Holiday out in Frederick— better be there
To celebrate Christmas with the Maryland Ensemble Theatre!
Running Time: Approximately 70 minutes with no intermission
Who's Holiday plays through December 30, 2018 on the Main Stage of the Maryland Ensemble Theatre in the Historic FSK Hotel building— 31 W. Patrick street in downtown historic Frederick, MD. For tickets call the box office at (301) 694-4744 or purchase them online.