TheatreBloom rating:
When one is in town, one amuses oneself. And if one is in Baltimore, one can amuse oneself by getting tickets to see an uproarious and smart production of Oscar Wilde's The Importance of Being Earnest now appearing at Everyman Theatre for the holidays. Directed by Joseph W. Ritsch, this high-brow, tongue-in-cheek, comedy chestnut is a delightful romp through town, country, and all sorts of shenanigans. A pleasingly pleasant alternative to all of the elves, Christmas ghosts, and Red Ryder BB-guns this December, Everyman Theatre has a truly polished comedy on their hands, one that is well worth seeing!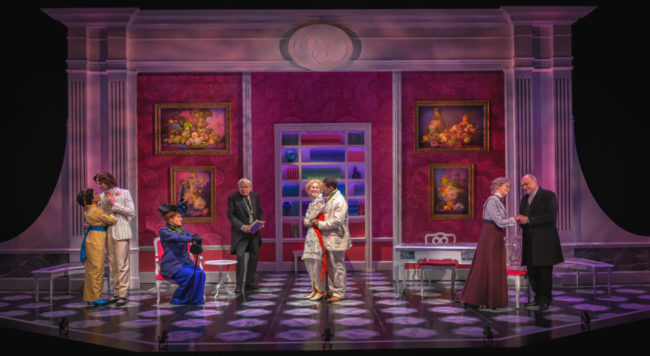 With a grandiose set that creates the illusion of stretching on for miles, Set Designer Daniel Ettinger certainly has fashioned quite the look for the three locations of London and its countryside counterpart circa 1895. There's a diabolical flood of vibrant shades of sapphire that dominate the opening setting, a parlor or some such in Mr. Algernon Moncrieff's house. Ettinger spares no luxury, dipping the statuary in this ghastly glow of azure, and accenting the eccentrically tasteful interior with plush sofas of a similar hue and impressionistic paintings of the manor's owner done in a comic book style of the mid-20th century. This anachronistic artistic choice aside, Ettinger's set is visually superb. All the more so as the secondary and tertiary locations are revealed after intermissions. Said set changes are executed rigorously and with great enthusiasm and precision haste, led by Stage Manager Cat Wallis and their run crew.
If you think the set is outlandish, one look at the costumes will have you doubled over in fits. Decadence is dripping through every stitch of fabric and the hats on the female characters would set down the green envious eye of Queen Elizabeth herself! Costume Designer David Burdick has a way of fashioning the fashionable into outrageous couture, fitted specifically for the zany nature of the affluent comedy. And while the gentlemen do look stylish, and the ladies even more so in their hyper-pigmented and saturated dresses, there is no question to which ensembles are Burdick's finest works. Just one look at Lady Bracknell's initial sartorial selection and the whole house is gasping and guffawing at her larger-than-life peacock attire. Burdick is a master of the visuals when it comes to costuming this cast.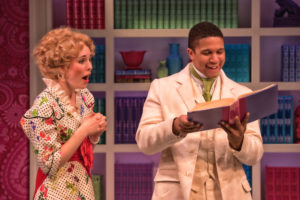 Despite its two intermissions, which appear to exist exclusively for the purpose of changing from one elaborate setting to the next, the show's pacing is swift. The casting is superb; Director Joseph W. Ritsch has a well-oiled comedic machine on his hands whilst still generating a lively and refreshing piece of comedy that feels vibrant and new. It's difficult to say exactly what it is that Ritsch has done to make the production feel so fresh. Maybe it's the precision use of Dialect Coach Gary Logan who aids the cast in their perfection of 'in-town' English accents for the time period or the racy and up-tempo interstitial music that bookends the scenes, as composed and designed by Roc Lee. But whatever it is, the slight hints at modernity, the striking balance of playing such an absurd comedy for truth, or knowing when and how to milk a certain comedic element of a scene and interaction versus knowing when to let it alone (all of which Ritsch showcases sublimely with this cast), Ritsch manages a perfectly pleasing production.
Carl Schurr, though relegated to the minor roles of Lane and Merriman, the household butler and servant of the leading men, respectively, is a vastly versatile performer in this production. While Schurr's Lane is rather austere and well-preserved as a butler, it's his Merriman that's insanely memorable. All of the stiff-gaited antics which he applies to every scene, whether it's shuffling about with the tea service, or just bumbling through the scenery, is sure to leave a memorable smile on your face.
Falling in line with this comedy man are the kitsch comic coupling of Reverend Chasuble (Wil Love) and Miss Prism (Helen Hedman.) Love and Hedman are too perfect of a pair for words. They play well off one another with their coy flirtations and are both expressive of face when it comes to dealing with all the shenanigans that unfold all around them. Both Hedman and Love create convincing accents for their characters, which fit their characters' ages and upbringings.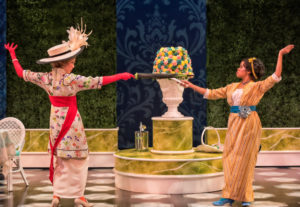 Forget the four calling birds for Christmas and instead order up four fabulous leading players. The ladies— Cecily Cardew (Paige Hernandez) and Gwendolen Fairfax (Katie Kleiger)— are posh and pristinely polished, laying out their prim airs of society for all to see. When Kleiger and Hernandez first meet on stage they slather on the false sincerity being overtly and grotesquely polite to one another. And then when all hell breaks loose, both Hernandez and Kleiger have at one another with zesty gravel. When they say girls are made of sugar and spice and everything nice, they forget to mention how spicy the spice can be, as exemplified by both Hernandez and Kleiger late in the second act garden scene. Perfectly sweet on their respective perspective beaux, they are an exquisite half of this leading quartet.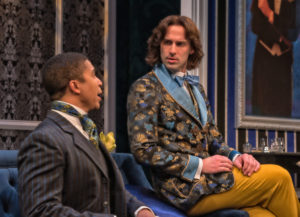 Enter the men— John Worthing (Jaysen Wright) and Algernon Moncrieff (Danny Gavigan) who both take turns being Earnest and do so earnestly! There is an unmistakable air of privilege about Gavigan's Algernon; the way he exudes metrosexuality and savior faire is enough to tickle anyone's fancy. Wright is equally respectable though not so detached in his airs as Gavigan's haughty and high Algernon. The pair are both vastly expressive with their body language and their facial expressions. Mastering an impeccable stage "bromance", Wright and Gavigan are well-matched against one another and against their female counterparts. When the four of them find themselves in scene work together, it makes for quite the comedy.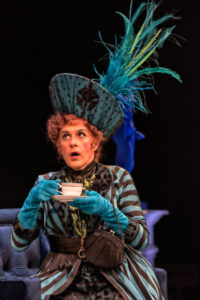 Stealing the thunder, the lighting, the day and night time sky, and everything in-between— Lady Bracknell (Bruce Randolph Nelson) is the pièce de résistance, the bellowing beauty, and the larger-than-life opulent gem in a crowning, glorious production. Nelson tackles the role with vim and vigor, living up the larger than life character to epically hysterical proportions. Strutting with purpose in the extravagant outfit (perfected to his form by costume designer David Burdick) of peacock and poise, Nelson leans on Lady Bracknell's cane with elegance, sophistication and an obscene amount of grace. There is something heartfelt about Nelson's approach to the character, not pushing her too far over the top, but just enough to toe that fine line of earnest and absurd. What wonders are achieved in Nelson's performance even though Lady Bracknell is penned as a secondary character to the leading four. Truly exquisite is the way Nelson's Lady Bracknell steals the show in a conflagration of comic perfection.
Amuse yourself in town this holiday season. Be sure to get tickets to see The Importance of Being Earnest at Everyman Theatre. It is the perfect holiday alternative to all of those tried and true, quite worn-out Christmas shows!     
Running Time: 2 hours and 20 minutes with two intermissions
The Importance of Being Earnest plays through December 30, 2018 at Everyman Theatre— 315 W. Fayette Street in the Bromo Arts District of Baltimore, MD. For tickets call the box office at (410) 752-2208 or purchase them online.