Looking for an evening out? Like something a little more 1940's than 1840's? Tired of the trifecta ghosts of Christmas? Spotlighters offers a more blithe spirit this holiday, Noel Coward's Blythe Spirit, a witty little farce to bridge the transition from 2018 to 2019.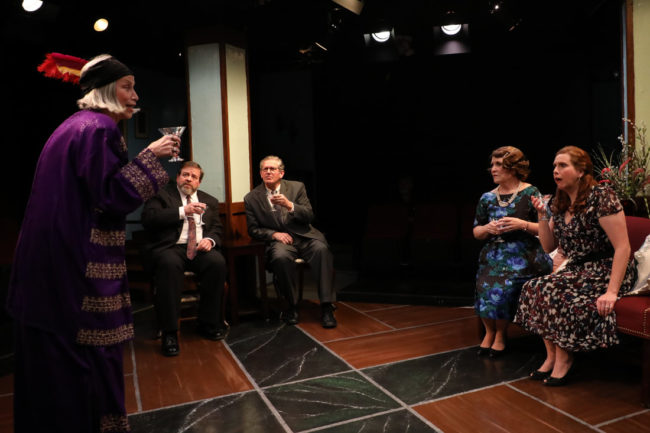 The neighborhood of Mount Vernon, bedecked with more even more sparkle for the holiday season, is lovely to visit of an evening, for dinner at one of the many nearby restaurants, including The Helman, Mount Vernon Stable, The Elephant, Akbar or Aloha Sushi beforehand and make an evening of it. Wine and dine beforehand, as the show lasts a full three hours, and dining options after 11pm may be somewhat reduced.
Blythe Spirit's author, Noel Coward, frequently photographed with a cigarette, is so prolific an author and songwriter, you may be more familiar with his works than you realize. Blythe Spirit, written in 1941, produced for cinema five years later (and narrated by Coward, uncredited) revived on Broadway in 2009, has remained consistently in theaters large and small, a beloved comic standard at this point. This pedigree makes it a good choice for the historic Audrey Herman Spotlighters Theatre's 57th season.
Seating on three sides of the adorable little stage offers challenges and opportunities for creative blocking, so everyone's view of someone is obstructed from time to time, but Director Fuzz Roark understands his theatre and frequent actor movement keeps all parts of the audience engaged. With permission, the cannon London setting has been transposed to an indeterminate area of the US South. Accents are mostly consistent, and sound as if the characters all live in the same place, something that cannot always be said of accents in a show.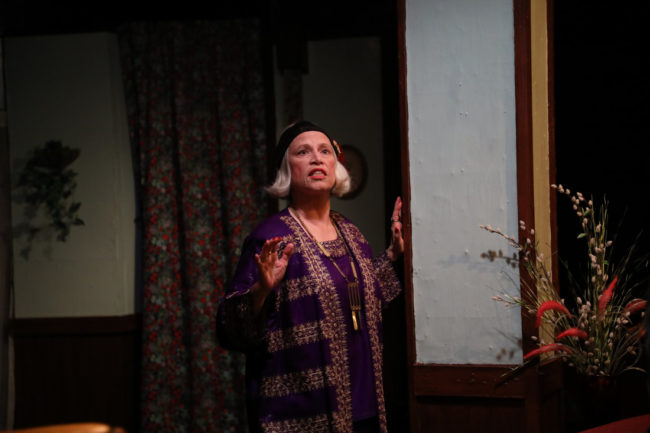 The show is well cast; each character, while not quite archetypical, is a personality type you've met once or twice. Suzanne Young as Madam Arcati really digs into her role, playing up the Eccentric Medium stereotypes and breaking them at the same time. As Ruth Condomine, belabored wife, Julie Press is suitably irritating but disquietingly relatable, emoting all the complicated turmoil that the very basic 'shrewish wife' dialogue omits. Thom Eric Sinn as Charles Condomine is almost protagonistic, though his original motivations are mean-spirited enough to make the audience feel that everything he endures, he brought upon himself. As Elvira Condomine, Melanie Bishop carries many of her scenes with her alternately sweet and petulant expressions. Quietly anchoring her nearly mute role of the housemaid, Edith, Shaneia Steward keeps her sequences clean and clear. We don't hear it much, or for long, but she has a very sweet singing voice.
Set Designer Fuzz Roark makes excellent use of Spotlighters interior, visually enlarging the set with paint and hanging pictures. It's a sweet little dollhouse of a set, beautifully appointed with practical furniture and decorative accents, including a clever bar setup. Do direct your attention to the stage floor: it's beautiful, floors being one of Fuzz's signature specialties. The single set requires various additions and subtractions to indicate the passage of time, so kudos to the members of the run crew, who make that happen quickly enough to not feel draggy and slowly enough for actors to change costumes. Costuming, once again in the capable hands of Laura Nicholson, is fanciful, evocative and occasionally quite splendid. Lighting Designer Jessica Anderson delivers expressive moods and times of day, and some nicely done effects. Sound production values are high, though the un-mic'd actors are sometimes hard to hear. The occasional specials are well-timed and appropriate.
Intermission is 15 minutes, and there's only one, despite the show having been written in three acts. This makes Act I feel somewhat prolonged, especially as it's a tad sluggish at the outset, and full of character conversation that has no actual bearing on the plot. It's a very talk-y script, no getting around that. Coward evidently wrote it in about a week and never felt it would be improved by editing, so he didn't.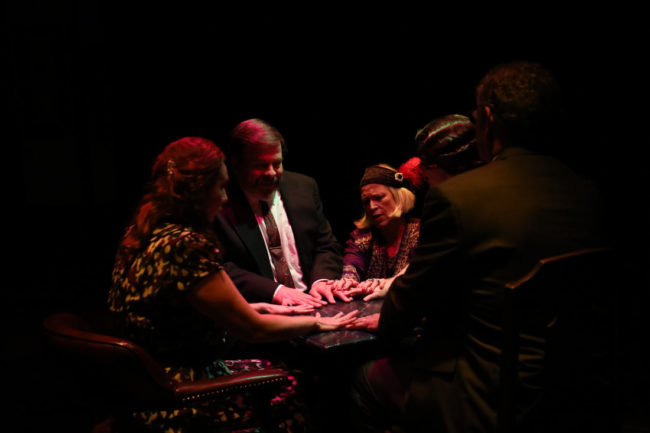 Spotlighters is located a few steps below street level on the left side of St Paul, between Read Street and Madison Street. Parking is available at the lot on Read and Charles Street, and in the garage a few blocks south on Calvert and Monument. You might get lucky with street parking, but I don't advise subjecting yourself to that frustration.
If the weather and the season are getting to you a bit, (amirite?), indulge yourself in a lighthearted romp in Mount Vernon. The neighborhood is pretty, the cozy hug of Spotlighters theatre is comforting, Coward's clever dialogue is amusing, and Fuzz has added bits of physical comedy that are effective and funny. You don't need to have the blues to let Blythe Spirits lift yours.
Running Time: Approximately 3 hours with one intermission
Blythe Spirit plays through January 20, 2019 at The Audrey Herman Spotlighters Theatre— 817 St. Paul Street in the historic Mount Vernon neighborhood of Baltimore City in Maryland. For tickets call the box office at (410) 752-1225 or purchase them online.