TheatreBloom rating:
The winter woods are ripe with snow; there's a crisp clear moonlight glow and the world is ready for winter's end. The solstice! December 21st this year, but don't wait until then to celebrate. Silver Spring Stage has a fabulous story all about hope in the bleakest darkness of winter right now upon their stage in the spirit of the season. Season of Light: A Winter Fairytale by Steph DeFerie makes its debut as the seasonal, family offering at Silver Spring Stage under the direction of Katie Rey Bogdan. Charming, endearing, and brimming with messages of hope, this play has strong ties to the world all around us, despite its almost ethereal setting in a place that nearly pre-dates time.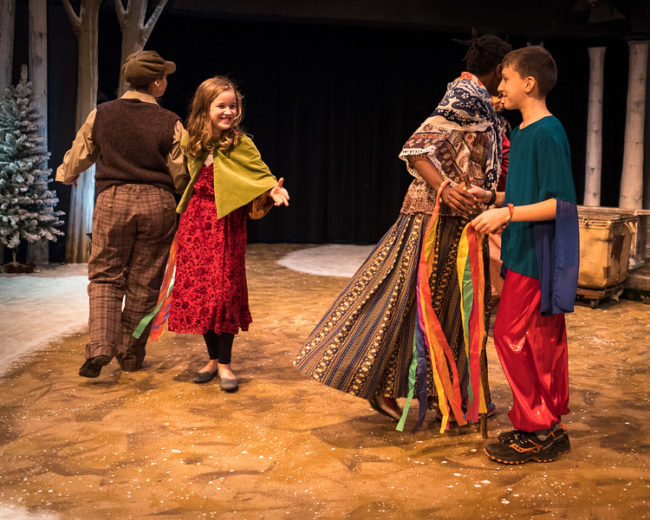 Regarding the winter solstice and the return of the sunlight, illumination becomes an important factor, almost a character in this production. Lighting Designer Jim Robertson creates the ambient glow of bleak twilight with moon-glow echoing all around the set whenever the players appear in the night or without the sun. Robertson creates a stark alternative, with radiant, warm ambers and golds when the sun does finally appear, showcasing the drastic different between night and light. The delicate glow that surrounds the She of the Moon character, shimmers with a celestial radiance, creating an extra transfixing effect for that character when she is present.
Costume Designer Carrie Kirby transports the audience to a time that predates our own, to a place that exists but in the imagination. A fantasy woodland village with its creatures— deer and wolf— and its villagers, humble and simple. Kirby's peasant gear is as drab and shaded in earthen tones as the outfits on Lord Markus and young Frederick are decadent. But the true crowning glory among Kirby's sartorial selections are the brightly saturated jewel tones featured in the caravan gypsy garb and garments worn by the players. In addition to their 'otherness' and their 'gifts' which sets them apart from the ordinary folks of the village, Kirby's costumes pop with individuality and bold hues of color.
Truly breathtaking, simplistically beautiful, and clever to boot, is Set Designer Leigh K. Rawls masterpiece upon the challenging angular-beam-blocked stage. Designing for the Silver Spring Stage play space is always a challenge because of the load-bearing support beam at its downstage right corner. Rawls, with vivacious imagination, has wrapped the beam, disguising it as a thick, ancient tree of the woodland. Other more wintery trees pepper the background, and the path of forest and village run white with snow. There is something tranquil, something serene about Rawls' scenery, which makes it the perfect setting for this fairytale of wonderment and enlightenment.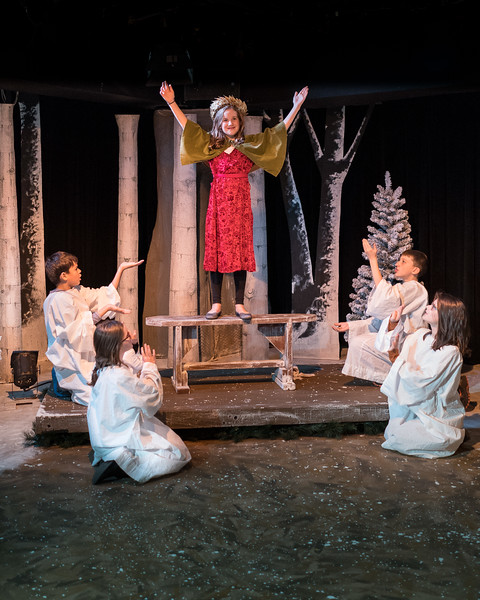 Director Katie Ray Bogdan has assembled a spirited group of actors, many of whom are making their performance debut with Silver Spring Stage. And other than a few instances where it is difficult to hear their delicately whispered voices, their performances are fascinating, captivating,and ultimately engaging in this unique and enchanting narrative. Accompanied by Jeff Miller's sound design, which features a lot of woodland style music from a time long ago, Bogdan's vision for the show is lived to fruition with her energetic exuberant cast. Cameo nods go to Courtney James, playing the nervous Shettle who fully embodies the nerves of 'needing things to go right' and Alison Starr, credited only as an Angry Peasant Woman (but if you look closely you can see her playing the live violin in the wings during the She of the Moon scene), and Crystal Wheeler, the mild peasant who is beyond reasonable by comparison to the angry peasant. 
Asher Howell, Maeve Thibault, and Dina Howell, who double up as villager children in the beginning of the tale, are given the fun task of becoming animals of the forest. Howell strides about with lumbering wooden sticks for legs, transforming her into a dear, while Asher Howell wears the most gloriously crafted mask to appear as a ferocious wolf of the woods. Young Maeve Thibault appears to have a choreography about her as she flits and twirls about, carrying an umbrella skeleton, whose points have been adorned with birds, to make her not one avian representative of the woods, but a whole flock of fowl.
Anna Yancich deserves a nod of praise for her role as the Beggar Woman and her reappearance later in the production. There is a recognizable haughtiness about the way Yancich portrays this reprisal appearance,which perfectly befits the scene as it unfolds. Brynn Krasney, playing She of the Moon, is a mesmerizing individual to watch. Slow and dreamy of speech and movement, there is a hypnotic quality to the way she moves and the flow of her cadence.But there is an underlying deception to Kransey's portrayal which is masterfully concealed in her natural stage charm.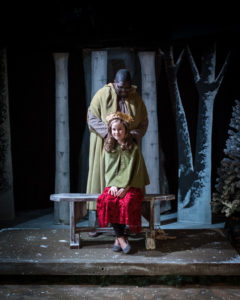 When little Magda (Claire Gunthert) is thrust out from her village, despite the pleas of the valiant Lord Markus (James Sherman) and his sound-minded youthful assistant Frederick (Camden Salguero), an dripped from the loving arms of her mother (Jacqueline Youm), the winter certainly appears to be at its bleakest. Gunthert is an exuberant delight in the role of young Magda, bouncing about with an indefatigable energy even when the character feels defeated or undeniable pending doom. Never missing her lines or her mark when she moves, Gunthert is a head above where most young performers her age would be in embracing this role. She keeps the audience invested in her portion of the narrative, whilst keeping an empathetic vein open for those of us watching to feel compassion for young Magda.
Meet the players! A critical component to the story as a whole and to young Magda, this ragtag band of bedraggled outcasts are quite the characters. There is Stephen (Zachary Singer) who is blind but can see the future. Singer, whose cadence and delivery is not unlike that of Tiresias of a well-known Greek tragedy, finds delectable nuances in all of his lines as they are delivered. Singer also plays a character with great wisdom and wit beyond a youthful boy of his years, and does so in a very convincing fashion. Next to the troupe is dear Toot (Cassie Brode) who is mute but can converse with the birds. Using only a pan-pipe to communicate with the mortals, Brode's character is as eager as Brode is convivial. Brode does an exceptional job of expressing things with only aggravated blasts on her pan-pipe.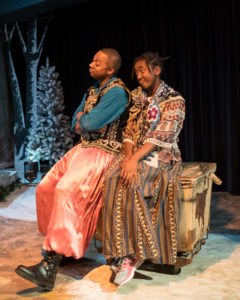 Apple (Olivia Waymer) is deaf yet can always hear the truth. Waymer, like Singer, speaks with a sage soundness that appears years beyond her actual age. Waymer also uses sign language at occasions throughout the performance and is crisp in clear in her doing so. Then there's Gwendolyne (Rebecca Shoer), of simple mind (the old ways might say that the group were deaf, dumb,blind, and mute, but such crass labels seem inappropriate for modern times) but with the vast capability to talk to and understand the animals. What is most delightful about Shoer's performance is her literality— when she says something she acts upon its literal meaning, whether it's a figure of speech or otherwise. This earns a great few chuckles from the audience all throughout her appearances.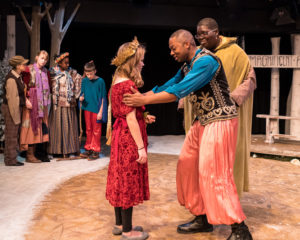 The leader of the island of misfit players is the brave and noble Rodrigo (Carols Reaves.) Doubling up as an interstitial narrator of sorts, Reaves character is the driving source of commotion in the performance. One might say he's like the sun, burning away to keep the light lit in all of his players. There is a conviviality about the way he approaches the character and Reaves is generally present and lighthearted in the role. The way he interacts with Gunthert's Magda is really endearing and brings the moral of the tale full circle.
While there may not be any Red Ryder carbine-action 200-shot range model air rifles or ghosts helping Scrooge to realize the true meaning of Christmas, Silver Spring Stage is reminding everyone of a great lesson— that radiates through the holiday season and should be kept glowing all year through. Keep hope alive no matter how dark the winters are. Find your little glimmer of sunlight and hope amid these bleak winter months at The Stage. You'll be glad you came and enjoyed Season of Light: A Winter Fairytale.
Running Time: Approximately 65 minutes with no intermission
Season of Light: A Winer Fairytale plays through December 16, 2018 Silver Spring Stage, located in the Woodmoor Shopping Center— 10145 Colesville Road in Silver Spring, MD. For tickets call the box office at 301-593-6036 or purchase them online.