TheatreBloom rating:
For those unfamiliar with the tale, A Christmas Carol is a sci-fi story of outer worldly spirits and time travel overlaid with a profitable Christmas theme. You know,like in It's A Wonderful Life. If you find that an interesting way to think of it, Director Bill Leary's adaptation is just as intriguing in how it updates this classic. The relationships that Ebeneezer Scrooge shuns are heightened by tying every character closer to him through family and business.Old boss Fezziwig is replaced with Scrooge's father Andrew, founder of a charitable organization with Robert Cratchit Sr., until Scrooge and Marley's corporate makeover. Scrooge's mother and father are now also Ghosts of Christmas Past and Present, complete with dad jokes and a sincere hope to see Scrooge again. And orphaned nephew Edward is raised by former beau Belle, who in this version more fortunately did not later get married.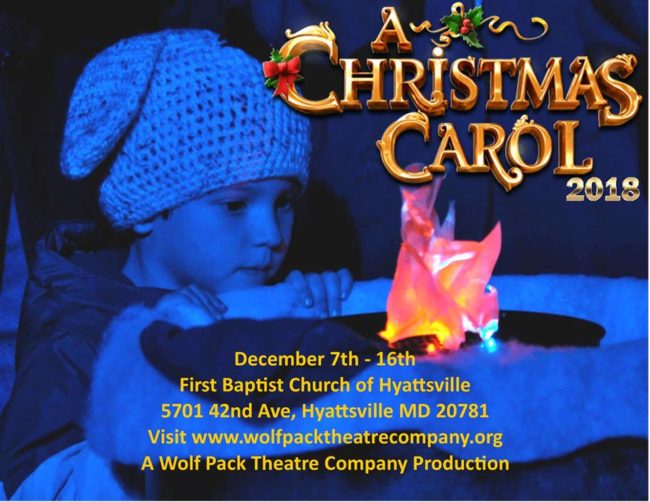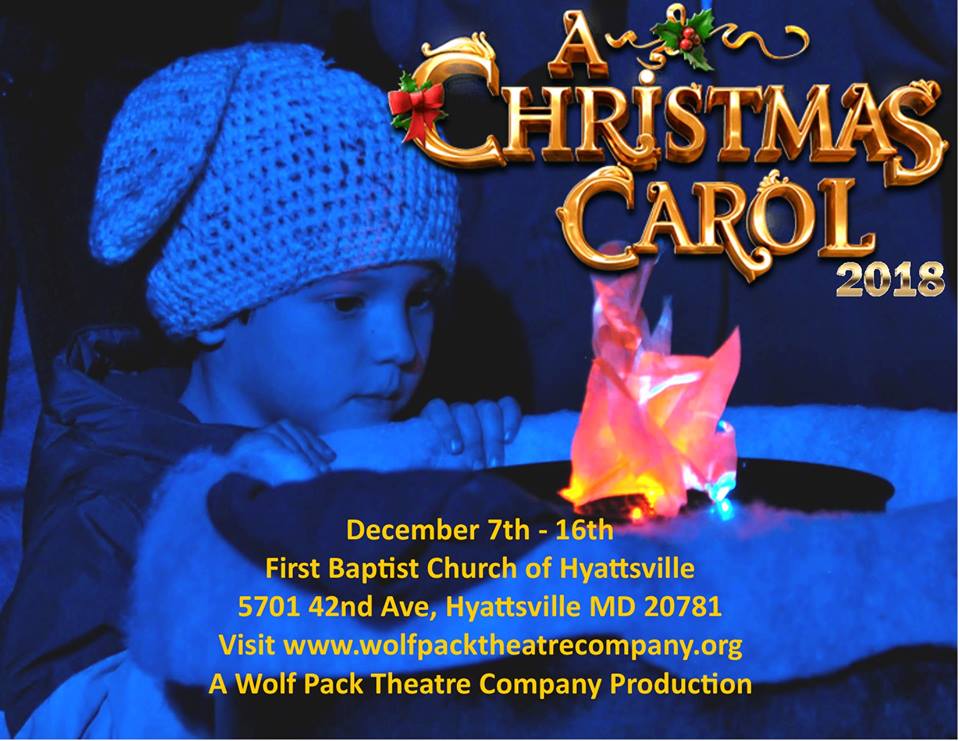 Complete with fifteen Christmas trees, Stephen Beitzell's lighting sets the action on a tight stage of an active church. Jennifer Quilty's musical direction provides lovely adaptations across nineteen numbers, whether it's the full cast singing and dancing to "Patapan" or the final and original "It's the Message of Christmastime." Timothy Jansen suitably grumbles and bellows as Ebenezer Scrooge with the right touches of humor and eventual chagrin and redemption. Angel Duque and Miranda Austin Tharp as young Scrooge and Belle bring great energy to their jazzy "Up on the Housetop" as well as heartrending regret in Quilty's original "Whatever the Price", touchingly reprised by Jansen and Lauren Nicole-Gabel as the present Belle.
Receiving my first presentation of "The Show Must Go On" award, Alex Sands fulfilled her actor's nightmare on ninety minutes' notice to play Scrooge's Mother Martha and Ghost of Christmas Past. Her reading was fully present in the moment while her songs were flawless as both Martha and as Erica the former chambermaid, the role she arrived that evening to perform. But I also regret not seeing Katy Chmura in the role – you'll have to rely on my prior high opinion of her work.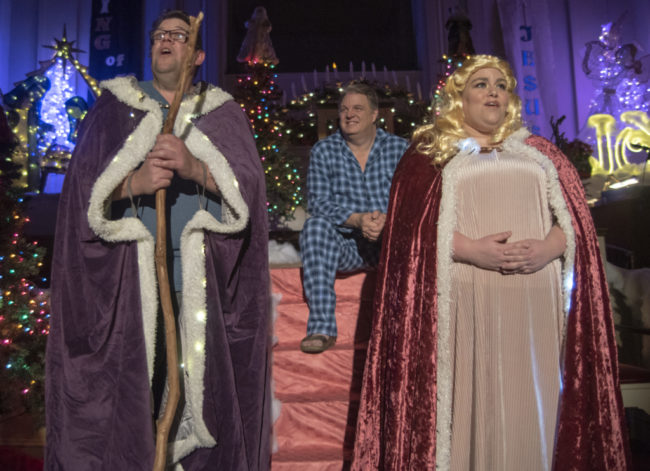 As Ghost of Christmas Present, Michael Reeher fills the theater with his amazing voice, leading the full cast as choir in a beautiful "I Heard the Bells on Christmas Day". Instead of Want and Ignorance, Jessa Gabel and Sari Gabel are precious as Regret and Indifference to unrealized hopes and unfulfilled dreams. Peter Orvetti always plays nicely as Nephew Edward, now in an expanded role with Michael Angeloni as Hollis. Angeloni also uses his voice to great effect as Marley. I compliment the musical and sound direction of the live band underscoring Marley's voice seamlessly with piano, as well as later with violin to Young Tim, who properly pulls your heart strings as played by Kaitlyn Elizabeth Gebhardt.
Zack Walsh as Bob Cratchit has an intriguing face and timbre of voice of which he uses both to evoke great sympathy and later horror as father to Young Tim. I hope to see more of his work. Elizabeth A. Weiss is sweet as Mrs. Cratchit, successfully delivering a challenging melody in "Birthday of a King." Mya Williams as the elder Cratchit and Aaron Williams as Erica's son Mark properly provide the necessary pathos. And for the sake of domestic tranquility, my former wife wears a very nice hat. But as well, Rachel Zirkin-Duda again plays a pastor naturally with equal parts strength and compassion. Speaking of hats, Dannielle Beitzell's costuming ranges from downright despondent to fantastically festive replete with lights. And she acts surprisingly taller on stage as Ghost of Christmas Future.
If you are compelled with your annual obligatory Dickens, this is the one to see.
Running Time: 2 hours and 30 minutes with one intermission
A Christmas Carol plays through December 16, 2018 with Wolf Pack Theatre Company at the First Baptist Church of Hyattsville— 4701 42nd Avenue in Hyattsville, MD. Tickets are available at the door or in advance online.