TheatreBloom rating:
"It's beginning to look a lot like Christmas" and this December, Artistic Synergy of Baltimore brings us one of our favorite holiday classics, Miracle on 34th Street—this time, as a spirited musical production with book, music,& lyrics by Meredith Willson! Directed by Melissa Broy Fortson, Music Directed by LeVar Betts, & Choreographed by Kristin Miller, this endearing show is sure to delight Christmas-lovers of all ages and make us believe once again in the magic of the season. One of the things I immediately liked about this production—and left the theater feeling still—was that it utilized the talents of individuals of all ages and experience levels to create a very special show brimming with enthusiastic heart! That is the definition of community theatre at its core and it was truly heartwarming to bear witness to. This team should be proud for what they've created together and hopefully they're having as much fun as it appears they are!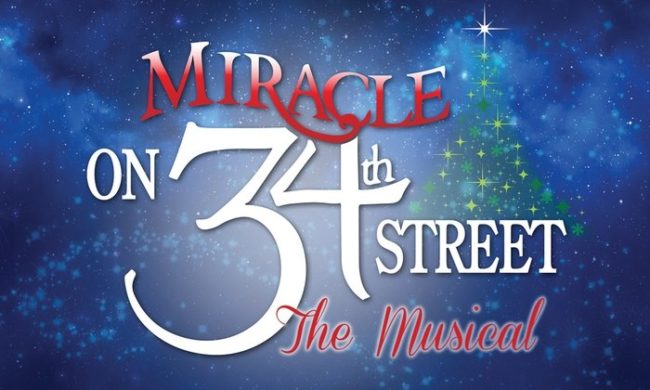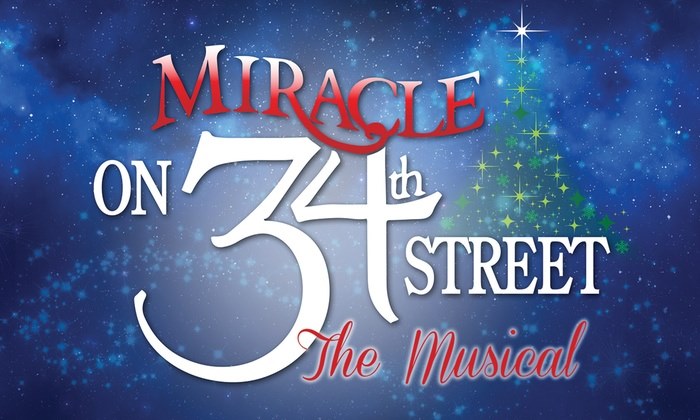 Technically speaking, this show is no easy feat to pull off. In terms of set, multiple locations including apartments and offices, the inside of a store, and the Macy's Thanksgiving Day Paradeitself must be put onstage, and the team here faces this challenge in some creative ways. Using a blank white wall with a singular window in the background as a canvas, they bring to life these locales using various set pieces, paintings, signs, and draperies. Of particular note are Fred's bachelor pad apartment, the Act II courtroom, and the bright and sparkly Macy's Toy Department, complete with a fully decked-out Christmas tree and Santa's chair! While scene changes lag a bit, the crew works hard to bedeck the stage with the necessary elements and, in most cases, does so laudably. The costumes for this production vary vastly in quality and period appropriateness (the show being set in 1947) with a few of the pieces appearing a bit too modern. Some of the best, though, are the garments worn by Susan Walker and Doris Walker most of which give the 1940's flair and are well-fit and appropriate to the characters wearing them. I also particularly enjoyed Santa and Mrs. Claus' Christmas outfits at the parade! Lighting for the show, designed by John Runk, is simple but effective in its execution and seemed to go off without a hitch.
Music Director LeVar Betts had his work cut out for him considering the scope of this show's score, but I have to say I was very impressed, especially with the power executed by the band. The live music certainly aids this production in much of its oompah-laced grandeur, though sometimes volume gets the best of it. I sat on the other side of the room from the orchestra and still occasionally had a pretty hard time hearing the actors singing, especially in solo moments of the large group numbers. Sound balance issues aside, the band created a nice sound together and hit their stride most notably in the exciting full company numbers "Big Clown Balloons" and "That Man Over There is Santa Claus".
One of the first things that struck me about the performers of Miracle on 34th Street was the energy and spirit they brought to the stage. While some staging itself got quite clunky at times and there were many instances of "upstaging" or problematic clustering of action, the actors never lost sight of the story they were telling and stayed in the moments regardless. There are many memorable performances & cameos in the production that give every member of this troupe the chance to shine! Some of my favorite ensemble performances include Cheryl Vourvoulas as the no-nonsense Judge Group, Mike DeNicolis as her political adviser Tammany O'Halloran, and Brian Reagan as the prosecutor Thomas Mara. The pre-court and courtroom scenes in particular are amongst my favorite in the show; well-acted and put-together. Michael Zellhofer as the bold and blustering R.H. Macy plays his character to great effect, especially in his scenes alongside the tightly-wound Mr. Shellhammer (performed with frenetic fun by Bill Bisbee).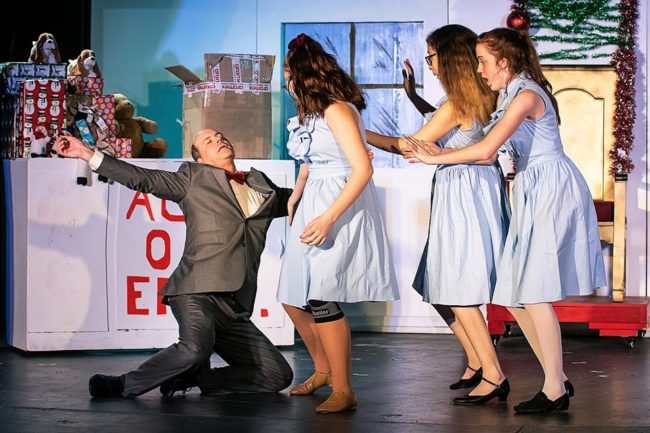 Shane Sowa creates a charming and very likable Fred Gaily, especially considering some of the rather uncomfortable moments written between his character and Doris Walker. Even by 1940's standards they are a bit questionable in their tone, but Mr. Sowa delivers the dialogue nobly and evens out the scenes well. Besides the brisk and smooth delivery of his courtroom scenes, my very favorite moments of his lie in the character's interactions with Susan, played sweetly by Gracie Roberts. The father-daughter connection they create onstage is sweet and believable especially in their very endearing number "My Wish." The adorable Ms. Roberts, for being such a young performer, delivers her material with clarity and poise, mainly in her one-on-one scenes with Fred, Doris, and Kris. She is able to impressively carry off many moments in the show with the maturity of someone well beyond her years.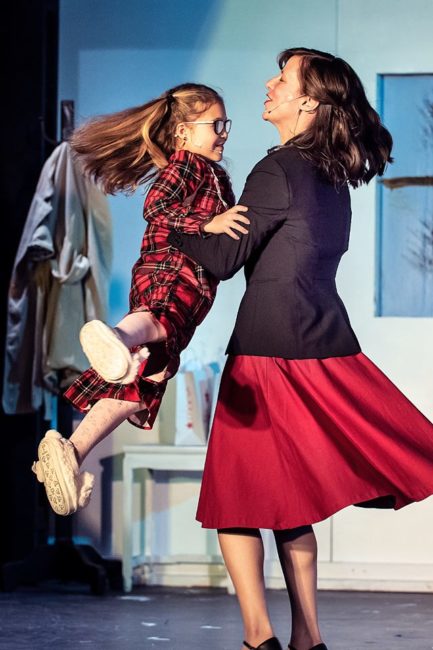 Playing little Susan's mother Doris Walker, Sarah O'Hara does a lovely job bringing her character to the stage. O'Hara doesn't shy away from delivering Doris' convictions with strength and confidence, and she creates the perfect speaking voice for a business executive in the 40's. Her introduction song with Susan "Arm in Arm" is one of my favorites and in the number immediately following ("You Don't Know") Ms. O'Hara beautifully paints the picture of a jaded individual, no longer taken in by magic and the concept of love. Her journey out of this detachment and back to a world of wonder and enchantment by the end of the show is well-played and heartwarming.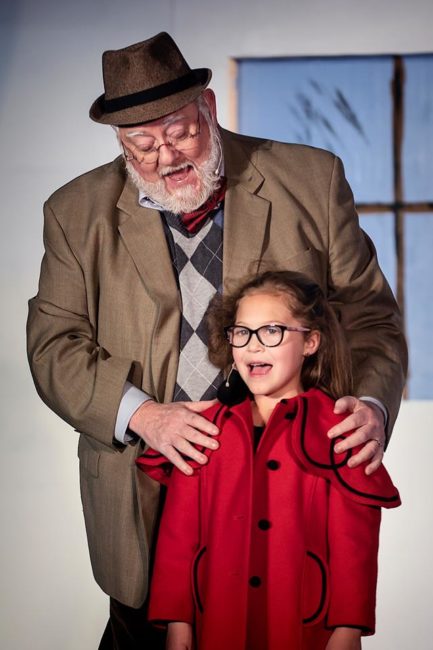 Speaking of heartwarming, what would this magical story be without Santa himself— Kris Kringle, played perfectly by Wayne Ivusich. It is with utter delight that Mr. Ivusich takes on this role and brings us a first-rate performance, filled with cheer, warmth, and a magic all its own. His "Pinecones and Hollyberries" numbers, both the initial and the reprise, are simply delightful and really get the audience in the holiday spirit. His scenes with Susan are incredibly sweet and would make the kid in all of us believe once again in the Man in Red. A gift just in time for Christmas, Ivusich's Kris Kringle is truly magnificent and without a doubt the highlight of the show.
So treat yourself to some holiday magic and head over to Artistic Synergy of Baltimore and their production of Miracle on 34th Street the Musical.
Running Time: 2 hours and 15 minutes with one intermission
Miracle on 34th Street plays through December 16, 2018 at Artistic Synergy on the upstairs level of the Prince of Peace Lutheran Church— 8212 Philadelphia Road in Rosedale, MD. Tickets can be purchased by calling the box office at (410) 833-5181 or by purchasing them online.