TheatreBloom rating:
The internet is a glorious thing. You can look up anything at the touch of a button or the tap of your finger. Instantly you can access all sorts of records, all sorts of facts, and all sorts of history. You can  read bios, get sports stats, and discover a world of knowledge about people from the past. But you can't google a spirit. You cannot live and breathe their moments of excitement or feel their triumphs and failures through the internet.Enter live theatre; Venus Theatre, to be specific, and its current production of Running on Glass, which demonstrates exactly how necessary feeling and experiencing the spirits of victorious women of the past really is. Written by Cynthia Cooper and Directed by Founding Artistic Director Deborah Randall, Running on Glass is a monumental testimony to women in sports,shattering the glass ceiling and paving the way for the female athletes of today. And yet…here we are…still running on the glass of their shattered ceilings…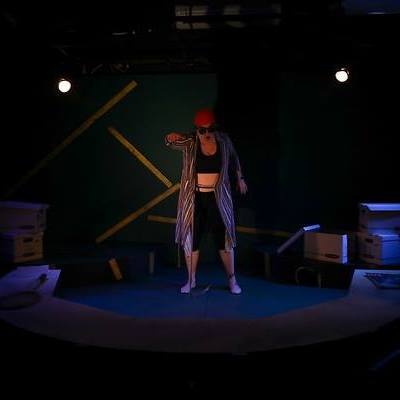 An evocative, intimate, and almost strangely inviting set greets the audience as they enter the space at Venus, better known as "The House That Love Built." Set Designer Amy Belschner Rhodes has captured the essence of a busted up night club, which at first doesn't seem like much, but once it is o'er laid with the visions and dreams of the two characters within the play, it takes shape in the mind's eye. Rhodes, who doubles up as the show's Lighting Designer, works in tandem with Director Deborah Randall to project video clips and still photographic imagery of historical women in sports and athletics against the back wall of the play space. There is something outdated and yet strikingly prescient about the way Rhodes has crafted this set, almost as if it knows it is destined for something greater— the living museum that the characters craft onto it as the production unfolds.
Randall, who never ceases to amaze with the half-dozen production hats that she wears, while simultaneously performing one-half of the two-person show, digs her cleats into the mud and masterfully handles the costumes and props. While the costumes are not extravagant, there is no need for them to be; they accurately reflect the six female athletes in their eras with minimal fuss over changing from one to the next. What is astonishing, and tragically beautiful, is the authenticity of the properties displayed throughout the performance. As each athlete's story is relived— in radiant vibrancy by either Randall or co-star Christine Canady— an artifact of their life is put on display, tastefully placed on Rhodes' set. The majority of these props are authentic sports memorabilia, legitimate pieces of history for these female athletes. The tragic beauty in this is that such artifacts are readily available, having little monetary value to them, reflecting what time, history, and the present day market economy thinks and feels about women in sports history.
Cynthia Cooper's work is quite extraordinary; it is deeply steeped in the reality of six key women in athletic history. Althea Gibson, Gertrude Ederle, Wilma Rudolph, Babe Didrikson, Gretel Bergmann, and Mamie "Peanut" Johnson are those six, and I'm embarrassed to say that I had only previously known of one of them— Gertrude Ederle, the Channel Swimmer— before seeing Running on Glass. Cooper delves into the lives of these women, finding passionate moments of intensity somewhere along their athletic careers and hones in on these feelings to maximize their impact upon the audience. It's not just a glimpse of their lives or a bullet of stats and information, but rather raw, human intricacies of their experiences and their emotions. Cooper has a remarkably felicitous way of capturing each of these female athletes in her writing; this is enhanced by the stellar performances given by Randall and Canady.
Each actress has three of the aforementioned six roles to tackle throughout the performance. And while the only time Randall and Canaday interact directly— during the opening and closing segments of the production, where they are framed as Anna and Ellie, two friends who decide to start this living museum of female athletes— they are always engaged with what the other is doing, even when they're not looking directly at them. Often, when one is reliving their athlete's moment, the other is reading through the book about that athlete, as if the living actor were an incarnation of the imagination of the other. At other times, they watch one another, as if taking in the living exhibit of the museum they hope to create. It's rather an extraordinary process to experience.
Randall creates three vastly unique characters whilst playing Gertrude Ederle, Babe Didrikson, and Gretel Bergmann. There is a high-spirited energy exuding from her in waves when she takes Ederle for a swim back down memory channel; this is very different from the somber and harrowing spirit that thrives inside Bergmann, and Randall's accent is spot-on for this incarnation of victorious female athleticism. Different still is her approach to Babe Didrikson, and yet each of her three incarnations carry a vigorous passion for the sport, for being recognized as equal and worthy in a field dominated by men, and for thriving while surviving.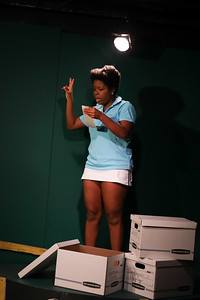 Canady displays a passion equal to that of Randall, making her an excellent choice to play opposite in the roles of Althea Gibson, Wilma Rudolph, and Mamie "Peanut" Johnson. As young Althea, Canady sports a surefire temper that really livens up her portrayal of the tennis player. There is an undeniable and unshakable intensity with which Canaday approaches the Wilma Rudolph character, making you feel the struggle and strife that this historical icon overcame to succeed. Dominating the emotions of this character so intently, Canaday insures that the audience can feel her blood pumping as she relives that 11-second sprint. And when she plays Mamie "Peanut" Johnson, she lives and breathes baseball in a highly contagious manner.
There is a staunch reverence that accompanies Running on Glass. It gets the gears turning in the mind while simultaneously stoking the fires of passion. Women have come so far, and yet still have so far to come. Glass ceilings have in fact been shattered and yet female athletes still run on the visceral shards of those who paved the roads before them. Cynthia Cooper's title could not be more apt, and the work could not be in more adept and nurturing hands than Deborah Randall and Venus Theatre Company.
Running Time: Approximately 70 minutes with no intermission
Running on Glass plays through December 9, 2018 at Venus Theatre— 21 C. Street in historic Laurel, MD. For tickets call the box office at (202) 236-4078 or purchase them online.