Now is the time seize the day! Or in this case, "Carpe scaena!" And seize the stage like they did! Street Lamp Productions presentation of Disney's Newsies, Directed and Choreographed by Bambi Johnson, is well worth the drive to Rising Sun, MD. I reckon it may be a bit out of the way for some Baltimore City folk, (Admittedly, had my mother not lived in Colora for over eleven years, I may not have known about it either.) but I promise you it's worth the trip.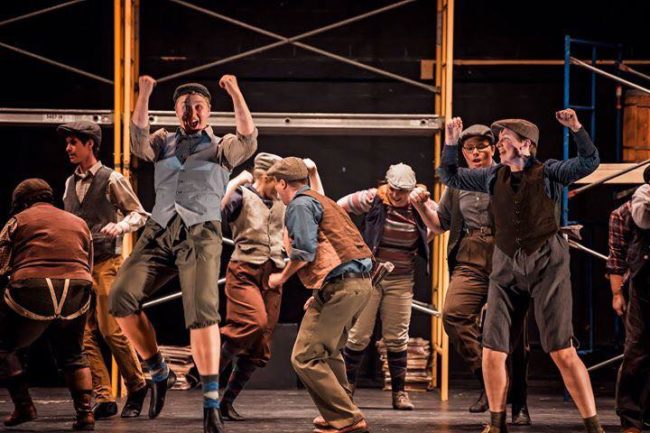 Johnson and her crew move from their normal abode to Rising Sun High School for this chapter. Set crew Steve Flickinger, Matt Wolffe and Kevin Woods must have been like kids at Christmas. The venue is beautiful, and they take full advantage of all the stage has to offer. Their design is practical and works well. Stage Manager Becky Flickinger kept scene changes rolling, and having some Newsies dance during them was a nice touch. With all of the open space the scenes that did not take place on the scaffolding could have been played more downstage; especially since most of the mics did not work.
The two main characters, Jack Kelly (Art Bookout) and Katherine Plumber (Erin McArthur) were adequate. Bookout has a nice voice but seems to be unsure how he wants to use it at times. There were too many gaps in his singing, which was unfortunate because he did demonstrate the ability to bring it. Additionally, his acting was reserved and drawn in at all the wrong times. On the other hand, McArthur is quite the actress. While she appeared much older than the role required, she delivered. It was difficult to hear her solo. McArthur's performance during "King of New York" was exceptionally good. During that number and others, she pulled the best out of those with her. Even with this ability, the chemistry between her and Bookout seemed absent.
What makes this show very good is the newsie cast and the choreography of Bambi Johnson. Josh Willig, Matthew Peterson, Simon Gusso, Sammi Flickinger, Ryan Conner, Rylynn Woods, Gabriel Webster, Stephanie Peterson, Connor Reagan, Delany Flickinger, Adriana Devine, Meg Smith, Austin Barnes, Judah Latshaw, Lizzie Detar, Marina Yiannouris, Caitlin Yandell, Trent Hhanjar, Mary Cate Carder, Eliana Kreider, Abbie Worley, Tigga Smaller, Katie Webster, and DJ Figilola, all had moments where they shined, but it was their work together as a unit that made the show wonderful. They understood and embraced Johnson's choreography and it was clear that they enjoyed performing it.
The adults, Patricia Enger, Steve Flickenger, Ted Cregger, Mathew Wolffe, Kevin Woods, Jennifer McDonald, and Jerry Jones supported the newsie cast nicely. Flickenger's role of Wiesel was exceptional and deserving of a nod. I do have to question Cregger as Pulitzer though. Either this role was miscast or Cregger had no knowledge of his character and just did his own thing. Pulitzer is described as "a pompous businessman through and through," a "no nonsense father," who "doesn't sympathize," and Cregger played him as a bumbling buffoon.
As mentioned, the sound just was not there. Many mics either didn't work or were intermittent. I was informed prior to the show that the facility did not allow Street Lamp Productions to bring in their own lights. As a result, there was little to no color and shadows ran wild. My hat is off to the tech crew of Tyler Keenan and Sophia Woods. These two did not stop working to fix the sound issues, while delivering the music required for the production.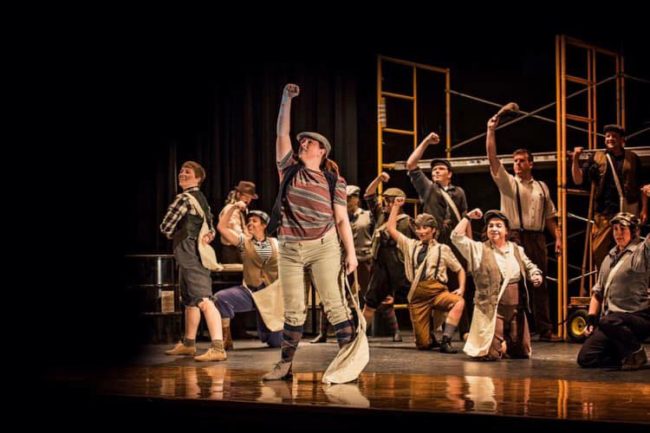 You won't want to miss these kids carrying the banner. They are energetic, entertaining and they love performing for you. More importantly, they tell a historical story that is often forgotten or removed from our history books. The things they do today, will be tomorrow's news!
Running Time: 2 hours with one intermission
Newsies plays through December 9, 2018 with Street Lamp Productions at Rising Sun High School— 100 Tiger Drive in North East, MD. For tickets, call the box office at (410) 658-5088 or purchase them online.
Newsies runs through December 9 at  Rising Sun High School . For tickets, call 410-658-5088, email streetlamparts@gmail.com, or purchase the online.