Tale as old as— wait. No. That's not right. The seaweed is always greener— no. That's not it either. The cow as white as milk, the slipper as pure as— oh. Definitely not. With the flurry of various and sundry fairytale musicals being done here, there, and everywhere, who can keep them all straight? What about a lesser known fairytale? Or at least a lesser produced one? Artistic Synergy swoops in to save the day in that department, delivering the under produced musical gem Once Upon a Mattress, telling the fractured-fairytale version of The Princess and the Pea. Directed by Bill Bisbee with Musical Direction by Kathryn Weaver and Choreography by Jillian Arnold, this funky fun story has a little something for everyone and isn't your average beast, mermaid, or green swamp ogre.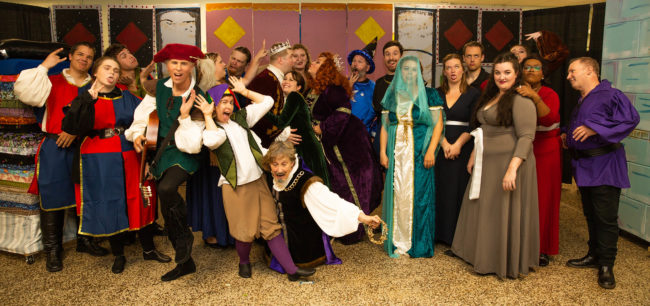 A whimsical castle façade, bricked in pastel blues with accent swipes of pink and lavender set the exterior of this fantasy kingdom compliments of Set Designers Pat Rudai, Amy Rudai, and Director Bill Bisbee. The backdrop has a lovely and serenely beautiful autumnal landscape for scenes that take place outside the castle; the paint work on the scenic backings of these productions are always splendid. The hulking hunks of scenery roll in and out of focus rather smoothly thanks to Stage Manager Emma Hawthorn, who happens to be doubling up as King Sextimus. The irony that the king is backstage calling the shots is lost on no one; Hawthorn runs a tight ship and is also responsible for the various and sundry props featured throughout the production.
Costume Design, an important element in any fairytale production, is left up to the cumulative efforts and creativities of the cast. There are varying flavors of Medieval Princess-type gowns and a cross-sectional of knight tabards in red and blue, oddly reminiscent of…Duloc? Or was that the newest emerald and gold-trimmed fashions featured on Princess Winnifred once she changes out of her huckleberry-burgundy dress. The crowning glory of costumes isn't the rich amethyst and gold trimmed velvet gown on Queen Aggravain, though it does come close, but rather the Baltimore Ravens Masquerade Extravaganza that is featured on Maggie Flannigan when she takes up the role of the Nightingale of Samarkand. Feathered, fancy, and ready for a tailgate ball, Flannigan's costume is hands down the best in the production.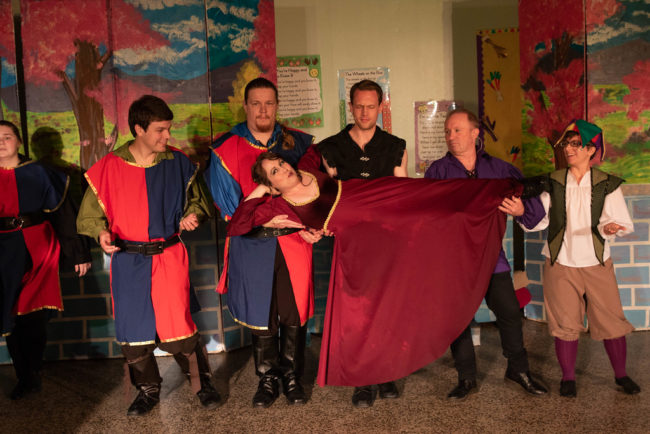 Choreographer Jillian Arnold works wonders given the constriction of the space and the number of people that get crammed into said space. Although the ensemble at times seems a bit behind the music when it comes to dancing, Arnold's lively moves and overall enthusiastic approach to engage the audience in dance movements is fully present. This is best witnessed during "Spanish Panic", an intense number that gets everybody whirling and twirling all about the stage in a dizzying blur. The number is started off (almost a full two scenes prior) with Sir Harold (Brittany Runk) and Lady Beatrice (MacKenzie Walker) demonstrating the complex steps. But Arnold's true success comes during "Song of Love." Again, not the cleanest of executions from the ensemble, but there are nods to all sorts of fairytale musicals happening in here, including a very noticeable clanging of the mugs a la Beauty and the Beast.
Creating an element unique to Artistic Synergy, Director Bill Bisbee adds a series of young pantomime performers at the top of the show's exposition. Madi Cosen, Patrick Rudai, and Tori Rudai, playing the little queen, the little prince, and the little princess respectively, dance their little hearts out all through the Minstrel's (James Fitzpatrick) intro to the true tale. There are other, much subtler nods throughout the production that make the show unique to Artistic Synergy, but this is the one that works the best. Bisbee, as the show's director, puts forth a good effort in bringing all the components of this fairytale musical together, and the pacing even sails along with ease. Musical Director Kathryn Weaver also deserves several nods of praise for her work with the performance, if for nothing else but that insanely fast pace at which she has to play through the "Spanish Panic."
The aforementioned "Spanish Panic" features the hilarious faces of the entire ensemble and the indefatigable Princess Winnifred, but we'll get to her later. The two faces to watch in this number are Lady Rowena (Maggie Flannigan) and Sir Studley (Joe Weinhoffer.) The exhaustion and exasperation that the ridiculous number brings forth is painted with vivid animation across both of their faces. Flannigan, who doubles up as the Nightingale, gets to lend her dulcet songbird voice to "Nightingale Lullaby" as well as serving as a supporting harmony alongside Lady Merrill (Allison Kenyon) and Lady Lucille (Stacey Cosden) in "Swamps of Home."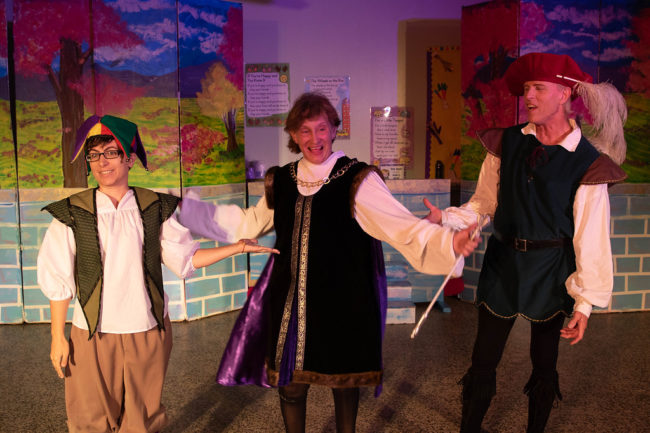 There's something to be said for a narrative figure who then becomes a part of the production. Jim Fitzpatrick's Minstrel does just that. He fills out the costume divinely and adds a lovely element of comedy to the trio that is The Minstrel, The Jester (Mel Tillery), and The King (Emma Hawthorn.) Tillery and Fitzpatrick do a charming duet, "The Minstrel, The Jester, and I", but if you listen with your eyes you'll see the duet transform into a trio as Hawthorn's silent King Sextimus character adds all sorts of hilarious shenanigans to this and several other numbers and scenes. Hawthorn has great expressive qualities when it comes to taking up the silent role, really getting antsy in her animations, especially during "Man to Man Talk." Tillery, as the spry and sprightly Jester, gets a true moment in the limelight when she tackles the solo "Very Soft Shoes." Quite debonair, she floats on air as she drifts and soft-taps her way through the song, enchanting and enticing the audience to smile and tap along.
More songbirds can be found by way of love-bird characters, Sir Harry (Wesley Kenyon) and Lady Larkin (Mea Holloway.) Both full of voice and passionate expression, Kenyon and Holloway create a de-lovely duet from "In a Little While", singing sappy saccharine sentiments back and forth at one another. The same gooey gushing of feelings is felt strongly between Kenyon and Holloway during "Yesterday I Loved You." Both lend their voices to the ensemble numbers with gusto, helping to add a powerful sound to the group songs.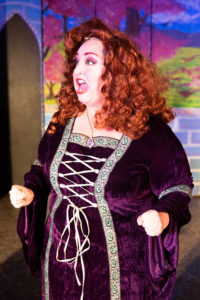 The dopey, goofy Prince Dauntless (Andrew Pedrick) is the dewy sparkling apple of his helicopter mother's eyes. Queen Aggravain (Stacey Bonds) is really in a show-stealing competition with Princess Winnifred (Kristin Miller.) And rightly so as they simultaneously battle for the attentions of Prince Dauntless. Bonds, who has the characterization of Queen Aggravain perfected, is a hoot, a proper scream, and truly a comic gem. Her facial expressions are hysterical, her blasting temper is too much! Channeling her inner Disney villain circa Yzma of Emperor's New Groove, Bonds delivers "Sensitivity" with vocal chutzpah a mile wide. Intense, sugar-coated villainy never looked and sounded so good, especially when she goes nattering after the poor vacuously innocent Pedrick, who has also perfected the simplicity of his character.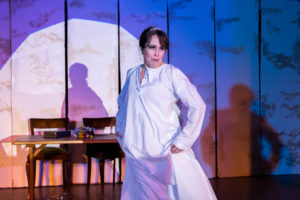 Prince Dauntless is in love with a girl named Fred. Kristin Miller fills out this role divinely, getting to showcase her vocal range, vocal style, and her dancing capabilities. Though she's quite pretty of face and a little too put together in the costume department (Princess of the Swamps is supposed to look a hot mess), she compensates with vocal adjustments from time to time without compromising the integrity of the song she's singing. Miller robustly pours her heart out during "Swamps of Home" and delivers great character realness every time she has an interaction with someone else, whether it's the meddlesome Queen Aggravain or her doting, future-hopeful fiancé. Belting out with all the rigor of the swamps, Miller nails "Shy" and its sentiment perfectly.
There's a charming little tale waiting for you at Artistic Synergy of Baltimore this fall and it doesn't involve flying nannies, wilting roses, or 70's discos on the Greek Islands. Be sure to catch the rarely produced Once Upon a Mattress in its limited two-week engagement.   
Running Time: Approximately 2 hours and 20 minutes with one intermission
Once Upon a Mattress plays through October 14, 2018 at Artistic Synergy on the upstairs level of the Prince of Peace Lutheran Church— 8212 Philadelphia Road in Rosedale, MD. Tickets can be purchased by calling the box office at (410) 833-5181 or by purchasing them online.