Hello, Possums! Welcome to The Kensington Arts Theatre— the drag capitol of the world! Because they have the most dragulous show all lined up for you over these next few weekends! That's right, Possums! It's— *GASP* Priscilla Queen of the Desert! Directed by John Nunemaker with Musical Direction by Valerie A. Higgs and Choreography by Rikki Howie Lacewell, this area community theatre premiere has lots of dragtastic potential and a heart-warming story about embracing yourself no matter who you are! Directed by John Nunemaker, with Musical Direction by Valerie A. Higgs and Choreography by Rikki Howie Lacewell, this beast of a show has a lot of potential to be a most memorable production.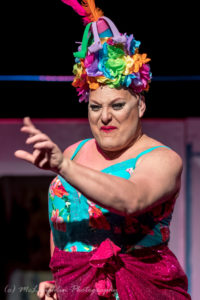 Priscilla Queen of the Desert is a beast of a musical. There's no denying that this Everest of a production sets the bar high when it comes to its demands all across the board. Kensington Arts Theatre is known for their high-quality community theatre productions, but unfortunately, this production somewhat misses that mark, though it is not without its standout moments. The biggest issue the show faces as a whole is its enormity and grandeur, which Director John Nunemaker and the entirety of the production staff, cast, and crew, do valiantly attempt to live up to, and in some cases do succeed in doing so. It can be said that some of the major issues experienced on opening night may be worked out as the run progresses, and with hope and faith and a bit more practice, this will hopefully be the case.
Scenic Designer Bill Brown does his best to create the magic of the epic traveling tour bus for which the show is known. And despite its permanent placement (due to staging logistics) far downstage and lack of interior lighting inside the bus structure, Brown succeeds in creating a passible bus. The problem with this structure is its panel shifts. The run crew, under Stage Manager Ruth M. Orland, hasn't quite mastered how to change the panels of the bus, which go from ordinary, to covered in obscene graffiti, to pastel pink, in a quiet, expedient, and smooth fashion. Part of the hang-up with this transition is the Mylar curtain, which is used to hide the bus when it's out of view, simply isn't long enough to properly cover the set. These scenic changes are extremely clunky, and often loud, distracting from the action that's happening on stage as you can both see and hear them.
Lighting Designer Dan Patrick Leano fails to support a great deal of what's happening in the show, whether it's a lack of interior lighting in the bus structure as previously mentioned or a lack of discernable colors during some of the more vibrant numbers (and it is possible that colored lights and effects are being used in these numbers, but not to any discernable point of note), the lighting expression for the piece feels underwhelming. Leano leaves the show with a feeling of missed opportunities when it comes to the overall illumination experience.
Wearing no fewer than three enormous hats of creative production, Choreographer (and Costume Designer and Hair & Make-up Designer) Rikki Howie Lacewell spreads her talents a bit too thin in this production. The costumes, will vivacious, vibrant, and creative, are often hastily put together, and in some cases feel half-finished. Lacewell does extraordinary things when it comes to creative concepts— like the paintbrush ensembles worn during "Color My World"— but there are other times where her creativity is bolder and more grandiose than her execution— like the green cake dresses seen in "MacArthur Park." The drag costumes featured on Tick and Adam, are somewhat of a letdown as well. This is also true of the overall approach to Tick and Adam's drag (no proper makeup, with virtually none at all in Adam's case, no proper formation of the 'drag-dressed-body', no tucking, etc.)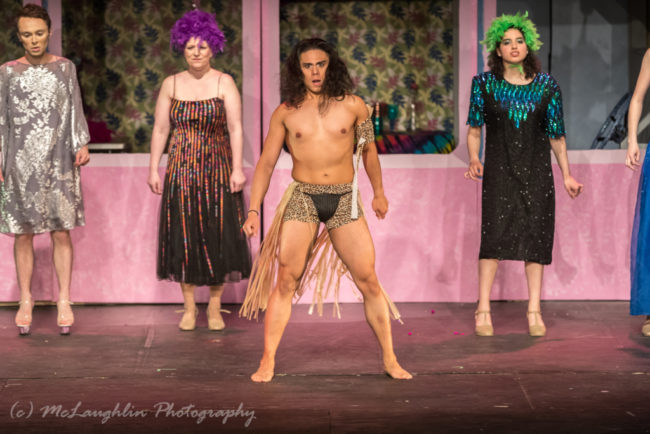 Lacewell's choreography reads as sloppy. Intending to express a great deal of fancy footwork and intense routines, the larger group numbers are poorly executed and often times the moves that Lacewell has intended for the numbers is beyond the capabilities displayed in the ensemble. This is particularly true during "Go West" and "Thank God I'm a Country Boy." That said, Lacewell does keep enthusiasm high in the performance, which is good, as it keeps the performers moving at pace, if nothing else.
There are two extraordinary standouts in the ensemble— Magali Palmer-Young as Cynthia and Brian Marques, who takes on several different character type roles, mostly dancing and singing his heart out during "Thank God I'm a Country Boy", which is well worthy of mentioning. Regrettably, the rest of the ensemble, despite their enthusiasm, seems to have trouble with tempo, pitch, and overall togetherness, as well as volume (though this seemed to be a consistent issue with microphones on the evening of opening night.)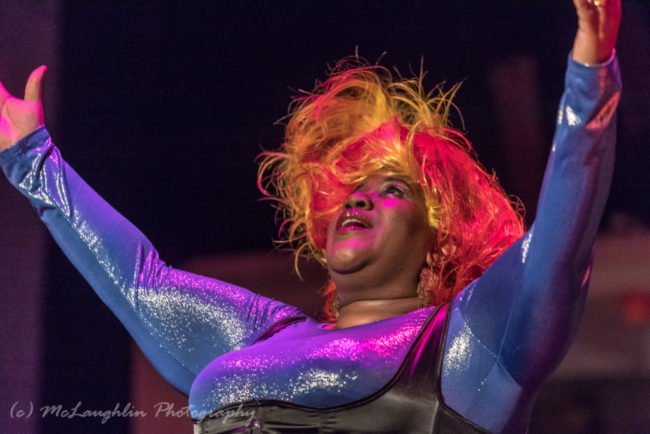 The trio of Divas (Summer Hill, Kristin Franco, and Temple Fortson) are ill-fated from the get-go, with their costumes being somewhat unsuitable and their wigs a bit disastrous. The intent is clearly hot fiery flames, for these disco divas, but the wigs end up looking somewhat melted, and despite Lacewell's attempt to present unity in their costuming, not all of her choices are flattering fits for everyone in the trio. In addition to this, Hill, Franco, and Fortson— who is credited as the Lead Diva— seem to have trouble harmonizing, all throughout the performance. They are given hot 70's disco standards, many of which have the Drag Queens lip-synching for their lives on the stage below, and they manage to get through them, albeit unevenly at times. Despite their tonal issues, the trio of divas serve up great face whenever they're performing.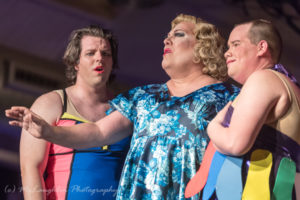 Jon Simmons, playing Adam, and Gregory Wilczynski, playing Tick, are overall lacking in the vocal department. But what they lack in intonation and sustain, they make up for with attitude and in Wilczynski's case, with utter sincerity. Of the pair, Wilczynski is the stronger singer and actor, his moments opposite Benji (Francis Hoag) are quite touching, and well worth the tear that they bring to the eye, especially during "Always On My Mind." Wilczynski carries an earnest sense of his character about him, even when the going gets tough for the gals on the road.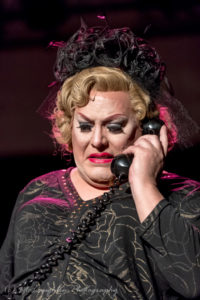 The show's saving grace is that bold and beautiful Bernadette (Larry Munsey.) With a true sense of how to drag-it-up, Munsey is the show-stopper, show-saver, and overall singing sensation in this production. Fierce, full of attitude, perfect pitch, and beautiful belts, Munsey understands the nuances of the character, creates depth in the moments laid heavy with gravitas— like those subtly flirtatious exchanges with Bob (Jack Mayo— who presents the only proper Australian accent in the entire production, well done, Jack Mayo!) or when trying to comfort Tick and Adam— and still knocks it out of the park with loaded one-liners. Taking vocal point on all of the group numbers, especially "Color My World" and "I Will Survive", Munsey's refined and refreshing voice carries the show. When she goes into the rant about "lip-sync" presentation, just before slaying the lip-synced start of "I Will Survive", it's absolutely priceless. Munsey is a godsend to the production, helping the audience to find a radiant beacon of hope and light in this show.
The show has its moments, and Munsey is well worth the price of admission; it cannot be denied that this was a challenge for Kensington Arts Theatre. Priscilla Queen of the Desert isn't being done anywhere else, however, so kudos to KAT for giving it a go.    
Running Time: 2 hours and 30 minutes with one intermission
Priscilla Queen of the Desert plays through May 26, 2018 at Kensington Arts Theatre located in the Kensington Town Hall— 3710 Mitchell Street in Kensington, MD. For tickets call the box office at (206) 888-6642 or purchase them online.