There's a face that we hide till the nighttime appears…and what's hiding inside behind all of our fears— is our true self— locked inside the façade! Who knew that Third Wall Productions' true self was an astonishing masterpiece of brilliance locked behind the façade of community theatre? In their finest and most extraordinary production since the company's inception in 2015, Third Wall Productions brings you the stuff of legends, the stuff of nightmares, their true inner workings…with their production of Jekyll & Hyde. Directed by visionary Lance Bankerd with Musical Direction by Andrew Zile, this stunning Broadway-caliber epic will leave your jaw splattered on the floor in sheer breath-taking amazement.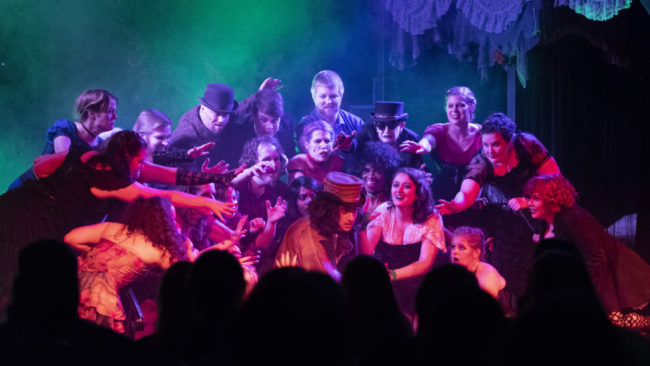 There is no contest. Jekyll & Hyde is the most ambitious and grandiose theatrical attempt made by the company in their three seasons of existence and by far their most successful, most impressive, and most miraculous piece of theatre. Director Lance Bankerd sets an Olympian bar of standards for future productions whilst giving this one the visionary theme and all-encompassing aesthetic of a truly maddened genius. It is a truth that cannot be denied; there is a fine line where intelligence gives way to madness. Bankerd and the cast and crew teeter breathtakingly upon the edge of that line for the entirety of the performance.
Mesmeric is the word that comes to mind when drinking in the overall aesthetic of the production. No one element outshines the other when it comes to costume, set, and lighting design, but when they come together it's a hypnotic and transfixing visual masterpiece that seamlessly informs the emotionally terrifying roller coaster ride the serves as the show's musical vessel. The haunting Victorian tapestry draped across the back of the stage, compliments of Jenifer Hollett, sets the eerie background feeling for the show. Splash on the unsettling and often spectral tones of Jim Shomo's lighting design and you have ocular symphony of scary sensations and daring delight. Shomo's incendiary work is flawlessly timed to pivotal moments in the musical, often heightening the already riveting experience provided by the vocally sensational cast.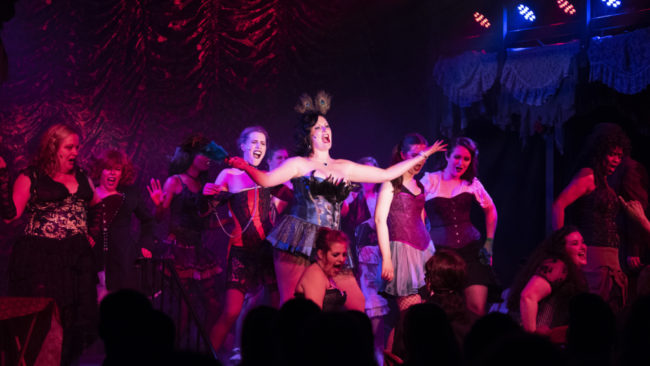 Wonders no know bounds in the hands of Costume Designers Marie Bankerd and Amy Rudai. The Victorian couture is situated well within their wheelhouse and flatteringly fit to every individual in the cast. The sharp edges of the show's racy personality are augmented in Bankerd and Rudai's work; such selections are best exemplified on characters like Lucy and Nellie, or really any of the women featured at The Red Rat. Bankerd and Rudai create marvels beyond your wildest imagination when it comes to some of the more intricate costume pieces, much of which aligns into the horrific macabre that inspires Bankerd's ultimate vision of the show.
While the stage is one thing, the darkened platforms that ascend to the heavens and loom over either side of it are quite another. Both functional and fabricated to further the reach of Bankerd's expression of style, Set Designer Jordan Hollett and his assistant Pat Rudai, have well-crafted these black, load-bearing structures that serve as show pieces and contain the orchestra pit (led by the ever dapperly dressed Andrew Zile.) Bankerd makes jaw-dropping use of these elevated surfaces— allowing deceased characters to glare down like the haunting pious gargoyles that they are for great lengths of the performance. This stirs a sense of the ever watchful eyes of one's crimes literally being upon them once they have committed such…sinister acts.
The staging effects are second to none in the production— the fog alone (again complimented by Jim Shomo's tremendous lighting efforts) is both titillating and terrifying. It streams forth in great frothy waves, consuming performers in its shadowy grip during prime moments of certain numbers, making these songs exponentially more intense. Bankerd's staging and choreography (assisted by Jillian Arnold) is radically impressive. Working with the natural layout of the church's pews, Bankerd thrust the ensemble right into your face (cannot recommend a front row seat highly enough, it is quite the intensely engaging experience); they are practically carnal, desperate to devour the audience with their ravenous song.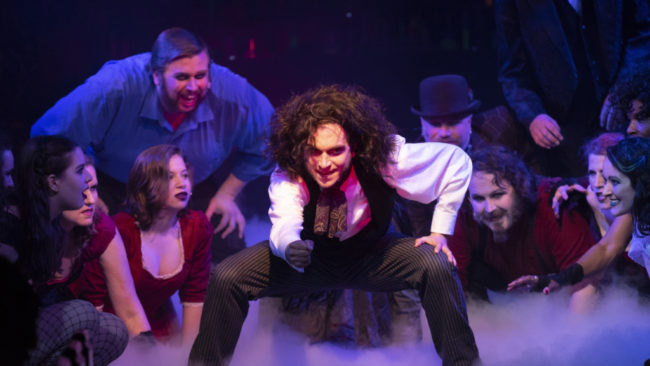 Every moment is accounted for in Bankerd's vision; the timing is meticulous and precise. Combining the extraordinary special effects with impeccable execution, Jekyll's laboratory is revealed in a moment of breathtaking excitement, perfectly timed to the music. Furthering exploring the notion that all human life is merely a sordid yet glamorously manicured masquerade, Bankerd— with the assistance of Marie Bankerd and Amy Rudai— ensconces everyone in the cast with spellbinding masks, which never truly conceal their identities. There is a frantic chaos that drives all of these components of the production, urging and surging through the performance of each individual like a unifying thread, binding them all to the gory trajectory of the plot.
Andrew Zile's musical manipulation of the ensemble serves its purpose well; like a conjuror of emotional demons, he extracts the most scintillating pathos from this singing group in great swells of sound for numbers like "Façade" and "Murder, Murder", both of which engage Bankerd's concept of the theatrical experience coming home to roost right in the very laps and faces of the audience. Perfection arises under Zile's musical direction for the iconic quartet "His Work and Nothing More", featuring Jekyll, Utterson, Emma, and Sir Danvers. The blends and harmonies and intensities alone in this number are so overwhelming that they send shivers up the spine.
The corrupted aristocracy— featured heavily in "Jekyll's Plea/Board of Governors"— roam freely through the masses like gorgons sketched up from the mind of a madman. Lord Glossop (Nicholas Pepersack), Sir Archibald Proops (Heiko Spieker), Lady Savage (Mea Holloway) and Lady Beaconsfield (Marie Bankerd), all savage criminals, but none so heinous as The Bishop of Basingstoke (Nick Ruth), whose misdeeds just at the top of "Murder, Murder" (featuring the terrified-looking little girl played to the height of fear incarnate by Grace Volpe) are enough to turn the stomach. All harmonious of voice and intentionally foul of character, these five (alongside Andrew Pedrick's Simon Stride) are well-set into the internal mechanics of this Jekyll & Hyde.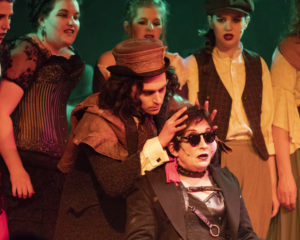 Debauchery knows no bounds when it comes to the life at The Red Rat. Nellie (Jennifer Alexander) and her ilk are treacherously tempting, seductively salacious, and full of pernicious pleasure the likes of which could make a sailor blush. Slinking with the utmost sleaze through the series of scenes that occur in that squalid hole of Victorian London hell is Spider (Emma Hawthorn.) Creepy beyond compare in everything from her appearance to her physicality, Hawthorn is an unnerving individual who can put you right off simply with a sideways glance through her darkened goggles.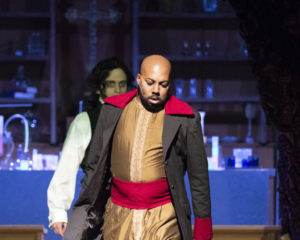 Dueling voices of reason, each rich and robust in their vocal timbre, Sir Danvers Carew (Michael Zellhofer) and John Utterson (J. Purnell Hargrove) serve as the fraying tethers of sanity that hold Dr. Jekyll to reality. Zellhofer is to be commended for his most excellent performance, practically perfect in recitation, delivery, and emotional composition. Hargrove much the same by way of praise as he crafts the perfectly serious character, a true mark of success in his acting repertoire. The pair, though only heard together during the quarter "His Work and Nothing More", add quite the impressive set of vocal pipes to the production as a whole.
Like glittering stars amid the blackness of night the leading ladies of the production blindingly dazzle their captive audiences in both vocal prowess and emotional expression. The duet, "In His Eyes" evolves and erupts as a power ballad belt-off between Roni Mosco as Lucy and Andrea Minino as Emma. Soaring through this number with inexplicably beautiful tones and perfect pitches, the two all but melt the boards the board around them with the passion and raw expressions the connect to the number. Each tenders a unique chemistry and relationship with the halves of Dr. Jekyll and Mister Hyde; each bringing subtlety and nuance to their portrayals of these tortured women.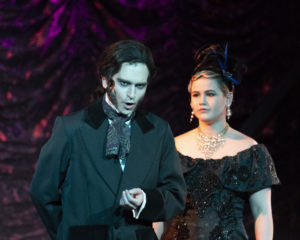 Andrea Minino's Emma is pristinely angelic but not without her own resource. She defiantly holds her own with a spirited attitude against Simon Stride during "The Engagement Party" but readily reveals her character's versatility during "Take Me As I Am", a remarkable duet she shares with Dr. Jekyll. With fathomless compassion, Minino dissolves into her featured solo, "Once Upon a Dream", a truly haunting lullaby that echoes a plethora of churning feelings, all directed toward Dr. Jekyll and the situation in which she currently finds herself.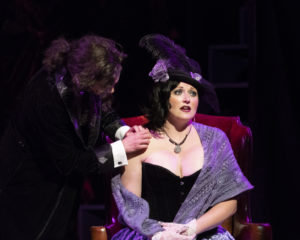 Roni Mosco is more than just a tawdry temptress in the role of Lucy. A sultry, sassy, and seductive tease with a belt to bring the house down, "Bring on the Men" is as provocative as it is pleasing both to hear and to watch, but this is just one sensual sliver of the bigger picture that Mosco provides when glancing into the life of Lucy. There is a smoldering sensuality to her rendition of "Here's to the Night", yet another fine flavor of her multifaceted character. With multiple vocal solo excursions and a world of emotions to explore, both "Someone Like You" and "Sympathy, Tenderness" exposes a broken desperation inside her character. Layered with sincerity, fear, and longing, all tucked carefully beneath the façade of her exterior, Mosco's Lucy is a tour-du-force in this production, particularly in her swan song, "A New Life."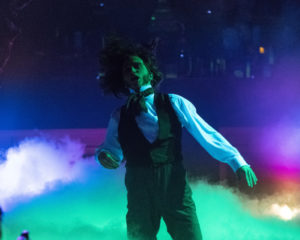 Ludicrously twisted, captivatingly demented, tormented by darkness and light—Henry Cyr is the epitome of everything one could hope for whilst embodying the split roles of Dr. Jekyll and Mr. Hyde. Ripe with talent, deeply invested in separating physicalities and mannerisms, Cyr hones in on the fact that Jekyll and Hyde are two halves of the same whole rather than two separate entities. There are discerning characteristics to the way he presents both of these men, and yet the way he splits the sound in his voice bares eerie similarity— is Jekyll ever really not Hyde and vice versa? The effect is phenomenal. Cyr masterfully executes "Confrontation" with a wayward physical struggle that is impressive to behold, and terrifying to drink-in; it is a most remarkable feat of exhausting performance. Driven determination guides Cyr into "This is the Moment" and he blasts forth a huge explosion of volume and passion at the song's conclusion, nailing its every emotional aspect with sheer perfection. There is a visceral rawness to his rendition of "Alive", which spooks and simultaneously stimulates the senses in a most surreal fashion. Ultimately a finer casting choice could not be made than Henry Cyr for carrying the tremendous burden that is Dr. Jekyll and Mister Hyde.
It is a truth that cannot be denied; this is one extraordinary show that is beyond compare and shall forever hold the standards of production at Third Wall Productions to an Olympian bar. Jekyll & Hyde is their masterpiece, their true masterwork, and runs for such a very brief engagement that it's almost torturous to think of its brevity.  
Running Time: Approximately 2 hours and 45 minutes with one intermission
Jekyll & Hyde plays through May 20, 2018 with Third Wall Productions at St. Thomas' Episcopal Church— 1108 Providence Road in Towson, MD. Tickets are available for purchase at the door or in advance online.