Sugar.
Butter.
Flour.
A recipe for perfection— that's what's cooking up at The National Theatre in Washington DC as the national tour of Waitress makes stops over in the nation's capital for a three-week engagement. The Broadway sensation that was inspired by the film, written by Adrienne Shelly, has arrived— featuring book by Jessie Nelson and music & lyrics by Sara Bareilles. A delicious combination of heartfelt story, stellar musical numbers, and tray after tray of creatively inspiring pies, Waitress is simply scrumptious and waiting for you to see what's inside!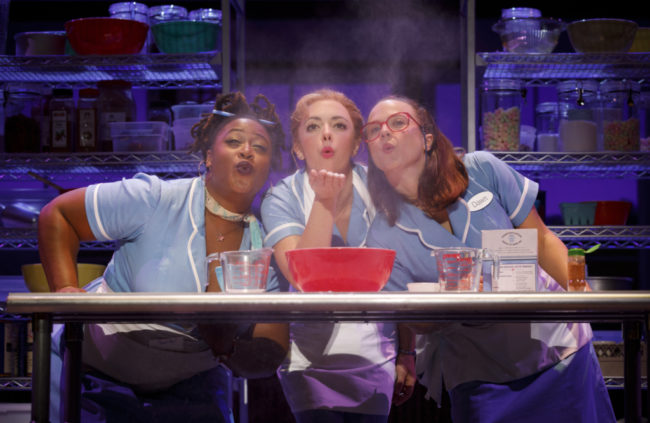 Verdant bucolic flatland meets vibrant colors of sunrise and sunset in a perfect blend all over Scott Pask's set design, by way of Ken Billington's lighting design. There's an enchantment all its own unfolding when the ingredients of scenery and light play together to bake this atmospheric pie of ambience. Pask's set has a sense of authenticity about it; the ease with which the diner transitions into the gynecologist's office and back is part of the marvelous magic that keeps the show bubbling with excitement. In addition to creating a flavorful combination when used in conjunction against Pask's set to discern time of day, Billington's lighting is crisp, snapping Jenna in and out of her creative fantasies and wistful memories in such an indulgent fashion that it's dizzyingly pleasurable.
A bit like extra whipped cream atop an already decadent serving of pie, Costume Designer Suttirat Anne Larlarb's sartorial selection for the show is a delicious bonus in most places. There are times when some of the pregnancy padding (only on the ensemble women during "Club Knocked Up") looks a bit lumpy and ill-positioned, but this minor misplaced detail aside, Larlarb's fabrication keeps in sync with the rest of the show's simplistic beauty.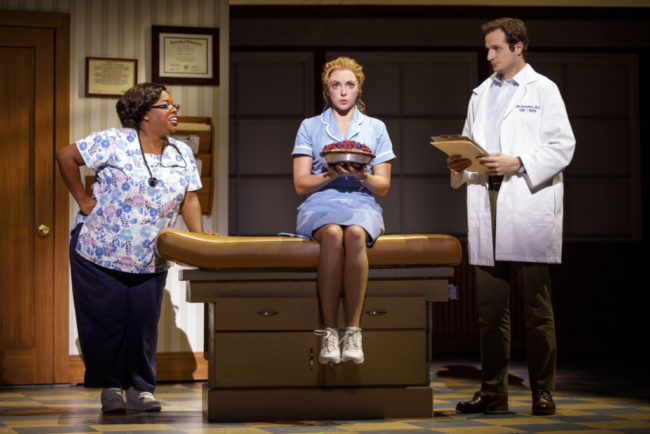 Setting this production on the top shelf is Director Diane Paulus' purposeful staging of the orchestra, making them an integral part of the on-stage happenings. There is no attempt to hide the team of musicians or their instruments, and they do seem to exist, albeit in a tertiary regard, in the same universe as the characters in the play. By taking this approach, Paulus delicately folds the music into the ever-rising action of the show, like a fine dough, gently kneading it into the background and easing it into existence, allowing it to exist as the most natural ingredient in this recipe for a musical masterpiece. The overall staging of the performance is quite impressive, inviting the audience to exist in Jenna's worlds of reality, memory, and fantasy, often all at once.
Though the ensemble is few of number, they are flavorfully bold of spirit and talent. With strong, solid sounds, under the musical coordination of John Miller, all of the company numbers rise up with vocal clarity and a robust nature that generally uplifts the moods of these songs, even when they are of a more subdued variety. Grace Stockdale and Jim Hogan, of the ensemble but featured in silent flashbacks as 'Mother' and 'Father' respectively, standout for their portrayals of the aforementioned. They move in a most intriguing way during these flashes of Jenna's memory— and more specifically in Stockdale's case, during Jenna's moments of fantasy.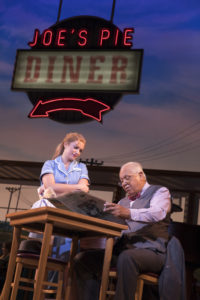 Loaded with electrifying one-liners, Maiesha McQueen slays in the role Nurse Norma. While the character's stage time is brief, when she cracks jokes or pulls facial expressions to light up the sky like the fourth of July, you can't help but notice her and laugh at her snappy antics. This is especially true during a particular scene near the show's ending, when four characters all come together in one room, but to keep from presenting any plot spoilers, it can simply be said that her entrance and hasty exit out of that scene is well worth watching when it happens.  Steeped in the waters of curmudgeonly age, Larry Marshall's portrayal of Old Joe is just too plucky for words. Despite all of his hilarious moments with Jenna, when it comes down to his bittersweet solo, "Take It From an Old Man", the reverent sincerity of his attitude couples sublimely with his rich timbre, making the song a truly heartfelt one.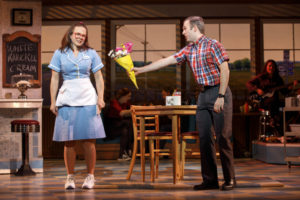 With show-stealing pizzazz, Ogie (Jeremy Morse) brings the production to an applause-roaring halt after finishing "Never Ever Getting Rid of Me." With more enthusiasm and effervescence than baking soda and vinegar shaken up with pop rocks and soda, Morse spirits his way through this number in an indefatigable fashion as he patters and then belts his way through the singing of the song, and dances, skips, and all but flies through the movements of it. It's a wonder anyone on the stage can keep a straight face when it comes to his outrageous shenanigans; the way he's masterfully perfected the eccentricity of the character defies description. And just to ensure he's not outdone by anyone, including himself, Morse kicks it up a notch in Act II and really lays on the hilarity and then some for "I Love You Like a Table." The bizarre and quirky chemistry that he ignites with Dawn all throughout these encounters is purely priceless.
In every barrel of good apples, there's one that's rotten to the core. In the case of Waitress it's Earl (Nick Bailey), the husband of Jenna. Bailey does a remarkable job of earning the audience's hatred early on— to the point of bowing with a humble apology on his lips at curtain call— everything from his gritty nature and rough vocalization of the character's speaking methods, to the physical violence which he barely restrains when it comes to his emotional outbursts. Even Earl's song, "You Will Still Be Mine" is cringe-worthy (despite the perfect vocal intonation and pacing that Bailey delivers.) Bailey does a fine job of rubbing folks the wrong way; this is exactly what one could hope for from this particular antagonist.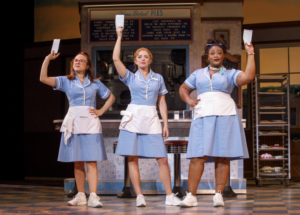 In a triangular waitress-shaped pyramid of perfection, Dawn (Lenne Klingaman) and Becky (Charity Angél Dawson) are the bolstering support to Jenna's story. Klingaman delivers Dawn as a high-strung, anal-retentive, eccentric character— with surprisingly perfect vocal harmonies when blending with the trio. Klingaman physically invests in the humor of the character as well, especially during "When He Sees Me." This number also showcases her ability to balance emotions, finding perfect portions of humor and sincerity throughout the song. Dawson, as the sassy, loud, and opinionated Becky, holds her own— especially when it comes to Cal (played divinely by Ryan G. Dunkin)— and she knows how to throw shade like a beach umbrella. Dawson's bring-it-home-belt-it-out solo kicks off the second act, making "I Didn't Plan It" one of the more memorable numbers in the production because of her fierce vocalization and deep emotional expressions.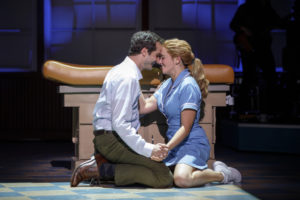 It's a little more than sugar and butter and flour when it comes to baking up a romance between the show's protagonist and the strikingly handsome Doctor Pomatter (Bryan Fenkart.) As the good doctor, Fenkart is appropriately awkward, though at times his antics toe the line of contrivance. Some of the more grandiose gestures— like leaping over the exam table and dragging his leg— feel a bit too put-on for comic effect. But for the most part, these things are forgivable because they are balanced out by his moments of deep sincerity. With a warm, and surprisingly light voice, Fenkart is a welcoming echo and vocal partner for Jenna during their duets like "It Only Takes a Taste", "Bad Idea", and "You Matter to Me", with the last being one of the most serenely sincere numbers in the show.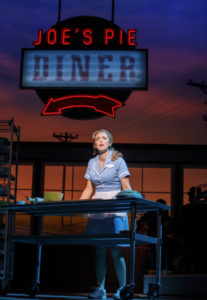 With a convivial spark, Desi Oakley lights up the oven and bakes the production to perfection in the protagonistic role of Jenna. Her accent is convincing, her singing voice sublime, and the way she exists within this world of fantasy, memory, and reality, is truly mesmerizing. Showcasing a myriad of emotions and moments of character growth, Oakley gives the character a refreshing life on the stage. Traversing the ups and downs, the laughs and tears, the scary moments and the pleasurable ones, Oakley finds the perfect recipe for making this character extraordinary. Her torch song, "She Used to Be Mine" is a powerhouse breakout filled with raw emotions and vocal prowess, even if it does end on a subtle and soft series of sounds. Remarkable in the role of Jenna, Desi Oakley is as enticing as all of those pies Jenna spends all night baking!
All you need is a taste— and it's only here for a three-week sampling— so don't miss this awesome, delicious production of Waitress now appearing at The National Theatre.   
Running Time: 2 hours and 40 minutes with one intermission
Waitress plays through June 3, 2018 at at The National Theatre— 1321 Pennsylvania Avenue NW in Washington, DC. For tickets call the box office at 800-514-3849 or purchase them online.