Toby's Carries Banner! Makes Newsies  Smash Success!
Toby's on a mission! Kills competition with stellar new musical production!
Extra! Extra! Read all about it! Newsies makes area premiere at Toby's Dinner Theatre of Columbia! Directed by Mark Minnick & Toby Orenstein with Musical Direction by Ross Scott Rawlings and Choreography by Ilona Kessell, this moving and inspirationally sensational Disney musical inspired by the 1992 Disney film is a regular prize-winning affair. Telling a moving and gripping story of the struggle of the youth of the nation at the turn of the 20th century in the intimate fashion in which only Toby's Dinner Theatre can, Newsies is filled with heart, spirit, talent, a feel-good evening of theatre is beyond a shadow of a doubt guaranteed to brighten up any headline, no matter what the news!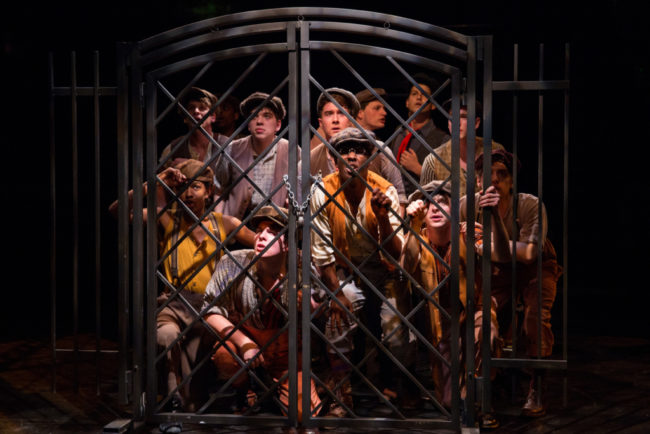 The rough streets of Manhattan have never looked so gritty as they do when Scenic Designer David A. Hopkins sets to constructing his rooftops of New York City center stage of Toby's infamous in-the-round space. The grimy scaffolding and gritty ladders paint a picturesque scene of the grotesque and realistic life in which these Newsboys found themselves.
The true scenic gem in this production, however, is not Hopkins' mobile set pieces but all of the high-tech work illuminating the stage by way of Lighting Designer Lynn Joslin (with a co-design assist from Hopkins.) With moving projections on the walls that act like live headlines being dropped on an actual Newspaper board, and their extraordinary use of custom-cut Gobos to feature full front page headlines cast upon the floor during critical moments of the show, Joslin and Hopkins outdo themselves with the creativity and technology that goes into this production. They subtly invite the colors of New York, like orange and blue in places, into the various musical numbers and uses heavy-handed mood lighting sparingly. The story is a strong one and stands well enough when told with honesty and raw emotion as this cast is telling it; Joslin and Hopkins know when to subtly augment a scene with dramatic lighting and when to back off, allowing the actors to carry the emotional weight of these moments.
Props to Properties Designer & Set Dresser Amy Kaplan for her fine attention to detail when it comes to dressing the interior of Pulitzer's office as well as the subtler minutia of the play. In an intimate venue like Toby's, details are noticed readily. The newsprint on the various papers is well attended to under Kaplan's skilled hands; so too are the elegant golden and gem-dripped chandeliers that ascend into Pulitzer's office, giving it that polished air of aristocratic sophistication. Kaplan's antique printing press is one of the most notably impressive props featured in the show.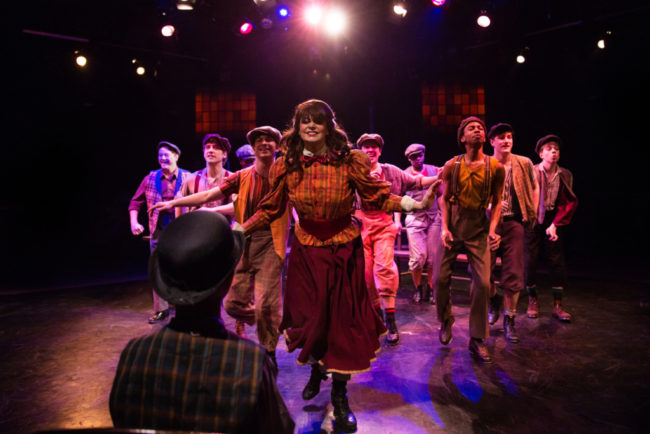 Printed headlines of costumes and wigs are nothing but positive press for Newsies as Costume Designer Janine Sunday and Wig Master Tommy Malek put their heads together and recreate the turn-of-the-century aesthetic for a cast of more than two dozen. Malek pays close attention to the bouncy curls needed to accentuate Katherine Plummer's femininity; his wig work with her character alone helps her stand out the New York mile that she needs to against all those street-filthy boys. Sunday's sartorial selections for the show are on point not only with the era but with the classist system of the time. Newsboy caps, stripes and dark colors fill up the working paperboys of the big apple while a more sophisticated look is reserved for those in the upper classes. Together Sunday and Malek complete the show's aesthetic, really pushing it back into a bygone era.
Musical Director Ross Scott Rawlings evokes a mighty roar of revolution from the ensemble of newsboys. Boldly carrying the banners of pride, gumption, gusto, and electrifying life, these newsboys power their way through numbers with Rawlings' seasoned guidance to create well-articulated numbers who lyrical values are balanced against the surging emotional waves that pulse through them. Aiding the overall emphatic feeling of the show is the Choreography of Ilona Kessell. Energetic, enthusiastic, and generating the right feeling for each of the musical numbers, Kessell's dance work is in the right ballpark for the show.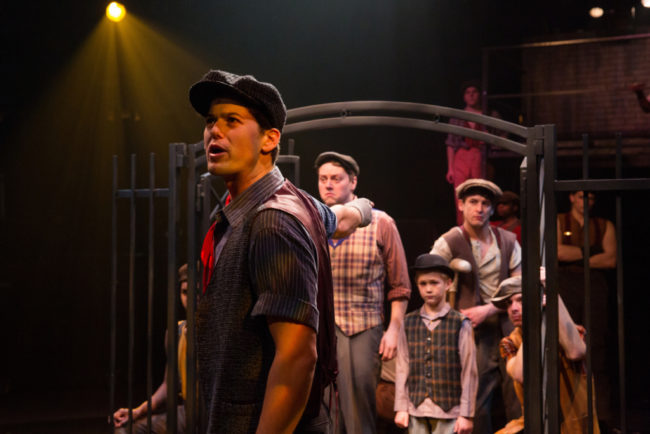 Newsies is a story of courage and daring and is truly a heartwarming tale that will move you deep inside; even if you've never had a paper route, even if you've never lived in New York. The story of these newspaper boys strikes a chord hard within audience members and it is dues to the exceptional talent and extraordinary storytelling capabilities that fills the stage. The cast is guided by the masterful navigators of storytelling in the round, Directors Mark Minnick and Toby Orenstein. Minnick and Orenstein take turns unearthing raw moments of passion, unadulterated moments of fear and trepidation, pure moments of hope and delight; they drive each character— regardless of the size of the character part— to find a realistic emotional connection to the story and move the tale along. In addition to honing in on these storytelling skills, Minnick and Orenstein run a tight ship on the production as a whole. The pacing is crisp, the fluidity and overall progression of the show is smooth, and the blocking is smart. The casting choices are stellar, diversifying a world of fresh new faces into the mix of seasoned regulars creating a truly astonishing and phenomenally talented cast to carry forth this show called Newsies.
Minnick and Orenstein do not fail to deliver in creating exceptional character workers in this show. Using house favorites like Justin Calhoun and Jeffrey Shankle as the menacing and morally muddled Delancey brothers paves the way for even more unsavory characters, like Robert John Biedermann 125's Weisel (they call him weasel), to really give those newsboys what for when it comes to the central problem in the plot. David James makes an appearance as the revolting urchin of the underworld, Snyder the Spider, his maniacal laugh is quite chilling and when he gives chase after the various newsies, his speed is believably top-notch, instilling real fear that he might actually catch up with them.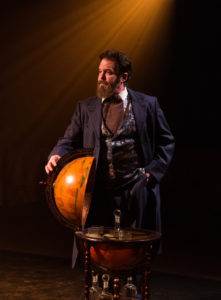 But the two character front runners in this production are David Bosley-Reynolds and Russell Sunday. While Sunday only plays Joseph Pulitzer, his vicious approach to viperous villainy, smoothed over with suave sophistication of the upper class, makes him an unsavory character that will memorably leave you shaking. When he slithers his way through "The Bottom Line" and its reprise, it settles like a dank, uncomfortable fog into your bones and you just can't shake the seediness of it. Bosley-Reynolds, playing the polar opposite of the revolting Pulitzer character, has quite a few tracks that make his performance memorable. His silly Italian accent in Pulitzer's office as the barber is as cute and charming as his broken Brooklyn sound when serving water at his fountain deli on the streets. But Bosley-Reynolds most memorable role is by far his appearance as Governor Teddy Roosevelt at the show's conclusion. Playing opposite Sunday's Pulitzer in this scene, the pair are the legends of history incarnate upon the stage, both looking the part, walking tall, and fitting the bill for the roles of these tycoons.
It's all about the papes. And without no newsies ya get no papes! There's a run of just under a dozen Newsies, each with their own unique name, character, and personality that populate this group of eager, energetic, high-octane newsboys. Crutchie, Race, Albert, Specs, Henry, Finch, Elmer, Romeo, Tommy Boy, Jo Jo, and Buttons (played by Taylor Witt, Shiloh Orr, Calvin Malone, Gregory Banks, Alexander DeVito, Brandon Bedore, David Singleton, Joey Ellinghaus, Jack Angel, Henry Niepoetter, and Brook Urquhart respectively) make up the ragtag gang of ragamuffins running the streets of New York City when it comes to these newsies! Each and every one of them has a moment to shine in the spotlight, far better than words could ever describe; the best advice to experience each of them is to go and see the show. They will impress you with their ferocious and engaging sound all through "The World Will Know", win your heart over with "Carrying the Banner" and thoroughly astound you with their dancing abilities all throughout the show.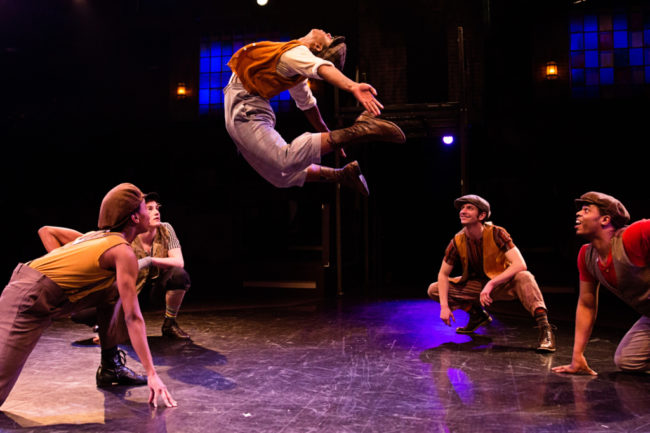 Featured dancers include Shiloh Orr as Race, whose divine tapping capabilities are showcased on display during "King of New York." Roaring with spirit ready to contagiously elevate the downtrodden newsies at the top of the second act, Orr uses his fancy footwork and his cocky charm to power through this number and revitalize the troupes with gusto. Orr is complimented by David Singleton (Elmer) and Alexander DeVito (Henry) during this number as well. But truly keep your eye on Specs (Gregory Banks) as he's the master flipper in the production. Anytime the newsies are dancing and gliding through numbers, Banks is performing athletically acrobatic flips and spins that are simply stunning and serve as nice heightened level of visual entertainment in these musical scenes.
Courageous and resolute, the two leading females in this production hold their own against a cast of male leads and ensemble, as do the two supporting females. Louisa Tringali and Samantha McEwen Deininger, who double and triple up as nuns, show-girls, and office assistants, find their own footing in this production, and their voices are a great holy asset during the nuns' segment of "Carrying the Banner" and they blend beautiful as 'Bowery Beauties' doing their half of "I Never Planned on You/Don't Come A-Knocking."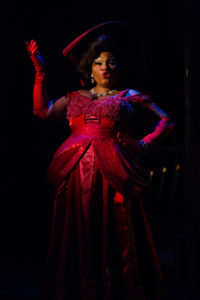 If there is one thing you will remember walking away from this production, though to be clear there are a great many memorable people, dances, songs, and moments, it is Miss Medda Larkin (Kadejah Oné) and her powerhouse presence, performance, and panache. With a voice that will stick with you for days after you leave the performance, Oné sizzles with saucy savior faire, making her mark on the theatre, the newsboys, and everyone inside of Toby's. Oné is loaded with sass and class and a real fine— punch of personality that's bigger than any stage from here to New York and back. "That's Rich", her signature solo number, is a show-stopping, scene-stealing, out-of-this-world, larger-than-life experience bursting at the seams with heart, soul, and a whole lot of feel-good spirit. With an outlandish costume that matches her incredible personality and exceptionally superb voice, Oné is the legend of yesteryore when it comes to playing Miss Medda Larkin.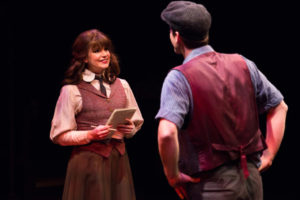 In a not quite so bombastic manner as the dazzling diva Medda Larkin, MaryKate Brouillet slips quietly into the skin of Katherine Plumber and wears it comfortably as her own. What is most astonishing about Brouillet as Katherine Plumber is not her convivial nature or how easily she slides into the cheeky mannerisms of the character, but her flawless breath control when it comes to the patter and articulation of "Watch What Happens." Deftly maneuvering her way through this tricky ballad, which starts with a treacherously tricky patter, Brouillet engages the audience in her heart, her soul, and her emotional experience during this number. Eyes and ears will be transfixed, especially during the electrically shocking moment shared with Jack Kelly atop the scaffolding rooftop just before "Something to Believe In." Brouillet is the perfect vocal equal for Jack Kelly and duets like "Something to Believe In" are sublimely beautiful and laced with raw emotions.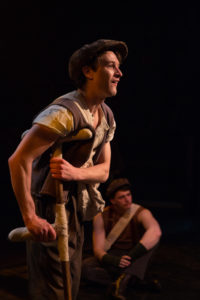 A newsboy not easily forgotten is young Crutchie (Taylor Witt) with his pitiable existence as the limped and lame among the strapping young lads. Witt does a stellar job of maintaining his limited physicality and makes appropriate use of his bedraggled crutch (once again props to Amy Kaplan for her outstanding design.) Witt, whose voice is cherubic and melancholic yet ceaselessly filled with hope, radiates with honesty during his featured solo "Letter from the Refuge" and keeps a proverbial candle of optimism burning in both his spirit and his countenance. Witt delivers some of the finest fight choreography in the show, even if it's more on the losing end of a fight during the final scene of the first act.
The youngest of the Newsies, little Les (at this performance Tyler Smallwood) is too precious words; he's precocious, spunky, and full of perfect juvenile humor and comic timing. Smallwood is the pup that picks everybody up with his impeccably timed one-liners and his adorable zingers. Sweet in that languid childish manner, his portrayal of Les is the right balance of humor and sincerity to make the character work in some of the trickier situations. His voice is a lovely harmonious blend in numbers with his big brother Davey (Harrison Smith), and he keeps a smile on his and everyone else's face every time he enters a scene.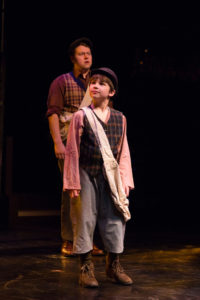 Teaming with conviviality and an honesty that is tantamount to his vocal capabilities, Harrison Smith as Davey is the perfect balance of innocence against the hardened, streetwise Jack Kelly. Smith possesses a natural energy about himself that makes Davey and Davey's struggles real; there is a forward emotional consistency that Smith delivers in his portrayal that opens up the character of Davey to everyone so that you can relate to and empathize with his situation. Unafraid to earnestly express the multitude of feelings Davey is experiencing, Smith transforms numbers like "The World Will Know" and "Seize the Day", firing up the masses of newsboys with true heart and exposed conviction. Smith plays exceptionally well against Jack Kelly (Matt Hirsh), particularly when the characters come to blows like brothers; the pair make extraordinary foils to one another on stage.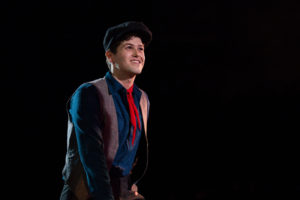 Emotionally astonishing and vocally evocative, Matt Hirsh masters the role of Jack Kelly sublimely. With natural aptitude, Hirsh is a ferocious leader, bathed in the grit of the city, wrapped in the raw exposed nerves of life on the streets of New York. With an unmalleable chip on his shoulder at the start, Hirsh transforms the character of Jack Kelly from rugged rapscallion to street-savvy businessman, cranking the gears of progress for the children workers of America. The emotional propensity that Hirsh presents in all of his numbers— from the gorgeous opening "Santa Fe (Prologue)" which features his voice clear as daylight to his gut-wrenching act one finale "Santa Fe"— is phenomenal. Earnest in nature, with a firm handle on the patois, cadence, and accent of the character, Hirsh is a true sensation in the role of Jack Kelly.
And the world will know! They will know about this production of Newsies at Toby's Dinner Theatre because it's truly too stupendous for words. It is a show that will sell out quickly so do not hesitate to procure your tickets now.
Running Time: Approximately 2 hours and 30 minutes with one intermission
Newsies plays through June 10, 2018 at Toby's the Dinner Theatre of Columbia— 5900 Symphony Woods Road in Columbia, MD. For tickets please call (410) 730-8311 or purchase them online.