In 2008 (or to some theatre youngsters, 7 B.H. –Before Hamilton), an up and coming Lin-Manuel Miranda took Broadway by storm with a contemporary look inside the Latino communities of Washington Heights in a groundbreaking work that featured the stories of his streets utilizing urban musical styles from salsa to rap. Ten years and two Tony Awards later, his story of women and minority business owners struggling to get ahead and "dreamers" who have worked to advance their immigrant parents' ambitions with ever increasing financial and social barriers has been dwarfed by his behemoth sophomore effort (despite being arguably musically superior with more clever lyrics). But it couldn't be more relevant. Directly following their successful concert version of Chess, the Kennedy Center's Broadway Center Stage concert series scores its own sophomore gold with director/choreographer (and original Broadway cast member) Stephanie Klemons' breathtaking production of the Tony Award Winning In the Heights (music and lyrics by Lin-Manuel Miranda, book by Quiara Alegria Hudes.)
Technically being billed as a concert version, that is a matter of semantics. Concert styles can range from James Taylor with a guitar in a coffee house to Cher dropping in from the ceiling in a Bob Mackie extravaganza in Las Vegas. Klemons' idea of concert registers about a Ricky Martin at the Hollywood Bowl on that scale. No semiformal wear and music stands for her. A clever functional arrangement of scaffolding works as her multi-level set, and the performers change street clothes costumes numerous times throughout the timeline of the story. Save for a few select instances of ensemble members utilizing music binders for choral pieces, Klemons' fleshed out, adept staging is every bit as much of a full out musical as last season's Broadway revival of Sunset Boulevard as far as technical conception (or the original production of Rent for that matter), and her jubilant choreography even exceeds them both.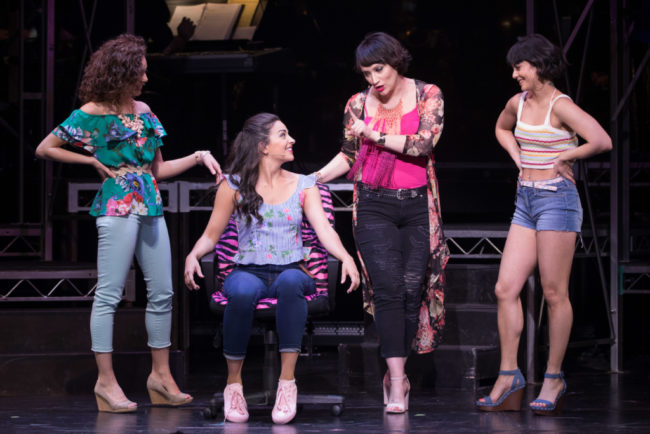 As far as Miranda's "plot", it is basically summed up as central character and de facto narrator Usnavi de la Vega telling us, "Here's some folk from my neighborhood."  But what a colorful block he inhabits. Anchored by local independent businesses, the Rosario family owns a taxi and limousine service, and local gossip maven Daniela operates a beauty salon. In between, Usnavi maintains his late parents' bodega (corner store) and their dreams, and the piragua (snowcone) guy roams the street with his cart. All of the businesses are facing economic pressure. Kevin and Camila Rosario are negotiating a second loan to bail out their company, Daniela is in the process of packing up to move to a cheaper part of the city, and even the piragua guy is feeling the heat from a Mister Softee franchise. To complicate matters, the Rosario's daughter Nina, the dreamer "success story" on the block, returns from her first year at Stanford hiding the secret that, having lost her scholarship due to slipping grades, she dropped out. Daniela's employee (and the object of Usnavi's longing) Vanessa is struggling to support her alcoholic mother. And in the literal heart of the block resides Abuela Claudia. While not actually anyone's true Abuela (grandmother), she embodies the role as virtual mother to all. She has raised Usnavi after his parents' passed within months of each other and taken an interest in Nina and the other young people as if they were her own. Miranda treats us to a three-day window in their world as all their stories (along with a winning lottery ticket) intersect and as a true family, blood or makeshift, they come to each other's' aid in their resolutions.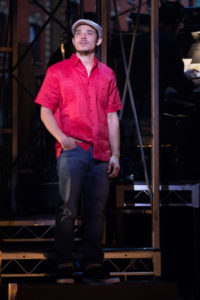 At the center of it all, Anthony Ramos (Hamilton, She's Gotta Have It, Will & Grace) as Usnavi (who was named by his overzealous immigrant father for the word he saw on a ship that pulled up next to his at Ellis Island, misreading US Navy) is an extremely solid center to the show. He approaches the character with less flash and more humility than most, which gives us an even bigger underdog for whom to root. Ramos' Usnavi is completely naïve to his natural charm and good looks, and Ramos is an exceptionally generous actor to give his scene mates all they need to shine. He is the manifestation of family in the community. He is appreciative of Abuela like a grandson. He is protective of Nina like a brother. He is firm with his younger cousin Sonny like a parent, and charmingly goofy in his admiration of Vanessa from afar like a boyfriend who isn't good enough. Through it all, he has the gift to make Miranda's rapid fire rap lyrics seem almost like spoken prose.
Ana Villafañe, fresh from Broadway in her acclaimed performance as Gloria Estefan in On Your Feet, is winsome as the defeated Nina Rosario. From the introspective moments of her first solo, "Breathe", she blossoms from a lost, conquered soul into a proud young woman finding her answers on her own.  Villafañe is particularly poignant as she sorts out her newfound adulthood with her parents, giving a bittersweet inside look at what "dreams" today's dreamers face, and the struggle that comes along with pursuing them.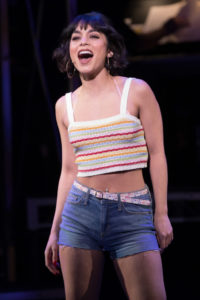 Vanessa Hudgens (High School Musical, Gigi), if her critically acclaimed portrayal of Rizzo in Grease Live! hadn't already settled it, as bombshell Vanessa once and for all has said goodbye to Sandra Dee (and, even more importantly, Gabriella Montez in the process) as she builds on her reputation as an exciting and vibrant leading lady. She mesmerizes with her fiery "It Won't Be Long Now", and continues to excite as she showcases all her talents in both song and dance segments. Usnavi is chided as dancing "like a drunk Chita Rivera". Hudgens is on the verge of becoming a young sober one. She and Ramos have a particularly strong chemistry in their sweet will he/won't she scenes.
Eden Espinosa (Wicked, Brooklyn) provides all the requisite comic fire and sass (and stellar power vocals) as solon owner/block gossip Daniela, given strong support by Arianna Rosario (Cats, On Your Feet) as her pretty but dim assistant Carla. J. Quinton Johnson (Hamilton, Dirty Dancing) as Benny, the Rosario's (non-Latino, read: outsider) dispatcher who carries a flame for their daughter, cleverly blends his performance with his character's story arc, starting off less assuming in both areas and growing in strength simultaneously as he learns through Nina how to assert and stand up for himself. Blanca Camacho, a Broadway alumna returning as Nina's mother Camila, gives an empowered performance as a woman who has been there for first her husband, then her daughter, and in a strong eleven o'clock number, "Enough", finally for herself.
Rick Negron (Mamma Mia, Leader of the Pack), reprising his Broadway role as Nina's father Kevin, gives a poignant performance as a proud, self-sufficient immigrant who left his home and a long line of farmers to better himself. He beats himself up, bearing his heart in "Inutil" ("Useless"). Negron is commanding as he unfolds his history of perceived failure as a man, first from his father, now from himself fearing he has failed his daughter even worse.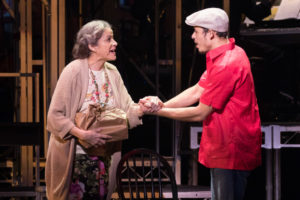 Saundra Santiago (A View from the Bridge, A Chronicle of a Death Foretold, Nine) whose credits boast every strong female lead in theatrical history from Eva Peron to Mama Rose (but will forever be immortalized to a generation of young men as drop dead gorgeous Detective Gina Calabrese on the iconic Miami Vice), perfectly and endearingly embodies the emotional heart of the block and the piece as Abuela Claudia. Ramos' charisma is the binding that holds the story together from the outside. Santiago's natural warmth and maternalism is the glue that holds it together from within. Praising her performance technique would be redundant, because she accomplishes something only a lifetime of experience and a natural gift can provide. Not only is she dynamic in her singing and scene work, but in her role of nobody's yet everybody's grandmother, her presence and force lingers intangibly in the spirit of the other performers even in her absence. Miss Santiago is a star who subtly illuminates the show even through its act long blackout.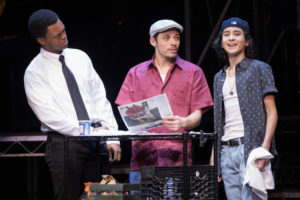 Which brings us to the new kid on the block. One would think that in a cast this deep and broad in experience and talent, there is only so much room left to shine. Yet somehow, newcomer 16-year-old Mateo Ferro, in his Equity debut, manages to steal virtually every scene in which he appears from his highly accomplished costars. As Usnavi's streetwise but lovably goofy cousin and protégé Sonny, Ferro utilizes razor sharp comic timing, powerful but honest vocals, and athletic street dance moves to  commit the equivalent of theatrical grand larceny. True, his cast is very generous and gives him all he needs to succeed, but he wisely for his age understands how to stealthily take it without upstaging his costars. Whether asserting his burgeoning manhood to mentor Usnavi, being dutifully protective with Abuela, or hilariously flirting hard but poorly with the out of his league Vanessa, he possesses a rare natural and youthful charisma that elicits this prediction: look for Ferro to land a role as a featured sidekick on a CW television show within 3 years.
Again, as a concert, one would not expect the degree of proficient tech that this production employs. Music director Zachary Dietz elicits the perfect urban Latin feel from his onstage band and his talented cast, but without sacrificing any of the theatrical musicality of Miranda's score.  Andrea Lauer's vivid costumes, though mere "street clothes", delineate and establish the characters and the mood of the culture deliciously. Anna Louizos' set, consisting of simple but strategically structured scaffolding, aided by a few signs and Zachary Borovay's slick projections, actually add to the experience rather than a more elaborate, detailed set that would risk overpowering the show it is framing. Andrew Keister's sound design is for the most part functional, but at a few points the balance is heavier on the upstage band and we lose a few of the rap segments onstage, especially in the speedier sections. Cory Pattak's accomplished lighting design works throughout, but especially succeeds in a very cool effect of fireworks during a blackout at the end of the first act. It would also be remiss not to mention the stellar ensemble who provide this extravagant "concert" with stadium quality ferocity in their multitude of dance numbers and dance breaks that provide the vital lifeblood to the production.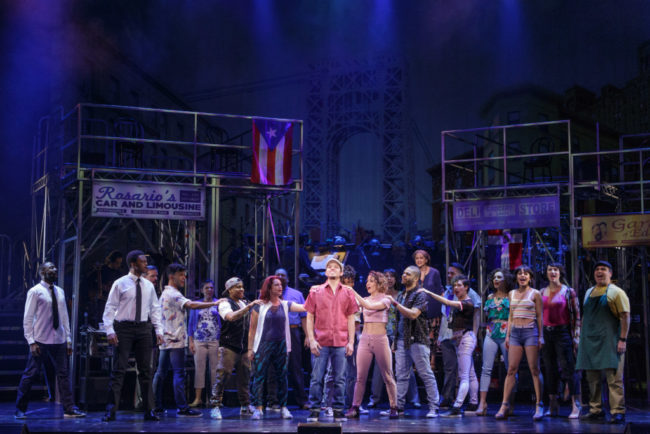 But maximum credit goes to director/choreographer Klemons whose inherent understanding of the piece has accomplished something monumental. At the risk of alienating a particular group of theatre fans (but who really cares, everyone gets offended about something these days), Klemons uses a simplified scaffold set to tell a story of a community that functions as a family through celebration or adversity, life or death, with contemporary music in a different and affecting way. In doing so, she has accomplished exactly what Rent has pretended to but struggled with since its inception. Her characters have much more heart, are infinitely more likeable, and really do achieve greatness through their everyday interaction with each other. They have in effect inadvertently manifested a new age (and vastly improved) Rent. She and her cast have created a slice of life experience that deserves to live far beyond its five day run at the Kennedy Center. So, vamos! Hurry to the Kennedy Center to experience this exuberant limited run. Other reviews have praised In the Heights as "jubilant", "glorious", "spirited", or "sensational". To which this critic replies by paraphrasing Daniela's catch phrase at her salon: No Me Diga–"Tell me something I don't know."
Running Time: 2 hours and 30 minutes with one intermission
In The Heights plays through March 25, 2018 as a Broadway Center Stage production in The Eisenhower Theatre at The John F. Kennedy Center for the Performing Arts— 2700 F. Street NW in Washington, DC. For tickets please call the box office at 202-467-4600 or purchase them online.