It looks like every star in heaven is shining down on DC tonight; well, shining specifically down on the Ainslie Arts Center of the Episcopal High School, which technically is in Virginia but we'll let that slide because there's a story behind their hands, there's a story beneath their clothes…and Monumental Theatre Company is telling the story of Brooklyn, the edgy, immersive, in-your-face raw-and-reel musical of NYC street reality. Directed by Michael Windsor with Musical Direction by Marika Countouris and Choreography by Patricia "Pep" Targete, this stunning story— with music, book, and lyrics by Mark Schoenfeld and Barri McPherson— will stun you and give you all the feels, as they say, opening up a powerful world of inspired tears and raw unadulterated emotional experiences. With a superb cast whose talent cannot be beat, this musical story is real life at its purest; this is the story of life and how it goes.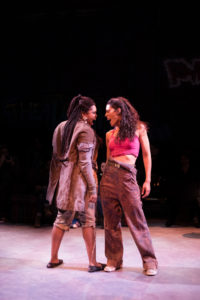 Director Michael Windsor isn't just spinning a yarn or telling a tale. Taking full advantage of the intimacy of the black box studio space inside the Ainslie Arts Center, Windsor transforms what could readily be an ordinary musical theatre story into an extraordinary musical theatre experience. You're not just seeing and hearing the narrative and songs of Brooklyn, you're right in the middle of it. Windsor has fabricated a fully immersive atmosphere and viewing experience for the audience, starting with seating of all types— everything from lawn chairs to Lazy-Boy Recliners (trust me, you want the Lazy-Boy Rocking Recliner, it's the best seat in the house) and a few in-between— fully encompassing a street scene, that he's created with Set Designer Rob Siler. Graffiti tags cover the walls— designed with stunning authenticity and eye-popping vibrancy by Graffiti Artist Javier Del Pilar— there's a sense of pure, raw street life all around. And to top it all off, Windsor sets the production in the round, more fully inviting the audience into the experience.
Furthering the uniqueness of this theatrical engagement, Monumental Theatre Company has focused their pre-show efforts on supporting a local DC non-profit charity organization, Martha's Table. Fully in character, like the beggars of any modern day urban street scene, the actors go about attempting to collect "spare change" from audience members, all of which will go towards the aforementioned charity. This step puts Monumental Theatre Company heads and shoulders above other area companies, showing their willingness to give back to a community that has given so much to them.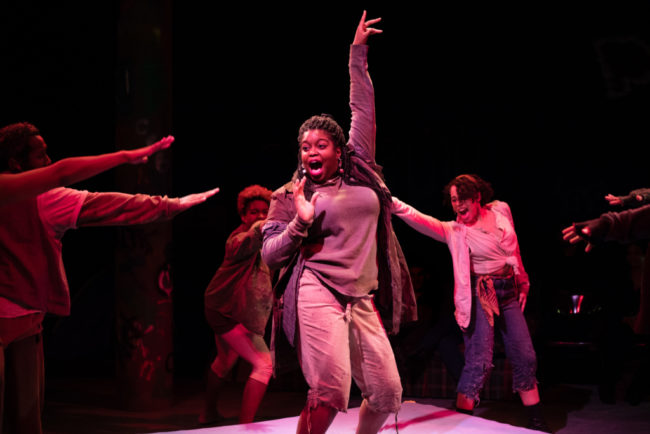 Windsor has a keen understanding of how to block in the uniquely intimate space and fully uses all it has to offer. This does not go amiss when certain characters have ascended beyond their current physical forms and Windsor makes use of the catwalk above. There are even moments when various characters in the show filter themselves among the seats in the audience; it becomes the live-theatre equivalent of surround sound home entertainment. This extraordinary use of space is complimented by choreographer Patricia "Pep" Targete's work throughout the various musical numbers. Encapsulating an intensity in her dance routines that rivals the emotional flavor of the moment, Targete's choreography is the right fit for the production.
Filling out the aesthetic for the show's edginess, Costume Designer Tommy Malek gives these street savvy characters varied and unique looks all their own. His shining glory in the production is the garbage couture that both the titular character and Paradice parade in during their showdown at Madison Square Garden. Malek's sense about how to outfit an actor in a way that is flattering to form and figure as well as expressive of the character's unique personality traits is impressive and makes him more than suitable for this stellar production.
The musical talent that is featured in Monumental Theatre Company's Brooklyn is beyond description in the most incredibly sensational sense imaginable. Led by Musical Director Marika Countouris, this ensemble of just eight creates the sounds of a choir 80 strong and the soulful, raw emotional expression of eight archangels pouring out divinity on the holiest night of the year. Countouris captures an emotional thread early on; it is a thread of love and challenge, sacrifice and understanding; it is a thread of raw need that wends its way seamlessly through each of the musical numbers, tying the story together into one astonishing theatrical quilt. Countouris showcases superb skill when it comes to handling tempo and style shifts in the music, aligning the emotional verve not only with the lyrics and the verve but with Targete's energetically charged choreography.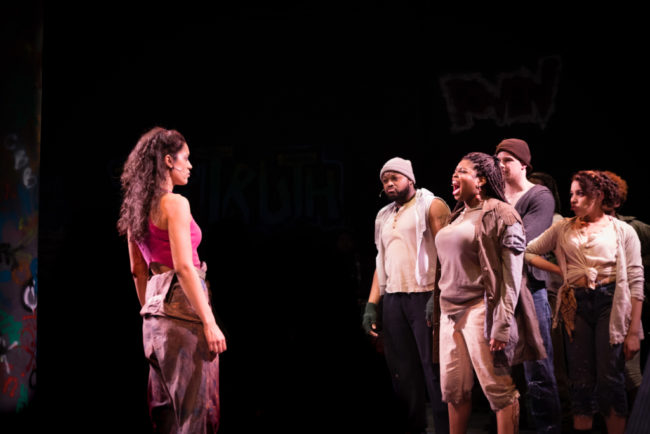 The City Weeds (Marika Countouris, Ashley K. Nicholas, Topher Williams) are bursting up through the cement of the ensemble like wild flowers, ripping their roots into the ground of the music and blossoming through the theatricality and musicality of each number. These three talented individuals have moments all their own and often create that extraordinarily unique surround-sound experience when they are dispersed among the audience, pouring their sound into group numbers from amid, among, and even behind audience seating. Nicholas in particular has a fiery moment in the hot-spot, posed as a reporter in one of the scenes, and goes at the character of Paradice with full vigor, no-holds-bar, and an attitude that sends a cold hard slap up the spine.
Speaking of Paradice, and please note we spelled the name right, Miss Taylor J. Washington slays the role. To say more would be an insult to her talent and overall presence because words cannot do that fine ferocity one iota of justice. With an ugly attitude befitting of a larger-than-life-diva-antagonist, Washington smolders and her blast-belting voice is the fuse of two tons of dynamite during "Superlover." Possessed of a mean streak that influences her highly provocative dance movements and totally tawdry carriage of her persona, Washington is the one to watch out for, her portrayal of Paradice is sugar and spice and ain't nothing nice but a whole lotta hardcore intensity and one phenomenal, powerful, singing sound.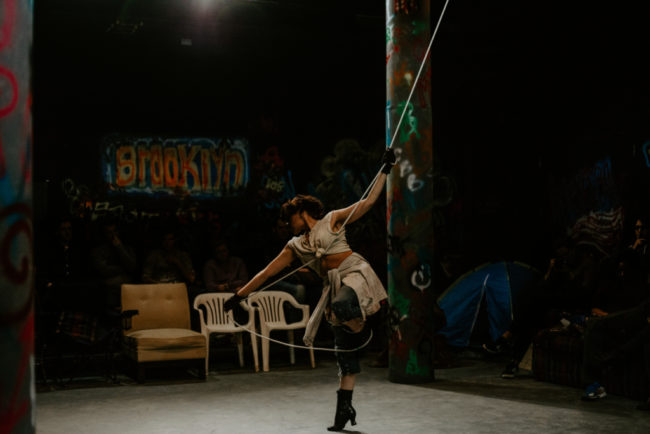 For every devil there's an angel and Brooklyn's angel goes by Faith (Amanda Leigh Corbett.) With a dulcet, warm tone that strikes a chord of calm deep within the chasms of the heart, Corbett's wholesome sound is soul-soothing, even when it's mournfully morose and filled with sorrow. There is an untamed river of pain flowing forth from Corbett's rendition of "Christmas Makes Me Cry"; she pulls all of the joy and happiness of a most cherished and jovial holiday and transforms it into soul-searing tears of her own torment. Paired against a sturdy vocal compliment, delivered soundly by Jonathan Helwig in the role of Taylor Collins, the pair create exquisite moments of honesty and truth between them. Helwig's replay moments of his traumatic war-torn past are harrowing as well. It's strikingly refreshing to see the depth of acting skills at work in this portrayal.
It's a firm toss-up, penny fully in the air and could land upright on its ridges so that you would never be able to tell who the show's front-runner is. Street Singer DeCarlo Raspberry is a master of ceremonies, a host, a narrator, and a soul with a story whilst the titular role of Brooklyn is delivered flawlessly by Briana Taylor. Both Taylor and Raspberry are the creators of this street world, the givers of this gift of mesmerizing narration. Both are exceptionally talented, both are evocative and real, fully present in every moment.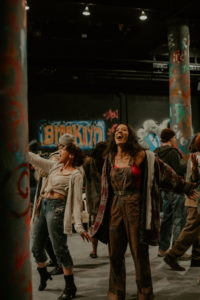 Briana Taylor's Brooklyn is brought in to sing for her supper and she earns a regal smorgasbord for all her efforts and talents. Channeling not only a superior sense of vocal control, Taylor masterfully manipulates the emotional heartstring of each musical moment, curtailing it to her character's personal experience. Delivering beautiful, haunting sounds that hypnotize like from a nightmarish dream in "Once Upon a Time", Taylor captivates the audience, not only drawing them into her blighted story, but making them a part of it. We become the America that she loves, that harbors and hides her father, that cheers her on, and hopes for her success. With amazing vocal prowess, her belt-off show-down opposite of Paradice (and believe me, Washington holds her own here as well) at the end of "Brooklyn in the Blood" is nothing short of show-stopping.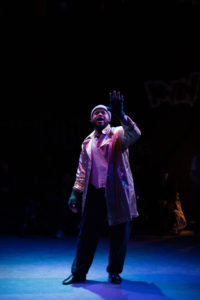 As for DeCarlo Raspberry's Street Singer, he lives up to the character's moniker of 'Magic Man.' That number, "Magic Man", is hot to trot with blues, showcasing a variety of Raspberry's vocal talents and capabilities. Raspberry's deep, robust, and soulful sound is a gift to Schoenfeld and McPherson, adding a rawness, a realness, and a gritty existence to the character, without vocally compromising the composition of the songs, that just can't be beat. From the moment he welcomes the audience into the world, right through to the end, there isn't an ounce of artifice about him; everything happens with conviviality and a fully present spatial awareness.
Brooklyn is a must-see. It's an inspirational cry, a cathartic release to open up the mind, wake up the heart, and stir up the soul. Monumental Theatre Company is living up to their namesake and tackling monumental productions, giving the DC community theatre to be proud of, real theatre to express real human emotions, and really connect with that community.
Running Time: Approximately 90 minutes with no intermission
Brooklyn plays through March 31, 2018 with Monumental Theatre Company in the Ainslie Arts Center of Episcopal High School— 3900 W. Braddock Road in Alexandria, VA. Tickets are available for purchase at the door or in advance online.