I thought that love was only true in fairytales…. Then I saw Shrek, directed by Stephen Napp, at Charm City Players and now I'm a believer! The Charm City Players are in residence at the Harry and Jeanette Weinberg Auditorium at Mercy High School.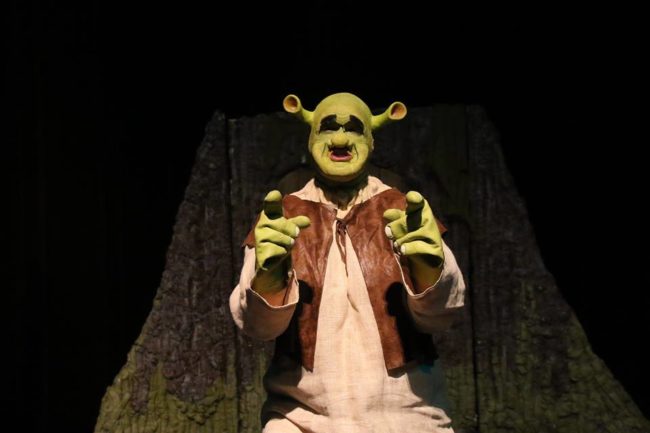 If it were possible to capture the very definition of "collaborative theatre", then there would have to be a reference to Charm City Players. From the moment that you walk into the theatre, you know that you are in for a treat. The lobby is filled with fairytale creatures, face painting, and silent auction items. I even had the pleasure of being greeted by a beautiful sugar plum fairy at the box office. There is no doubt that these folks have come together to make every person's experience a memorable one.
The stage at the Weinberg center is huge, but not so huge that it is a problem for Director Stephen Napp. Napp's brilliant use of the facility is to be commended. He places the large castle and bulky set pieces behind the half traveler, only revealing them when necessary. The smaller more moveable pieces are placed between the half traveler and the main curtain, which opens and closes throughout the show. His vison allows Stage Manager Annmarie Pallanck and her crew to set the next scene while thigs are happening in front of the main curtain. This allowed for constant flow of the show with no stoppage for scene changes. Again, this is simply brilliant, especially when you have several hundred children under ten in the audience hopped up on adrenaline and concession stand goodies. While Napp may keep things on the proscenium tight and compact, he does use the entire space. His use of the aisles for entrances and exits makes you feel as though you are in the swamp or Duloc with the characters.
Musical Director Kathryn Weaver is to be commended not only for the excellent performance of her leads and ensemble, but for keeping her orchestra on point. With the amount of improvisations from the leads it can be very difficult for a conductor to follow. Add in the fact that you are playing piano as well, and the difficulty becomes even more so. Weaver is so in tune to her characters, she allows them to have their moment and her orchestra does not miss a beat. Through no fault of their own, the orchestra sounded muffled. I'm sure that this is an equipment issue that can be worked out by Sound Designer Kevin Hopkins in the future so that the orchestra sounds as crisp and sharp as the actors.
Contrast to Napp's minimization of the stage is Choreographer Jason Kimmel's ability to let 'er rip. Kimmel uses as much area as possible and sometimes even that isn't enough. Whether it is only Three Blind Mice, ten Tap Rats, or fourteen Duloc Dancers, Kimmel fills the venue with synchronized movement, beautiful dancing and plenty of god ole fashioned fun. If you don't find yourself either rolling with laughter or dancing along then you'd better check yourself for a pulse. Pay close attention to the rug cutting that he incorporates for Farquaad or the free styling moves of Donkey.  Also, don't be surprised to find Pinocchio or the Big Bad Wolf dancing next to your seat.
The costumes are bright, creative and believable. There is not a single character that is not easily recognizable. The entire costuming effort goes back to one word, "collaborative". The costuming is amazing and so much a part of the show it would not be fair to not mention everyone involved. So, Patricia Anderson, Tracy Bittle Bird, Hannah Cole, Ashely Dawson, Mary Gorman, Tara Herbert, Mary Hoover, Christina Napp, and Kathryn Weaver, my hat is off to you all; and a special nod of the cap to Wig Designer Valerie Lockett.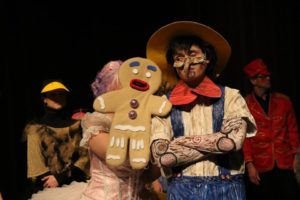 If ever a group blended so well it is the ensemble of Shrek. They flowed as one unit through every musical and dance number. As much as they were one, there were a few stand out performances. Angel Duque as Pinocchio should be commended for his comedic timing and clear delivery. Christina Napp's ability to switch voices and bounce back and forth from the Sugar Plum Fairy to Gingy should be noted. A difficult task that she handles with ease. Last but certainly not least is Kelsey Albert as the Mad Hatter and Guard. It is often said in theatre that, "there are no small parts," and Albert proves that point. Her smile and facial expressions throughout the show stood out to me as performer who loves what she is doing. Whether she was dancing as a hatter or looking staunch as a guard MS Albert displayed everything a director or audience member want to see in an actor. Grats to you for embracing your role!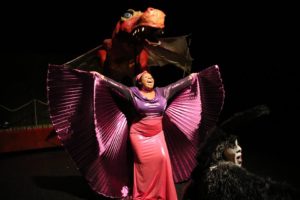 Occasionally, the theatre gods smile upon you and bless you with a tremendous talent from out of nowhere. CCP was blessed the moment Alana Simone (Dragon) walked through the door. She has a soulful R&B voice with a resonating vibrato. Her singing was one with the large, amazing dragon puppet designed by Jeffery Holub. (There was no listing of the dragon operators in the program, but they should all be recognized for a fine performance.)  Simone displays the ability to bring to life the dragon, whether it be her voice and dragon's movement or her physical interacting with donkey and making you feel as though the large dragon was performing her actions.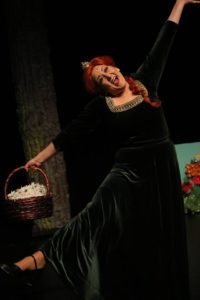 Melissa Ann Martin as Princess Fiona and Dean Davis as Shrek were perfectly cast. Martin's soft docile notes could sing a baby to sleep, but she belts when she needs to belt. Her understanding of her register is phenomenal. As much as she has a firm grasp and understanding of her vocal talent, her acting is even more. Her ability to embrace her character is without question. There are times when you just want to hug her and others where you want to run. She is everything you expect a princess to be and then some. Not to be chased from his swamp or bossed around by a princess, Dean Davis holds his own when up against his female counterpart. Davis controls his accent throughout the show and is constantly Shrek as we know him. Not only does he know what he needs to bring as the lead, he is very comfortable with allowing his costars to have their moment. Davis displays a rare gift of shining when it is his turn to shine and supporting when needed. Not only does he deliver a shining performance, but he seems to elevate those on stage with him.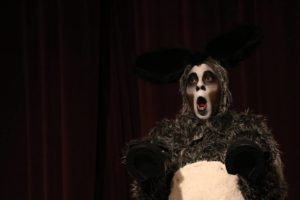 If you have ever seen J Purnell Hargrove (Donkey) perform, then you know that he is no stranger to the spotlight. If there is a scene J will capture it. If there is a whole note, J will fill it. His performance as Donkey is no exception. What surprised me, and I think this is worth noting, was the energy he put into each and every number after being recently hospitalized for ten days with a life-threatening illness. I know personally that his road to recovery has been a slow one and I wasn't sure what to expect. Hargrove delivers a show stopping performance second to none. From the final curtain, up the stairs to the meet and greet, all that could be heard was, "I want to meet Donkey!" And when you have made a difference in a child's life, what more can be said.
Although he isn't one of the top three leads on the marquee, Jeff Baker's (Farquaad) name should be lit as bright as the sun. Sure, everyone who plays the half pint king has to play him from their knees, but not everyone can do it with the movement that Baker can. He danced, hopped, strutted and sashayed across the stage as if he had been born four and a half feet tall. Baker's performance, voice alone, is well worth the price of admission. His singing is crisp and clear. His timing is impeccable and his rants as he is going off stage will have you in stiches. Baker not only knows and understands his role as it is scripted, but also the roles of those on stage with him and he uses this to his advantage. He is an amazing talent that should not be missed.
 If there is one thing that needs attention in this otherwise five-star performance, it is the lighting. The stage was too dark at times, and there were other times that better specials could have been used. Most noticeable though was the lack of color. Some nice back washes and frontal LED's would have livened things up even more.
"When you gotta go somewhere, 'cause the fun is getting there, yeah. Oh, what the heck, I must confess I love" CCP's Shrek! So, let your freak flag fly and get your donkey over to the swamp. You don't want to miss Shrek playing now through March 25th at Charm City Players.
Running Time: 2 hours and 40 minutes with one intermission
Shrek plays through March 25, 2018 with Charm City Players in the Harry and Jeanette Weinberg Auditorium at Mercy High School— 1300 E. Northern Parkway in Baltimore, MD. Tickets are available at the door or in advance online.