With all of the shows round the town running loose,
Who'd ever have guessed there'd be one about Seuss?
Oh the things you must think when you this wild musical
Which one, you ask? Why the musical called Seussical!
And not just Seussical, it's Seussical Jr. you know
Minus one butter-battle, it's still a really great show!
Where should you go to see it, you ask? Well ready a little further down the page!
The Children's Playhouse of Maryland, in Essex! That's where it's being staged.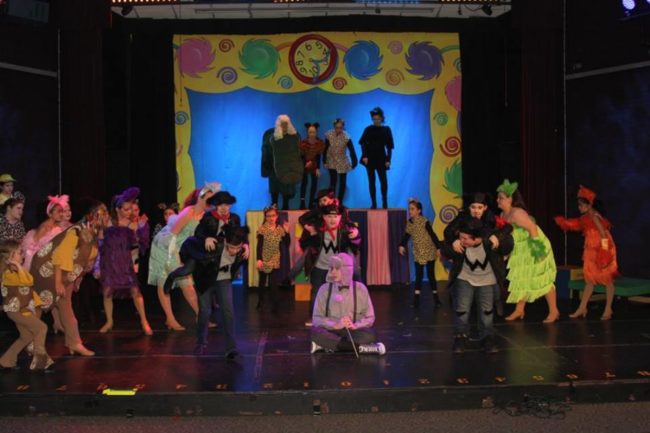 Directed by Liz Boyer Hunnicutt with several dozen kids all with musical gifts
This is one fabulous show that definitely should not be missed!
And the singing is great, why it's musical perfection
Charlotte Evans takes point on her musical direction! 
I implore you, dear reader, to head my advice
Hurry and get your tickets, don't think twice!
Because this show will sell out! This show is amazing!
Just think what you'll see from your audience seat gazing!
You'll see the wondrous artistry and I swear there's none finer
Of Laura Miller, she's the scenic designer
Oh the things she has thought, turned her imagination quite loose
When dotting Truffula trees on this set— set for Seuss.
And let's not forget Diane M. Smith with her set
That wonderful rainbow nest is the best yet!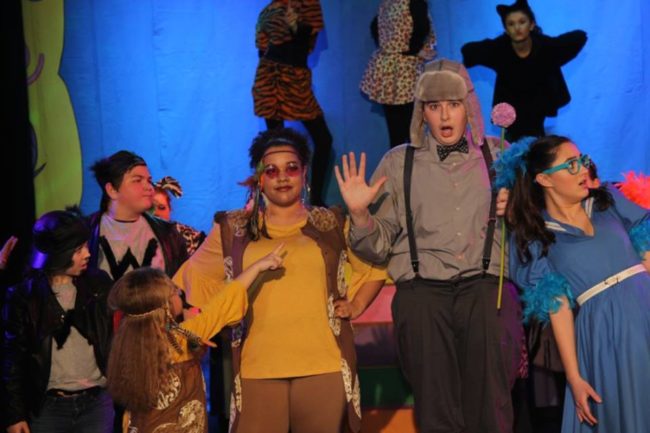 Adding to the aesthetic of this Seusstastical show
Is the illuminating tactics of Tyrell Stanley, don't you know?
He's the lighting designer and he gives the stage bright light!
And thanks to his design you can see everything in sight!
I think I'm forgetting something…something with looks…
Wait just a second while I check my notebooks…
Aha! How could I overlook such wonder? It's absurd!
I'm talking about the costumes coordinated by Sharon Byrd!
She's got feathers on bird girls (quite too many to name!)
And excellent jungle colors for the Nool-ians (quite the same!)
They match up with the set and the whole fantasy theme
Byrd's costumes come in all colors— even green!
But moving on with the show, because the show must go on!
There's so much happening, I promise you won't yawn!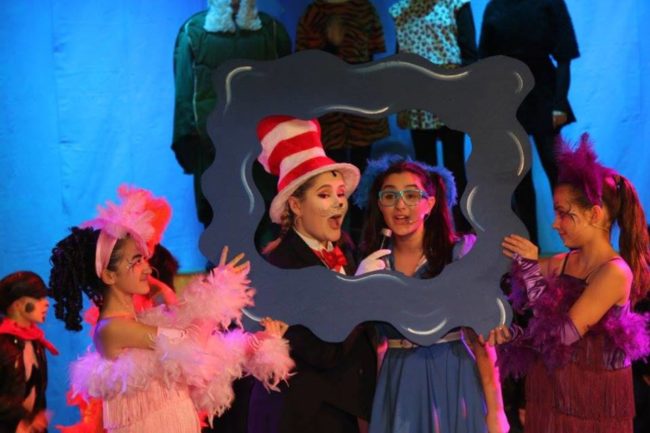 How could you? What with Lisa Wood on percussion and Amanda Poxon covering dance
There's an amazing party happening in this show, I'm warning you in advance!
Poxon's dancing is exuberant, energetic and exciting!
I'm smiling just thinking about it as I'm writing.
She's got attitude and flare, she's got pizazz and punch
And she imports it all to this very talented bunch
A bunch of young performers all doing their thing
Whether it be as jungle beasts or birds on the wing.
There's fishes and Whos and all kinds of jungle creatures
Why there are so many fabulous kids, just too many to feature!
The solution at hand is really quite small
You'll just have to buy a ticket, to be sure you see them all.
But there are definitely some principal performers who stand out
About nine individuals who get a personal shout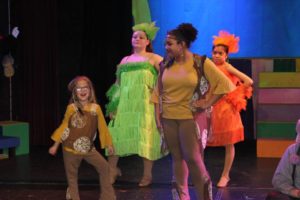 There's Anderson Gray as Sour Kangaroo
She's got a fierce voice and ferocious attitude too.
Dressed for success, Miss Gray plays her part
She's sassy and soulful and gives the role some real heart.
And let's not forget little Gracie Roberts; for her I will vouch.
Because she's playing Young Kangaroo, though not in a pouch!
Cute and adorable, she matches up with Anderson Gray just fine
Her little added humphs will quite toe the line.
And the kangaroos are amazing, they're a pair to be heard
Though that word amazing gets used for a very different bird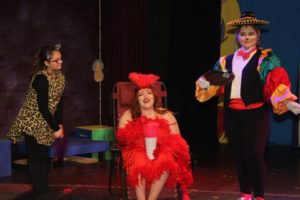 Amazing Mayzie, that's the bird I'm getting at
And she's played by the talented Abby Koncurat.
With panache and pluck and a larger than life spirit
When she belts out her solos you'll be sure to hear it.
Speaking of hearing, do you know what I just—
I remembered just now that there's this small speck of dust
A dust speck so tiny, I can't see it nor you
And residing on the speck? Why, it's Who!
The planet of who, which includes a species quite rare
A planet of Whos led right by their Mayor
And the Mayor, Ethan Holler, does a fine job in this life
Accompanied by Sophia Possidente, playing the mayor's wife
They're full of good spirit, they're full of bright cheer
They only have a few sung lines but they make sure you hear.
You'll hear— like you hear Jojo's incredible Yawp—
Wait a minute! Back up here! Hold on now! STOP!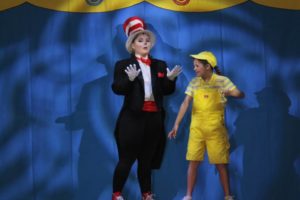 Did I just mention the Yawp and it's creator, dear Jojo?
Without mentioning the character's played by Bella Comotto?
Well there, now it's mentioned! Miss Comotto is superb
And a great many other awesome nouns, adjectives, and verbs.
She plays up dear Jojo with spunk and pride
Bursting out into song with great feelings from inside.
When Miss Comotto gets paired off in a duet
It's one of the most moving songs you've heard yet.
And that duet pairing is symbolic and relevant
Tiny Jojo gets paired up with Horton the Elephant.
Played by none other than Jules Einhorn, what a voice!
Mr. Einhorn, for this role, was the absolutely perfect choice.
Sincere and sweet and emotionally present
Mr. Einhorn makes Horton a character most pleasant.
Even if Horton's a little clueless you see, when it comes to creatures in the air
Like poor little Gertrude McFuzz, who doesn't think he notices she's there.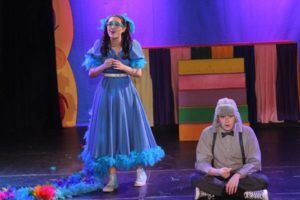 Now Gertrude McFuzz is a unique character, quite hard to explain
Played by the exceptionally talented Ana Lane.
She's got vocal affectation and a delivery spectacular
You couldn't expect anything more miracular.
Yes, I know that last word was a pretty big think
But it's hard to describe all this talent and not sink
Into the whole imaginary concept of Seuss
And just turn my fingers and words on the loose!
Back to Miss Lane and her sensational woes
She really makes Gertrude a star in this show.
Like so many others, with brilliant voices aloud
They all blend together like a musical cloud.
Well that just wraps up this review, and that's that!
Excuse me? I forgot who? OH! The cat in the hat!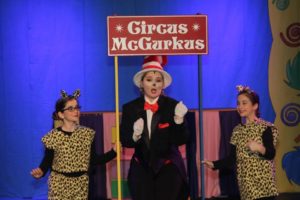 Karah Campbell plays that hat-wearing feline
And just does a comic job that's sublime
Her timing is perfect, her singing's on point
You'll feel that she's in touch and not out of joint.
Miss Campbell is great in her role like the rest
She really gives that cat lots of zest.
So that's all the principals and all the great rest
But I really do think it would really be best
If you stop reading right now and go, go, Go, GO!
Get yourself a ticket to this show!
See all the wonders Children's Playhouse of Maryland has in this musical!
Go! GO GO GO! Go and see Seussical! (Jr.)
Running Time: 1 hour and 35 minutes with one intermission
Seussical Jr. plays through March 18, 2018 at the Children's Playhouse of Maryland in the Lecture Hall of the Administration Building at the Community College of Baltimore County Essex Campus— 7201 Rossville Boulevard in Baltimore, MD. For tickets call the box office at (443) 840-2426 or purchase them online.