Dundalk Community Theatre brings to stage the classic coming of age story, "The Graduate", Directed by Todd Starkey, with scene/lighting/sound design by Marc W. Smith, and costumer Eva Grove. As I am a fan of Mr. Starkey's work, I was very much looking forward to this production. Having seen his phenomenal direction of Assassins, and his brilliant portrayal of Professor Callahan, perhaps I set the bar too high for this one. To quote Benjamin Braddock, "It's like I was playing some kind of game, but the rules don't make any sense to me." The actor's timing I'll chalk up to opening night, but there seemed to be chunks of untold or underdeveloped story missing. For example, Benjamin meets Elaine for the first time, and in the next scene he is leaving town, to chase her down at Berkley, to propose.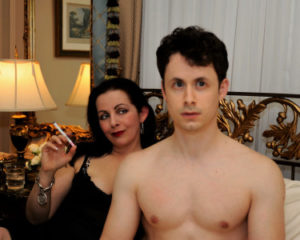 On the technical side praise goes to Marc W. Smith's scenic design. The set was simple, eye catching, and had depth. The louver doors were a nice tribute to the movie, although I found them to be a bit too much in the sense that they were the only door of choice. They worked well for bedroom/bathroom doors but using them all over took away from their original intent. However, the biggest gaff was when young Benjamin moved two chairs under the handle of a door that opened out. I loved the color choices of the set, and Properties Mistress Amy Vickers selection of set dressing. The Robinson home was exceptionally nice, complete with period rug and furnishings. For the most part the sound was crisp, and you could hear the actors well. As for the lighting, there were far too many blackouts for no reason. In addition, there were no real color changes to help with mood. The biggest distraction however, was the constant opening and closing of the main curtain. Once the curtain goes up, it should not come down again until intermission.  
Eva Grove (Ensemble) also doubled as costumer. She displayed a keen eye in keeping the cast looking their part. From Benjamin's loafers to Mrs. Robinson's costume bling, everyone looked as though they had stepped out of an episode of Dragnet. She steals the show when she teams up with Amy Vickers for the "Psychiatrist" scene. Her costuming of the "doctor", along with Ms. Vickers' bean bag chairs, had the audience rolling. I would have loved to have seen the cast carry that energy from start to finish.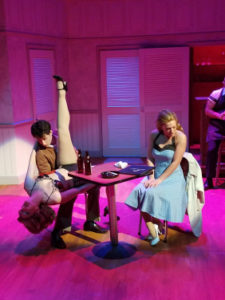 It is clear that the supporting cast is no stranger to the stage. The ensemble of Rachel Verhaaren, Sam Ranocchia, Albert Boeren, Eva Grove and Tate Erickson (all playing several roles) bring much needed levity to the production. Erickson doesn't even need to speak during his stage time. His facial expressions and costuming will have you laughing the minute he arrives. Ranocchia's bartender, complete with baseball bat, and Boeren's priest will make you think you are back in your old neighborhood. Not to be out done, Verhaaren's milkshake brings all the boys to the yard. Well in this case a sleazy, run down bar. In addition, her accent and delivery were on time.
Thomas "Toby" Hessenauer (Mr. Braddock) and Alice Scanlon (Mrs. Braddock) played strong, loving parents. You could tell throughout the show that they loved their son, they just didn't always like him. From the opening where they try and convince him to come downstairs to the doctor scene, you could tell they had their hands full. Hessenauer does a great job being the hard-working dad who does his best to provide for his family. You get the sense that he just wants things to be "normal". Scanlon is the epitome of the kind, doting mother whose son can do no wrong. If her boy is slightly off kilter, it's her fault.
John Dignam (Mr. Robinson) makes a wonderful transition from businessman," to broken man. He is cocky and has the world by the plastic parts at the top of the show. Unlike Mr. Braddock, he gives the impression that his wife is arm candy. He works for the love of working. During his confrontation with Ben you can feel his pain. It isn't until then that he shows any real feeling toward his wife. Splendid job of playing both sides of a character.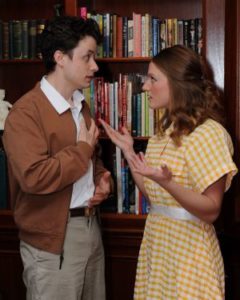 Unfortunately, I wasn't sure what was going on with Benjamin Braddock, played by Stephen Edwards. From the opening scene where he is sitting on his bed in full wetsuit, and snorkeling gear, complete with fins, you get the sense that something wasn't right. His stuttering and babbling with Mrs. Robinson was understandable given the situation. For some reason Edwards carried this throughout the show. He seemed lost and unable to produce any chemistry with either of the female leads. His disruption of the wedding left you wondering if it was a gesture of love, or if this guy was flat out psycho. It was hard to tell if he was self-serving or genuine.
Elisabeth Johnson (Elaine Robinson) plays a stellar ingénue. She was very believable as the naïve, unwanted love child of an alcoholic. Her different interactions with her parents come across as true. Ms. Johnson demonstrates the ability to draw you into Elaine's sheltered life and see the world through her eyes. You understand that she sees good in all people. Having seen the press pictures from tech week, I would prefer she ditch the blonde wig. Her natural look is radiant, beautiful and screams innocence. This is a bit lost with the wig but in the end her acting ability trumps all.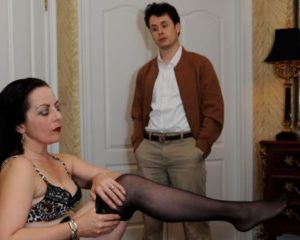 By far the swizzle stick that stirs this drink is Dyana Neal as Mrs. Robinson. With drink and cigarette in hand her grand panache is without question. She is captivating, elegant, and in charge from start to finish. She thoroughly understands the line between the comedic and the dramatic. Her stage presence, delivery and timing are beyond reproach. As much as Streisand will forever be Fanny Brice, Dyana Neal is Mrs. Robinson.    
One final note, whoever put together the list of songs for scene changes and blackouts should be commended. The selections epitomized Southern California in the 60's. My hat is off to your sir or madam.
Running Time: 2 hours and 15 minutes with an intermission
The Graduate plays through March 4, 2018 at Dundalk Community Theatre at CCBC Dundalk in the John E. Ravekes Theatre— 7200 Sollers Point Rd. in Baltimore, MD. For tickets call the box office at (410) 285-9667 or purchase them online.