It was the butler, in the drawing room, with the candlestick! Only, of course, it couldn't be the butler because he never had a suspect card. In this zany original comedy, Without a Clue written by Mark Briner, six unsuspecting suspects are brought together for an evening of merriment, which quickly maligns itself to be an evening of mayhem and murder! It's the usual suspects and a few wild cards getting the game underway, and this unusually comic spoof of a theatrical endeavor will have you guessing for more. Directed by the playwright himself, Mark Briner takes the audience on an unforgettable evening's journey full of classic film and board game references that shan't soon be forgotten. You'll love it so much you'll be dying to come back and see the six different possible endings!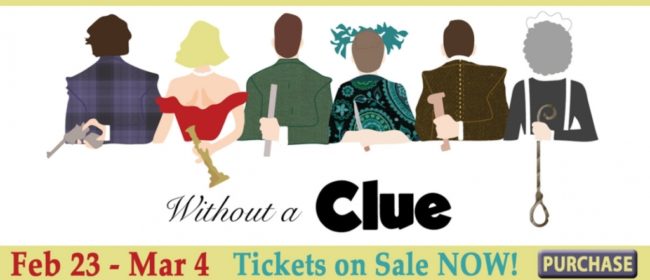 Briner has set the play in a kitschy 1950's style manor; it's the usual suspects as far as aesthetic goes— think of any well-known whodunit from that era and a living, wall-rotating version is what you'll see on the stage. Working with Co-Costumer Dickie Mahoney, Briner wears many hats in this production— in addition to just that of writer and director. The pair design the set, enhanced liberally by Scenic Artist Jimmyo Burril, and create a blended feeling of camp and suspense. Don't look too closely or you'll notice the subtle blood on the walls!
Briner and Mahoney team up, as mentioned, to tackle the iconic costumes of the colorful show. In some places they hit their target right on the nose (possibly with the lead pipe in the costume shop) but in other places the coloring is a bit too subtle. This is most noticeable in the accents used on Professor Plum and Mr. Green as their suit jackets— under Thomas Gardner's brilliant lighting— appear to be the same sandy-puke shade of mustard as that of, well, Colonel Mustard. In order to make long slender neck ties and socks of green, or little vests and quaint bowties of lavender really pop on the actors, black dinner jackets could have easily solved the problem. Where Briner and Mahoney do thoroughly achieve success in the show's sartorial selections is with the dresses appearing on the women, mainly Miss Scarlet and Mrs. Peacock, with the latter being as outrageous as the character herself and the former being as spicy and fiery as the character's name suggests.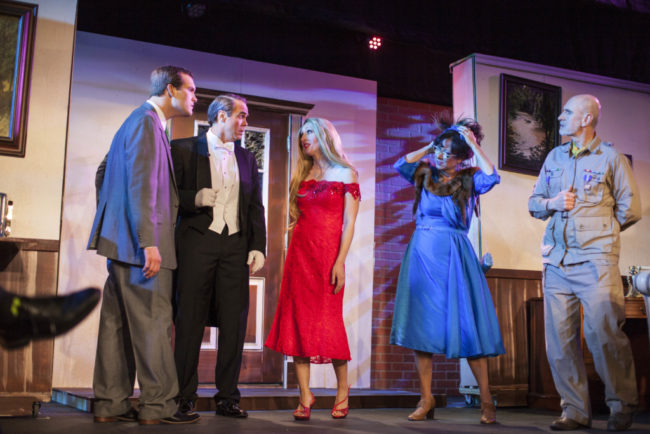 Gardner's Lighting, oft paired with Moises Estrada's brilliant sound design, adds an element of authentic suspense and yet heightened theatrical campiness to the production. The blackouts— because what true whodunit murder story could happen without the power snapping on and off— are well-timed and accompanied by a brilliant sizzling electrical sound, designed by Estrada. This, along with the strikingly authentic-sounding doorbell, adds a bristling edge to the show's overall production values. Gardner's colorful use of lights comes into play at its finest near the conclusion of the production, where each of the characters' cases are mounted before the audience and an according wash of their hue— blue for Peacock, purple for Plum, etc— is displayed in vibrant radiance all around them.
Briner leaves little be desired directorially; this is critical in an otherwise convoluted cacophony of all the things he's jam-packed into the script. If you leave un-entertained it's user error given the amount of none-too-subtle references, spoofs, homages, and various other chicanery he's crammed into the play's plot. There's a highly stylized humor which Briner has penned into the dialogue as well; some of the actors understand and thus translate this humor extremely well while others fumble about in its dense fog. Ultimately the play errs a bit on the longer side of things, not for lack of pacing, but simply for a lack of editing— scenes which are hilarious and amusing occasionally arise for the sake of being hilarious and amusing and do little to bump the plot along.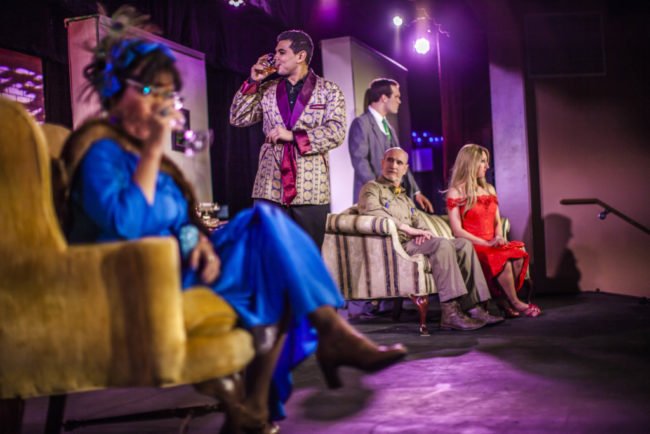 That said, Briner has augmented the stock-archetypes that are so often ensconced in these tales, giving them depth and dimension in addition to their somewhat static tropes. And fear not, ye lovers of musical theatre, Briner's conquered that too. There are references, and more boldly, scenes that encompass large swathes of modern-day musical phenomena, that will most surely ring your doorbell, and give you a front-row seat to that great big producer's couch. But he doesn't draw the line at musical theatre references and spoofs, oh no. Movies— particularly Hitchcock— and other plays— can you find the tremendous Deathtrap send-up?— work their way into the plot all over the place. Again, while many of these things are pithy, punny, and often worth the laugh, having quite as many as Briner does, makes for a lengthy evening. But to further the praise of his work, and to give the standard audience member further incentive to see the show more than once, Briner has carefully crafted six unique endings, one for each of the possible suspects, which will have you glued to your seat with anticipation, groaning with all of the references and puns, and gratefully praising the wayward God of on-stage mysteries that the mystery does in fact have an end!
The suspects, as it were, are played out by a series of six actors. There's the surprisingly seasoned Mr. Green (Chris Volker) who is as smarmy as he is smug. Agitated and delivering one hell of a confession— when it's his turn to confess, and this isn't a spoiler in the least as they audience determines the guilty party, meaning it changes nightly with each performance— it's simply off-the-rails, bordering on psycho. The majority of Volker's built-up interactions occur at first with Miss Scarlet (Denise Rogers Mylin) and later with Professor Plum (Tom Hartzell.) While Mylin's Scarlet is sassy, biting, bitchy, and on point, Hartzell's Plum is a little underwhelming and greatly subdued. This is unfortunate as all of the finely nuanced, albeit sexist period-style queer, humor that Briner has penned into the character's dialogue is glossed over and at times, missed entirely.
Colonel Mustard (Phil Hansel) has a similar characterization issue where the text suggests a somewhat more bombastic portrayal than what the actor provides. While Hansel is a bit loopy in his delivery, which well-suits the modus operandi of the character, he peaks early on in the progression of the character's potential bombacity, leaving the rather questionable scene between Colonel Mustard and Mrs. White— in the library with the gasping— somewhat unevenly delivered.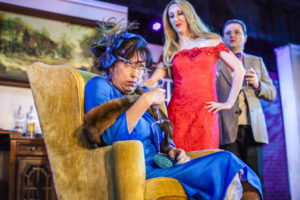 A great deal of Briner's playful puns and silly antics is witnessed in the dialogue of Mrs. Peacock (Michele Guyton.) It does not take Guyton's character long to slide down the slippery slope of slurring words, stumbling about, and presenting an otherwise completely sloshed and legless lady who clearly has a drinking problem. Guyton's work, as the evening carries on, is primarily a background distraction, in a hilarious fashion as she drunkenly chews the scenery and attempts to get Peacock stupor-roaring blitzed. There's a fair bit of melodramatic shrieking, which borders on being described as ear-splitting heinous sound, that often accompanies the character, an act which Guyton performs a little too well in places. With a tongue as slicing as her drunk-walk is slippery, Guyton gives a strong performance and ensures if the brilliantine blue of her costumes doesn't get her character noticed, all of her physical work with Mrs. Peacock will.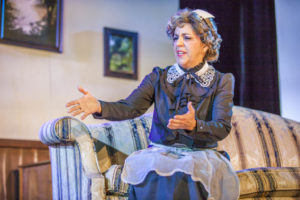 Fully and wholeheartedly understanding the nature of the show, everything from the humor to the timing and overall baffling intent of the playwright, Justine Quirk as Mrs. White is a scream. With her slice-n-dice one-liners potently punching sarcasm and her quick-witted quips that zing and scorch, there's not an ounce of complaint to her. Even her accent, that working-class English sound that isn't quite cockney but still shows her socio-economic status, is superb. The observations her character makes of the others is hilarious and delivered with such impeccable comic timing that it's hard to believe she could be guilty of anything other than death by asphyxiation from laughing too hard.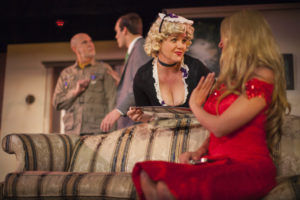 The outliers of the show— not suspects but holed up inside Tudor Manor— include Violet (Allyson Sands) and Chef Bleu (Eric Brooks.) With an outrageous French accent and temperament to match, Brooks is a scene-stealing wonder when he storms in full of hissy-fit and tantrum, playing the irately out of sorts Chef Bleu. Brooks doubles up as Mr. Boddy, delivering an edgy and bombastic quality to him that doesn't seem to situate readily with the given text. But this quickly forgiven and readily overlooked as Boddy is soon in a body bag— well, in the walk-in freezer— and replaced by the aforementioned culinary crazy man. Sands, whose initial character also sports an outrageous French accent, of a vastly different variety, is a proper scream as well. Her Violet character is as dippy as she is ditzy, and as hilarious as she is blonde. Both these character actors are well suited for these two characters, with Sands doubling, tripling, and quadrupling up later as a whole myriad and mess of other folk too funny for words.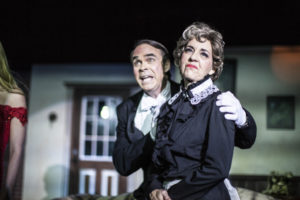 I can see myself now drawing the review to a close, urging and pleading with everyone to go and see it twice or thrice to encounter at least half of the possible conclusions— and then realizing I've forgotten the Butler…because he didn't do it. Except he did do it— and by it I mean steal the show and give the most uproarious, outrageous, insanely impressive performance of the evening. Greg Guyton, in what can only be described as fueled by sheer insanity and theatrical brilliance, plays Ash, the butler…in black. With a remarkable accent, an extraordinary sense of comic timing, and an undeniable ability to derive laughs out of the most bizarre situations, Guyton is the true master of the manor. His 12-page, high-octane, powerhouse monologue— which occurs right before the show's conclusion— is astonishing, exhausting, dizzying, and mesmerizing all at once. You'll gasp, reach for a cigarette, and try to calm your own pulse just from watching him bound indefatigably about through this entire extravaganza of utter nonsense. Tim Curry couldn't do it with half the energy this insane actor has mustered. Remarkably on point in all facets of his character, Guyton is revolving circles around his fellow stage candlesticks, leading the way to the show's conclusion, by way of roping off every suspect, wrenching out every possible motive, and stabbing his way through that intensely insane monologue. Bravo, Mr. Guyton, bravo!
Without A Clue is hilarious, albeit long-winded, but there are some stellar performances therein that absolutely serve as an apology for the lengthy unraveling plot. Be sure to catch this limited-engagement run at Tidewater Players before the murderer catches up with you!
Running Time: Approximately 2 hours and 20 minutes with one intermission
Without A Clue plays through March 4, 2018 with Tidewater Players at The Historic Havre de Grace Opera House— 121 N. Union Street in historic downtown Havre de Grace, MD. For tickets call the box office at 667-225-8433 or purchase them online.