Everybody has to be someplace. How about Silver Spring Stage? Sure thing! It'll be more than just words, words, words with The Stage's production of David Ives' All in the Timing as they prove that it is absolutely…well that. All in the timing. Six hilarious one-acts that are too hot-too-trot…sky, all rolling out one after the other over the course of the evening, what's not to love? Directed by Rob Gorman, this intellectually stimulating, and heartwarmingly amusing comedy is just the thing to warm you up this winter.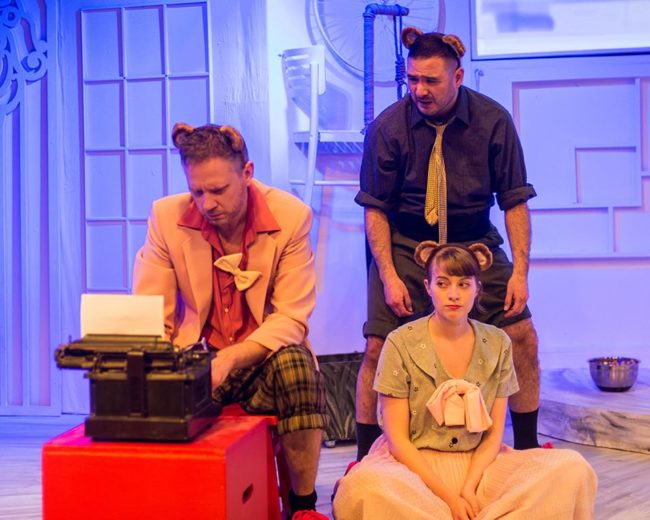 Hats off to Scenic Designer Leigh K. Rawls whose brilliant use of the sight-line-challenged stage makes a pleasant viewing experience for all. White-blinding the entire set for that unique tabula rasa motif, Rawls takes the zaniness of the show's aesthetic one step further by incorporating a complex, person-powered turn-table, which adds to the humor of the show as well as its ease in scenic transition. There are several little minutia cleverly concealed into the set—  a rotating panel which features signs like "3 Monkeys Coffee Company" (which is a clever callback during Sure Thing to Words, Words, Words) and other such signage— that make it a visual playground of exploration for the audience.
Choreographer Aly Cardinalli primes the audience for the absurdity that is to follow by arranging an ensemble dance routine at the top of the first act as well as the second. This interpretive movement fluctuates between creative and superfluous but is entertaining all the same. Musical Director Michael Reilly puts his credentials on display for Philip Glass Buys a Loaf of Bread. This is arguably the most surreal of the one-acts featured in the Ives' collection, and Reilly hones in on that, masterfully blending insane harmonies that are eerie and simultaneously tranquil.
The seven players move fluidly like a unified ensemble under Director Rob Gorman. There is only one questionable blocking choice over the course of the six one-acts and even it can be forgiven by the enthusiastic way the characters behave during Sure Thing. Because of the unique seating arrangement at The Stage, anyone seated in the left bank will be faced with Betty's back for the duration of this piece, but it appears impossible to block it otherwise without slighting the larger seating bank entirely. This aside, Gorman has a keen understanding of how to utilize the space so that everyone in the house can fully experience all of the wild and whacky things happening on stage.
Words, Words, Words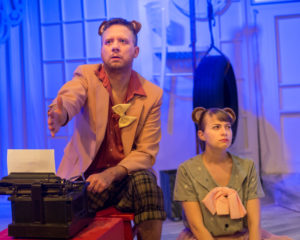 Put three chimps in a room with typewriters and eventually they'll produce Hamlet, right? Well, that's the theory that Words, Words, Words explore anyhow. Matt Bannister, Omar LaTiri, and Rebecca Shoer play chimps hard at work, scratching their existential itches over what it all really means. While the physical approach to the chimps is somewhat inconsistent with Bannister and LaTiri— they end up sort of standing and walking without as much lope-and-crouch as they start off with— their quick-witted banter is exquisite. Shoer, whose chimp is a middle ground for the pair of male chimps in the room, is resplendent in the role, finding a neutral ground upon which to peel her banana of life.
Variations on the Death of Trotsky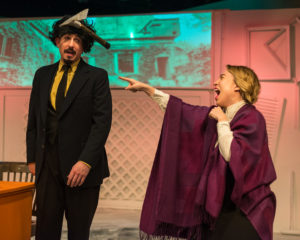 On August 20th, 1940 a Spanish communist named Ramon Mercader smashed a mountain-climber's axe into Trotsky's skull— well…we never actually see Ramon Mercader smashing the axe (and it's definitely not an ice-pic!) into Trotsky's skull…we don't even see Ramon Mercader until the third or fourth time Trotsky has died! This ridiculous repetition of the aforementioned— in addition to featuring the smashing Sound Design of Jeff Miller— brings Michael Reilly and Brianna Goode into the game. Reilly, playing Trotsky, and Goode, playing Trotsky's wife, bring remarkable accents to the table, fitting for their historical characters with a hint of humor and yet not so much exaggeration as to be offensive or unintelligible. Omar LaTiri joins the company once more, taking up the role of Mercader, with the accent befitting a Spaniard. The whole thing is delightfully absurd and hilarious, but ends with a tragic and harrowingly humble twist.
The Universal Language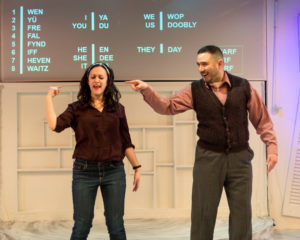 Velcro! Harvardyu? Oop. I'm not a student of Unamunda, so I'm not even gonna try. But Erin Schwartz, our penultimate ensemblists to enter the scene, is a quick study and energetically so when she plays the role of Dawn. Omar LaTiri, taking a third turn to play in these one-acts, tackles the role of Don magnificently. Speaking a language made of complete gibberish and utter nonsense as if he were born pontificating it's finer grammatical excellence, LaTiri drives the humors of this piece home with vocal inflection and intonation as well as vividly animated facial expressions. Schwartz follows suit, delivering a deeper character arc as she progresses from timid and stuttering to a firework bursting full of enthusiasm. The way they fall in sync with one another is too perfect for words— not even words in Unamunda!
Intermission
There is a snack bar. Visit it and support the theatre.
The Philadelphia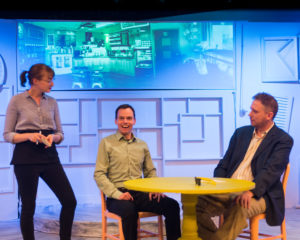 If everybody's got to be someplace the place you don't want to be is stuck in a Philadelphia. Nothing goes right, you can't get what you want, and it's just a catastrophe. Makes sense, it is the place that insisted you put cheese on steak. Featuring Matt Bannister as the cooler-than-a-cucumber Al and Rebecca Shoer as the snotty attitude-prone waitress, this one-act is the official introduction of the final ensemble member David Dieudonne (who does arrive for a microsecond at the end of The Universal Language.) Dieudonne delivers a spastically bombastic character in Mark, shifting at alarming rates through all sorts of apoplectic emotions. His facial expressions are as high-strung as his overall physicality and this just charges the pacing of the one-act to racetrack records. Both Bannister and Shoer provide dynamic opposition for Dieudonne, creating an electrical friction that keeps this portion of the show crackling along.
Philip Glass Buys a Loaf of Bread
Herein comes more of Aly Cardinalli's choreography as well as a shockingly obvious use of Steve Deming's Lighting Design. Right after the initial words are shared across The Baker (Bannister), Philip Glass (Michael Reilly), and the two women (Schwartz and Goode), the dream or nightmare sequence begins and Deming's lighting reflects as much. This piece defies description because it's really penned as a nightmare gone wrong with snippets of conversation being warped and distorted through song into other phrases and other intentional phrasing of said snippets. The cast handles it remarkably, even if it doesn't make much sense.
Sure Thing
This one features Kelsey Grammar as Bill and Lindsey Lohan as Betty.
DING
This one features Rob Gorman as Bill and Pam Burks as Betty.
DING
This one features David Dieudonne as Bill and Brianna Goode as Betty. While it's almost always Dieudonne's character who is caught up in the do-overs, when Goode gets her chance they're equally amusing. The pair share a convivial congeniality between them and as the scene progresses so too does the comfort they share with one another in addition to the depth of their exchanges. The pair handles this closing one-act with grace, refinement and just the right amount of honest comedy to perfectly round out the evening's entertainment.
It's definitely a good laugh, there are excellent performances all throughout, and there's a little something for everyone. But All in the Timing only plays until the end of eternity—
DING
All in the Timing only plays through the middle of next summer—
DING
All in the Timing only plays through St. Patrick's Day. So don't wait, get your tickets sometime next month.
DING
Get your tickets in 2019.
DING
Get your tickets now. Before it's too late!
Running Time: Approximately 1 hour and 50 minutes with one intermission
All in the Timing plays through March 17, 2018 at Silver Spring Stage located in the Woodmoor Shopping Center— 10145 Colesville Road in Silver Spring, MD. For tickets call the box office at 301-593-6036 or purchase them online.