How'd you do, I—
See you've met my— faithful area Burlesque Troupe, Bunns of Steele.
And they're just a—
Little hyped up because
It's that time of year when
Everyone starts to squeal!
Don't get strung out! You've got your chance
To see a thrilling thing, but it won't last!
So get your—
Tickets quick!
And enjoy the show—
The Rocky Horror Burlesque Dinner & Shadowcast!
You may have seen a Rocky Horror Show before, or a Rocky Horror Picture Show Shadowcast, but you've never seen a Rock Horror Burlesque Dinner & Shadowcast (unless you've seen this one on the 14th of this month!) Picture a Shadowcast without the film. Live burlesque performers, acting and miming out the scenes of the beloved Rocky Horror Picture Show with their own burlesque-twist on various scenes. Are you ready to do the Time Warp again?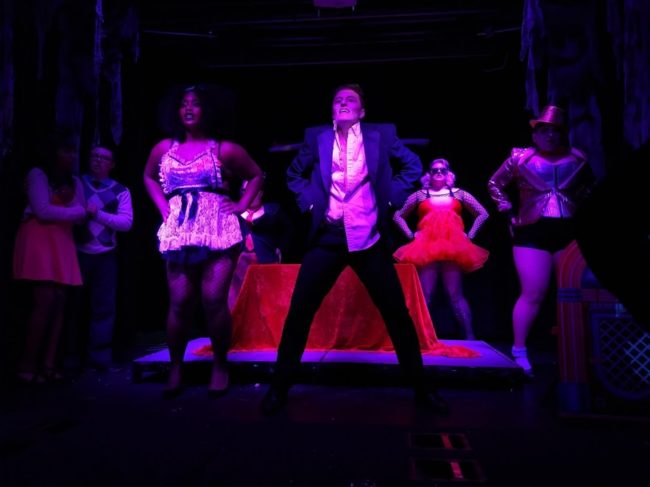 Bunns of Steele Productions, taking up a residence in the upstairs bar of the Baltimore Eagle Nightclub and Bar, has got the atmosphere all set— they've even provided the audience with a 'gag bag' for all of those infamous callbacks! (And a nifty little sheet of some of the more iconic callbacks for those RHS virgins!) It's an incredible layout and on top of all the perks, you get one hell of an entertaining show!
Featuring live burlesque performers from all around Charm City, we get a smattering of talent that can't be beat when it comes to interactively reenacting the show. Doing so with full presence on stage (because there is no film running on some magic screen behind them), this ensemble cast really gives it their all for a most memorable, glitter-filled, and spectacularly filthy evening that just can't be beat when it comes to Rocky Horror.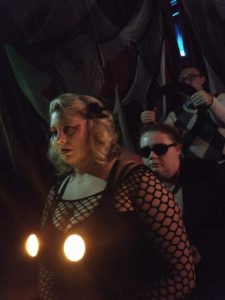 There are the Phantoms— Ruby Darling and Schmutzie B— who open the evening as the iconic lips that are associated with the opening number, "Science Fiction, Double Feature." But it wouldn't be a Rocky Horror Burlesque if we just went with ordinary lips, now would it? So Ruby Darling and Schmutzie B turn trademark burlesque dancing fans (with the help of some special lighting effects) into THE LIPS and it's sensational. Ruby Darling and Schmutzie B take turns assisting various scenes throughout the production, but by far the most memorable is Schmutzie B's posing as the front of Brad and Janet's car, where she has actual headlights (for the car) attached to her— erm— headlights. A brilliant, bold, and beautiful play on words, this scene becomes the catalyst for what launches a bizarre and entertaining evening "…over at the Frankenstein Place…"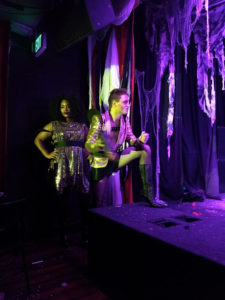 All the usual suspects have arrived to RHS, there's Brad, played by the absolutely adorable Alex Bengel, and he makes that ridiculously dorky and unware character just as stereotypical as can be! Partnered up with the naïve but pretty Janet, played by Siren, there's no stopping the shallowness of their tiny minds once they encounter the creepy castle, which doesn't have a phone, asshole, over in the darkness once their car breaks down! Both Alex Bengel and Siren have a great time falling in line with the peculiar practices of "The Masters Affairs" once they're properly introduced to the scene by Riff Raff, played by Jonathan Lightner, and his freaky sister Magenta, played by Duchess LeNoire. Both of these performers embody to perfection the creepiness of these warped aliens, especially when it comes to elbow-sexy-time. Both of them really know how to do the "Time Warp" (again.)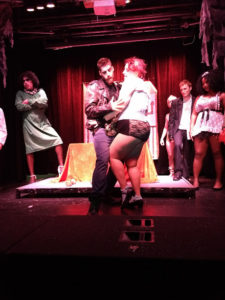 Of course the whole thing goes tap-shaped once Columbia, played by the incomparable Tapitha Kix, starts in with her hysterics about dear old— wait! Perhaps I shouldn't mention his name…because doing so sends The Master into quite a fit of— hungry rage! Ah, screw it. EDDIE! Tommy Gunn barrels into the scene for "Hot Patootie" and really cuts and burns and squeals up a rug with Tapitha Kix, setting the place ablaze with spirit for this sensationalized number. (A great deal of people forget that this too is an epic moment for various and sundry to show off their dancing skills and hot-hot-hot-patootie movies because the number itself is often overshadowed by the 'Time Warp.' Again.) But Tommy Gunn and Tapitha Kix really showcase their moves here. Tommy Gunn, whose role as Eddie— per the story is terrifically short-lived— resurfaces later in the production as the slightly off-beat Dr. Scott! A great Scott— *throw toilet paper*— in fact, and his facial expressions in this part are to die for.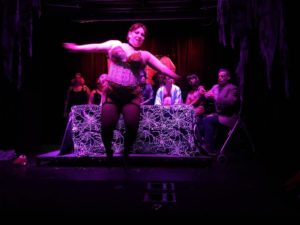 Getting back to Tapitha Kix, who is a renowned tapping burlesque performer, it's fantastic to see her fancy footwork earlier in the show during "The Time Warp" and again later in "The Floor Show" and somewhere in-between during "Eddie's Teddy", where she puts her hard-tips to the test and comes through with soaring, flying tapping, colors. Showcasing her impressive and sharp tap skills, living every tap-dancer's dream of getting to tap in the role of Columbia, Tapitha Kix really kicks it out of the park when it comes to fusing the elements of tap-dancing, burlesque dancing and The Rocky Horror Show. Watch her facials closely, like Dr. Scott, they're also to die for.
I would like, if I may— though yes I know I may not— to briefly introduce our Narrator. An oft forgot character, but hilariously inclined to callbacks all throughout the performance, Dirk Hamfist dons the smoking jacket, pipe, and look of pure authoritative storytelling as he shadow-speaks from a cleverly placed corner near the front of the stage. There's a costume surprise in store for those that survive through to the end of the show (it's totally survivable…if you don't piss off The Master…or the natives of Transsexual Transylvania…)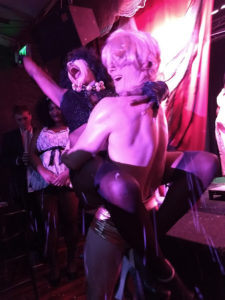 That should just about cover it— except of course for the Master's new creation! Rocky, played by the deliciously titillating Sam Dandwich, is the epitome of what this creature of the night should be. After all The Master says he's making a man with blonde hair and a tan…though Sam Dandwich is much, much more— what with all the lovely rippling muscles and innocent facial expressions! In fact, for just $1.00 at the intermission…you can oil up Rocky! With a lovely scented Halloween-orange glittery body oil, you too can get involved in this very exciting Shadowcast extravaganza and thoroughly feel as if you've helped to keep the show smoothly running through Act II! Sam Dandwich, whose presence on stage is most memorable, especially when he finds himself chased all through the audience, is the perfect Rocky for this Rocky Horror Show.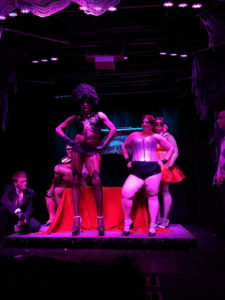 Don't dream it— be it. And Diamond Taylor is THE DREAM and the end-all be-all when it comes to seriously slaying in the role of Dr. Frank N. Furter. She is sassy. She is fierce. She is a statuesque giantess that towers over the crowd in her stunning super-heels and the facial expressions are second to none in this production. Channeling the great Tim Curry and every ferocious fierce diva to come before her, Diamond Taylor SLAYS— cannot emphasize that bit enough— when she struts her stuff through "Sweet Transvestite", among other numbers in this shadow-burlesque show. You'll be transfixed. You'll be seduced. You'll be transduced! You won't believe your eyes!
Hurry— hurry— hurry and get your tickets for a thrillifying Halloween night adventure that you'll never forget! Hot Patootie, bless my soul! These performers are good as gold! Hot Patootie, get your tickets soon! Rock out with these guys under the Halloween moon!
Running Time: 2 hours and 10 minutes with one intermission
Rocky Horror Burlesque Dinner & Shadowcast has a performance on Tuesday October 31, 2017 at The Baltimore Eagle Nightclub and Bar. This is a hot-hot-hot-patootie event so do not wait to purchase your tickets at the door— get them online
To follow Bunns of Steele Productions, click here!