ONE CHANCE MORE! Another show- another opportunity- to see Cameron Mackintosh's critically acclaimed production of…

LES MISÉRABLES

The musical phenomenon that has swept the globe returns to The National Theatre in Washington D.C. for a limited engagement starting on December 20, 2017 and playing through January 7, 2018. 
TICKETS WILL MOVE QUICKLY! Don't miss your chance to purchase them! 
TICKETS GO ON SALE SEPTEMBER 22, 2017 AT 10:00 AM
Washington, D.C. (September 21, 2017) – Tickets for Cameron Mackintosh's acclaimed production of Alain Boublil and Claude-Michel Schönberg's Tony Award-winning musical phenomenon, LES MISÉRABLES, will go on sale at 10:00 AM on Friday, September 22, 2017 for its much-anticipated Washington, D.C. engagement at The National Theatre, direct from a celebrated two-and-a-half year Broadway engagement. Tickets may be purchased online at TheNationalDC.com, in person at the National Theatre Box Office (Monday thru Friday from Noon to 6:00 PM), or by calling 800-514-3849.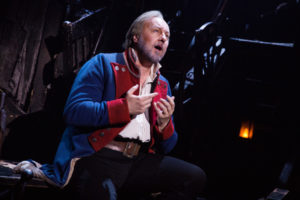 With glorious new staging and dazzlingly reimagined scenery inspired by the paintings of Victor Hugo, this breathtaking production of LES MISÉRABLES, which broke box office records during its pre-Broadway tour, has left both audiences and critics awestruck, cheering "LES MIZ is born again!" (NY1). 
Cameron Mackintosh said, "I'm delighted that after a four-year absence this glorious production is once again going to be touring the major cities across North America and promises to be more spectacular than ever."
Set against the backdrop of 19th-century France, LES MISÉRABLES tells an enthralling story of broken dreams and unrequited love, passion, sacrifice and redemption – a timeless testament to the survival of the human spirit. Featuring one of the greatest scores of all time, with thrilling and beloved songs including "I Dreamed A Dream," "On My Own," "Stars," "Bring Him Home," "One Day More," "Do You Hear the People Sing" and many more, this epic and uplifting story has become one of the most celebrated musicals in theatrical history. Along with the Oscar-winning movie version, it has now been seen by more than 130 million people in 44 countries and in 22 languages around the globe. LES MISÉRABLES is still the world's most popular musical, breaking box office records everywhere in its 32nd year. 
Cameron Mackintosh's production of Boublil and Schönberg's LES MISÉRABLES has music by Claude-Michel Schönberg, lyrics by Herbert Kretzmer from the original French text by Alain Boublil and Jean-Marc Natel, additional material by James Fenton and original adaptation by Trevor Nunn and John Caird. The original LES MISÉRABLES orchestrations are by John Cameron with new orchestrations by Christopher Jahnke, Stephen Metcalfe and Stephen Brooker. The production is directed by Laurence Connor and James Powell, designed by Matt Kinley inspired by the paintings of Victor Hugo with costumes by Andreane Neofitou and Christine Rowland, lighting by Paule Constable, sound by Mick Potter, musical staging by Michael Ashcroft and Geoffrey Garratt and projections by Fifty-Nine Productions. Music Supervision is by James Dodgson, with casting by Kaitlin Shaw for Tara Rubin Casting.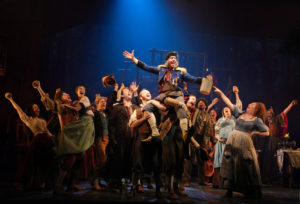 LES MISÉRABLES originally opened in London at the Barbican Theatre on October 8, 1985, transferred to the Palace Theatre on December 4, 1985 and moved to its current home at the Queen's Theatre on April 3, 2004 where it continues to play to packed houses and is the only version of the original production left in the world. The original Broadway production of LES MISÉRABLES opened at the Broadway Theatre on March 12, 1987 and transferred to the Imperial Theatre on October 17, 1990 running for 6,680 performances. The original U.S. National Tour began in November 1987 and visited over 150 cities before closing in St. Louis, MO in 2006. Broadway audiences welcomed LES MIZ back to New York on November 9, 2006 where the show played the Broadhurst Theatre until its final performance on January 6, 2008.
The new production was conceived in 2009 to celebrate the 25th Anniversary, with record-breaking productions in the U.K., Australia, Korea, Japan, Spain, France, Manila, Singapore and Dubai. The new production is currently playing to sold out houses around Japan and in São Paulo with upcoming productions in Mexico and around the U.K. The North American Tour traveled across the U.S. for two years then played a five-month engagement in Toronto before returning to the Imperial Theatre on Broadway in March 2014 for over 1,000 performances.
To date, LES MISÉRABLES remains the 5th longest-running Broadway production of all time.
In addition to LES MISÉRABLES, The National Theatre's 2017/18 Broadway at the National season also includes the pre-Broadway world premiere of MEAN GIRLS (October 31-December 3, 2017) and the Washington, D.C. premieres of SOMETHING ROTTEN! (February 6-18, 2018) and WAITRESS (May 15-June 3, 2018). Special additional limited engagements include AN EVENING WITH THEPIANOGUYS (December 13-16, 2017) and Travis Wall's SHAPING SOUND After the Curtain (January 24, 2018).
CALENDAR INFORMATION
LES MISÉRABLES
DATES & TIMES:
Wednesday, December 20, 2017 thru Sunday, January 7, 2018
Tuesday, Wednesday and Thursday at 7:30 PM
Friday and Saturday at 8:00 PM
Saturday matinees at 2:00 PM
Sunday matinees at 1:00 PM
Sunday evenings at 6:30 PM
Special performances: Friday, December 22 at 2:00 PM, Friday, December 29 at 2:00 PM
No performance Sunday evening, December 24
LOCATION
The National Theatre, 1321 Pennsylvania Ave. NW, Washington, D.C.
Metro: Metro Center, Federal Triangle
For parking information, visit thenationaldc.org/directions-parking/
TICKETS
Tickets for LES MISÉRABLES go on sale on September 22, 2017 at 10:00 AM EDT. Tickets may be purchased online at TheNationalDC.com, by calling 800-514-3849, or in person at the National Theatre Box Office (Monday thru Friday from Noon to 6:00 PM). On show days, including weekends, the box office is open 2 hours prior to the performance start time, and closes 30 minutes after the show begins.
Tickets for MEAN GIRLS, AN EVENING WITH THEPIANOGUYS, and Travis Wall's SHAPING SOUND After the Curtain are also on sale.
Tickets for SOMETHING ROTTEN! go on sale on October 6, 2017 at 10:00 AM.
Tickets for WAITRESS go on sale on October 20, 2017 at 10:00 AM.
SUBSCRIPTIONS
Subscription packages of three or four plays are still available at TheNationalDC.org or by calling the subscription hotline at(855) 486-2516.
GROUPS OF 10+
Groups of 10 or more should contact our Group Sales Department at (855) 486-2516 or groupsales@thenationaldc.com
TICKET LOTTERY
The National Theatre provides a unique opportunity for patrons to purchase best available remaining tickets for all Broadway at the National performances through our $25 Ticket Lottery. Two hours prior to show time for each Broadway at the National performance, individuals may submit their names to be drawn to purchase up to two tickets. A limited number of names will be drawn and announced 30 minutes later. Individuals must be present, with cash and a valid photo ID to redeem the offer.
MILITARY DISCOUNT
As a thank you to our service men and women for their service to our country, the National offers a special 15% discount for individual performances of all Broadway shows at The National Theatre. These specially priced tickets are available in person at The National Theatre box office only and proper military ID is required.
THE NATIONAL THEATRE
Located on Pennsylvania Avenue near the White House, the National Theatre opened in 1835 and is one of the country's oldest continuously operating theaters. The National has long been known as one of the leading pre-Broadway venues, with SHOW BOAT; HELLO, DOLLY!; and WEST SIDE STORY among the many shows that hit the National stage prior to New York. The National continues that tradition starting October 31, 2017 when it hosts the pre-Broadway world premiere of the musical MEAN GIRLS. Many of the world's leading performers have graced the "Stage of our Nation," including Washington, D.C.'s own Helen Hayes, Audrey Hepburn, Katharine Hepburn, Eartha Kitt, Ian McKellen, Sir Laurence Olivier, Robert Redford, Chita Rivera, Will Rogers, and George C. Scott to name but a few. Jam Theatricals, under the direction of Steve Traxler and Arny Granat, began programming and managing the National Theatre in 2012. Since then, theatrical presentations have included the pre-Broadway engagement of IF/THEN with Idina Menzel, BLITHE SPIRIT starring Angela Lansbury, JERSEY BOYS, and the Washington premieres of MOTOWN THE MUSICAL, AMERICAN IDIOT, FUN HOME, and NEWSIES. In addition, the National has recently presented many special events and concerts, including Kacey Musgraves, Dave Koz, Bryan Adams, Bill Burr and Eddie Izzard.
For more information, visit www.TheNationalDC.com. Follow The National Theatre on Facebook (@NationalTheatreWashingtonDC) and Twitter (@NatTheatreDC).