Dear Reader,
By now you think you have everything you need to know about How to Succeed in Business Without Really Trying at STAR Ltd. But this little book has a surprise for you. This little book is designed to tell you all about the other principal performers who have taken up the leading roles during week two of the summer production! The show's directors and creatives haven't changed— see the original "little book notes" about them here— but we've swapped out the key players to showcase just how many talented young performers are in and around the local area this summer.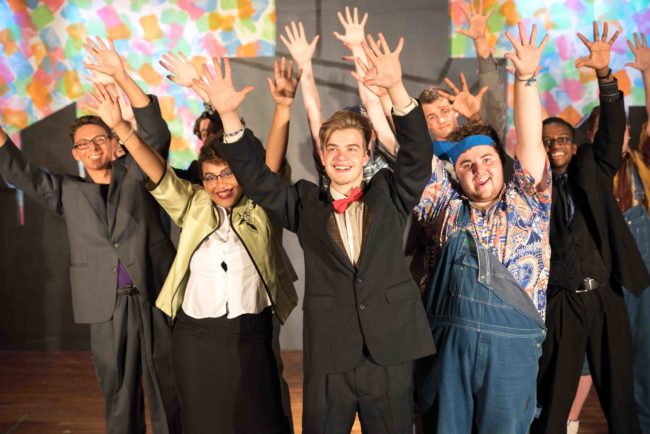 As for the rest of the ensemble program— they're giving more of the same— and it's terrific! The energy is up, the enthusiasm is radiant, and the dancing is coming along nicely! Being a full week into the swing of things, the pacing even feels sharper and smarter. There are a few performers who are popping even more vivaciously than they were during week one of the show— like Anna Grace Ryan and Sophie Talbert as the two Scrubwomen and Maggie Hasson and Katherine Ryan as the two Wickette girls. Enthusiastic, passionate, clear-eyed and eager is Erin Wallace, playing the TV Announcer, whose voice settles into an almost sultry ASMR-sounding routine when she introduces Hedy LaRue as the WWW-Treasure Girl. Michael Stromberg, who has fallen into the ensemble after his run of J.B. Biggley in week one, is finding ways to make his office executive character noteworthy, mostly by deadpanning his way through "The Company Way (Reprise)" which is absolutely hysterical. Stromberg also has micro moments where he indirectly interacts with the new J.B. Biggley (Joshua Olujide) and the faces he pulls in these moments are hysterical because of what is inferred knowing that he's just come from playing the role.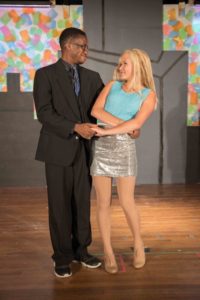 Olujide is a great place to start talking about this cast as he's bombastic, explosive, and a roaring good time in the big-boss role. Where he radiates brighter than the sun is with the pounds of chutzpah that he pours into "Old Ivy" double-growl-rolling his "r's" when he sings "rip the chipmunk" in the number. Olujide marches a parade of shenanigans through this song with enough gusto to overcome the entire Groundhog football team! The way he all but melts whenever Hedy (Lydia Newman) interacts with him is equally amusing. Newman, who is the epitome of a blonde bubbleheaded tomato, has a lovely voice that pairs well with Olujide during their duet "Love From a Heart of Gold." Olujide makes each interaction count, with Hedy, with Finch, and certainly with his obnoxious, annoying nephew. Watching the way he barely bites his tongue with Bud Frump (Jack Buzard) is a real scream.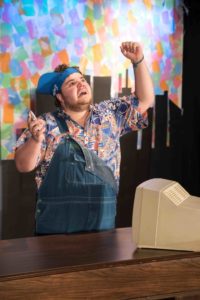 Jack Buzard has masterfully conceptualized Bud Frump as the fly in the ointment, the mosquito around the fire, the ants at the picnic. Over the top and theatrically hysterical with his antics, particularly when it comes to pulling faces and making a moment last, Buzard is a natural born showman when it comes to this sort of role. A proper weasel of a rat with spunk in his step, there is something outrageously enjoyable about the way Buzard takes to the character— like a fly to a steaming pile of cow dung. When he lays into "The Company Way (Reprise)" and ever-so-slightly earlier with "Coffee Break" there is plenty of laughter to be had on his part.
Lauren Linsao is a knockout as Smitty, really tackling the character shtick that accompanies the Smitty track. Belting her face off at the end of "Coffee Break", Linsao showcases her vocal tenacity as well as her ability to balance comedy into the character's natural existence. Wearing 90's style crimps in her hair, Linsao buys fully into the scenic shift that Director Mike Juba has set in motion. Pumped full of pizzazz for "It's Been a Long Day" and equally so for "Cinderella, Darling…" Linsao is a robust Bordeaux when it comes to bringing flavor to this supporting character.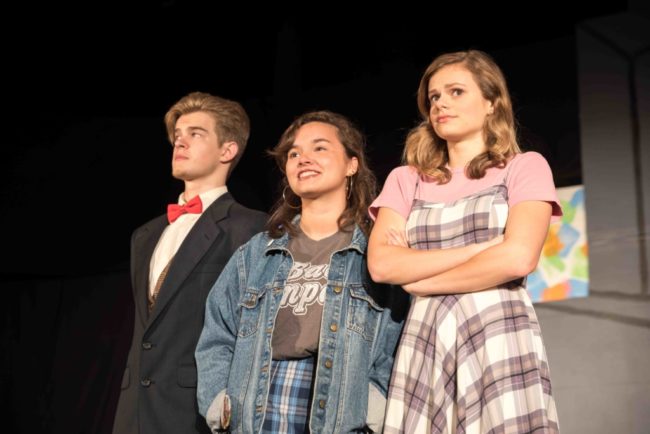 Gooey-eyed from the get-go, Elizabeth Ryan is the epitome of dewy-eyed ingénue when playing Rosemary Pilkington. Clearly having bought into the dream of her busy businessman, Ryan sells us this dream tenfold when sweetly singing her way through "Happy to Keep his Dinner Warm." Each reprise and revisit of this number showcases a new layer of emotional turmoil that Ryan has effectively drawn to the surface of the character. Matching Finch's determination in her feminine plot to snag him as her own, Ryan creates a vast dynamic depth to the otherwise two-dimensional character, really giving us insight to the inner workings of Rosemary's brain. Her voice is lyrical, melodious, and lovely, floating over solos and duets with sublime ease.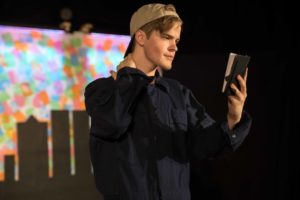 The chicanery J. Pierrepont Finch (Nick Zuelsdorf) knows no bounds in this production. Zuelsdorf is cheeky beyond compare and a proper trickster to boot. A truly ambitious character with the vocal panache and physical dancer's ability to back it up, Zuelsdorf embodies Finch like a second skin, wearing him proudly as he performs acrobatic shenanigans all over the place trying to climb the cooperate ladder. Overemphasizing his spellings— that's F-I-N-C-H— Zuelsdorf really polishes the angler/player elements of the Finch character and gives the audience that extra zip of humor when doing so. Floating away on a love-bound bubble during "Rosemary", Zuelsdorf's mellifluous voice is a sweeping swell of unified pitch, balance, timbre, and emotion. Possessing that bold, brave spring of a tiger in his physicality and vocalization, he tackles "I Believe in You" and "Brotherhood of Man" with rigorous gusto.
There are so many wonderful things happening in this production— including the off-night principals from last week settling into the indefatigable energy of the excited ensemble— that it simply cannot be missed! You might even catch Josie Borsh, playing Miss Gatch, slapping someone's bottom during "A Secretary is Not a Toy" if you watch closely! If you want to know how to succeed? Get your tickets— and quick as they're moving like wickets on fire— to STAR Ltd.'s How to Succeed in Business Without Really Trying.
Running Time: 2 hours and 45 minutes with one intermission
How to Succeed in Business Without Really Trying plays through August 6, 2017 with STAR Ltd in the Rice Auditorium of the Spring Grove Hospital Campus— 55 Wade Avenue in Catonsville, MD. Tickets can be purchased at the door or in advance online.
Click here to read the full review featuring the Week1 Cast!