Annapolis Shakespeare Company inaugurates its new space with a stunning, lavish play, an adaptation of Alice in Wonderland, which shows off the amazing capabilities of their new venue. Written by Sally Boyett (who also directed it) and Donald Hicken, it mixes Carroll's novel with a frame story about the book Alice in Wonderland itself, given to Alice by Charles Dodgeson (Carroll's real name) himself. It intersperses this bit of meta-textuality with a few modern references to, uh, the precarious political situation we find ourselves in, where "alternative facts" have put us all "through the looking glass". The Knave of Tarts, played by Brian Keith MacDonald in one of many roles, seems inspired by Steven Colbert: "truthiness" has never looked so psychedelic.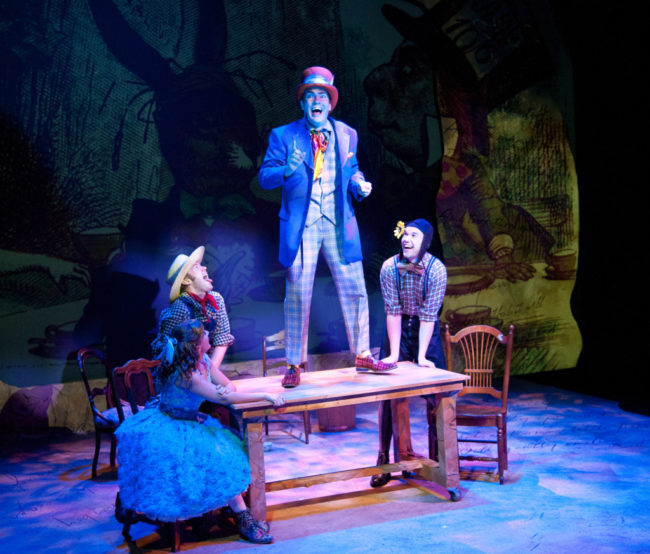 Alice is played by Laura Rocklyn, who handles the frenetic lunacy around her with aplomb and grace. The rest of the sprawling cast of the novel is handled by an ensemble, who must be exhausted just from the dizzying array of costume changes (jaw-droppingly gorgeous work by Sandra Spence) even before they get on stage for their high-energy electric performances, including some positively frantic dances. 
Bill Dennison is the White Rabbit, elegant in a white tailcoat and tiny shades, long-limbed and moving as if on wheels. The most famous scene from the book features Brian Keith MacDonald as the giggly March Hare, Ian Charles as the snoozing Dormouse, and Johnny Weissgerber as the Mad Hatter. The three together are simply magic, hilarious, and over-the-top. Weissgerber is also spectacular as the Duchess, gorgeously committed to the drag role… and don't miss Jackie Madejski as the sneezy Cook. Madejski plays numerous roles that show off her gorgeous, lithe movement skills: rarely featured but always stunningly beautiful.
The real power is Olivia Ercolano as the Red Queen, whose very name evokes sound and light effects: she's elegant and just a little scary, seemingly ten feet tall with hair that reaches the sky. Ercolano is also Alice's sister Lorna, a wonderfully Freudian twist. Rocklyn, as Alice, provides a solid grounding at literally every single moment of the play for the mad-cappery to take off.
There are so many individual performances to praise, but MacDonald is supreme in so many roles: the maudlin Mock Turtle, and spaced-out Caterpillar, and the smarmy Knave. Every actor has to be just huge to not be over-shadowed by the video projections (by Joshua McKerrow) providing lovely sets and handling the magic of Alice's shrinking, as well as many of Tenniel's original illustrations that ground the play for anybody who has ever read the book. They're framed by Mollie Singer's lovely set, inspired by the book's original manuscript, and underscored by Boyett's own lush soundscapes. Adam Mendelson has the challenging job of providing lighting for the continuous rush of new scenes and emotions; he's really puts the lighting grid at the new space through its paces (and perfectly timed, to boot).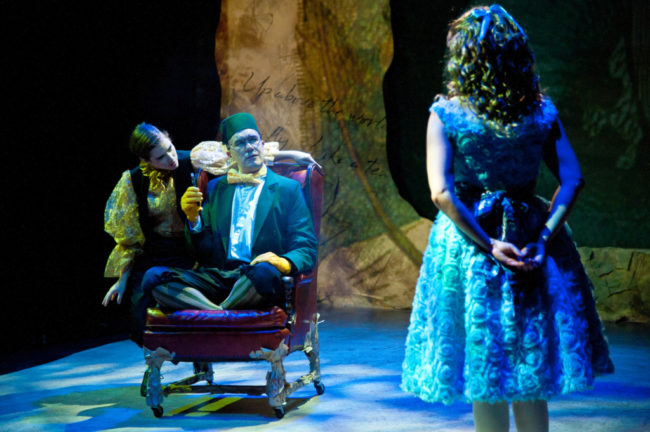 The political jokes will likely go over the heads of kids, but it's a wonderful show for children. It's one of the most lavish productions of Alice you'll ever see, a magnificent kickoff to Annapolis Shakespeare's new space. It's action-packed, delirious entertainment.
Running Time: Approximately 1 hour and 50 minutes with one intermission
Alice and The Book of Wonderland plays through August 20, 2017 on the Main Stage of Annapolis Shakespeare Company— 1804 West Street Suite 200 in Annapolis, MD. For tickets call the box office at (410) 415-3513 or purchase them online.