Oh, citizens of Columbia! What can a theatre give but love, love, love? And what can theatergoers do but watch, watch, watch? All's fair in love in war at Red Branch Theatre Company as they bring the zany, high-octane musical Lysistrata Jones to their stage to jumpstart the back-half of the 2017 season! Directed by Stephanie Lynn Williams with Musical Direction by Dustin Merrell, this modern musical adaptation of Aristophanes' Lysistrata is a summer sizzler fierier than the heat of Hades! There's energy pulsating through every moment, out-zapping Zeus with the fiercest of lightning; this is one smoking hot musical that you won't want to miss this summer season.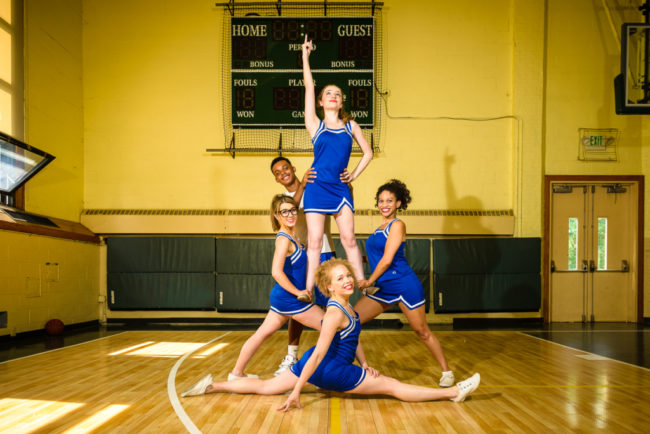 Though the set and costumes are relatively basic— almost underwhelming compared to the supercharged energy that punctuates all of the major dance numbers and the vocal talent that pierces the production on the whole— there is a modicum of professionalism inside of them that is suited for the intimate proscenium space in which Red Branch Theatre Company Plays. Scenic Designer Bill Brown gives the collegiate gymnasium the old college try, complete with depth-perspective painted floors for the basketball court. Brown fully incorporates the Spartan Athens' school colors— blue and orange— into the pull-apart riser/bleachers, which move with surprising ease during quick changes. Costume Designer Stefany Thomas approaches the show's aesthetic from a modern point but keeps Hetaira grounded in the show's inspirational Greek roots, complete with "toga of the night" when she takes up her position as head Madam later in the production. The cheerleading uniforms are Thomas' best work, but again feel ordinary by comparison to all of the excitable buzz happening all around them in the vocal and dance departments.
Apollo himself couldn't have lit a better scene than the way Lighting Designer Lynn Joslin does with her fancy infusion of orange and blue lights, which blink consistently throughout the more raucous party numbers early on in the production. Joslin balances effect lighting with mood lighting so that the luminous plots don't overwhelm the scenes but rather enhance and inform their overall vibe. Use of flash-snapping strobe for slow-motion action shots— particularly during "Final Game- Hold On"— are smartly used and to great effect. Joslin adds heat to "The Writing on the Wall" with a flash filter of low lighting that's not unlike UV, giving the foreshadowing overtones of this song a harrowing visual accompaniment. There's lots to see, and you can see it all thanks to Joslin's clever sorcery when it comes to the lights of Lysistrata Jones.
Move over Terpsichore, because Choreographer Brandon Glass is on the scene with fierce, ferocious dance routines that will stun the Gods. With sharp, precise routines that engage the spunky cheerleading nature of the show's titular character— and her clique of cheer-chicks— Glass didn't join the RBTC by way of Bob Fosse but by way of uniformed synchronicity that gets butts bouncing in seats as these performers pop, lock, and roll their way through intense routine after intense routine. Infusing moves from the court with basketballs to match, Glass brings the boys' number "Lay Low" to a whole new level of groovy, while "No More Givin' It Up" is populated with funky moves that surge up from the soul. Like Ares, God of War, Glass knows his arsenal well, making use of Sarah Luckadoo's acrobatic abilities at the opening and closing of the show engaging her routines with flips and all sorts of impressive tricks. Glass has the waves of Poseidon gyrating through his dance ensemble; there is no stopping this rogue tiger when it comes to his seriously sweet choreography.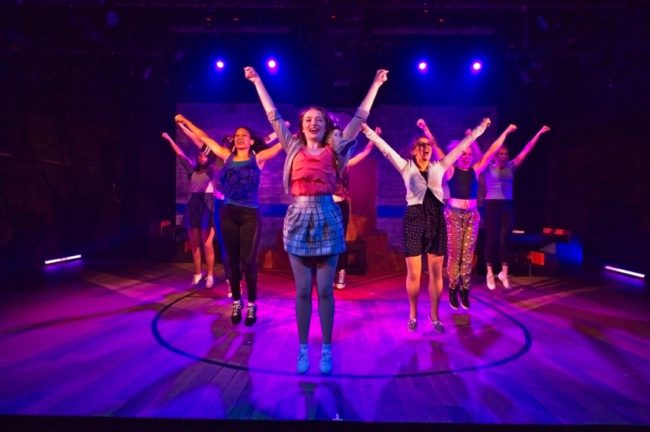 Director Stephanie Lynn Williams shows Athena's wisdom when it comes to strategy and g in the show's overall advancement. Scenic changes are swift to the point that they're hardly noticed. Blocking is tight, despite the propensity to fall through the front of the fourth-wall barrier of the proscenium lip and down into the gully between stage and first row seating bank. Working closely with Musical Director Dustin Merrell, whose sound design work for the show— mainly the instantaneous messenger sounds— is, as the millennials say, on fleek, harmonies of an impressive nature arise from the ensemble. Particularly during "Lay Low" the background vocals blend sublimely to the point of aural bliss and really stand out. If there's one place where Williams and Merrell could stand to improve their teamwork effort it's during the monstrous "Right Now: Operetta" sequence, whose erroneous existence falls largely on the shoulders of Lewis Flinn's music and lyrics. These scene is such a kerfuffle, with comings and goings and breakneck entrances and exits, layered over complex harmonies and melodies, that the dizzying confusion of chaos through movement almost overtakes the scene entirely. That said, this is the show's only real hiccup wherein a bit more prudence in the movement department could have more readily served the cohesion of the moment.
It may be ancient Greece that inspires the show but Douglas Carter Beane had Noah's ark in mid when he wrote the book, pairing the principals off two by two. Bubbleheaded tomato Lampito (Angeleaza Anderson) meets Tyllis (Jason Quackenbush) and it's a match made on Olympus. Sort of. Both Anderson and Quackenbush have fabulous voices, a strong addition to the group numbers, and their quirky and unique personalities make their characters' pop apart from the others. Anderson, who delves into the shallows of her brainless bimbo character, is quite the dip of comic-flavored ice cream. Quackenbush, who's character has parfait layers happening beneath all of his bravado, is equally well-versed in the format of comedy, making his interactions— especially once everyone stops givin' it up— with Anderson that much more amusing.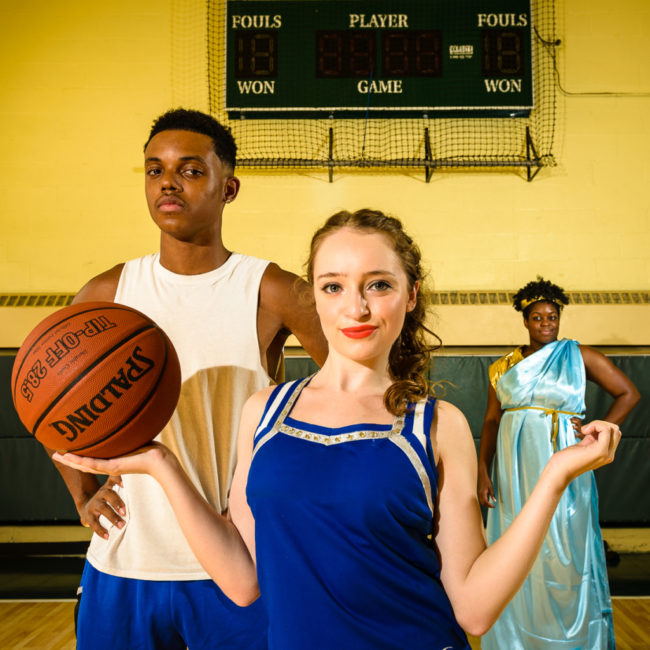 'Uardo (Diego Esmolo) no para sigue sigue when it comes to getting freaky freaky with Cleonice (Tiara Whaley.) Their voices are mostly prominently featured during "Right Now: Operetta" and the tempestuous chemistry between them is engaging, not unlike mortals and demigods in a power struggle. Both Whaley and Esmolo have a firm grip on who their character is and passionately underscore their lines— both those spoken in English and in Spanish— with ardent fervor, whether they're fussed with one another or not. Somewhere in there, a three-point shot of praise goes out to Harold (Elad Ness) for his absolute buffoonery and overall shenanigans with character work. Excellent with a delayed punchline or quirky moment, Ness is owning the role of collegiate class clown with stellar aplomb engaging everything from goofy facial expressions to his full physicality when working through his more comedic moments, which are basically all of them.
Cinesias (Andrew Overton) is a player fiend but still might be in love with his ho' Myrrhine (Victoria Meyers.) Steeped to the temples in his hip-hop street speak, penned with satirical intent by Flinn, Overton puts forth the moxie and mojo of a badass streetwise thug, which is culturally inappropriate but plays into the satire that Flinn has written into the dynamic created with the role. Crude and over-the-top, Overton plays the role as its intended, which makes for some wildly intriguing scenes with Meyers' character. Though she be but little, Meyers is fierce! Not letting a little thing like little stop her, she puts her money where her mouth is and vocally belts the absolute Hades out of "Don't Judge a Book", which is a stark contrast to the way her mousy, albeit perky, character is featured otherwise. Creating a versatility among the facets of her character, Meyers doubles down and unearths all the hidden secrets of Myrrhine with a comic flare that just won't quit.
Smooth, slick, charismatic, especially when he sings, Mick (Patrick J. Campbell) is the lead varsity jock and fits the bill for captain of the basketball team. When leading the fellas through "Lay Low" his edgy, soulful voice is exactly the sort of Virgil needed for the melodic and musical journey that this number takes. But it's the number, "When She Smiles" that really gets his passionate fires burning brighter than the pyres lit inside Apollo's temple. Enter Robin (Alex Levenson); quirky, bookish, nerdy but not spastic, and completely not a part of the cheerleader movement, Levenson is a proper foil to this leading man, particularly when it comes time for them to slam off at poetry. Though Levenson has no solo song of her own, she finds her features during "No More Givin' It Up" and "Right Now: Operetta" and ensures that the audience hears her ferocious vocal prowess.
Making sure that every collegiate stereotype stock character is present and accounted for, Flinn pens the role of Xander (Taylor Witt) as the epitome of motivated liberal with mischievous youth and social awkwardness that outweighs his heavy IQ to an immaculate tee. Witt, sliding into the role like a second skin, plays the role with a great sincerity, which makes his awkward-turtle moments that much more hilarious. With a surprising sound that pours out of him for "Hold On," he wins over the hearts of the audience, and others taking notice of him for perhaps the first time, wowing and dazzling us with his extreme vocal capabilities in addition to the way his ever-so-slightly plucky demeanor still manages to penetrate even the coolest of his moments.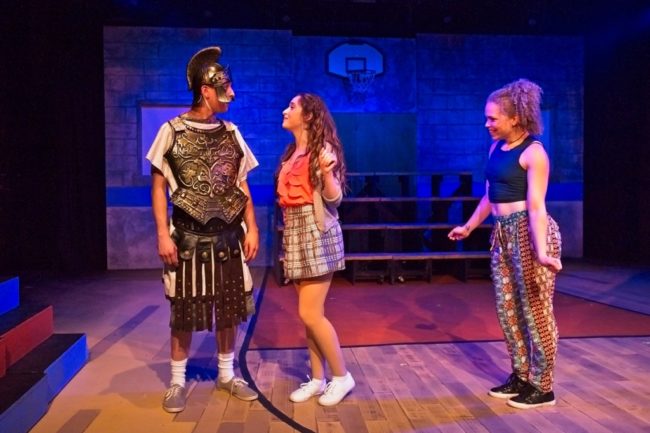 Every great Greek hero's story was once inspired and told by a muse. This muse happens to be Hetaira (Taylor Washington) the goddess of Modern Day Greek Musical Theatre. Washington is stellar in the role, switching easily from narrative force to engaging character that readily interacts with Lysistrata and her posse. While her personality is ambrosia from Olympus itself it's her voice that will blow you away. Soulful, heavy, full of power, pitch, and punch, Washington lays into numbers like "The Writing on the Wall." Smoky, sinful, and seductive, she transforms "I Don't Think So" into a racy pulse-stopping number that simply can't be beat. With a belt that won't quit, fueled by a heart that's overflowing with passionate desire, Washington owns her wailing solos in "Give It Up— Finale." Hail Hetaira, goddess of awesome!
Her name is Lysistrata Jones (Hailey Ibberson) and she's fierce down to her funky bones! But more than fierce, more than fabulous, more than fantastic, Ibberson is phenomenal; Ibberson is honest. There is an unrelenting tenacity that accompanies her into every scene, which makes her perky up-speak and almost intolerably nasal vocal affectation for speaking digestible. Ibberson is the leader, even in her harshest moment of doubt, there is no question of that. Showcasing a plethora of emotions throughout the performance, Ibberson all but stops the show during "Where Am I Now?" the Act I Finale/11 o'clock number that simply blows you away. With an emotional tether stronger than even Hercules, Ibberson digs down into the depths of her soul, belts this number out with every ounce of heart she possesses and does so while remaining pitch perfect, a truly impressive feat. Loaded with personality and a voice to match the character's incredibly difficult vocal track, Ibberson wears her titular role proud and is hands down a winner for Athens University.
You'll bounce in your seat, you'll all but sing along; Lysistrata Jones is a funky fresh area premiere that will have you roused and stirred before it's all said and done. What better way to experience classic Greek comedy than with modern musicality infused side by side?
Running Time: 2 hours and 10 minutes with one intermission
Lysistrata Jones plays through August 26, 2017 at Red Branch Theatre Company at the Drama Learning Center— 9130 Red Branch Road in Columbia, MD. For tickets call the box office at (410) 997-9352 or purchase them online.