It's most certainly definitely a sweltering summer!
But please, oh please, don't let the weather be a bummer!
Because there are so many things you can think if you try!
Like a production of Seussical that you shouldn't pass by!
Why, it's The Heritage Players offering up their zany summer show!
And it's a pretty darn good one, take it from me— I should know!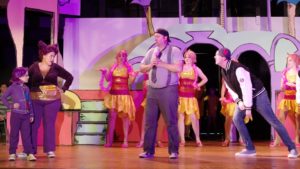 Over one dozen Seussicals— but each one's unique!
And this one's got all sorts of Seuss— so to speak!
Director Amy E. Haynes is showing off her stuff
She's unearthing layers in Seussical, and that's pretty tough!
In the Rice Auditorium on the proscenium stage she gets everything set
You're in for a treat! Oh the creativity you will get!
Haynes coaxes out nuances from each performance you see
There are unique personalities from A to Z!
There's a glittery concept going on in her mind
And it explodes into the Costumes, I think you will find.
Clare Kneebone takes up the role of Costume Designer
And with sparkles and sequins you won't get much finer!
Kneebone coordinates colored converse shoes for their feet!
Greens, yellows, and blues— why, it looks pretty neat!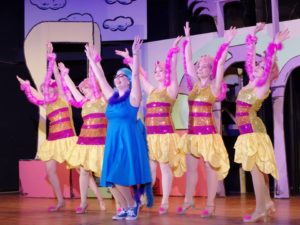 And she deserves a special nod for the outrageous design
Featured on the Grinch; it suits his personality just fine.
Working with Haynes' concept of individual personality quirks
Kneebone dresses the cast with zest and all of the perks!
Haynes partners up with Andrew Worthington, the show's Musical Director
When it comes to producing quality sound, well he's certainly no defector!
Worthington and Haynes when it comes to excellence with this show they just won't quit
They both make the very smart decision to exclude from this show a musical pit!
With no way to control the overloud playing, they take matters into their sensible hands
And choose instead, pre-recorded tracks, with perfect sound balance— I'm a fan!
No drowned out singers, no lost song snippets, Worthington makes sure of that
He guarantees all the harmonies come out loud and clear as a see-through Gazaat!
Back to Haynes and her vision, which is very adept
She's got this imagination in the box as her framework concept.
When the story gets started, it's all about imagination you see
The physical box is Jojo's imagination, which he shares with you and with me!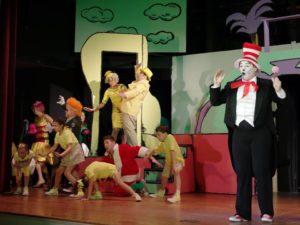 This allows for simplistic beauty, like turning the whole cast into fish with just masks
And letting little light tricks do wonders, it's genius, just in case anyone asks.
But enough about Haynes, we all know she's swell and her ideas are mighty great too
Let's get onto the cast— because boy, what a show! What a marvel is waiting for you!
There's Mike Zurkowski with his deep booming voice as Yurtle and The Grinch
He can flip from silly to serious, making it look like a real easy cinch.
Then there are those Wickersham Brothers— three goofy goons— hey, I know this musical well!
John Gurtshaw, John Carter, and one incognito Wickersham Sister, Amy Bell!
They dance and the goof, and they sing quite a lot
Oh! I knew there were someone in production I forgot
But talking about those Wickershams did make me halt
And remember I need to mention Choreographer Kelly Alt!
She's responsible for those Wickershams moves
And all kinds of other super dance-based grooves
Like the Hunches number and the Jungle of Nool routine
But don't take my word for it, her choreography simply should be seen!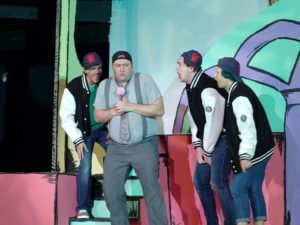 Now back to the cast— but where did I leave off?
Oh! Right! With a mighty black bird named Vlad Vladikoff!
Oh— wait a minute— Vlad's not listed in the program, but trust me he's well done
Let's move on— to General Schmitz! Played by the incomparably barking John Sheldon.
With a grunt and a gruff and a hup-two-bark-growl
Sheldon makes the General a character at whom with laughter you'll yowl.
With his spiky orange hair and his big military shades
He's a real piece of work that will have you snickering for days
There are so many wonderful performances happening in this show
Let me give you a few more dozen reasons to go!
How about the Bird Girls with personalities that could stretch far over a gulf?
Megan Henderson, Lisa Rigsby, Sam Sheldon, Addie Sutter, and Bailey Wolf!
They're back-up style showgirls for Miss Mayzie LaBird
And their attitudes are surely most loudly being heard!
Especially Bailey Wolf, the ditzy doodle of the bunch
She's a quirky, quacky, and plucky, and I've got a hunch
That each Bird Girl personality is a distinctive flavoring
Of personalities they've fabricated; most definitely worth savoring.
They do more than sing backup for Mayzie
Their dancing and facial expressions are quite crazy!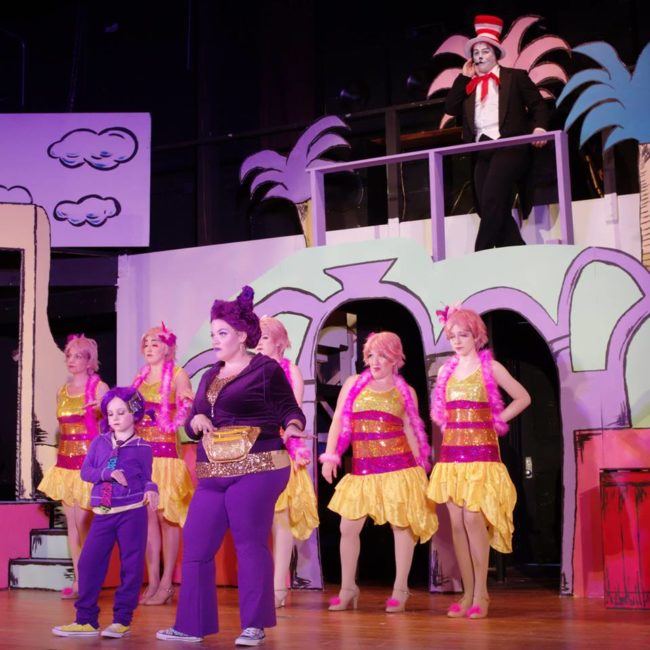 And I suppose that's a good segue for me to move on and tell ya
About Mayzie LaBird, Miss Lisa Pastella!
Channeling Vegas headliner with an attitude as big as her tail
She'll entertain you for miles, guaranteed without fail!
Her voice is a burst of powerful belting
Though under that headdress I'm sure she is melting!
Her costume is wild— incredibly grandiose, lavish, and big
All stacked up with those feathers, and a crown thing, and a wig!
Oops! Forgot another production designer
Who's made all the hairpieces and they've never looked finer
Mr. Tommy Malek is the man, with wigs he's the boss
And they're in every color of vibrant faerie floss!
For you non-British folks, Fairy Floss is Cotton Candy!
Tommy's wigs look like that, and they're just fine and dandy!
Back to Mayzie and the Bird Girls— wait, we've spoke of them a lot!
Time to shift attention to Whoville— cause they're showings us what they've got!
They're Whos there, small there, awesome, don't you dare count them out!
They're Whos, yes! Fabulous— listen to them scream and shout!
Mayor Who, Dave Hill, and Rachel Weir his Mayor Wife
They're quite dapper and dashing living up the Who life.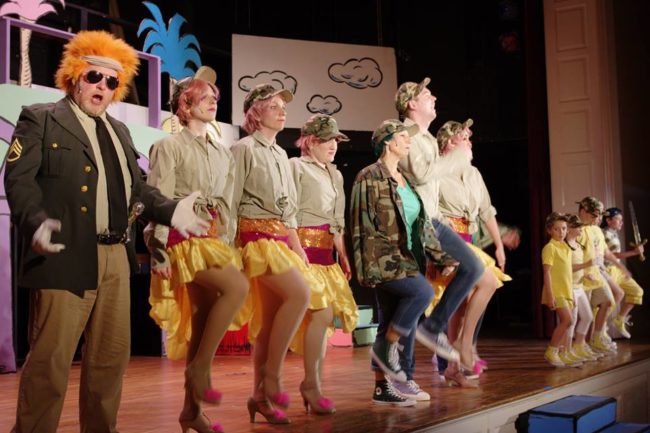 With sweet voices for their songs and humorous facials post-planet crash,
Hill and Weir are wonderful, together they're a smash!
Who am I missing before I get onto the final four?
Is it someone I haven't mentioned before?
Oh yes! With a big belting voice and a boisterous personality too
It's Kristen Zwobot playing the Sour Kangaroo.
Her little pouchling, Talya Goldstein, is quite cute and sassy
She's as adorable as Zwobot is brassy.
From high-stacked violently violet hair down to shimmering gold fanny pack
Zwobot nails her role with a vigorous belt; she's mastering this act
And young Tayla Goldstein is just too cute for words
Just like— oh gosh! Just like the Elephant Bird!
Played by Miss Audrey Bell, who is so cute and so sweet
And I must tell you this— she gives the most perfect tweet!
Doubled up in the children's ensemble with Xander Bell, Gabby Gertner, and the alternate Jojo
Little Miss Bell is fierce, and she's not afraid to show off her mojo!
This alternating Jojo thing— well it happens a lot, you see
When you've got two talented people playing characters that are wee.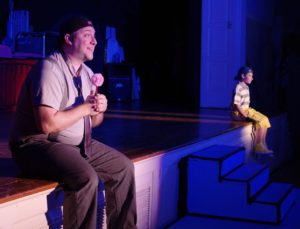 At my performance I saw Carly Dagilis play Jojo
She's sweet and animated, and you should definitely go-go!
Go see her— or see Brandon Goldman the other thinker kid!
I hope to see him too and say he did as wonderful as she did!
Dagilis has a clear voice, powerful and strong
And it holds up quite well when singing different songs.
She sings mostly with Horton and The Cat in the Hat
And it sounds pretty awesome, what do you think of that?
Oh Horton the elephant, we can talk next about him I suppose
The tender sweet, emotionally believable Jim Gross.
With a crystal clear voice, like a glossy clean lake
Gross gives it all heart, nothing contrived, nothing fake.
He deeply attaches to the character's ethos, he unearths the emotional well
With really innocent and adorable facial expressions, he performs as Horton very well.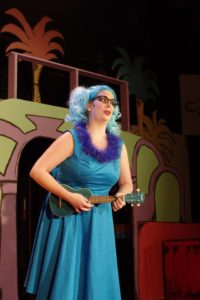 And playing opposite of him, Megan Mostow was great, yes she was!
As she took on the role of Miss Gertrude McFuzz.
I realize you grammar folk are having a conniption
As I flip-flop my tenses throughout these descriptions
But you try rhyming words with Gertrude McFuzz
And still praise Mostow's performance for how great it was
She's sincere, just like Gross, and invested in her character quirks
They're really quite adorable, and she makes sure the work.
I don't want to go into too much detail, I'm not a spoiler! I think you should know that
But I guess I just might, when it comes to a certain quirky and funky Cat in the Hat!
The most notable nuances catch my eye while he's performin'
That zany in the brainy, Cat in the Hat, Stephen Foreman.
He almost eats the clover! He laps up the bathtub water too!
I mean with a looney-toony Cat like that, what else are you supposed to do?
He's animated and lively and has a great sound when he sings songs
Foreman is an exceptional choice, with him at the helm you can't go wrong!
I think that just about does it, all the things you'll see and hear!
And I'm telling you get your tickets quick, people are coming from far and near
To see this production of Seussical that Amy E. Haynes has done up right
It's a fantastical production, good afternoon and night!
You won't want to miss this Seussical, trust me when I say this— I know.
I've seen more than a dozen, and The Heritage Players' one is a great show!
So think of all the things you will think when you go and see this play
Oh the fun you will have with Seussical! It'll be quite the special day!
Running Time: Approximately 2 hours and 5 minutes with one intermission
Seussical plays through July 16, 2017 at The Heritage Players in the Rice Auditorium of the Spring Grove Hospital Campus— 55 Wade Avenue in Catonsville, MD. Tickets can be purchased at the door or in advance online.