If you have ears to hear, then listen! Live from Annapolis it's Godspell! In the summer of '17 when everyone seems to be picking up the good book of John-Michael Tebelak (with Music and new Lyrics by Stephen Schwartz) Infinity Theatre Company is reinventing the story of Godspell in a refreshing and original new fashion. Directed by Alan Ostroff with Musical Direction by Laura Mueller, Godspell is being presented like a studio recording of Saturday Night Live and if you've ears to hear me, then listen: it's genius.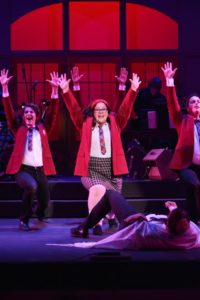 So genius, in fact, it's nearly impossible to believe that it hasn't been done before. Director Alan Ostroff's understanding of both the musical and it's story as well as Saturday Night Live's entertainment format as impeccable, making this conceptual vision practically flawless. Fitting the framework of SNL overtop of the parables of Godspell is a gift from the heavens of primetime entertainment, it lends itself to easy staging, audience accessibility, and capitalizing on the humorous elements of the story. Ostroff is thorough in his approach, even going so far as to put a Camera Man (Brooke Bloomquist) on stage and block portions of Kimberly Schafer's choreography phasing the filming lens.
Ostroff fully articulates his vision of SNL and maps the storyline and musical numbers of Godspell to it accordingly. Jesus is the lead comedian personality of the show with John The Baptist being the head producer, who is seen off-camera. The others are recurring personalities that one might see on any given night they tune in, which makes the way the parables play out that much more amusing. Ostroff invents the character of Magda and uses her as the "musical guest" which serves both the show and the SNL format sublimely. So bought into this concept is the audience that they're prepared to take the full plunge with Ostroff's vision. As he lays it out, the transition between John the Baptist and Judas has never been more perfectly executed. Dismissing John at the end of the first act, like a too-chummy producer who isn't getting the results the network desires, and replacing him with the ruthless and cold Judas for the second act— all of which is done in silent scene action— is brilliant. Following this fabricated story arc, the audience is wholly prepared for the "crucifixion of Jesus" to be Judas firing him from the show. Ostroff has so thoroughly wrapped one story inside another that we're ready to accept the fact that the life of Jesus is his sketch-comedy career and "ending it" (via Judas' betrayal) would be having him escorted from the studio.
Herein is the only problem with Ostroff's divine vision. SPOILER ALERT WARNING: (This is the story of Jesus…it ends as it does in the bible) CONCEPTUAL SPOILERS AHEAD— SKIP THIS PARAGRAPH IF YOU DON'T WANT TO KNOW HOW IT ENDS Rather than stay true to the vision, with Jesus being escorted out of the studio, though this does happen, Ostroff falls into the trap of "needing to physically end Jesus' life." The moment happens almost out of nowhere and is a bit like watching an old VCR recording of a television episode or movie: one moment everything makes perfect sense, there's a jump-skip in the tape with a bit of fuzzy lines— for just a second— but when it goes back to playing something chaotic and confusing has happened and there's no way of knowing where it came from. This is exactly what happens when The Cameraman jumps out with a gun and plugs Jesus. Understandably, there is a desire to physically take Jesus out because the character has the sung lines "Oh, God, I'm dying" through to "Oh, God, I'm dead." But given the Herculean strength and formidable fortitude of Ostroff's concept, these would have just as readily been served with Jesus standing there outside the studio looking back over his shoulder.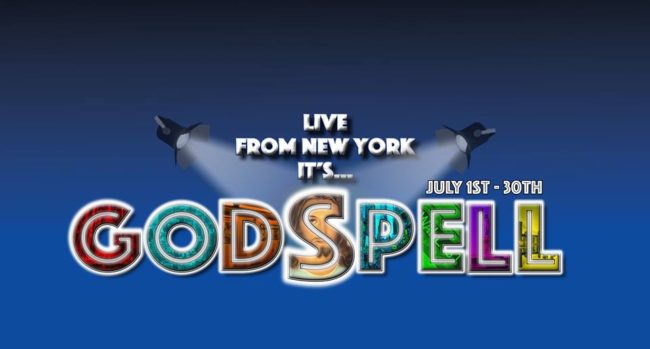 The lead-up to the aforementioned scene, with "On the Willows" is strikingly profound and primes the audience all the more for a "termination from the studio" rather than a physical death. Each of the cast— the SNL regular recurring personalities— takes a personal moment to say goodbye to Jesus, as if they'd been working with him over the years and it's truly heartbreaking to see him go. Magda, the special musical guest, only hugs him, though with deep sorrow, because though she may have seen him host the show through the years, this is the first time she's worked with him in the flesh. All of this, and every exceptionally perfect moment Ostroff has crafted up until this moment is an astonishing showcase of directorial vision. Failing to trust his own vision and follow through with it is the only hiccup to this otherwise perfect production.
Ostroff's nearly perfect production is made to look exceptional with the studio set crafted by Scenic Designer Quinn Stone. The iconic New York City-esque studio windows, the producer's desk, the sketch-board: all of these elements are well contained in Stone's set, in addition to having the live band placed upstage center. Having Musical Director Laura Mueller in the live band— on keys and conducting— helps balance out the sound impeccably and allows Guitarists Jaime Ibacache and Jay McCarthy to really rock away when the song calls for it. Joining the live stage band, performer JP Coletta warms up the audience both as the show is getting underway with a ivory-tickling rendition of "Saturday Night" and again at the top of the second act, throwing in a few nods to his role of Jerry Lee Lewis from last summer's Million Dollar Quartet. Coletta is a great ball of fire when it comes to that keyboard and is not afraid to show it off in those moments.
Ostroff continues to have mind-blowing moments all throughout the production that really give pause to the mind when it comes to considering why no one has ever attempted to adapt Godspell in this way before. Both the "Prologue" and "Tower of Babble" are treated almost like the news desk segment, while other parables have a more generic sketch approach to them. One of the most ingenious moves that Ostroff makes is the silent side-play happening with John the Baptist, and later with Judas, at the producer's desk. This relies heavily on actor Andy Baldwin's vivid facial expressions and fully expressive body language. He keeps receiving phone calls about Jesus "preaching" through the show, which sparks the catalyst for firing John the Baptist and replacing him with Judas and later having Judas' 'betrayal' be to fire Jesus. Baldwin's moment of clearing out his desk at the end of Act I is harrowing.
As a performer, Baldwin is smashing; the way he differentiates between John the Baptist and Judas is remarkable as both have the firm personality of a sketch-comedy show producer, but one is congenial and lighthearted with just a hint of 'hard-ass' seriousness in his persona while the other is seedy and ruthless with no glimmer or spark of redemption in his demeanor. As John the Baptist, Baldwin's most uproarious moment comes when he dons the granny wig and glasses as the iconic "Church Lady" from SNL sketches, and takes to exploring several of the parables— including the "Rich Man & Lazarus" tale which features Bernie Sanders (and you can feel the BERN!)— in this character. Baldwin's patter and overall sense of rhythm, which motivates a proper, albeit friendly, competition between himself and Jesus during "All for the Best" is yet another highlight of his performance. Listen carefully for the lyrical ability that he possesses when, as Judas, he sings "On the Willows" in the second act.
Each of the ensemble characters finds their niche readily in this sketch comedy show, including Magda (Laura Stracko), who is the only fictional character among the bunch. Traditionally, Godspell is played with each non-Jesus/John the Baptist character just being referred to by their given name, but in this case Stracko's character is the show's musical guest. Looking and sounding like a Katy Perry or Lady Gaga type, Stracko delivers a haunting rendition of "By My Side" after being cast to the ground for the "He Without Sin Cast the First Stone" mini-parable. Not without her own risqué side, Stracko puts a healthy dose of burlesque and cabaret jazz swank into "Bless the Lord."
Ashley D. Buster leads "Day by Day" and has a strong vocal force more than suited for doing so! Buster, who even breaks through the barrier of John the Baptist's straight-laced façade getting him to boogie a bit during the number, is a pip of personality and uses this infamous song to showcase her vocal ability. Katie Rey Bogdan tackles "Turn Back, O Man" with a major tribute to Mary Katherine Gallagher from Superstar. Finding little comical moments during various parables, Bogdan— much like Buster— finds the natural rhythm of the show's comedy and flows with it.
With a powerful voice to shake down the heavens, Dakarai Brown creates a good distraction with "Light of the World", the Act One finale song, which also contains the dismissal of John the Baptist. Supporting Brown in this number, Ella Green provides her rich and lusty vocals, which can also be heard supporting the sound of "By My Side", which is predominately Magda's song. JP Coletta, the aforementioned show-starter and fireball keyboard players, also takes his turn leading a number— "All Good Gifts" showcasing his higher tenor range and a glorious sound. Versatile and comedic as well as seriously sincere, Coletta is a sensational addition to this cast of ten.
Marc Pavan takes a hit of Coletta's energy and supercharges "We Beseech Ye", performing the number in his sheep-goat hoodie costume from the "Goats and Sheep" parable. Hot-stepping to Kimberly Schafer's amped-up choreography in this routine, it's a true and glorious tent-revival style number that allows Pavan to put his vocal prowess on display. And although Grant Bowen doesn't have a solo song in the production, he is more than memorable for his outstanding character work. Whenever he adapts a new character in a parable, it comes with a clear-cut accent— usually outrageous for comedic effect— a distinguished physicality, and a perfected persona that augments the telling of these moral tales. His Bernie Sanders impersonation is top-notch and could easily pass for authentic SNL material.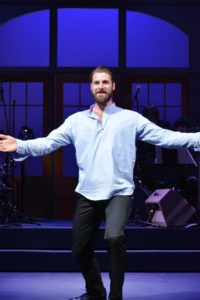 It all comes down to Jesus (Kyle Hines.) With a voice not unlike an angel, "Beautiful City" becomes an afterschool PBS special. When he roars into "Alas For You", (set in the production office against Judas where Ostroff has concocted this standoff of sorts between the new regime and the righteous ways), there is a passionate belief that informs this number, funneling up directly from the core of his being. Hines is convivial; Hines is honest, Hines follows the humor of the show but treats it in earnest, not pushing or overplaying for laughs; this— just like with the real SNL makes the humor that much more successful.
The production is nearly immaculate; the show itself is wildly entertaining and there are even moments where the audience is invited to participate— just like a live studio taping. The wonders that Ostroff has created are stellar, albeit the slightest bit disappointing because the follow-through to the concept skips a beat and reconnects to the original story in a way that just feels off. But well worth the travel, well worth the cost of admission, and well worth the time spent, Godspell at Infinity Theatre Company is a saving grace of theatre this summer.
Running Time: Approximately 2 hours and 20 minutes with one intermission
Godspell plays through July 30, 2017 in repertory with A Closer Walk with Patsy Cline at Infinity Theatre Company at The Children's Theatre of Annapolis Complex— 1661 Bay Head Road in Annapolis, MD. For tickets call the box office at (877) 501-8499 or purchase them online.