On the 16th day
Of the month of August
In an early year of a decade
Not too long before our own
The Baltimore Theatre Scene
Suddenly encountered
A vivacious resurgence
To its very existence!
And this nearly-forgotten company surfaced
As such companies often do
With the seemingly most innocent
And unlikely of productions…
PURPLE LIGHT! PURPLE LIGHT THEATRE COMPANY!
Is doin' Little Shop! Little Shop of Horrors!
Call your pop! Get tickets to the horrors!
Don't stop! Limited engagement!
Of Little Shop! Little Shop of Horrors!
Resurrecting The Purple Light Theatre Company after a silent and deadly hiatus of 2016, Artistic Director and Founder Tommy Malek has pulled a Frankenstein, rejoined the family business, and made himself a monster— only this time the monster's not a Mel Brooks but rather an Alan Menken! In a TheatreBloom exclusive interview, we take a hot second to sit down and pick Malek's brain on just what's happening inside his little shop of theatrical magic!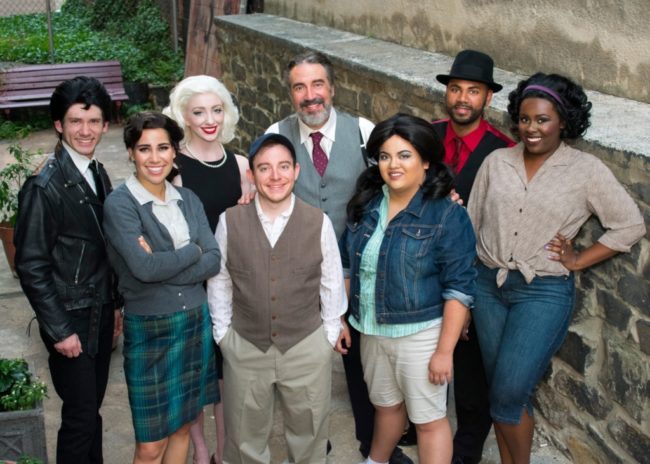 Thanks for sitting with us, Tommy. So excited to see you and Purple Light back on the scene, though you've been around, directing a few shows at Silhouette Stages!
Tommy Malek: Wait— it wasn't that long ago, was it? I guess it was. The last thing we did with Purple Light was Hairspray, which I directed and choreographed, and I guess that was 2015. But I did just direct and choreograph Young Frankenstein at Silhouette Stages and I'll be directing and choreographing Cry Baby, also at Silhouette Stages this fall, and I'm performing in Miracle on 34th Street at Toby's Dinner Theatre over Christmas. And I've been doing wig work all around town. But right now, I'm directing and choreographing Little Shop of Horrors with Purple Light! Which is back this summer!
And we're all super glad it is! Hairspray was quite the hit! What is it about Little Shop of Horrors that made you say, "Oh my God, I need to pull my company out of hiatus and do this show?"
Tommy: Oh, it's been one of my favorites for a very long time. One of the reasons that I started my company, back in 2013, was to do those dream projects. I wanted to be able to put together a team that I really feel strongly about who will work well together and produce a quality show. Little Shop is a really fun piece of theatre.
Have you ever done Little Shop before?
Tommy: No! I've never done it. It's always been a dream of mine to either be Seymour or to direct it. So now I'm directing it. And one of the only people I would ever concede the role of Seymour to would be Matt Wetzel…
And that is who is playing Seymour in your production?
Tommy: Matt Wetzel is in fact playing Seymour in my production.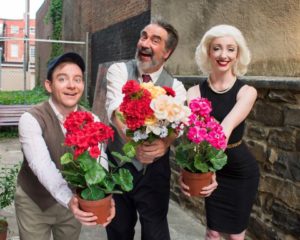 Tell us more about the cast you've pulled together for this production.
Tommy: Like I said, Matt Wetzel playing Seymour, Lindsey Litka playing Audrey. Brian Paul is playing The Audrey II. He's newer to theatre in this community and that's very exciting. We have Tom Howley playing Mr. Mushnik. He's done some set design work with Theater J. And then we have Justin Moe, who just played Bert in Mary Poppins at Howard County Summer Theatre, as our Orin. So that will be exciting for people to get to see him in a less than pleasant role, Bert and Orin are about as different as you can be when it comes to personalities. Then our urchins are Monica Albizo, Elena Gage, and Renata Hammond. And Monica just finished playing Cinderella in Into the Woods at Montgomery College Summer Dinner Theatre. So we're pulling talent from all over the area.
What are you doing with your production of Little Shop of Horrors that's going to make it pop? Are you taking a more traditional route, are you doing something out of this world?
Tommy: We typically try to do things a little bit differently at Purple Light. We want to keep the heart of every story, of course, and there are elements in every story that you want to stay true to, that goes without saying. But our plant is going to be different than the traditional plant and I'm very excited about that.
That's fascinating. If you search back in the Baltimore Theatre Scene history— about four years ago…2013, Stillpointe Theatre did a production of Little Shop and their plant was "very different." In fact, that was the production where the plant was an upright human being and not so much a plant or puppet at all. Are we looking at something along those lines for your plant?
Tommy: It's not that kind of different. We still have a puppet. But the way it's being puppeteered is going to be different. The style of how it eats is going to be different from the traditional way that you've seen Audrey II eat before. It is a new plant, but is still a puppet.
What is it about Little Shop of Horrors that is going to grab people's attention and make them want to come in off the streets and see this show?
Tommy: It's a horror story, a tragedy, and a comedy all wrapped up into one. That's always an interesting play to see. There's a lot of heart to it but at the end of the day it is a sad, sad story. That's been very interesting to work with in rehearsal. The cast alone, quite frankly, are full of talent. Every single person is so talented, they're each bringing their own special flavor to each character, which is creating things that we haven't necessarily seen before.
Now who's doing your costumes?
Tommy: Clare Kneebone. And they're going to be fabulous. As you can see. In these promo shots.
Very good. Clare's doing costumes, are you going for the traditional aesthetic with the doo-wop look on Skid Row?
Tommy: Yes. It's going to be rather traditional in the way we costume it. Aesthetically our set is going to be rather simple. We're playing at The BBOX Theatre at MICA, so we need to keep things simple. I always like to play with boundary as far as where people can go in the world that we're creating. That's where I like to get non-traditional with the way I stage things. This one I'm staging three-quarter thrust on the floor and seating will be in risers.
What would you say has been the biggest challenge for you so far as the director and choreographer with this process?
Tommy: I would say just facilitating the rehearsals. This has been quite an interesting show to stage, maybe because of the cross-genre of it? It's hard to put it in words. Just putting all the pieces together, I think. But that's something that we continue to work through in rehearsal. The cast is great because they're game for anything and they're all very professional.
How's the choreography coming along?
Tommy: It's fine. It's very fun. I've found with directing and choreographing a show that you can create a much more cohesive piece. Since it's all coming out of one brain you don't have the struggles of matching up the choreography so that it fits within the rest of the staging because that same mind is creating the staging with the choreography in mind and vice versa. It's all coming out of one place so I know that it's all going to flow together and if there's a problem with either the staging or the blocking I can easily adjust it without wrecking the choreographer's hard work and vice versa. It's great because it fits together when it comes from one mind.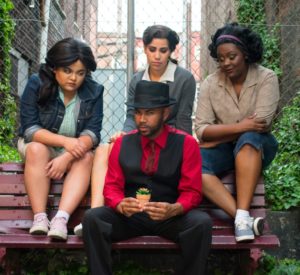 What is your moment that defines what the show is and what the show means to you?
Tommy: It's interesting, I really think that there is this one very special moment for me. I don't know if it utterly defines the show for me, but "Somewhere That's Green" when Audrey sings that song the first time, that to me is such a special moment because it encapsulates her as a character. That song is her in a nutshell and I really find that moment to be very beautiful and sad. Lindsey Litka does that song and the whole role exceptionally well. And it's very different than either of the other two roles she's done in the area recently, which were Inga in Young Frankenstein and Elle Woods in Legally Blonde, both at Silhouette Stages. Audrey is a little softer around the edges, comedy still, but with a darkness behind it and under it.
This is Lindsey and Matt's third time working together?
Tommy: Yes, though they didn't really play opposite of one another in Young Frankenstein, she was Inga and he was Igor, so those two characters don't have a huge involvement, though they share a lot of stage time. It's funny though, because even though the story doesn't outline those two characters together, I feel like when I was staging it, I was constantly drawn to the two of them because of what they would create together on stage. In a way, in a lot of scenes, they were our visual cue for what was going on. Our Frederick Frankenstein (Jeremy Goldman) was doing a lot of talking, he was the forefront of the action and then the two of them were the background action. I think we as an audience were a lot more engaged with what they were doing because they were informing our response to what was happening in the scene.
And then when they got together for Legally Blonde, with Lindsey playing Elle and Matt playing Emmett, that was an exciting show to just sit back and watch. When I saw them together in that show I was that much more excited to have the opportunity to work with them together again.
What is it that you've learned about yourself during this process?
Tommy: It's very difficult to do it all. It's something that I keep coming back to. We've taken a two-year hiatus with the company. Coming back to it, it's always a shock to come back to it. Even if we hadn't had that break? Doing one show a season, every time you come back to that next show you find yourself saying, "What have I learned from the past? What have I forgotten since the last time I did it?" I think the biggest thing I've learned is to really lay it all out beforehand. I've learned that when you work with another company that is not your own company you find that things are much different. That gives you perspective and that really makes you realize just how much there is to consider when mounting a show with your own company. Even after four productions, we've been going since 2013, it's still a learning process every time. That's my lesson, that's my takeaway.
What are you hoping audiences will walk away saying after they've seen Little Shop at Purple Light?
Tommy: It's interesting because we've been talking about this in rehearsal. Spoilers, but the show doesn't end on such a happy note. But it's still, in a way, a very fun show. You get your elements of fun and your elements of catharsis, so I think it's going to be a fun experience no matter what, even though there is tragedy in the show. There are so many different layers to it that I hope that the audience can still have a great time with it and still walk away feeling like they've really enjoyed themselves. Our biggest goal with this production is for people to have a good time.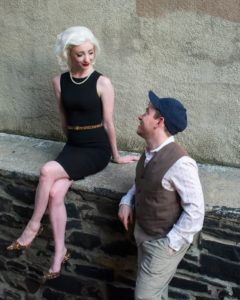 Why do you want people to come see Little Shop of Horrors?
Tommy: I want to say Matt and Lindsey. Seriously. Matt and Lindsey. But also the whole cast. It's eight people. Just eight. No traditional ensemble. These eight people are holding the entire show together. It's Matt, Lindsey, Mushnik, The Plant, The Bad Guy, and the Three Alley Girls. That's it. I'm excited for people to see the strength of talent in this performance. Locally, on a smaller scale— because that's what this is— getting that experience— the experience of professional talent on an intimate scale— and for only TEN DOLLARS— cannot stress enough…TEN DOLLARS…TEN DOLLARS…TEN DOLLARS…
I'm not sure they understood the price of tickets, Tommy. How much is it?
Tommy: TEN. DOLLARS. You're getting professional talent, professional quality and a good time for TEN DOLLARS. You can't beat that. That's important. You're getting an amazing show for a very little amount of money and that's a rarity this day and age. Theatre is expensive. And people tend to believe that the more you have to pay for a show the better it's going to be. Well, you're going to pay TEN DOLLARS and get an incredible show with some incredible talent and it's going to be awesome. This show is incredible. Everyone is having an amazing time, the vocal talent is awesome— everyone blends very well, the sound is very exciting. You're not going to want to miss out on this one.
Thank you for sharing, Tommy! Be sure to catch Little Shop of Horrors this summer— SIX PERFORMANCES ONLY— at Purple Light Theatre Company.
Little Shop of Horrors plays August 16th* through August 20th 2017 for SIX PERFORMANCS ONLY with Purple Light Theatre Company in The BBOX Theatre of MICA's Gateway Building— 1601 W. Mount Royal Avenue just south of the Station North Arts District of Baltimore, MD. Tickets can be purchased at the door- but ADVANCED RESERVATIONS are strongly recommended and can be purchased online.
*The performance of Wednesday August 16 2017 is a Pay-What-You-Can Preview Performance and will likely sell out. Tickets are only available at the door the evening of the show for this performance.