If you've brains in your head and you've feet in your shoes
Then hurry up quick! There's no time to lose!
For two hours of whimsy! For two hours of fun!
You must take a journey up to Rising Sun!
There's a little black box theatre there, tucked away in a corner
And if you need a great show, they're what the doctor ordered!
It's sensational! It's delightful! It's a real heartfelt musical!
Why it's Street Lamp Productions' production of Seussical!

Directed by Dickie Mahoney with Musical Direction by Shane Jensen
There's everything in it— including puppets, though not by Henson!
And some of those puppets made a great migration, like the little hand fish or the dark-glow snails
They swam all the way over from— well, we'll save that story for another fairytale!
But it's marvelous! It's stupendous! This show just can't be beat!
Why you won't believe what they've accomplished with this tremendous feat!
They've packed the tiny black box with some 200 actors!
Well, this critic isn't math savvy, but please don't let that factor
Into your decision to come out and see this phenomenal show
With a cast of about three dozen, just so you know.
Director Dickie Mahoney, is a one-man showstopper; he's Set Man, Costumer, he wears all these hats!
He gets the ball rolling, he keeps the show moving, and it looks great! What could be better than that?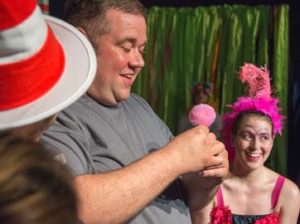 Why having an ace up his sleeve, don't you know, when it comes to the magical world of the dance
Choreographer Bambi Johnson is here; she's making astonishing magic, and not by chance!
It takes a level of skill, panache and much pride, to accomplish the magic Johnson puts on the stage
The horizontal stretched postage stamp is a tight fit, but Johnson makes dancing a fancy new craze!
There are jaunty head bobbings all through "Egg, Nest, and Tree"
And handwork to marvel over during the "Hunch Song"— you'll see!
Too many dance styles for description because in this show Johnson keeps dancing alive!
Why at one point the various ensemble start to move, groove, and shake, why they even hand jive!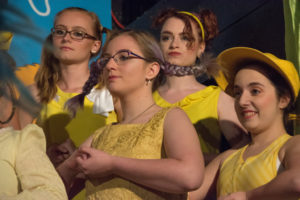 Back to Dickie Mahoney and his juggling circus
Everything he does really works out for us!
And by us I mean the audience, we're a part of this journey as well!
Because we'll feel the jungle splashes! We feel leaves when they fell!
And the scent of fresh clover will fill your nostrils, I'm being serious!
All these wonderful add-on's make the show quite delirious!
You're living and breathing in a world bursting with Seuss!
Now, let's start talking actors— cause they're the real juice!
But one more thing there I forgot to mention
Is just how well Dickie Mahoney pays attention
Such attention to detail like all the crutches and bruises
At the end of the first act on all those tumbled-up Whoses!
That's just one example of his theatrical magic at work
And with Jensen and Johnson (cause their duties they don't shirk)
It's a trifecta dream-team, put together for this show
But wait! There's several hundred more reasons to go!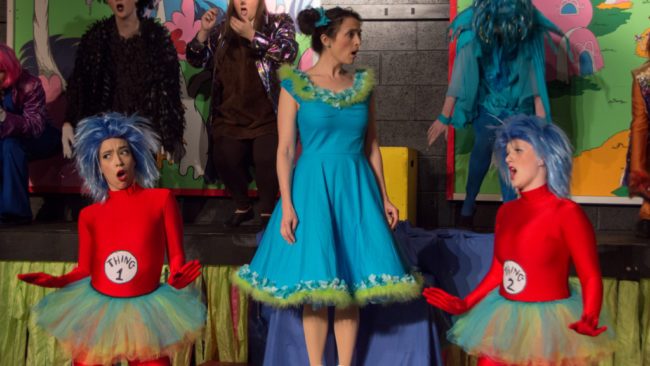 There's this whole new construction with Thing 1 and Thing 2
Marissa Broujos and Stephanie Smith might just bump into you!
They're mimetastic masters! Loaded up with joy and glee
They flit through the theatre as happy as can be!
Broujos and Smith are in their own special show
Doing those things that only THINGS can do, don't you know!
And the Whoville ensemble— well they're pretty amazing!
But if I listed them all out, you'd be here for days gazing
At all the wonderful names of those actors
So just go see the show, that would be much compacter!
Back to Jensen and Johnson because a great influence they are
On those Wickersham Brothers, who look a bit like Orioles baseball stars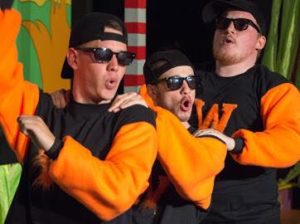 Though that's just their costumes, complete with wicked cool shades
These monkeys are funky, putting Johnson's choreo on parade!
There's Austin Barnes, Cody Palmer, and Brady Fritz does make three
Of these funky-butt monkeys who just won't leave Horton be!
They lope and they ape, goofing off all through "Monkey Around"
Why this trio of broskies are too cool to slow down!
Mahoney at work once more with sartorial selections
The feathery fatigues for the Bird Girls are perfection!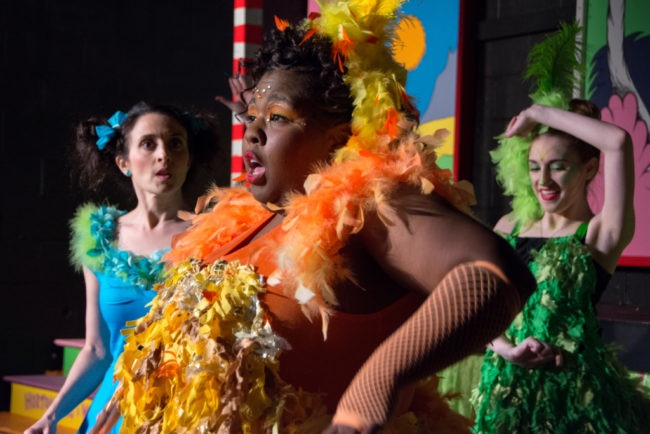 Bright plumage covers their fancy bird dresses
And their popping personalities make up the restes!
The bird girls— there are four: Katie Loftus, Heather Wadler, Katie Webster, Rylynn Woods
They sing and they dance, they shake feathers and prance, they're stupendous and really quite good!
They backup the big birds, like Mayzie and Gertrude, their voices are fabulous and sweet
When Loftus, Wadler, Webster, and Woods sing— you know you'll hear their wonderful tweets!
Let's talk about Mayzie, the boisterous Tigga Smaller all trussed up in feathers of orange and yellow
She's sassy, she's saucy, like her namesake: amazing! Why this bird is everything except mellow!
Smaller is one bold belting bird, outlandish and quite different from Gertrude McFuzz
But we'll get to Gertrude a bit later; there's still so many things about which to buzz!
Like the Whos! Down in Whoville, yes, we mentioned the ensemble already
And how adorable they are and how of them there are many?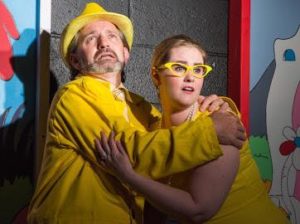 But what wasn't mentioned in that statement before— was their big man in charge, the leader of Who-life
Why, Mr. Mayor of Whoville, Steve Flickenger and Amy Tucker, the Mayor's Wife!
Both are fair of voice and quite strong of character, and both look dashing in shades of yellow and sun
The whole Whoville gang has cheery bright clothing, well, the whole gang, except for that one
The big Mr. Grinch, why Matt Peterson who is covered in furry shades of green
He's robust voice is heard and his tall figure is definitely seen!
But back to Flickenger and Tucker; the Mayoral duet
"How to Raise a Child" is their great song, and they're as great as it gets!
There's so much happening on the stage, so I'm afraid this review is quite scattered!
My biggest fear is forgetting someone that mattered!
Of course everyone mattered because the show was spectacular!
It's impossible to imagine something more miracular!
Yes, I'm making up words, in true Seuss tradition!
But it couldn't be any other way, isn't that the condition?
See a show about Seuss: write a rhyming review!
It's fun to read and it's fun to write too!
But back to the praising, there's still so much more to say!
If I keep it at, I'll be here all day!

I was going to make a rhyme that matched with the word scattered
About the General, his butter-up battle, and the way that he pattered!
But he's not listed in the program, well, not as the General as such
But a little bit of research, and one can learn much!
That the General was played by a Wickersham Brother
Cody Palmer with his British patois takes that character much further
Into a humorous vein rather than staunch and scary
Let's not frighten the little ones, don't want them to be wary!
The thing that's so special about this production of Seussical
Is that it is so much more than just a fun musical!
There's heart and there's beauty, like Marissa Broujos dancing ballet in blue
Her graceful fluid movements seen during "Solla Sollew"
And there's Vlad Vladikoff, played by Sydney Tristani
Flapping through the house, she's a character double-whammy!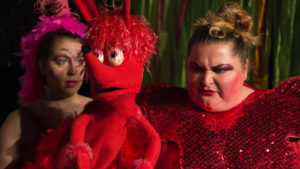 And let's not forget that bitter queen diva, Sour Kangaroo!
Miss Carrie Dill, and she's quite the to-do!
With an attitude for miles and a big bold brassy voice
You'll hear her coming, pouch-puppet and all, there won't be a choice!
I will take a detour for just one quick second
And mention that this is my dozenth Seussical that beckoned
For me to come see it and to write up a review
But I'll tell you this much and I swear that it's true
In all twelve times I've seen this, and I'll admit this plain and clear
Never once has this production to my eyes drawn up tears.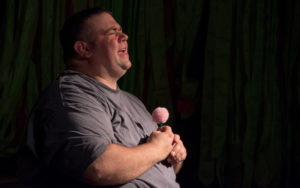 And that's Bobby Mahoney, with his deep emotional connection
Playing Horton the Elephant to sweet, earnest perfection.
His "Alone in the Universe" is so honest and raw
There's no way to stop the tears that will fall!
But you're not alone because Mahoney cries too
He's feeling the feelings of this song just like you.
He gets it! He knows it! And he gives this role his all
He understands: A person's a person, no matter how small.
And his voice is exceptional, full of gusto and vim
And his facial expressions are quite packed to the brim
With all sorts of feelings, he makes this show real
Bobby Mahoney gives you all the feels!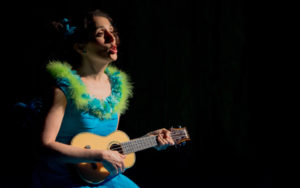 Aha— back to Miss Gertrude, Miss Gertrude McFuzz
The most animated bird girl that there ever was
Played by Stephanie Mahoney, why it's the whole Mahoney bunch
And she's simply aces, that's why they picked her, I'll hunch!
Exasperated and animated and of pattering she's the queen
With a sublime voice and a costume of blue green
She's a pip of personality; a real performance delight!
Miss Stephanie Mahoney for this role is just right!
We're boiling down to the end— and not in Beezelenut oil
There's just two more to talk about, so please don't recoil!
I know this read has been long, you might say it's a really big think!
And I'm trying to include everything, well everything but the kitchen sink!
Like the zany rainbow bubble ball people featured in the0 Circus McGurkis scene
And the super surprise ending that features the adorable— well, that remains to be seen!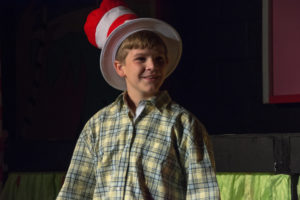 Jojo! Oh Jojo! I didn't forget Judah Latshaw as Jojo; he's swell!
Spunky and filled with panache, a great voice, and talent as well!
His voice is just dulcet and perfect for singing
And pay close attention to the face-game that he's bringing!
He sings like an angel, and he runs through the show
With all his amazing thinks ready and rearing to go!
Phew! That just about does it! I got them all and that's that!
Wait— oh dear. I think I've forgotten someone, but— who's that?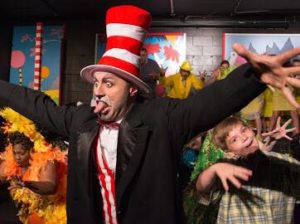 Oh! Oh my gosh! How could I forget the insanely animated man
Robert Tucker, the Cat in the Hat; though we might change his name to the Ham in the Can!
He's loopy! He's loony! On his jacket tails he's running away with the show!
Watch out for Mr. Tucker he's astonishing, don't you know!
With facial expressions that defy all description
He popped straight out of the book; why he's purely fiction!
Imagine a child let loose in a candy store,
With chocolate and coffee, maybe three cups or four!
And that might begin to give you an inkling
Of just what Robert Tucker is thinkling
When it comes to his portrayal of this Cat in the Hat
And his voice ain't too shabby, so how about that!
I could go on and on about his character work for ages
But I know you folks are tired of scrolling these pages!
So you'll have to take my word for it— no wait you can do better than that!
Go buy your tickets! Go see this cat in the hat!

Go see them all, this wonderful cast— these wonderful people— this wonderful show!
I promise you; heck! I just gave you like two million reasons to go!
It's experiential! It's intimate! It's a fantabulous night!
Or go in the afternoon while the sun is still light!
With this production imagination explodes straight off the stage and into your lap!
So what if the theatre isn't a big dot on the map?
You'll find them— like I did— and I even got lost!
But once you get there, it's well worth the cost!
These folks are amazing! Phenomenal sensations!
I'm running out of ways to reiterate these iterations!
I guess that means I should wrap this review up; I've given you enough reasons to go see this show
Oh the things you will see, the things you'll enjoy— now go on, get up, get your tickets AND GO!
Running Time: Approximately 2 hours and 5 minutes with one intermission
Seussical: The Musical plays through June 18, 2017 at Street Lamp Productions— 5 Valley View Drive in Rising Sun, MD. Tickets can be purchased at the door or in advance online.