"Sic semper tyrannis!" The three words shouted in 1865 that halted the world, orphaned a nation, and widowed the First Lady of the United States. But such a toll more than just her husband did those words and one single gunshot take from Mary Todd Lincoln. In a visceral and edgy new musical by Jan Levy Tranen and Jay Schwandt, the aftermath of those left in President Lincoln's wake is explored and the focal lens honed sharply on the president's widow. Crazy Mary Lincoln, now appearing in the Trinidad Theatre of the Logan Fringe Arts Space by way of Pallas Theatre Collective will give you chills; it will stun you and bring forth tears. A remarkably astonishing new musical that boldly and brazenly charts the decline of the once glorious First Lady, this exceptional new creation is an undiscovered spark waiting to explode into its proper existence as a national treasure.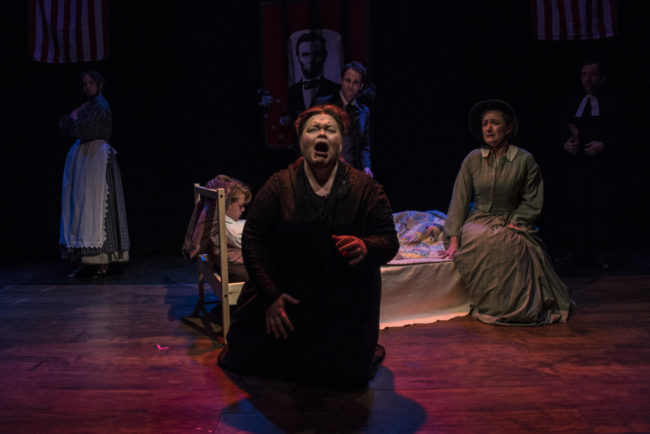 Composer and Librettist Jay Schwandt alongside Lyricist and Librettist Jan Levy Tranen have crafted a radiant musical gem from a pinnacle turning point in American history. With music that seems to sprout right from 1865 and yet still has a contemporary and almost modern verve to it, Schwandt's score is catchy, moving, and patriotic; there is a balance to the way his music transcends Tranen's lyrics as well as the story that the pair has fabricated together. Tranen's lyrics are sharp; they are edgy and smart, encompassing a myriad of viewpoints from inside, outside and all around the situation. For the time period some of the things the ensemble says— many of which are the cleverest featured in the musical— are vulgar and even risqué but to the modern ear they ring true with a sense of dark humor.
Though the production is written for something like a cast of 45, Director Tracey Elaine Chessum condenses the cast down to just 15. Working in an extremely intimate black box venue, this becomes not only ideal but necessary as nearly four-dozen actors would overcrowd such a quaint playing space. Chessum has a vision for the show; there is a unity amongst the divided in this musical, each actor who takes up multiple roles (and that's essentially everyone not named Lincoln or marrying into the Lincoln family) finds a unique way to become different and yet the same, boldly showing that even when we sit on different sides of the coin we are all the same in one nation united.
Chessum also serves the production with her Sound Design, working alongside Zach Brewster-Geisz to add tastefully subtle sound effects to the musical. This comes largely into play whenever doom, foreboding, and death stalk the Lincoln family. An eerie wuthering wind creeps up from beneath the dialogue exchange, often as a scene gets underway, and settles over the stage like the visage of death itself come to claim its next victim. This consistently dark and ominous presence plays readily into the script and musical portions of the performance and is quite striking. But Chessum and Brewster-Geisz don't only haunt with their aural soundscape. When Robert, Mary Harlan, and Mamie make their way to the seashore for a family holiday there are whispers of the surf and sea atmosphere to be heard there as well. A good director knows when to accent with sound design elements and when to leave the natural beautiful of the composer's work alone; Chessum proves her aptitude as a director with this precision balance.
Lighting Designer Jason Aufdem-Brinke works a favorable amount of patriotic colored lighting into the illumination plot of the show. The enormous portrait of Lincoln across the back of the stage, which is quite quickly covered in black mourner's lace, comes in and out of focus under Aufdem-Brinke's work, reminding us that though he is physically gone, Abraham Lincoln is far from forgotten and serves as a driving factor in much of the play's rising action. Capping off the aesthetic wonders of the production, Costume Designer Maria Bissex captures the essence of post-assassination union in ensemble garments and Lincoln family garb alike. Signature blacks for Mrs. Lincoln and Robert too, as they were the styles of the times; Bissex' bonnets are beautiful and her tailoring fit of the costumes to each individual actor is well worthy of praise.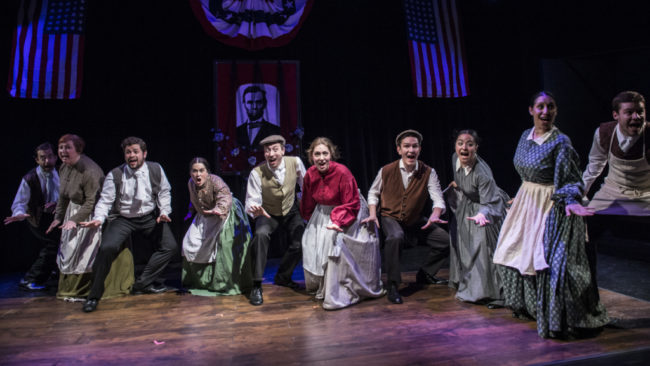 There's a unique element that one might not expect from a musical whose subject matter is the maddened former first lady and that's dance. Choreographer Madeleine Koon takes the uplifted musical jaunts— "Pass the Hat for Mary Lincoln" and "Lincoln's House is Falling Down"— and transforms them into brilliant opportunities to showcase good old fashioned hoe-down inspired dance steps that are similar to those developed in the time period. The ensemble gallops with spirit in both of these numbers, but particularly during "Lincoln's House is Falling Down" and although the song's subject matter is quite scandalous, Koon's dance routines make it lively and enjoyable. Noted too in this number should be the Newsboy (David Jarzen) and the Screamer (Adelyne Anderson) whose combined indefatigable energy carries the dance routine well through to the end of the song.
Jarzen and Anderson have moments throughout the production where their bright voices shine in their respective roles; you'll learn why Anderson's character bares the moniker it does in the second act. Jarzen is possessed of a felicitous voice and sunny disposition, bubbly about whenever he gets proclaim a newspaper headline. Anderson, who fills out one third of a female trio during the seemingly unending segment "Incognito", makes her presence felt among these three. Including Madeleine Koon (whose primary character is a Nurse) and Stefanie Garcia in the trio, they show a shocking transformation in just a breath's phrasing of the song. One moment they're doting and saccharine and the next they've mutated into shrill shrieking harpies, baring their vicious attitudes toward Mrs. Lincoln at the end of this number.
A trio of men, comprised of Christian Rohde, Will Hawkins, and Garrett Matthews, make similar appearances throughout the production as well. Though they each have a primary character that separates them from their role in the ensemble, it's when they don their hats as merchants that they are most memorable. The song "Madam, You Must Pay" is a dark and sinister song laced with patter and rhythmic challenges, which this trio masters skillfully. Like vultures, Rohde the main clothier merchant, Hawkins the haughty French caterer, and Matthews the photographer—with a robust belt in his solo verse of the number— swoop around Mrs. Lincoln in great vocal arcs, driving their visceral verbal talons into her character with the sharply penned lyrics of this song.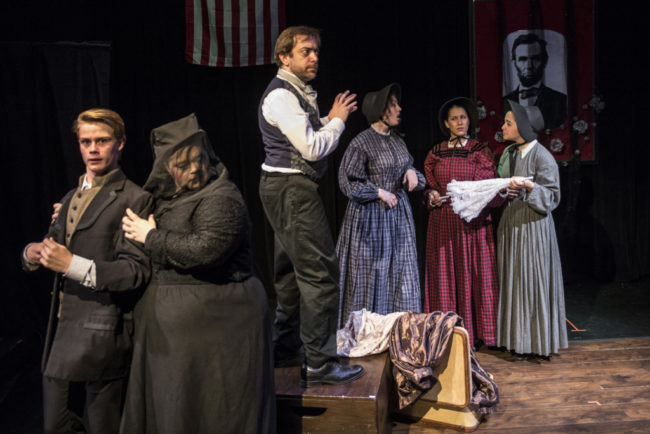 The precociously adorable Mamie Lincoln (Ayla Collins) is quite cute, almost too cute for words. Miss Collins' primary job is to look adorable whenever she's with her mother Mary Harlan (Erin Granfield) and it's a job that she does exceedingly well. Granfield, whose dulcet voice is sweet (though underutilized in the way her character is currently written), is delightful when she bounces along for her segments of "The Sad Summer of '75." This song in particular is one of Schwandt and Tranen's most intricately complex offerings in the musical; each grouping of characters takes their turn rotating through their verses like a slow-churning carousel of musical plot progression.
Little Tad Lincoln (Brevan Collins) is quite the pip of sunshine and determined optimism. Even in the face of his father's death and the unyielding grief and gloom that befalls the Lincoln family, Collins' masterfully radiates a beacon of hope and faith that things will be alright. Sprightly and spry of both voice and physicality, his portion of "Head of the Family" is quite effervescent. There are silly facial expressions, particularly when responding to the various happenings and incidents that occur during "Incognito", but the true moment of shining glory for young Mister Collins is his solo "Family Tree", which he leads with eager gusto. Collins is a sweet breath of hope and happiness, a much needed remedy among the Lincoln family at this time in history.
Perhaps wearing the hat of most versatile among the ensemble, Zach Brewster-Geisz dons many a persona over the course of the musical: the flint-hearted General Stanton, the eager and aloof auctioneer, but none so wicked as the unctuous Doctor Patterson. As the good Doctor of Bellevue, Brewster-Geisz slips into a velvet skin of sinister trickery masked well in his pleasant outlook and practiced snake-charmer's tongue. Painted as the paragon of perfection and the ruling authority on sanity, Brewster-Geisz really hammers his voice away into "Beautiful Bellevue" and conducts this segment as a perversely corrupt master of ceremonies.
There is something to be said for the only surviving son of Abraham Lincoln (and its history, this isn't a spoiler, it actually happened), though in this musical that something about Robert Lincoln is in the vein of distaste and revulsion. While the actor, Russell Silber is striking and remarkable in the way he handles this antagonistic character, pushing him through a transition, there is no real redeeming quality to the character whatsoever. Even at the end, during his brutally heartfelt confession just after "Papa's Here"— a song in which Silber uses his sensational voice to try and blot out the mistakes of his past— there is something sickeningly self-serving about the way he purges his conscience; not for true remorse or regret but because he needs forgiveness. Silber's voice and emotional connection to the character are stunning; "Come One, Come All" is a harrowing ballad that pushes his vocal strength to the forefront of his portrayal while simultaneously marking the first black blot upon this deliciously flawed character.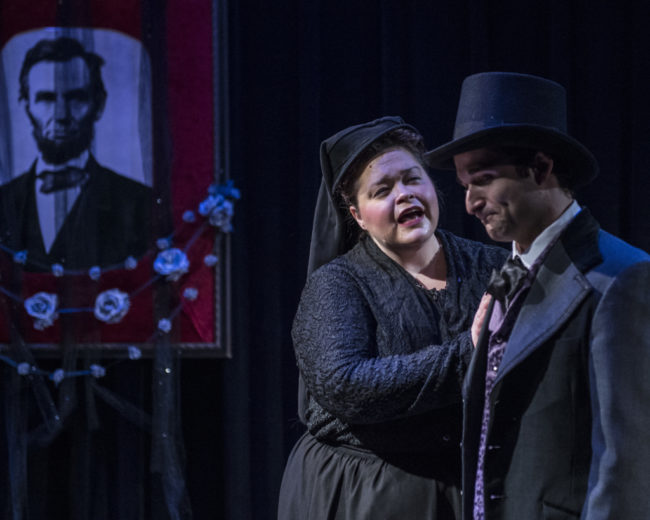 Tackling the titular role as no other could, Melynda Burdette is Mary Todd Lincoln. With the emotional fortitude of the titans, the vocal strength well deserving of Lincoln's legacy, and a stage presence that command attention, Burdette carries this show squarely on her shoulders the way President Lincoln carried the union through times of trouble. Burdette is a canon blasting her way through the emotional duet, "How I Wish You Were Beside Me." So fully grounded in the pathos of this song, Burdette explodes her feelings into your blood and bones, a rare showcase of a modern day belttress fitting the musical style of an era long foregone. She wears the widow's shawl of grief and all its many layers like a proud badge of courage; each moment that she undertakes a new feeling it is visible on her face palpable in the air around her, and resonates through her voice without apology. The swell of sound that rises up from the core of her very being during "Someday I'll Dance at Your Wedding" is driven by a mother's love, as if the sheer will of her voice could wash away the death that has claimed that scene. The disturbing blend of music that fuels Burdette's natural fire for "Crazy Mary" is one of the most breathtaking moments in the entire show. Burdette is Mary Todd Lincoln and the only thing crazy about her is the passion with which she imbues the character— in moments of hysteria, in moments of reckoning— this role was molded to her stellar performance.
Don't be crazy and miss this rare opportunity to discover this phenomenal musical. Unless you'd like a lengthy stay in beautiful Bellevue, because that's what they recommend for people who don't get out and see Crazy Mary Lincoln at Pallas Theatre Collective this summer.
Running Time: Approximately 2 hours and 10 minutes with one intermission
Crazy Mary Lincoln plays through June 18, 2017 with Pallas Theatre Collective in the Logan Fringe Arts Space: Trinidad Theatre— 1358 Florida Avenue NE in Washington, DC. Tickets can be purchased at the door or in advance online.