They're practically perfect, in every way! Almost practically perfect, that's what we say! Mary Poppins popping up on the Bowie Playhouse Stage by way of 2nd Star Productions. Directed by Fred Nelson with Musical Direction by Sandy Melson Griese, this charming and quaint little Disney ditty is a lovely offering for the summertime. Anything can happen if you let it and they're letting anything and everything happen on that stage; well, practically, anyhow.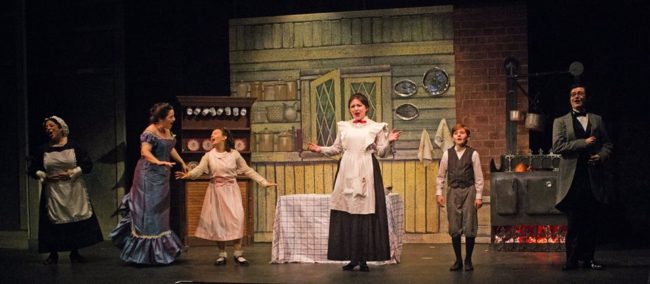 The sets are lovely, the backdrops divine, designer Jane B. Wingard has a vision in mind! The rustic timeless London is what comes into play with these backdrops and all the accompanying scenery. Wingard, working with Special Effects coordinators Brian Douglas and Gene Valendo as well as Lighting Designer Garrett R. Hyde, make magic happen all over the stage. Whether it's the stretching chimney place, whose effect mimics that of Disney's Haunted Mansion attraction, or the collapsing kitchen accessories that then magic themselves back into place at Mary Poppins' command, all of these little instances make the production value practically perfect.
Further enchanting the show's aesthetic is the tireless work of Costume Designer Linda Swann. There is such an intense plethora of fantastical costumes going on for the ensemble that it's a visual smorgasbord to take in. Swann is assisted by Sascha Nelson in tackling this feat as Nelson accents the various costumes with Hat and Hair designs; these are critical for some of the players. Colorful and sprightly, Swann's ensemble costume work is spot-on for the intriguing bunch of assorted characters featured therein. Swann also maintains the hallmarked looks of Mary Poppins and Bert the Chimney sweep in her sartorial selection; part of the enchantment is that these are long-standing characters from the childhood canon and to have them seen exactly as they were first created is part of the show's charm.

Practically perfect does leave tiny room for imperfections, but 2nd Star Productions does the best they can with what they've got. Not every production is equipped for the full-scale flying magic of the flying nanny, and that is perfectly understandable but the inconsistency with which they handle Mary Poppins' various entrances and exits is a little out of sync with itself. Director Fred Nelson's most accomplished approach to her "flying arrival" is hidden elevation during the "Let's Go Fly" scene. This is the most magical of her arrivals. (The little gimmicky CGI icon of Mary Poppins flittering away on the backdrop does the creative ingenuity of this production a disservice and is almost mocking rather than its presumed adorable nod to all things delightfully Disney.) Working with the Special Effects Team and the Lighting Designer there is a myriad of light and sound cues that come into play whenever Mary comes and goes; most effectively is the sharpness with which the blackouts occur whenever she should be magically disappearing.
Nelson does his utmost best with a gargantuan cast and there are some rather clever things being handled throughout the performance that really gets all of the ensemble involved wholeheartedly. This includes the monstrous number "Supercalifragilisticexpialidocious." Nelson has included a sign language interpreter, a Morse-Code tapper, and The Admiral (Patrick McCarthy) doing Semaphore signals as they spell out all 18 consonants and 16 vowels as well! The bit is actually quite humorous once they speed up and all three of those characters are forced to forego their attempts to spelling out the lengthy word. Nelson even gives each member of the ensemble a letter to hold during the initial reveal of the spelling— 34 ensemble members is a lot to fit perfectly on that stage— and it works out nicely!
What is slightly disappointing about the production is not Mary's lack of flight or even the enormous ensemble, these things are all well within hand under Nelson's keen direction. Andrew Gordon's choreography is engaging, but often times clunky and out of sync. While Gordon himself tackles the role of Valentine— and does so with a sprightly ease— there is just a uniform lack of synchronization across the board when the dance corps (which is smartly reduced to the ten dancers of the ensemble) gets underway for numbers like "Step in Time" "Jolly Holiday" and "Playing the Game." What Gordon's choreography lacks in uniformity it makes up for in enthusiasm and energy. The routine used for "Step in Time" is nothing if not highly charged with movement.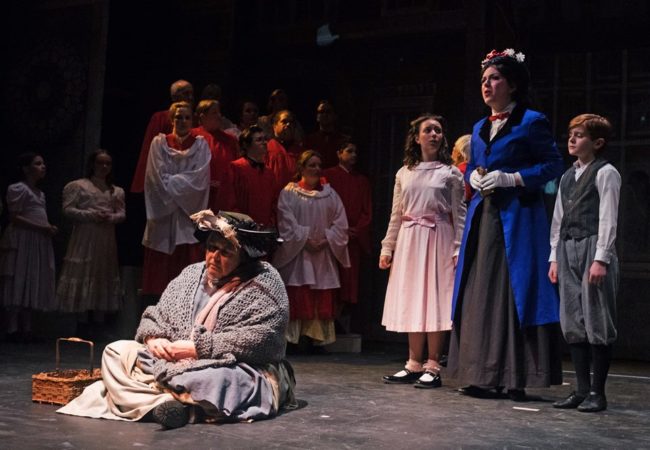 The ensemble is strong of voice and despite their overwhelming size they never feel as if they are crowding the stage. Notable performances therein include Thom Eric Sinn as the bombastically boisterous Bank Chariman, particularly when he's barking at Mr. Banks, the dulcet-voiced Carole Long, who sings a soulfully somber rendition of "Feed the Birds" (backed and supported by the "Steps of St. Paul" choir, a unique and smart move by Director Fred Nelson), and the spry and sprightly Neleus (Tyler White) who leaps about with ease completely ignorant of the fact that his character's composition is marble. There's also the heart-touchingly earnest Mr. Northbrook (David Robinson), who's one compassionate moment during "Precision and Order" is so endearing and honest that it brings a tear to the eye.
Mrs. Brill (Penni Barnett) and Roberson Ay (Davis Wooten-Klebanoff) are a comic crackpot duo that play exceptionally well off one another in their respective roles. Barnett brings the thick working class accent often associated with the scullery maids and cooks of the upper crust households, while Wooten-Klebanoff brings a polished sense of shenanigans that are perfectly suited for the hijinks in which his character finds himself steeped.  Watch Wooten-Klebanoff closely during the lead-up to "A Spoonful of Sugar" and all throughout as well; not only is the lad glorious of robust voice but his facial features and sense of physical comedy are rave-worthy as well! And while we're raving about voices and such, Mrs. Corry (Lydia West) is another whole chapter to rant on about; her silly setup in the park for her 'Talking Shop' is simply a scream. Note too the inclusion of her daughters, Annie (Spencer Kate Nelson) and Frannie (Bethany Giles), whose aesthetic is fit to be tied with the outrageously whimsical look that West sports during this infamous scene.
Brimstone and treacle and cod-liver oil are perfect adjectives for the perfectly repugnant Miss Andrew (Alexa Haines.) With an operatic soprano and fabulously false vibrato that adds humor to the crotchety character like nobody's business, Haines easily becomes the character that the audience loves to hate! With pinched expressions and a sour disposition that makes a bowl of lemons look sweet, Haines digs her heels into the witchy role and really blasts it out during her signature song, "Brimstone and Treacle." Though she does meet her match in Mary Poppins during the song's reprise, there is something to be said for the well-played "bad guy" or in this case, bad girl!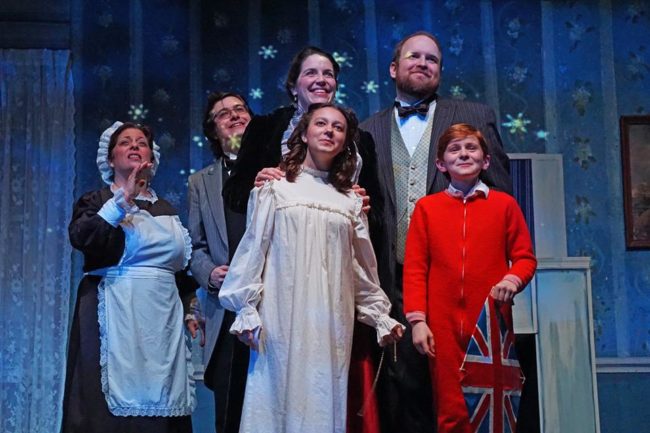 The entire Banks family needs to look at life a bit more upside-downish if they're ever to survive life on Cherry Tree Lane! Jane (Sophia Riazi-Sekowski) and Michael (Nathaniel Burkhead) are not the adorable little angels they purport themselves to be, though the actors playing these characters are exactly that. It's practically priceless watching both Riazi-Sekowski and Burkhead's facial expressions when they start reading what's printed on Mary Poppins' tape measure, and their utter astonishment at her magic carpet bag is equally delightful. In addition to being adorable, both Riazi-Sekowski and Burkhead are blessed with sweet voices that do well for various verses of songs like "The Perfect Nanny", "Practically Perfect", and their solos in "Supercalifragilisticexpialidocious" and "Anything Can Happen." A double delight, both of these young performers really bring a spoonful of sugar to their performances.
Being Mrs. Banks, Mary Schmidt Wakefield channels all of the appropriate maternal sentiments into her character. Playing opposite of the aloof and stalwart Mr. Banks (John Dickson Wakefield), the Lady Wakefield holds her own, particularly when carrying out her delightful solos, like "Being Mrs. Banks" and all of her parts for the various "Cherry Tree Lane" numbers. Mr. Wakefield tackles the character of George Banks with an unforgiving air of haughtiness that every self-respecting stiff-upper-lipped English bloke would be proud of; that said, when he discovers the return of Miss Andrew, his response his hysterical because it is so counterintuitive to everything he's laid the groundwork for with the character. Blessed vocally just as Miss Wakefield is, Mr. Wakefield puts heart and heavy sound into "Precision and Order" and "A Man Has Dreams."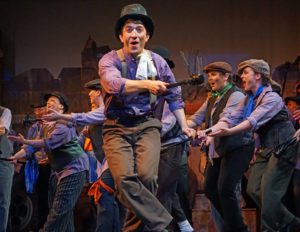 While he isn't going physically over the rooftops, his presentational caricature work will certainly take you up to the highest heights, that Nathan Bowen will. Playing jack-of-all-trades Bert, Bowen is a too-right chimney sweep with a happy-go-lucky attitude that makes him perpetually possessed of a pleasant smile. Fleet-footed and fancy-free, a skill which he showcases readily in "Step in Time", Bowen really gets to kick up his heels and put his dancer's legs to work. Though his cockney accent, or approximation thereof, could use a little brushin' up— of course there's nothing to say that this isn't completely intentional as Bert is switching occupations nearly as frequently as he is accents— there's a lively spirit with true conviviality rolling straight through him and infectious. Inspiring cheer and good will throughout various numbers, Bowen's spirit and able voice potently populates each of his "Chim Chim Cher-ee" numbers and bigger songs like "Jolly Holiday" where he indeed showcases enough brass for all of them.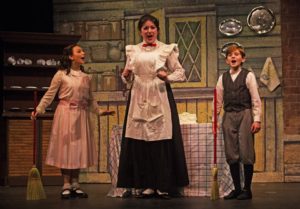 Living up to her self-proclaimed flawlessness, Mary Poppins (Emily Mudd) is indeed practically perfect. Balanced between sharp and sarcastically witted and a gently concerned nanny, Mudd is almost as Julie Andrews was when the character first saw silver-screen life back in 1964. Her voice is sound, delightful as a lark if truth be told, and she carries her solo numbers with a grace and a pride that is well suited for the character. "Practically Perfect", "A Spoonful of Sugar" and "Anything Can Happen" are remarkably felicitous examples of just how practically perfect her voice can be. Mastering the characterization, Mudd follows the lyrics of moniker's song to the line— not daring to let her flaws show. (It would appear that Miss Mudd is not a strong dancer but so cheeky and full of smiles is she when she joins the dancers for numbers like "Step in Time" and "Jolly Holiday" that she does not let it show!) A paragon of brilliance all packaged neatly in one performance, Mudd does the flying nanny a great deal of justice.
All it takes is a spark! And snap! Mary Poppins will be there to light up your path with solid entertainment this summer. But don't wait too long to get your tickets, because by the time the wind has blown the weathervane around, Mary Poppins will have blown off straight out of town!  
Running Time: Approximately 3 hours with one intermission
Mary Poppins plays through July 1, 2017 with 2nd Star Productions at The Bowie Playhouse— 16500 White Marsh Park Drive in Bowie, MD. For tickets call the box office at (410) 757-5700 or purchase them online.