We all have a different perception of what real beauty is. We all have our reasons to be pretty; there are people we make ourselves pretty for; there are people who we let define where we fall on the scale of ugly to pretty. But beauty has its price, just like ugly does, and it's a steep price to pay regardless of which side you're on. Neil LaBute's Reasons to be Pretty explores this dark and dangerous notion of external beauty through heavy humor and deeply dramatic twists in the way only a Neil LaBute play can. Currently on the boards of Baltimore's only eco-friendly "green" theatre— The Green Globe Theatre— and Directed by Jesse Marciniak, this evocative and thought-provoking drama gets the cogs working in a heady fashion, giving the audience much to chew over when it comes to the standards of beauty.


Keeping with the green mission of the company, Director Jesse Marciniak encourages minimalism in the design elements of the production. Costume Designer Nicki Seibert keeps the sartorial selection simple, but does just enough to draw focus to the various occupations upon which LaBute crafts these characters— dayglow yellow safety vests for our two shift working men and otherwise unremarkable clothing for the character of Steph, which is done in deliberate contrast to how she appears late in second act. Set Designer Lianna Brizzi follows Marciniak's minimalism with the basic installation of benches. These versatile, mobile, and completely collapsible set pieces allow for an ease in scenic transition. They also fade into the background while serving their scenic purpose. This enables the audience to focus on the action of the actors and the plot as it moves forward rather than the complex and unsustainable spectacle of an elaborate setting. It is just as clear that we are in a bedroom, a shift-work break room, the baseball field, etc. with these three moving benches as it would be if there was a more elaborate and less eco-friendly and sustainable set.
What is unclear— and truly the only downfall of the production— is the way in which these benches are utilized for Steph and Carly's asides. LaBute has written almost Shakespearean quality soliloquies, sans the rhyming verse yet chock full of emotional oscillation, each character delivering one at some point throughout the production. And while two of these instances occur naturally, the way Marciniak handles Steph's direct address— and later Carly's— feels unclear, out of sorts, and out of the reality of the play. Steph has a microphone, the benches are placed oddly and the actress bends herself all over the space— including under the benches— and this throws the audience out of the carefully constructed realism that Marciniak has layered into LaBute's work up until this point. This happens again— with a lack of clear location in Carly's delivery. These uncertain moments aside, Marciniak drives the play forward with exacting precision and clear intention.
One of the most striking images Marciniak creates in the production is the "mirror check" moment which happens before several of the scenes. Lighting Designer Glen Haupt uses tight flooded focuses on each of the performers to put them into a spotlight, which creates this symbolic illusion of checking one's face in the mirror because your visage is always in the public spotlight. It's a beautifully representative moment of the overarching themes of the play and is handled with striking profundity. Haupt uses a similar technique for freeze-frame style moments that capture 'beauty' at various points throughout the show, with an overhead light catching the performers in a similar fashion though that particular use is somewhat less effective.
Nods of praise go out to Fight Choreographer Teagan Williams who lends her seasoned expertise by way of authenticity to the boys as they brawl it out on the baseball field. The stage slaps as well are particularly potent, occurring with flash accuracy and impeccable timing. This sense of actuality feeds into the tension threaded reality that Marciniak has created with these characters, each pair holding a vastly different dynamic when interacting with one another. Marciniak even manages to cultivate a dynamic relationship between Steph and Carly although the pair never actually share a scene on stage.
There are only four characters in the performance but each of these performers brings a passionate persona to the forefront of their portrayals. Each of these performers works with a bright sense of spatial awareness not only to their location on the stage but with the other characters— often one-on-one interactions. Carly (Tatiana Nya Ford), who sheds her beauty in reverse, starting off with a palpable confidence that is expressed in a highly physical fashion and diminishes as the play progresses, serves as a response board for both Kent and Greg. Ford, taking full advantage of Williams' intense fight choreography when it comes to muscle-pinning Greg to the bench, has a keen sense of self-awareness when it comes to her stature, posture, and poise on the stage.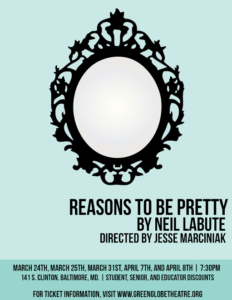 Kent (Reed DeLisle) is a tricky and deceptive character. At first DeLisle warms Kent to the audiences' basic empathies with his goofball congenial nature, but quickly peels him back like a festering onion, one grotesque layer at a time to reveal his moldering inner core. A douchebag in earnest, DeLisle makes it impossible to like his character by the show's midpoint, crafting such a heady cocksure arrogance and hotheaded temperament around Kent that its putrefying to behold. The playful banter that DeLisle initially conducts with Ford— a sweet and saccharine dynamic for the married couple— falls to the wayside and a boorish, brutish ugliness surfaces, particularly in his interactions with the Greg character as the play progresses. The knockdown, drag-out brawl between the boys, led with DeLisle's pigheaded charge, is a clear emotional explosion for both.
Equally bombastic, though in a very different vein, Steph (Allie Press) brings a level of melodramatic fury to the performance that is incomparable. Press embodies every psychotically charged pissed off girlfriend that we have all either been or dated at one point in our lives and does so with vehement vigor that is frightening to watch. The transition that Press pulls forth in her portrayal is impressive, mellowing the character as she grows and keeping that spiritual fire but finding a way to internalize it so that the energy remains but how its presented shifts drastically. Her interactions with Greg are stellar and the opening scene alone is well worth the price of admission.
Carrying a good deal of the narrative from a protagonist's perspective, though the story belongs to all four characters, Fred Fletcher-Jackson— as Greg— is a delight to watch in this role. Carrying Greg through a multitude of emotional waves, which ultimately push him through a triumphant, albeit painful, character arc of growth, Fletcher-Jackson opens up the reality that LaBute has created, by way of Marciniak's vision, to allow the audience to fully absorb everything that's happening, on the textual surface, in the emotional core, and through all the layers built in-between. Calm and mindfully present until the exacting moment when he erupts, Fletcher-Jackson keeps the audience fully engrossed in the narrative not only with Greg's leg of it but with the relationships that Greg tends throughout the production.
A rarely produced play here in Baltimore, and The Green Globe Theatre is doing it in an eco-friendly fashion, this is one show that should not be missed.
Running Time: 2 hours and 35 minutes with one intermission
Reasons to Be Pretty plays through April 8, 2017 at The Green Globe Theatre in residence at Breath of God Lutheran Church— 141 S. Clinton Street in the Canton neighborhood of Baltimore, MD. Tickets are available at the door or in advance online.