Wouldn't you rather have 30 minutes of wonderful than a lifetime full of nothing special? Well, you're in luck because Truvy's beauty shop, where the gossip's going non-stop in Chinquapin Parish, has more than just 30 minutes of wonderful. They have almost five times that tucked away for an evening's escape in a heartfelt, inspirational, and truly touching coming of age tale that the masses knows well. Co-Directed by Kevin James Logan and Katie Sheldon, Steel Magnolias presents itself to the Heritage Players' stage in the Rice Auditorium this spring and it comes with all of the emotional expressivity such a theatrical endeavor is meant to contain. Bringing it home on an even deeper and more personal level for the community, Heritage Players has chosen this production's charity (as each production benefits a specific local charity) to be Emily's Gift Inc., a memorial scholarship fund in the name of the late Emily Biondi— an active member and performer at Heritage Players until she lost her life-long battle with kidney failure in 2016.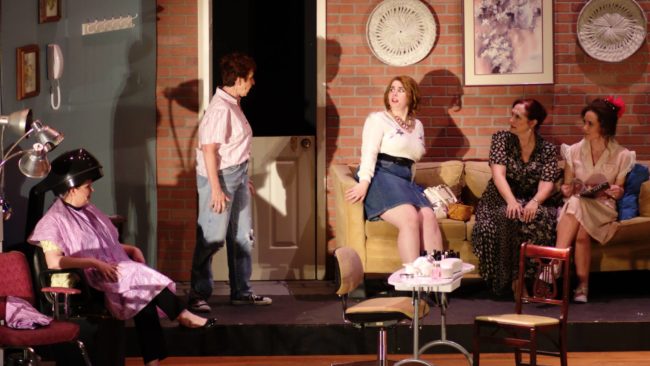 Persevering in the face of adversity, and fighting the uphill odds of an unfortunate scenic accident just two days before they opened, The Heritage Players, under the calm and collected Co-Direction of Kevin James Logan and Katie Sheldon, opened on schedule with an impressive vision to the time-tested tale that so many recognize as a screen gem. Logan and Sheldon tag-teamed the effort of approaching the piece of theatre with their own individual vision for the production. Because of the film's iconic performances it is a ready waiting trap to emulate the super star names, like Dolly Parton, but Logan and Sheldon side-step that pitfall option and present a fresh, inspiring take on the piece. By not including any of Parton's music in the pre-show, intermission, or scenic-change soundscape, it keeps the audience focused on the story they're seeing and the actor that they're experiencing.
Logan and Sheldon have a stellar team of designers assisting in making this production a pleasant one, including Lighting and Sound Designer Brad Ranno, Costume Designer Emily Luking, and Set Designer Elizabeth Kanner. Luking, Kanner, and Wig Designer Tommy Malek work as a triple-threat design team to capture the essence of the 80's. Between the aqua walls of the beauty salon, the wild colors and fashion flares— featured mostly on Shelby— and the outrageous hairdos— particularly the stacks of curls piled high on Truvy's head, this trio knows their stuff. The Set Decorating Team, which includes Kanner, Logan, Sheldon, as well as Anne Hull and John Gary Pullen, puts the polished panache on the show's overall aesthetic with sharp attention to detail. Aquanet hairspray cans, the Piggly-Wiggly produce bag, among dozens of other little nuanced bits of scenery and props draw the audience into the 1980's southern reality of the play.
Logan and Sheldon have exacting pacing for the production, which is much appreciated as the emotional mire of the piece's overall progression can readily gum up the show's natural momentum. This is true for practically every scene and every exchange with the exception of the iconic "take-a-whack-at-Ouiser" moment, which follows instantaneously on the tailcoats of the most powerful and exceptionally delivered monologue in the production. Because this was the only moment the pacing felt truly off and the actors felt out of sorts, it can't help but be attributed to the fact that the production lost its final two rehearsals due to the aforementioned accident, and no doubt with a few performances under their belts, this too will move as smoothly as the rest of the show.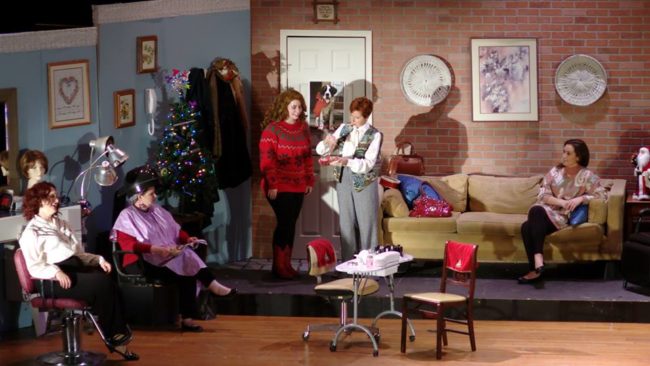 Six sensational ladies each bring a unique approach to these legendary characters, and as one ensemble they work together to transition through the seasons that the play presents, bringing love, laughter, sorrow, joy, and every other emotion that falls under the great sprawling umbrella of a magnolia tree. Rebecca Clendaniel, as the nervous Annelle, is charming and humorous with her approach to the transitional character. Initially more jittery than a kitty in a room full of rockers, she gradually eases the character into its own comfort zone inside the beauty shop and shares in the delights and despair that unfolds all around her.
It's Truvy's beauty shop, no arguing that, and Amy Heller does a decent job of letting everyone within earshot know. With a strong southern, albeit geographically unplottable, accent, Heller puts a robust spirit into the character of Truvy and this works well for a great many of her interactions all throughout. Mostly maternal, in a 'mother-of-all' sense, Heller's portrayal of Truvy is her own, and these smart choices to take the character in a different vein of existence while remaining true to the text result in a sassy but sensible characterization of the beauty shop queen.
Too twisted for colored TV, Clairee (Maribeth Vogel) is just the spitting epitome of southern charm, charisma, and fun all rolled into one. With a fashion sense and hairstyle that forces a youthfulness into her character, which is write in line with the way Clairee is written, Vogel is a bright spot in the salon, especially when things get dark and too heavy. Cheery, but not in an incessantly chipper manner, Vogel brings a strong presence to the character of Clairee, which pays homage to Olympia Dukakis' film portrayal of the character without mimicking or replicating it.
Rachel Francis Kelly is one surefire sasspot when it comes to playing little Miss Shelby Eatenton-Latcherie. Again with a strong and consistent, albeit geographically muddled, southern accent, Kelly takes to the character with rigorous aplomb and makes her sparkle, more radiant than any shade of pristine pink nail polish in Truvy's shop. Kelly is witty and even edgy with her sarcasm and zingers, holding her own against M'Lynn (Katherine Wenerick-Bell.) Their scenes spent together, Kelly and Wenerick-Bell, are both touching and moving; often times their heated exchanges are the driving forces behind the scenes' forward momentum.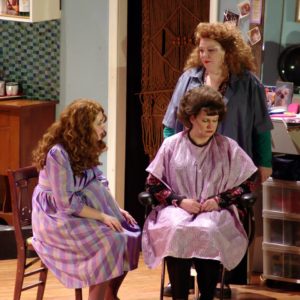 Wenerick-Bell is stellar in the role of M'Lynn. Giving her all the grace and reservation that the character requires, she brings a reserved fire to the character, which smolders in a silent heated compartment of her insides until it comes erupting out in that final scene. Jaw-dropping, heart-stopping, and utterly astonishing, Wenerick-Bell steals the moment in that iconic "my daughter" monologue. Her facial expressions throughout the piece are equally animated and well worth absorbing as they serve as little indicators that a bigger catharsis is on its way.
Only topping M'Lynn's severity in the play is the outrageous and bombastic nature of Miss Ouiser Boudreaux (Anne Hull.) Mouthy, madder than a hornet in hell, and magnificent in the role, Hull owns Ouiser and makes her the comedic pinnacle around which the others revolve. Her accent is crisp, pinned into the epicenter of the Chinquapin Parish, and her temperament is so hot and dry that it could ignite a downed Dogwood from 100 feet back. Sour and spunky, Hull creates a loveable Ouiser by making her ornery, distasteful, and curmudgeonly.
30 minutes (times five!) of wonderful is awaiting you at Heritage Players this spring so don't miss your chance to see Steel Magnolias there this season.
Running Time: Approximately 2 hours and 25 minutes with one intermission
Steel Magnolias plays through April 9, 2017 at Heritage Players in the Rice Auditorium of the Spring Grove Hospital Campus— 55 Wade Avenue in Catonsville, MD. Tickets can be purchased at the door or in advance online.