Oh there's no place like home for the holidays…except for when home for the holidays comes with a handful of surprises that you just weren't ready for and a quartet of secrets that you just can't keep to yourself! Settle into the Maryland Ensemble Theatre this Christmas season and let their zany family be your home as they present the world premiere of DC Cathro's Family Holiday. Putting the fun in dysfunction with his high-octane farce, Cathro brings a hysterical holiday play to the stage and it's the perfect stocking stuffer for this Christmas season! Ripe with jokes, comedic situations of epic proportions, and a teasingly talented cast, Cathro's witty new holiday romp is a closetful of laughs that'll warm the cockles of your heart with the spirit of Christmas family style.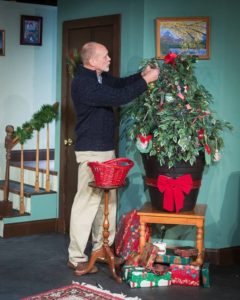 Cathro is a masterful fictionist of farce, finding the striking balance between the situations of which the audience is aware of and those which the characters are aware of and bringing them together in one tightly-paced and sharply penned script. Layering comedic punches that are heartier than grandma's eggnog, Cathro continuously showcases his keen understanding of humor and how to maximize laughs while still delivering in earnest raw dialogue that sounds natural when delivered. Tucked safely away, like a hidden present underneath the lowest branches of the tree, Cathro even includes a powerful and heartwarming message of love at the crazy cracked core of this Christmas calamity. A remarkably well composed script, Cathro's world premiere of Family Holiday tickles both the heart and funny bone in an indescribably festive fashion that is utterly delightful.
Under the skillful direction of Gené Fouché, the show runs so efficiently that it could even do so without its intermission. Fouché heightens the sense of urgency as the tension builds and keeps the play moving along at an almost breakneck pace by the time the climax is achieved. Making exceptional use of Set Designer Allison Duvall's multiple doors, Fouché gets a few extra laughs from the physical gags and the tightness of her timing when it comes to entrances and exits is slicker than a butterball turkey. Cultivating the dynamic characters that Cathro has crafted in the script into living actualities that everyone recognizes from their own families, Fouché readily avails the situation and all of its hilarity to everyone who's ever come together as a family at Christmas time when something "isn't quite right."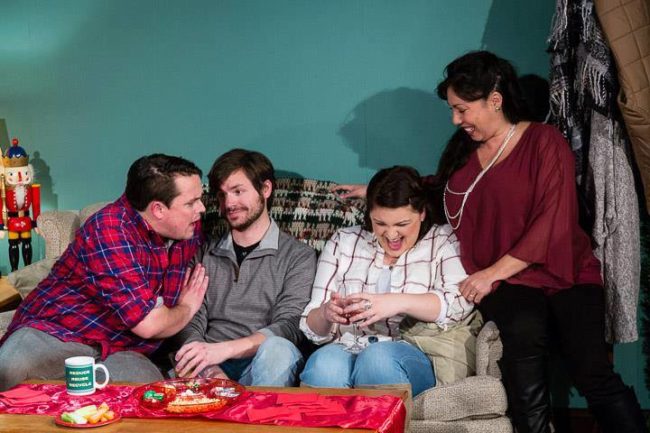 Duvall, whose set is entirely quaint and perfectly seasoned for the Christmas comedy, is aided in her approach to the show's festive aesthetic by Properties Master Rona Mensah, Lighting Designer Doug Grove, and Costume Designer Cody Gilliam. The creative team works together like elves in Santa's workshop to bring an eye-pleasing offering to the audience that has a strong focus on detail. Note Mensah and Duvall's approach to the "Christmas Tree" as it might be the most hilarious portion of the show that isn't directly character dependent. In addition to all of the marvelous holiday sights, Sound Designer cues up appropriately themed holiday tunes for the pre-show and intermission segments and gives the audience a good chuckle with his whirring nutritional bullet blender effect heard from the off-stage kitchen every time Nana heads off to make a smoothie.
Coming together in a hilarious series of hijinks and shenanigans, the six-person ensemble of the piece meld together like rich sugar cookie dough before being rolled out into individual shapes. Each member of the sextet carries their own questionable quirks and curious personalities, all of which come together in this hoot of a holiday show making it the quintessential feel-good comedy of the season. Even the more serious moments find a way of shining brightly to the audience and making them feel that problems, especially this time of year, can be dealt with no matter what just so long as love is a part of Christmas and all its celebrations.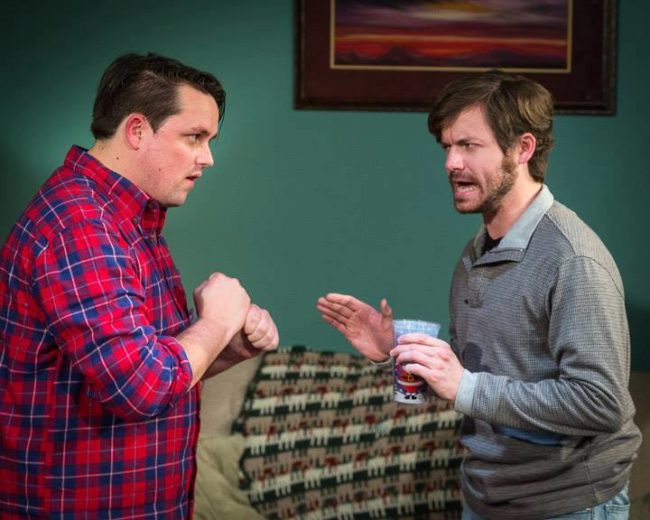 Every family has one; this family is no exception. Andy (Steve Custer) the familial outlier— a member of the family by close association and choice but no physical relation— is spunky and full of a bodacious attitude that just defines hipster masculinity. Custer, who is a bouncing boisterous burst of intrigue when he slams his way onto the scene, has an energy that just radiates off him in waves. This causes capsizing collisions once the secrets start flying and the tensions get wound around tighter than a single strand of lights stretched taut around the Christmas tree.
When JR (Amanda Spellman) arrives on the scene it's a surefire cause for a little bit of sibling tension and then some. Spellman is full of sass and delivers the character of JR with just a hint of the melodramatic flair one might expect from the 'other sibling.' (If Cathro makes mention of who is older, JR or RJ, it flies by quicker than Santa's sleigh moments before dawn on Christmas morning.) Spellman plays exceptionally well with the rest of the performers, but the cheeky camaraderie experienced between her and Custer as they tease at one another over childhood crushes is a real scream.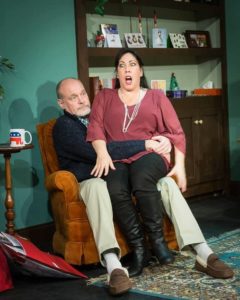 Ron (Tim Seltzer) and Judith (Lia Seltzer) have the unbalanced discord rolling strong from the opening scene. It is more than apparent that something's up between the married couple before the show even really gets going, but this is just a sampling of what's to come. Tim Seltzer has a signature grumble, something that garners a remarkable amount of laughs as the play progresses and the situations become more and more comically dire. Lia Seltzer is a spastic scene-stealer, whose shenanigans and physical shtick packs a real punch every time her cell phone goes off. Fleeing the house in a flurry of falsehoods, Mrs. Seltzer's character work is simply smashing, especially when it comes to fumbling for excuses. Desperately trying to cover her peculiar behavior could be a drinking game for the audience, though with her current success rate the audience would be soused long before intermission.
Nana (Nancy Jones) gives Judith a run for her money when it comes to scene-stealing tendencies. Jones' character depends more heavily on pinpoint comedic timing and exacting entrances to get her laughs across and does so with panache. The wild and wickedly hilarious things that comes flying out of the character's mouth are a madcap adventure in "inappropriate things grandma says at the holidays." Her character's health and fitness obsession dominates her portrayal, making it that much funnier as she cracks wise on the others and accidentally tumbles into some of the bigger plot twists as they unfold.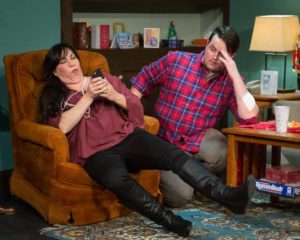 Full disclosure: Thom Huenger as RJ is sensational. Bearing the burden of all the family secrets, Huenger clings to his character's sanity by the thinnest singular shred of tinsel tossed over the non-existent Christmas tree. With wild facial expressions that vividly animate what sort of intense pressure he's experiencing every time a family member unloads their secret onto him, Huenger makes for one uproarious protagonist. Each moment of building tension looks as if it will be his absolute last before he erupts in an inferno of comedic lunacy, exploding under the pressure of being "the only one" everyone can talk to when it comes to their dirty laundry. Remarkably grounded in the absurd reality of all his family's confessions, Huenger carries the play home with his final sentiment, uncovered in the penultimate moments of the production.
Everyone ought to feel good for the holidays and laughter is just as good as eggnog and fruitcake, so remember no matter how far away you roam, if you want to be happy in a million ways, for the holidays you can't beat what's happening at the Maryland Ensemble Theatre. Family Holiday delivers all the comforts of 'home sweet home' and is the shining star atop the theatrical Christmas tree this season.
Running Time: Approximately 90 minutes with one intermission
Family Holiday plays through December 30, 2016 on the Main Stage of the Maryland Ensemble Theatre in the Historic FSK Hotel building— 31 W. Patrick street in downtown historic Frederick, MD. For tickets call the box office at (301) 694-4744 or purchase them online.