Ding! Dong! Ding! Dong! Christmas bells are ringing! Wishing you a Merry Christmas and the happiest of holiday seasons, Toby's Dinner Theatre of Columbia is proud to present their stellar production of the musical version of Charles Dickens' A Christmas Carol. Directed by David James with Musical Direction by Pamela Wilt, this iconic classic brings the true meaning of Christmas to kids from ages one to 92 and beyond and everywhere in-between. A delightful, heartwarming, fun and engaging show that will truly engage theatergoers in the holiday season, the performance features seasoned favorites, newcomers, and a range of sensational talent that cannot be found anywhere else on the stage this Christmas season.
Having truly outdone himself this time around, Resident Scenic Designer David A. Hopkins, working with Lighting Designer Coleen M. Foley and Sound Designer Mark Smedley, creates Dickensian London in a way that truly fits the intimate structure of Toby's iconic in-the-round staging. With streetwise lampposts the edge the entrance ways and the London silhouetted skyline surrounding the walls there is a homey sense of the timeless tale settling into the space before the performance even begins. Foley and Hopkins work together to craft state-of-the-art projection technology which enhances the theatrical experience; features include smoke-billowing chimney tops of London town and the scenic snow-covered street scenes of Big Ben, the Bridge, and Londontown, and haunting sepia-aged family photographs of Scrooge's past. A remarkable blend of visual stimuli is found in these projections, even more so when they start moving— like the dancing tombstones featured in "Link by Link." Rounding out the aesthetic here is Mark Smedley's smattering of sound effects, mainly the chiming of the clock every time an hour strikes, lending the show an air of authenticity by way of aural excitement.
Deck the robes with boughs of holly— and Costume Designer Lawrence B. Munsey does exactly that, at least where the merry cloak of Christmas Present is concerned. Adorned with holly, poinsettias, and other festive festooning, Munsey puts a holiday parade on display in this and other sartorial selections featured throughout the production. Glitzy red bows on buttresses for the Rockette-style glamour costumes of the Abundance and Charity dancer girls reminds the audience that Christmas can have a little razzle dazzle while still existing in a Dickensian world. Munsey's array of muted earthen tones featured in the more traditional Dickensian garb is a never-ending display of delight, both in diversity and the highly stylized fashions he uses to give each character a unique look. Multiple performers take up several different roles throughout the production and Munsey helps to articulate Director David James' overall vision of individuality by finding clothing and accessories that bolster bold personalities.
With such a festive atmosphere being created visually, it's almost forgivable that the choreography, created by Laurie Newton is not up to the traditional Toby's standard of outstandingly excellent. The majority of the issues with Newton's choreography lies not in her lack of ability, but rather missing opportunities to further liven these excitable moments featured in numbers like "Link by Link" and "Fezziwig's Annual Christmas Ball." It is apparent in both of these numbers that the actors are all but bursting out of their shoes in eager desperation to dance and showcase their abilities as dancers, which thankfully they are able to do in the second act of the show. To Newton's credit, the tap routine featured during "Abundance and Charity" is energetic, clean, and well organized, though could— like every other routine she includes in the show— be taken much further to display the impressive raw talent of the dance-inclined cast.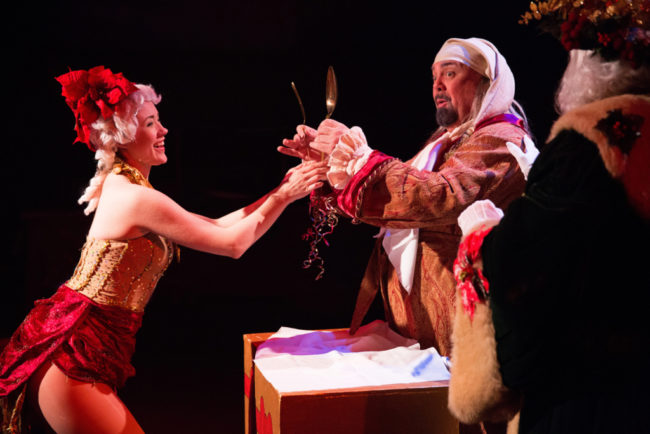 A Christmas Carol may be December's most performed musical by any and every stretch of the imagination. Director David James takes a simple and beautiful approach to making the Toby's Dinner Theatre production stand out, an approach that any theater-going individual would be proud of and enjoy. It's not frills and fuss, it's not trying to re-invent the wheel by putting some gimmicky spin upon the story, it's the basic principal of storytelling actualized with dedicated talent and delightful actors. Each performer is a character in the story, some of them are multiple characters in the Dickens' tale, and James cultivates hundreds of little moments for each individual throughout the performance, which make them an integral part of the story. It's not just Scrooge and the three ghosts, or Scrooge and The Cratchit Family; this production is the story of the glass peddler, the chamber maid, the spirited youngsters in the market square. This is the story of the town drunk, the families of Londontown, the men of the exchange, and of course The Cratchit Family, the ghosts, and Scrooge.
James' vision for the show is one of earnest sincerity; his directorial approach encourages honesty and integrity in performing these little moments that go underdeveloped and all too often entirely unexplored in run-of-the-mill productions. Each character has a voice, a personality, a backstory, and these constructs radiate with shining luminosity in every moment of the story. Exacting in detail, whether it's the trio of acapella caroling buskers— Jeremy Scott Blaustein, Bobby Gallagher, and Jeffrey Shankle (all of whom take up other roles throughout the production in addition to providing this trio of sublime harmonies early in the performance)— or the little nuances like Mrs. Mops (Coby Kay Callahan) and her mistletoe scene with the town drunkard (Shankle) in the street scene of merrymaking, the show is filled with hundreds of special miracles. Lawrence B. Munsey as the barking Beadle or Callahan and Melynda Burdette as the goofy grandma's at the Fezziwig ball all make for endearing moments that tickle the heartstrings all throughout the performance. These moments are tended to and lovingly crafted by James', whose devoted guidance to ensuring a truly merry atmosphere is what makes this Christmas Carol stand out to the eye, the ear, the mind, and the heart.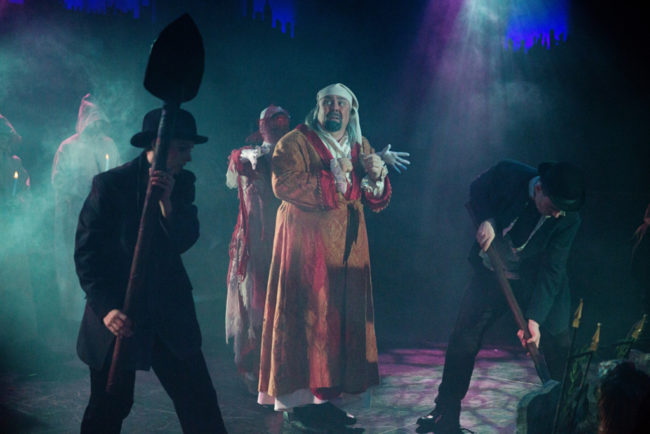 The program may appear strange as it doesn't list an ensemble, but the notion is strikingly accurate as there is no one performer who doesn't stand out in a positive and radiating way— even if only for a moment— at some point in the production. Coming immediately to mind in this vein are Melynda Burdette as the Poultry Seller, who is so filled with sprightly delight when interacting with Bob Cratchit that you nearly expect her to pop right over her poultry cart, Scean Aaron as a spry and silly youth scampering about the market scenes causing humorous calamity, and Jeremy Scott Blaustein, who plays Old Joe, and the mirror-glass peddler. "Dancing on Your Grave" is the moment wherein Blaustein's voice shines, in addition to the caroling trio from the top of the show, but it's his affected accent that makes you take notice and want to hear more of his glorious sound.
The characters of Scrooge's past are even more memorable with their dulcet tones and willing energies. Rachel Kemp, whose featured singing moments are delightful, plays Scrooge's Mother and later Fred's wife, takes her moment in the spotlight and surprises the audience with her lovely voice. AJ Whittenberger and Chris Rudy, who play varying youthful ages of Scrooge, add their delectable voices to the medley of songs featured in Scrooge's past. Rudy, who sings opposite sweet Fan (Sophie Schulman) in "A Place Called Home", draws attention to the tender human side of Scrooge before life embittered him. Whittenberger, whose character work in transitioning Scrooge at 21 from love-struck to sour is sharply on the mark, makes a delightful vocal pairing with MaryKate Brouillet, playing Emily. The pair complement one another divinely in "A Place Called Home (Reprise)."  
Though Bobby Gallagher does not start in Scrooge's past, but rather as his present-day nephew, Fred, his voice is well-matched in the duet "Scrooge/Marley Ltd." as Young Marley, opposite Whittenberger as Young Scrooge. Gallagher's operatic sound is robust and sweeps through every moment that he sings, whether it is in the past, the opening present trio of carolers, or as Fred in the company opening "Jolly Good Time" and in the closing "Finale." A marvelous new addition to the Toby's family, Gallagher nestles well into the talented cast of individuals that populate the show alongside him.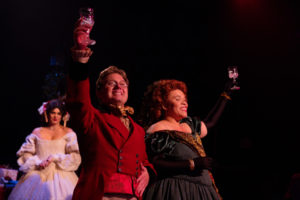 Veteran performer Crystal Freeman lends her powerhouse vocals to the role of Mrs. Fezziwig; she's cheeky, charming, and simply delightful in the role, getting a moment to showcase her vocal prowess at the end of "Fezziwig's Annual Christmas Ball." Playing the role opposite Jeffrey Shankle as Mr. Fezziwig, the pair is a squeal of glee when they get to showing down a 'dance-off' between the men and the women at the party. Shankle's voice, a holiday present wrapped in shimmering tenor-toned ribbons, is a magnificent addition to the cast, but it's his comically enhanced character work that really takes the cake. Both as Fezziwig, and later as the town drunk, Shankle is a lively spirit that will catch your eye with the littlest of things, giving you the giggles of glee as the perfect Christmas present.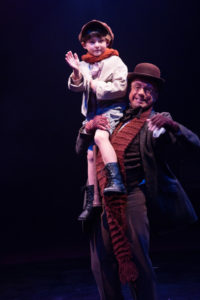 A Christmas Carol isn't itself without the Cratchit family, naturally. Featuring a giddy Martha (Katie Tyler), a dutiful Mrs. Cratchit (Tina DeSimone) and the most adorably rendered Tiny Tim (at this performance Lucas Bromberg) seen in decades, the whole family fits right into the tale without question. Bromberg, who is twice as sweet as a candy cane and in possession of a graceful and lovely singing voice, is a true treat, particularly in scenes with father Bob Cratchit (David James.) The paternal bond that James brings forth in "You Mean More to Me"— the duet that the pair shares— is heartwarming, just as the utter devastation that he brings to his graveside segment of "Dancing on Your Grave" is soul-shaking. Bromberg and James are a perfect pair when it comes to father-son duos in Dickens' world.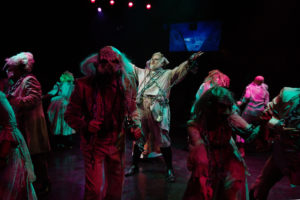 Toeing the line of darkly haunting and hilariously Humerus (because he's constantly playing with bones!) Andrew Horn lends his seasoned voice to the Ghost of Jacob Marley. Well worked into the visual special effects of the production, when Horn appears in the corporeal sense on the stage it's even more intense that one might expect. His bold, invigorated sound is possessed with the energy of a man returned from the grave, exactly as it ought to be to lead a chorus of zombies through "Link by Link." It's his bellowed bursts of "Scroooooooge!" that catch the ear and spark just a hint of Christmas fear into the audience as they heed his warning of the fate that awaits dear old Ebenezer.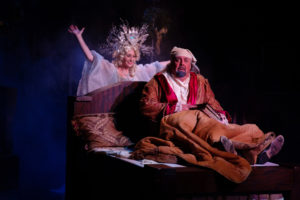 A lively bubble filled with incomparable whimsy, Heather Beck reprises the role of Ghost of Christmas Past with spirited aplomb. Flitting all about and causing a humorous chaos as she wends her way in and out of everything that's happening in Scrooge's past— especially during "The Fezziwig's Annual Christmas Party"— Beck is a bouncing bundle of Christmas cheer. Her voice sweeps the melody of "The Lights of Long Ago" and "Remember" right to the ears of the audience and her overall characterization of the whimsically inclined spirit is just what is needed to fully embrace the spirit of the season.
The Ghost of Christmas Future (Mackenzie Newbury) has but a moment to be heard vocally, in a street scene early on as a blind beggar. Newbury, who has a sound vocal handle on her limited song verses, relies heavily on her dancer's ability to emote and express the nature of her ghostly visit to Scrooge. Lithe and limber on her feet, Newbury shimmers in the blood-hued glitter suit that makes her look tragically beautiful and beautifully tragic as she dances her way through Scrooge's future.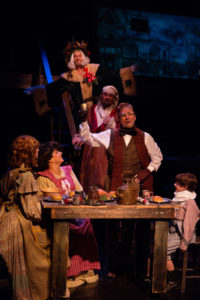 The merriest of all the ghosts, possessed with a wicked sense of merriment, kicks off the second act of the show with rigorous gusto. Darren McDonnell in the role of the Ghost of Christmas Present delivers a madcap adventure of merriment and glee. With a presence full of pleasure and a voice that's erupting with heart in an attempt to bring good will toward everyone, McDonnell steals the second act with his wild and zany approach to the ghost. "Abundance and Charity" is his feature number, giving the audience a lengthy opportunity to enjoy his company as he dallies about with a brilliant grin, boisterous vocals, and an overall attitude that just screams the true meaning of Christmas spirit.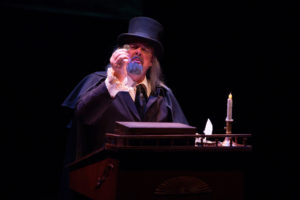 Let it be said of all men that Scrooge is the most transformed by the nuanced performance that David Bosley-Reynolds gives in this production. With a glowing baritone-bass set of vocals, Bosley-Reynolds alights on numbers like "Yesterday, Tomorrow, and Today" with tenacity and an astonishing helping of grace. There are moments all throughout the show where Bosley-Reynolds' rich voice takes up the root of that lower register and resonates as clear as Christmas bells. His patter and rolled delivery during "Nothing to Do with Me" is as crisp as freshly fallen snow, making his vocal performance quite impressive. Watch his expressive facial features closely as Bosley-Reynolds delivers more than 100 unique facial expressions— often done in moments of reactive listening and observing of what is happening around him— showcasing surprise, disgust, fear, relief, and dozens of more emotions throughout the production. Humanizing Scrooge in a most rewarding way by show's end, Bosley-Reynolds creates a memorable portrayal of Ebenezer Scrooge that will not soon be forgot in any rendition of Christmas Past, Present, or Future.
Truly a holiday blessing, Toby's A Christmas Carol fills mankind with the milk of human kindness, the joy of the season, and miraculous magic that can only be described as Christmas spirit. A must-see this December, don't wait for your chance to experience the holiday sensation that only comes but once a year!
Running Time: 2 hours with one intermission
A Christmas Carol plays through January 8, 2017 at Toby's the Dinner Theatre of Columbia— 5900 Symphony Woods Road in Columbia, MD. For tickets please call (301) 596-6161 or purchase them online.