The Zero Hour by Madeleine George, presented by Iron Crow Theatre at the Baltimore Theatre Project will run for only for more shows, all this weekend.  Go grab your tickets before you continue reading; you won't want to miss it. The play is set in a contemporary New York, following an established lesbian relationship.  The scenes feel more like vignettes in a way that feels jarring at first but quickly settle into a digestible pattern.  While the story flits around the couple's mundane relationship drama and one character's therapy sessions, many casual hallucinations breathe life and wonder into Madeleine George's otherwise straightforward text.  Iron Crow Artistic Director Sean Elias accurately describes Zero Hour as "a truly welcome addition to the LGBTQ American theatre canon that is as thoughtful and insightful as it is heartfelt and cathartic."


Iron Crow's wonderfully crafted production, helmed by Director Ann Turiano, highlights the immediate importance of this play.  "When we picked this play a year ago, we had no idea how the 2016 election would deepen both its significance and resonance," says Turiano in the program's notes.  The text's humanization of World War II atrocities falls into sharp relief alongside current events, reminding us of the immediate importance of sharing and celebrating LGBTQ culture.  Though the text is sometimes a little heavy handed, Turiano lifts the narrative to a place that feels honest, clear and truthful.  
This wouldn't be possible without spectacular performances by Rena Marie and Rebecca Tucker, who between them play both the leads and all but one secondary character.  As O and Rebecca, played by Marie and Tucker respectively, they share an intimate chemistry that deeply draws the audience.  Despite the increasing intensity of each character, both frequently and gracefully slip into a variety of other roles.  These transitions are dynamic and successful, demonstrating the captivating range of both exceptional performers.  
With the audience already devoted to Tucker and Marie, Nick Fruit's brief appearance in the play's second half brilliantly navigates a tricky narrative arena with a healthy and un-distracting comic-relief.  His charm and humor are a necessary juxtaposition to the developing narrative seriousness, and he brings a welcome intrigue to the chemistry between all performers.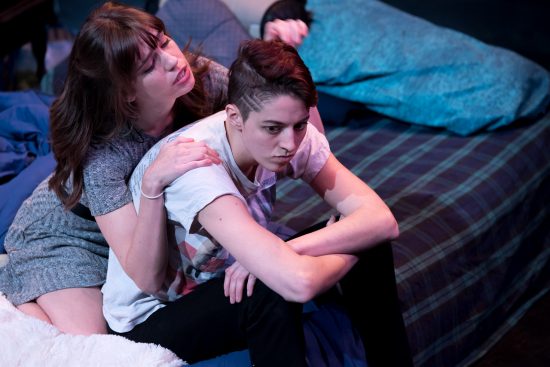 Ben Argenta Kress' costume design quickly and effectively transforms each actor into their assumed character.  Though the frequent costume changes require each outfit to be relatively simple, every costume choice skillfully communicates a key presentation of each character.  Set Designer Chris Flint and Property Designer Emma Jo Shatto set a remarkably versatile and transitory stage.  The two distinct centers of action fade from a realistic and physical center into a dreamlike oblivion near the edges, highlighting the fantasy that grows in the narrative.  Chris Flint's focused lighting design increases this effect—  the stage entire is almost always dimly visible in a way that echoes scenes past and future while not distracting from the present.  These elements, tied with the jumping text, lets the audience feel they are truly witnessing the stream of the character's consciousness in an intensely personal way.  
With the narrative shifting so frequently and scene changes so plentiful, the choice to leave the stage lit during all but one costume change seems curious at times.  This liminal space seems sometimes to provide a platform for deeper insight into one character or another but most often feels merely transitory, and sometimes like a lost opportunity.  Watching the performers regularly disrobe outside of the narrative creates a strange focus on the material body that sometimes diminished the visual impact of the body used within certain scenes.  That said, it is hard to imagine the play with such complete blackouts during these periods, and it was often fascinating to have a preview of what which characters would soon populate the stage.
The play runs a quick hour and forty-five minutes with no intermission.  There is a warning given early in the play that the subject matter might not be suitable for those under 18, though that seems overly cautious.  The play is mostly modest, with very brief sexual moments.  With its realistic, honest, and impassioned portrayal of what should no longer be considered an abnormal relationship, I would think it particularly important to share with both adolescent minds developing their understanding of the world.  
Running Time: 1 hour and 45 minutes with no intermission
The Zero Hour plays through December 4, 2016 at Iron Crow Theatre as the debut production of the 'SecondStage' Series. Iron Crow Theatre is in residence at The Baltimore Theatre Project— 45 W. Preston Street in Baltimore, MD. For tickets call (443) 673-2769 or purchase them online.