There's a ring of gold in Texas that hitched a tumbleweed coach to Baltimore and is kicking up more dust than a dozen road-runners aiming to outrun a pack of coyotes. Yeehaw, you dun heard right if what you heard was Das Barbecü, the musical that spins Wagner's Ring Cycle as a witty Texas fable, coming to the stage of The Audrey Herman Spotlighters Theatre! Sure 'nuff it done been Directed by Greg Bell with that there Musical Direction by Michael Tan and the result is a dead ringer for comedic performance of the year. With them there story-words and singin'-words done by Jim Luigs and the music done up right by Scott Warrender, Das Barbecü is a rootin' tootin' feel-good funny time of a show! The family tree done got root rot and it's all unfolding in a whirlwind of comedy right here in Mt. Vernon!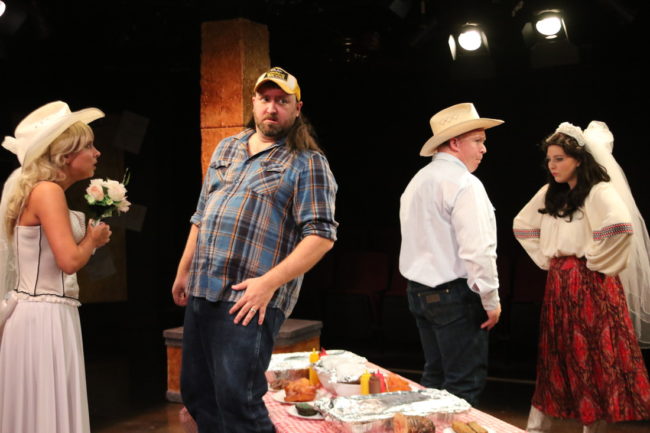 With an exceptional cast, some real crazy songs and characters, there is a dustbowl size hiccup that gums up the entertainment so to speak. Director Greg Bell overshoots the mark when it comes to scenic involvement. The scene changes from one moment to the next drag along, not because they are ill-paced— Bell himself is involved in keeping them roaring at a grueling pace— but because they are cumbersome. So deeply invested in a grandiose vision of the production, Bell seems to have forgotten that often times less is more when it comes to scenic elements and large props. The story itself is hilarious enough with an exceptionally sturdy cast toting double barrels of talent that a great many of these things, which ultimately weigh down the show's overall momentum, are just unnecessary. This issue aside, Bell has a handle on the visualization of what Valhalla, Texas ought to be and does a wonderful job of presenting that in other facets of the production.
Resident Set Designer Alan Zemla puts a real Texas twang on his simple yet sophisticated set decorations. Working the space of the intimate Spotlighters' stage like only he can, Zemla gets those gritty sandstone pillars exuding a real desert feel, and his overall scenic painting when it comes to things like the sunset and general map of the space furthers the descent into The Lone Star state. Furthering that effect, Lead Costumer Andrew Malone gives the nearly three dozen characters their own unique southern couture, each one campier than the next and completely fitting the bill for this wild hybrid of high-class Wagnerian opera and low-brow Texas shenanigans.
Malone's work is outrageous and works to the heightened levels of camp and comedy featured in the production. The ten-gallon hats for both Gunther and Alberich come immediately to mind when it comes to yucking up the stereotypes of Texas. There's a great deal of checker-plaid fabric, denim, and boots featured throughout as well. Malone's treatment of The Valkyries (aided and constructed by team Bell with an assist from Lisa Sharpe) is particularly potent as they don Stetsons pierced with Viking horns and black-lace mourning veils, perfectly blending together the conceptual notions that make this musical entertaining. While some of the costumes are barely seen (most notably the crazy blue sparkly numbers on the Rivermaidens) all should be praised for their effective ease for quick-changes. A nod of deep appreciation goes out to both Amy Bell and Lisa Sharpe, the show's two dressers, who assist in these rapid-fire sartorial swaps.
Though the enormous barbeque pit is a bit unwieldy as it is hauled on and off stage, Lighting Designer Al Ramer does a bang-up job of making an enormous blaze therein when such a pyre is required to burn bright. Ramer's lighting is effective and well plotted, particularly with the shifts into memory and recall, which are critical components of the show's humor. In addition to his use of hot reds and cold blues— a dual intentioned patriotic symbolism as well as an emotionally ensconced practicality, Ramer seems to articulate each of the movements as they unwind over songs and scenes in a fashion that helps the audience hone in on exactly what is happening amid the confusion.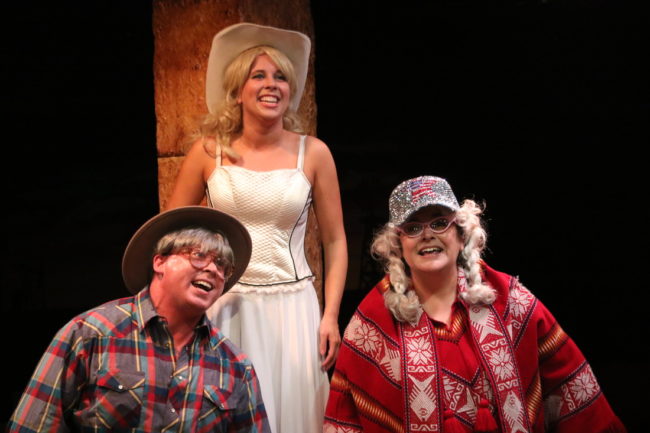 Jim Luigs' lyrics are smart and accompanied with the brilliantly nuanced music of Scott Warrender, both of which fall with exceptionally well presented grace into the capable hands of Musical Director Michael Tan. With the forethought and creativity to wing some stylized vamps to cover some of the aforementioned cumbrous scene changes, Tan keeps the musical moving progressively forward. Doing a stellar job of keying in on harmonies during trios, quartets, and quintets throughout the piece, Tan's seasoned skills are put to the task, ultimately resulting in a well-played and carefully nuanced musical experience.
With just five performers taking on nearly three dozen characters there are bound to be uproarious moments of hysterical laughter. The quintet of performers delivery the quintessential grip on comedy tht one might expect from such a hilarious show, going to the epitome of heightened comic camp under the direction of Greg Bell. Working well off one another so that the laughable moments feel organic, this set of five fabulous stage-stars really work some of the more overt moments for their sincerity, mining them thoroughly for severity, which in-turn makes them utterly hysterical and gut-bustingly humorous for the audience.
It's difficult to pick a starting point, as there are so many moments of high-octane hilarity that occur throughout the show, so it's best to start with the ingénues— Gutrune (Allison Comotto) and Brünnhilde (Clare Kneebone.) As different as day and night right down to the blonde vs brunette aspects of their physique, Kneebone's dewy-eyed doll and Comotto's glossy-eyed gal bring a great barrel of laughs to the performance, particularly when they go head to head in the duet "Barbecue for Two." Both ladies have tremendously impressive voices, but this number allows them to showcase their fun-loving nature in addition to their vocal prowess.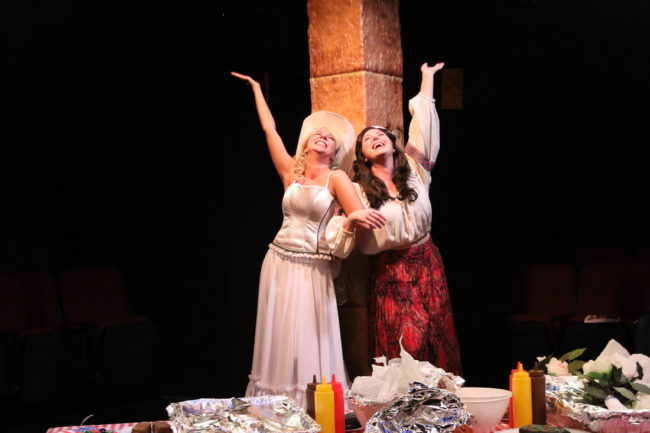 Comotto, who like everyone in the show, takes on multiple roles, including that of Freia and it's under this persona that she delivers a solo in "A Little House for Me", which is both sweet and silly. This display of her vocal capabilities, among many others throughout the piece, is delightful. Comotto's character work is on par with the other four performers; she finds a different angle to work for each of the absurd and ludicrous characters that she plays— especially her Rivermaiden character and her Norn Triplet character— but maintains that tawdry Texas twang, to varying degrees, for each one of them. As Gutrune, she is a squeal of a good time, particularly when it comes to her chipper enthusiasm and shrill vocalization during non-musical moments.
Kneebone, who takes on Brünnhilde among many others, has a somber solo in "County Fair" which showcases her vocal ability as well. Given a handful of meatier numbers, like "Turn the Tide" and "Slide a Little Closer", Kneebone is fully able to express her extensive vocal range throughout the performance. While her character work involves somewhat slighter of a comedic execution, there is still a solid display of difference when she takes on various incarnations of sideline characters— like the Norn Triplets and her turn at being a Texas Ranger.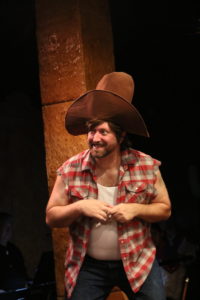 It's hard to say that Jim Gross' characters serve as comic relief when so much of the show's entirety is laugh-out-loud comedy, but that doesn't make the previous statement any less accurate. Appearing first as Wotan, the thick-headed, one-eyed stubborn cowpoke, and later as many, many others, Gross really drops into the physicality of his characters. With a voice that blends well into quartets like "What I Had in Mind", Gross is a vocally sound addition to the cast. His work as Wotan is best expressed in the quick-patter duet "If Not for You", shared with the villainous Alberich (Rob Wall.) But his comedic thunder comes forward in the narcoleptic Hagan and goofy Gunther, which involves a level of physical shtick that is unsurpassable in this production.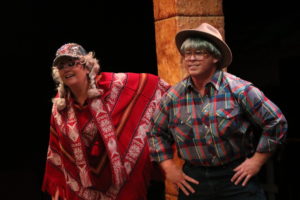 Wall, who is the show's protagonistic hero, Siegfried, as well as the nefarious ne'er do-weller, Alberich, has the most versatile palette when it comes to caricature shenanigans. While his cowboy twang is on the level as Siegfried, and he adds a lovely musical blend to duets like "Wanderin' Man" and "Slide a little Closer", it's his work as Milam Lamar that steals the comedic cake. With a wickedly affected vocalization and hilarious physicality, Wall goes to town with the character and really digs his heels into the humor of the situation in which Milam finds himself. The dynamic difference between that character and unbearable Alberich is sensational; Wall takes every opportunity to make sure the diminutive villain stands out in every way possible.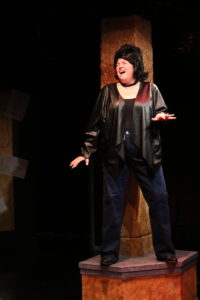 Carrying the crown of comedy upon her head, Andrea Bush steals the show with her character work as Needa Trout. Though Needa is definitely a minor character, paired up with Milan, the pair is unstoppable and brings about bucket after bucket of unyielding laughs, especially during their number "Makin' Guacamole." Between her affected voice, limping physicality, and utterly unfathomable antics during "Fire and Water", she's unstoppable! Bush also straddles the characters of Fricka— a callous and prickly pear who goes at Wotan hard and heavy, Erda— a soothing balm by comparison— and the racy back-up singer, who all but puts Siegfeld to shame in "Rodeo Romeo." Bush's harmonies and blends featured liberally throughout the musical are mellifluous and a perfect match for the score.
So take great pleasure in this rarely done treasure and kick up yer boots before the river washes Das Barbecü away and you miss this sparkly Texas goldmine of a musical at Spotlighters this fall!  
Running Time: Approximately 2 hours and 30 minutes with one intermission
Das Barbecü plays through October 30, 2016 at The Audrey Herman Spotlighters Theatre— 817 St. Paul Street in the historic Mount Vernon neighborhood of Baltimore City in Maryland. For tickets call the box office at (410) 752-1225 or purchase them online.