It's a rare treat for a reviewer to be able to praise a performance as "robotic". Caity Brown magnificently straddles the line between android and human in McLean Community Players production of Alan Ayckbourn's Comic Potential.
Brown plays Jacie, a young female robot in a world where actors have been replaced by "actoid" acting units. This charmingly absurd proposition sets up a delicate challenge for Brown, who must be convincing simultaneously as a machine but also as somebody who has lived a thousand lives of intense human emotion — on screen. She handles it spectacularly, shifting on a dime between dozens of different tropes, while also burgeoning into that most genuine of human emotions — love.
We first see Jacie on a soap opera set, being directed by Chandler "Chance" Tate (Frank Gorrell). Tate was once a great director, versed in the great silent comic geniuses, but has now been reduced to soap operas (where both the acting and the scripts might well be done by robots even today).
She's accompanied by three other acting units, played by Stephen T. Wheeler, Bridgette Saverine, and Anne Hilleary, working out a dreary, rote scene of hospital drama, while programmers Prim Spring and Trudi Floote (Sam David and Kirsten Burt) fine-tune their emotions. Wheeler, Saverine, and Hilleary deliver deft performances as the actoids, ramping the emotions up and down, and then remaining stock still. In those moments it's easy to forget that they're not, in fact, robots, while playing out some famously challenging acting games in front of an audience. Sometimes an actor does amazing work by just standing still.
Into the studio walks Adam Trainsmith (Scott Duvall), a young man who makes the mistake of talking with the beautiful Jacie, who turns out to have a sharp sense of comic timing and an insatiable curiosity about just what it means to be human. They quickly fall in love.
That infuriates Carla Pepperbloom, played by Diane Sams, who strides into the room as if she owns the place… because she nearly does. Clad in a power suit and scarlet corset by costumer Julia Cofrancesco, she puts the "dom" into "dominating the scene". Pepperbloom infuriates everybody around her, inciting an argument in which Sams and Gorrell both sparkle.
The two lovers run away, and the studio is in an uproar. Wheelchair-bound studio owner Lester Trainsmith (Michael Scott) supervises. Lester doesn't speak much, so he's mediated by Marmion (Saverine again), who speaks almost exclusively for him (though the production doesn't quite reach the comic sparkle that absurdity offers.)
On their flight, Jacie and Adam encounter a number of other characters, many of them played by Stephen T. Wheeler, who has an astonishing gift for accent and character voices.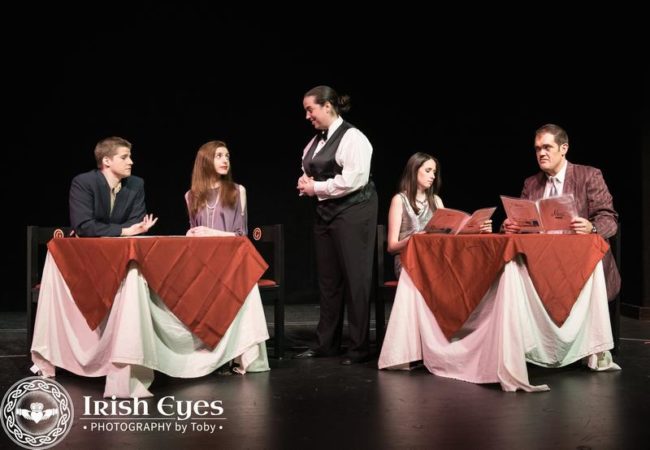 He's joined in several by Emma Safford, who has only a few scenes but makes tremendous comic work in each. Burt also reappears as a prostitute in a dingy motel, surreally garbed like a fairy godmother who must be granting somebody's oddest wish, and Burt commits beautifully to it. (The play contains a warning that it's not for children under 17, though I suspect that the MPAA would grant it a PG-13 rating.) David, as the android programmer with the heart of gold, helps set the lovers free when she's supposed to be helping arrest them, her performance conflicted and touching.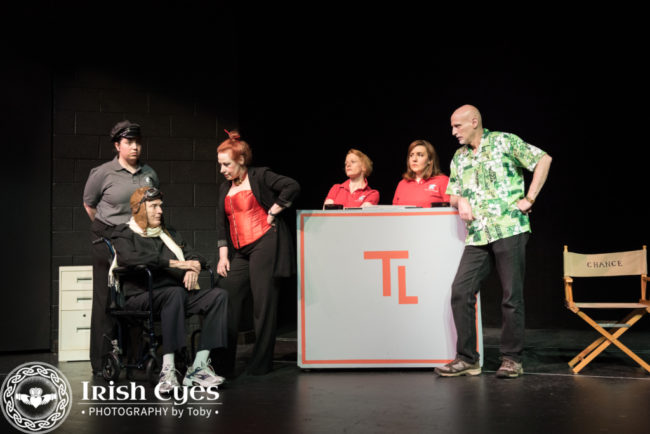 Director Robert Sams keeps the pace lively, even as the show itself is a meditation on both love and comedy. The tone of the piece is captured perfectly as Jacie declares that she can dance, and picks the nearly-robotic backup dancers from Robert Palmer's "Simply Irresistible". It's a clever interpolation by Sams, and Brown perfectly captures both the sex appeal and blanked faces of the famous music video. The "set" that the actoids work on is another clever interpolation into the script: a chroma-key-green backdrop (by construction chief George Farnsworth and painter Adrienne Kammer). The Sams (both the director Robert and producer Diane) have designed an array of sets and orchestrated quick, well-plotted changes between them. The multi-talented robot Jacie can even provide her own music, supplied to the human actor by sound designer Bob Zeigler.
Comic Potential is full of comic potential, in the air of a light English drawing-room comedy with a sci-fi setting. Sams' production is witty and affecting, led by the remarkable performance of Caity Brown, who connects to both the robotic and human side of Jacie, a continual surprise and revelation. It's a sweet, smart show.
Running Time: 2 hours with one intermission
Comic Potential 
plays through October 22, 2016 at The McLean Community Players in the Alden Theatre at the McLean Community Center- 1234 Ingleside Avenue, in McLean VA. For tickets, call the box office at (703) 790-9223, or purchase them
online
.