Blood (plenty of it), Sweat (hardworking actors), and Tears (of laughter), fuel Red Branch Theatre Company's current offering: Evil Dead: The Musical. Adapted for stage from Sam Raimi's cult classic film series, Evil Dead: The Musical is chock full of campy, gory, outrageous horror that makes for a bloody hilarious night of fun. With book and lyrics by George Reinblatt, and music by Frank Cipolla, Melissa Morris, and George Reinblatt, you're not dealing with high art. Foul language, simulated violence, and senseless humor abound, which are three things this reviewer loves. Directed and Choreographed by Jenny Male, with Music Direction by Aaron Broderick, you don't want to miss this show!
Five teenagers head up to a cabin in the woods for some Spring Break fun, but accidentally unleash a lot of evil with the Necronomicon. One by one, the teenagers are possessed or mutilated by the "Deadites." Others arrive and fall to the overpowering evil as well. Leading man, Ash, has to go from being a simple S-Mart employee to chainsaw wielding fighter. What could be more entertaining? Director Jenny Male has assembled top-notch talent, both on stage and behind the scenes, which is necessary to produce this beast of a show. Male keeps the pace brisk so the laughs flow as easily as the blood. She also served as the show's Choreographer, and she shines bright with the surprising amount of dance necessary in the show. Personal favorites on the evening were the Tango in "What the F*** Was That, and "Do the Necronomicon."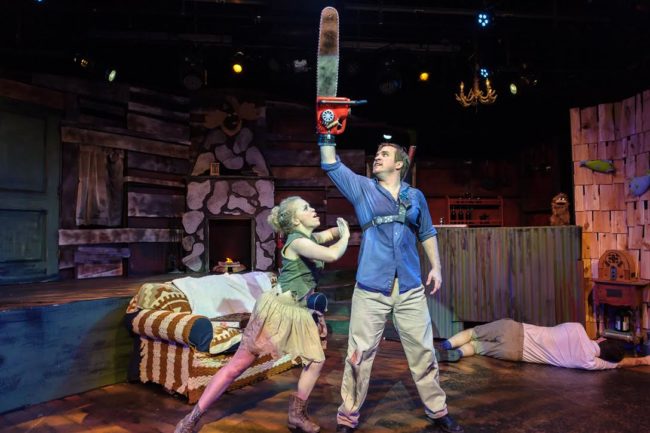 Ryan Michael Haase's ingenious Scenic Design is a marvel of technical surprises (no spoilers here), and seems to move and breathe on its own. You really feel as if you're in a cabin in the woods. Just as a side note, I've seen quite a bit of Mr. Haase's work around town, and if he's not the best Scenic Designer in Baltimore, he's at least near the top of a very short list. Working in tandem with the outstanding set is the Lighting Design by Lynn Joslin and Sound Design by Seth Schwartz, which set the perfect tone for the tongue-in-cheek horror to take place. Makeup and Special Effects design by Hannah Fogler worked very effectively. Properties Designer Alison Andersen was on point. Costume Designer Andrew Malone did a good job, right down to nailing Ash's iconic look. With the amount of blood that flows in this production, Production and Stage Manager Dana Fleischer (and her ASM, Sarah Luckadoo) should ask for a raise if they have to handle all that cleaning up on their own (seriously, that is a tall task.)
Music Director Aaron Broderick does a fine job getting the actors to blend well vocally. There were also some tight harmonies in a few numbers, specifically "Housewares Employee" and "What the F*** Was That." Broderick also conducts the three-piece band, comprised of himself on Piano, Tim Houston on Guitar, and Andrew Bilbrey on Drums. The band was tight! Often times this show uses pre-recorded music, so I was glad to hear a live band, which just adds an extra special element to the show.
The acting in Evil Dead: The Musical is top-notch. Male did a fantastic job in casting the show. Sarah Luckadoo made the most of her brief time on stage, whether as a demonic tree, a regular demon, or the Fake Shemp clumsily chasing Ash around stage as a headless body (at least I think that was her.) Cole Watts was appropriately transparent as Ed, who gets his own number in Act 2, "Bit Part Demon", an homage to "Mister Cellophane" from Chicago. Watts performs the song with gusto right up until Ash puts a quick and deadly end to it. Peter Boyer nearly steals the show with his portrayal of Jake. While he lacked the physical heft that you traditionally see in the role, you could rely on him for a redneck good time and astute comedic timing (though the rest of the cast did not lack this in the least.) Not mention the fact that his facial expressions are worth the price of admission alone! Carson Elizabeth Gregory plays the role of Ash's girlfriend, Linda, with high energy. Her spastic interpretive dance moves in "Housewares Employee" were highly entertaining.
Danny Bertaux nails Scott, the sex driven, offensively foul-mouthed, typical college frat boy, He also had arguably the best death scene of the night, complete with his intestines falling all over the place. And his duet with Ash "What the F*** Was That" was hysterical, right down to their man on man tango. Angeleaza Anderson plays two different roles in the show. As Shelly, she is the stereotypical dumb, ditzy blonde, who is basically there to feed Scott's sexual appetite. Anderson plays Shelly to the hilt. As Annie, she shines in the Act 2 torch song "All The Men in My Life Keep Getting Killed by Candarian Demons".
Sarah Goldstein is Ash's wholesome and pure, bookworm sister, Cheryl. That is until the demonic trees get ahold of her. Once demonized, Goldstein proceeds to steal scene after scene. Big voice in hand, she brings the house down with her spirited rendition of "Look Who's Evil Now", and though Ash shoves her down into the cellar, she pops up through the cellar door with terrible, yet curiously funny, puns throughout the rest of the show. Let's just say she does one hell of a Hulk Hogan impression.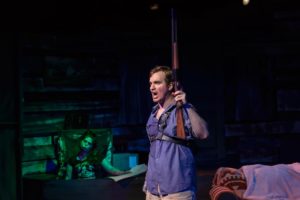 As Ash, Ben Stoll clearly has large shoes to fill. And he does not disappoint. First off, he bears a solid resemblance to Bruce Campbell (star of the Evil Dead movie franchise), right down to the "deadly chin." Stoll exudes confidence in his star turn as the hero. When the demons "get his hand", and Ash's hand attacks him of its own volition, Stoll pulls off the Jim Carrey-esque acting required to portray the phantom appendage…handily (see what I did there). Stoll possesses a strong singing voice, yet is also able to show off a nice, high falsetto when the need arises.
While this isn't a life changing show, it is an immense amount of fun. Also of note; you don't need to be familiar with the movies in order to enjoy this production. However, if you are an aficionado of the movies, there are plenty of "in- jokes" and gags that you will get a kick out of. The audience reaction the evening I went was astounding. There was plenty of full on belly laughing. By the way, if you sit in the "splash zone", spring for a poncho.
SPECIAL ADVISORIES – Parental discretion advised due to adult content, language, fake blood, and gore. Recommended for ages 16+. Patrons seated in row AA will definitely get wet. Patrons seated in rows A-C may get splashed. This production employs the use of non-toxic haze and strobe lighting effects, as well as senseless humor and simulated violence.
Running Time: 1 hour and 50 minutes with one intermission
Evil Dead: The Musical plays through October 29, 2016 at Red Branch Theatre Company at the Drama Learning Center— 9130 Red Branch Road in Columbia, MD. For tickets call the box office at (410) 997-9352 or purchase them online.