Styles keep a changing, the world's rearranging, but Toby's Dinner Theatre is timeless as can be! Welcoming in the 60's with their superior production of Hairspray, the summer stage-blockbuster is marching in through the front door in Columbia and is ready to shimmy and shake-up all of the theatergoers in the area. Directed and Choreographed by Mark Minnick with Musical Direction by Ross Scott Rawlings, this sensational production is the must-see musical of Baltimore's hot season! Full of fun, funky, fabulous and absolutely energetic talent that can both sing and dance, it's all the entertainment you need to keep cool and enjoy a good musical this season.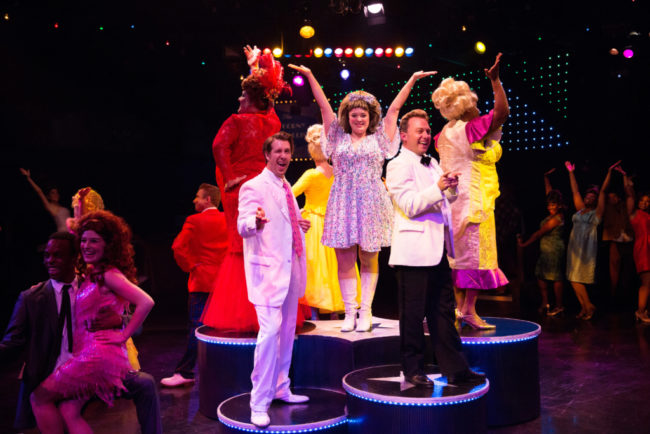 Set Designer David A. Hopkins is shouting Good Morning, Baltimore with his detail-driven scenescapes that are mounted on three of the four surrounding walls which close in the intimate stage in-the-round. Transporting the audience to another time in a convincing yet easily mobile fashion is half the battle when it comes to staging a period piece at Toby's, a battle at which Hopkins is a well-seasoned victorious veteran. Praises a plenty belong to Lighting Designer Lynn Joslin for her radiant extravaganza of illumination, which happens largely at the show's big finale number. The LED wall paneling now reflects the essence of The Corny Collins Show live from the Baltimore Eventorium with a flashy series of continually moving lights that really amp up the atmospheric energy for the show's conclusion. Joslin and Hopkins work together to create a band-stand inspired series of round drums that light and blink colors to the time of the beat, pulling out all the stops to complete the aesthetic of this show-stopping number in true grandiose and glorious fashion.
There is something stupendously rewarding about hearing Edna Turnblad say "I made this myself" in her finale dress, and knowing that the words are absolutely true as the character's actor also happens to be the show's Costume Designer. Lawrence B. Munsey, assisted by Mary Quinn, crafts the couture of the 60's with a vivacious flare and keeps everyone looking striking, dapper, and beautiful all throughout the production. Munsey doesn't skimp on the colors or the glitz when it comes to the array of dresses featured in the show— everything from glamorous sequins on the Dynamites to wildly vibrant colors on Edna once she transforms and embraces her inner beauty. Topping off the sartorial selections to crowning heights of perfection is the wig work featured in the production. Stacked, teased, and properly 'Hon-tastic' to match the show's locale, Munsey's wigs have achieved the monumental status of hair-DO's when it comes to showcasing the style of the 60's.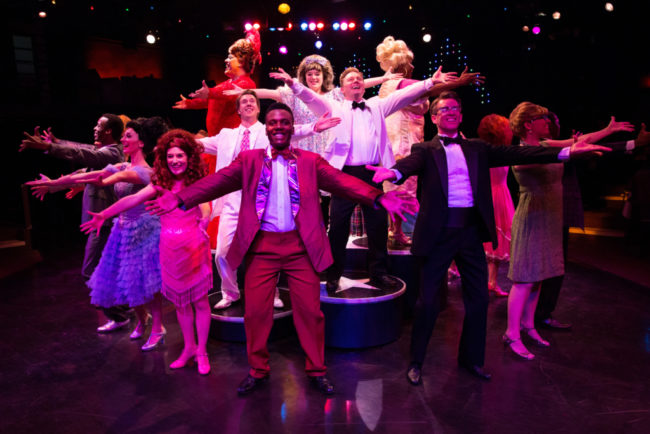 Playing a strong pit and blending vocal sounds from off-stage to enhance the overall musical quality of the show, Musical Director Ross Scott Rawlings puts his years of expertise to work with Hairspray. The sextet during "Without Love" has exceptionally well-blended harmonies, particularly with Penny and Seaweed's lines, and is a solid display of what Rawlings can do with a diversely scored number. Rawlings also deserves a nod for highlighting the bells during "I Can Hear the Bells"; whatever he's using in the pit to make these delightful chimes ring through adds the perfect touch of elegant humor to the campy number.
Director Mark Minnick is taking a bold and curious approach to the lead casting choice for the musical. Minnick's selection of Christie Graham to play Tracy Turnblad is more than acceptable when it comes to her vocal talent and dancing abilities, but physically her appearance is not in-line with what is traditionally expected of the Tracy character. Presenting Tracy as a more average-sized girl calls Minnick's decision into question as the central conceit of the show focuses on Tracy's pleasantly plump size and a good deal of the jokes and driving plot points are built around this concept. Many of Tracy's costumes fit her in such a way that she appears similar in size to council member Amber, which makes the relentless teasing in the show's script feel a bit off kilter. This could, however, be a modernized social commentary on the way body image is perceived and the overall cruelty of high school when it comes to accepting people based on their appearance, but if this is the case it is not made clear.
Despite this one questionable casting choice, and it is reiterated that the choice is questionable only in the aesthetic as Graham brings a hearty handful of moxie to the role despite her regular size, Minnick's direction of the production is fantastic. Nuances and intricate detailing of little moments stamp the show with his hallmark of storytelling. Link Larkin winking at Corny Collins when Tracy storms his camera scene during "It Takes Two," or the sneaky exchange between Motormouth Maybelle and Corny Collins towards the show's conclusion, these little moments— which are experienced because of the beautiful intimacy of Toby's venue— draw out character relationships and heartfelt emotional connections among the characters which enhance the storytelling element of the performance tenfold, making it more than just a feel-good show with a bunch of show-stopping musical numbers. The pacing is smart and tight, and the crossfaded scene changes are enhanced with Minnick's stellar choreography.
You can't stop the beat of Minnick's astounding choreography as it carries through each and every musical number and scenic change. Strategically placing Dance Captain Amanda Kaplan and ensemble dancer AJ Whittenberger at the end of "Without Love" in a flourish of ballet-inspired spins and twirls, is just one of over half a dozen example of how Minnick's choreography fluidly fuses one scene into the next. With a heavy hand of jazz-inspired moves laid over "Big Dollhouse" and a versatility that seems to know no bounds when it comes to incorporating various styles of 60's dance for the big sock hop dance scene, and routines featured in "Run and Tell That" as well as the amazing show-stopping finale number, "You Can't Stop the Beat," Minnick showcases his fearless prowess as a choreographer. Pushing the cast into a frenetic currant of motion, there's never a drop in the dancing energy and never a moment where you aren't watching the intensity of these sharply synchronized dance routines.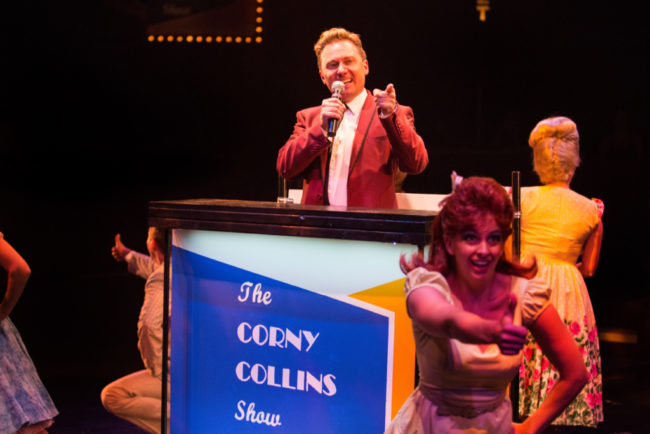 An energetic ensemble is a requirement for any good production of Hairspray. The ensemble featured at Toby's is exuberantly enthusiastic in addition to being exceptionally invested in maintaining heightened levels of high-octane energy throughout the performance. It is the sound and moves of this ensemble in moments like "Welcome to the 60's" and "Good Morning, Baltimore" that serve as the pulse of the show, pumping a lively feeling of excitement into each breath that they draw whether it's speaking, singing, or dancing. Solo singer worthy of praise come in the trio of The Dynamites (Renata Hammond, Ashley Johnson, and Samantha McEwen Deininger), who each get a moment to really blast their vocal ability with scats at the end of "Welcome to the 60's."
Crackpot comic characters worthy of mentioning from the ensemble are Darren McDonnell and Coby Kay Callahan, who each take on a series of hysterical characters, each with their own unique temperaments. McDonnell's shining role is that of Mr. Pinky, his spastic over-the-top fabrication of the zany pink-haired shop owner is delivered with zest and panache, while Callahan splits her moment in the limelight between her snarky sasspot Prison Matron— a bit like a sexy strutting vulture— and her roguish gravely butch Gym Teacher. Both Callahan and McDonnell make concerted efforts to distinguish each character with a fresh vocal affectation, posture, and attitude; pay close attention to McDonnell's variations on the "Bawlmer Hon" accent, which shift heftily from the Principal of Patterson Park High to the slack-jawed yokel jail guard.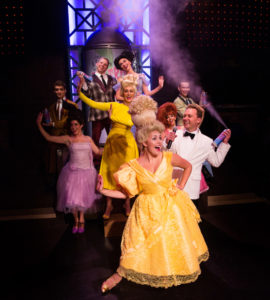 Vivaciously villainous, Amber Von Tussle (Gabriella DeLuca) and her revoltingly vile mother Velma (Heather Marie Beck) sink their teeth into these less than savory characters early on. DeLuca titillates the audience with just a taste of her vocal prowess in the trio split of "Mama, I'm a Big Girl Now", blasting a belt of epic proportions in this number. Her true 'mean girl' colors show through in "Cooties", complete with a vicious attitude directed at Tracy. DeLuca's characterization of Amber is evenly spread between her popular girl demeanor and a shrieking teenage harpy who wants it all. Proving that the apple doesn't rot far from the tree, Beck sets the bar for the Von Tussle villainy early on. With an irrefutable sassiness in her line delivery, Beck delivers Velma as a character to be easily disliked. Showcasing her own intense set of lungs and pipes during both "Miss Baltimore Crabs" and "Velma's Revenge", Beck puts a hint of heinous into the character's persona in these numbers all while impressing the audience with her range and sustaining abilities.
Crackling with the latest, greatest Baltimore sound, Mr. Corny Collins (Jeffrey Shankle) keeps the show and the kids spinning round in this production. Shankle, who deserves to have the character renamed to Cheeky Collins for the way he plays up the interactions with Velma Von Tussle and a few others, supercharges the kids of the council for "Nicest Kids in Town" and the show's title number. Both of these songs treat the audience to Shankle's well-practiced tenor tone, allowing him to showcase a few tricks— like the vocal lift on 'sugar and spicest' during the end of "Nicest Kids in Town"— and display his powerful sustaining abilities. Keep a close eye on his dancing with Motormouth Maybelle (Kelli Blackwell) during the show's finale, you're in for a treat.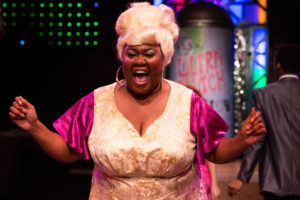 Strutting her funky stuff and offering up big talent with no apologies, Blackwell delivers Motormouth Maybelle with worlds of heart. Digging into the meat of "Big, Blonde, and Beautiful" with unabashed vocal moxie, Blackwell drives that number home with a strenuous sense of self-pride and loving acceptance of her character and the others taking up the fight with her. The smooth sound of truth and determination resonates with pristine clarity through "I Know Where I've Been," as Blackwell dips deep into her lower register and belts out a rainbow of emotions that shocks the audience profoundly. These two dynamically different performances showcases her ability to take Motormouth on a journey forward through the trying times of her character's personal story arc. This spirited and spunky characterization is echoed in Motormouth's daughter, Little Inez (Noelle Robinson.) With gumption and a great voice, Robinson owns her verse of "Run and Tell That" as well as her two well-timed comic one-liners just before the solemn number in the record shop.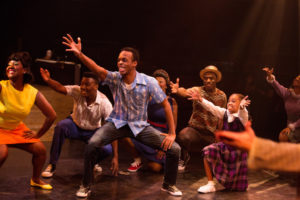 Flare and intensity continues to run in the family, but enough with the talk because Seaweed J. Stubbs (Andre Hinds) came here to dance! A refreshingly physical burst of wild and wonderful, Hinds emotes the character's heart and soul almost entirely through his hips and pelvis. With some seriously mesmerizing dance moves that are nothing short of out of this world, "Run and Tell That" becomes a dance feature with a song sung around it. Leaps and acrobatics are just a few of the tricks Hinds has up his sleeve when it comes to fully embodying the character of Seaweed, but what really garners the audience's attention is his interactions, flirtations, and overall chemistry with Penny (Sophie Schulman.) The pair are so smitten over one another its madness. Watching their fiery flirtations at the end of "Without Love" is the prize moment of that number. Schulman has a peppy personality that's all her own when it comes to the quirky Penny character. Though having no solo numbers of her own, Schulman makes sure her big voice is heard in both the aforementioned duet with Seaweed and her verse during "You Can't Stop the Beat." Between Schulman's fantastic character work and Hinds' divine dancing, the pair is practically perfect on stage.
Campy crooner Link Larkin (Justin Calhoun) will work his way into your heart faster than you can say Hairspray. Calhoun is channeling the essence of Elvis Baltimore style when it comes to his characterization and physical portrayal of Link. His frozen poses during "I Can Hear the Bells" are hysterical and add a sparkly sugary coating to the already saccharine comic number. His singing voice for "It Takes Two" would make a stone statue swoon, and the chemistry that develops between him and Tracy (Christie Graham) as the show moves along is quite earnest in its sentiment. Graham does not let her smaller physique stand in the way from delivering a vocally big Tracy, particularly when it comes to "Welcome to the 60's." A fleet-footed dancer as well, Graham hops through hoops when it comes to showcasing her moves, especially at the sock hop and during the group finale "You Can't Stop the Beat." Graham and Calhoun bring a winning combination of vocals together for "Without Love" as well.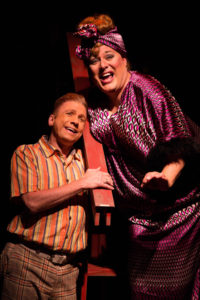 Larger than life and the couple responsible for little Miss Tracy, Wilbur (David James) and Edna Turnblad (Lawrence B. Munsey) bring the show home to anyone familiar with the story and familiar with Baltimore. James' goofy portrayal of the Har-de-Har Hut owning father figure is congenial and delivered with a kind heart. A fully supportive supporting character, James takes every opportunity to back both Tracy and Edna with little nuances that showcase the strong familial ties among the Turnblads. The convivial nature of Edna and Wilbur's marriage is too precious for words, especially once "You're Timeless to Me" comes up. This number not only showcases James and Munsey's singing abilities, but lets the pair radiate the nurturing nature of their relationship through song and dance like a comfortable snug glove that fits the hand to perfection. With James hamming up a few of the moments in this routine that make lovingly acceptable jokes about Edna's pleasantly plump size, and Munsey going to down with the dance moves, they're an unbeatable pair who's blowing the lid off the number with gusto.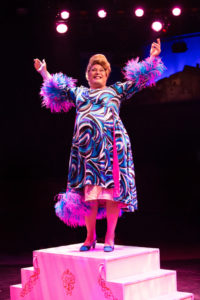 Munsey's Edna is more than just a simple housewife of indeterminate girth. The true epitome of a Baltimore hon, Munsey brings a perfectly balanced delivery of the highly iconic Baltimore accent to the character, knowing exactly which word to emphasize and knowing exactly when to pull back so as not to overdo it. Fierce, ferocious, and full of fabulousness that cannot be compared for sheer magnitude alone, Munsey's Edna owns the production and is a shining example of the show's overall message, that big is beautiful. From the diva-cat moments where Munsey rips off Edna's earrings ready to claw Velma to pieces in the record shop, to the beautifully vulnerable moments, like her confession to Wilbur just before "You're Timeless to Me," and everything in-between (watch carefully for every nuanced moment in "Welcome to the 60's"), Munsey is wearing the crown of Miss Hairspray in this production. A powerful voice which belts out in "Big Dollhouse" and "You Can't Stop the Beat" proves Munsey is a triple threat on the stage in this role.
So the time is now to see Hairspray at Toby's Dinner Theatre because the world keeps spinning round and round and this sensational production is keeping time to the speed of sound! Don't be lost, hear the drums (and everything else in the pit as well as all the phenomenal voices) and find your way to Columbia as soon as you can this summer!
Hairspray plays through September 4, 2016 at Toby's the Dinner Theatre of Columbia— 5900 Symphony Woods Road in Columbia, MD. For tickets please call (301) 596-6161 or purchase them online
To read Part 1 of the You Can't Stop the Beat interview series featuring Coby Kay Callahan and Darren McDonnell, click here.
To read Part 2 of You Can't Stop the Beat interview series featuring Samantha McEwen Deininger and Renata Hammond, click here.