The most tender thing in the world is the love of a parent for a child.
The most mortifying thing in the world is a parent loving a teenager.
Another Way Home, by Anna Ziegler, explores this complex, combative time in everybody's life from the point of view of the parents. Phillip and Lillian (Rick Foucheux and Naomi Jacobson) have come from Manhattan to Maine to visit their son Joseph (Chris Stinson). Foucheux and Jacobson are electrifying together. From the moment the lights come up, you can feel both their love and their tension. Their performances are skilled and assured, simultaneously natural and expertly drawn, beautifully downplayed and also hilarious. They stand near, but not together; they are comfortable but not close. They run over each other's' words like… like a couple who have been married long enough to have a moody teenager.
And moody Joseph is (or Joey, as he insists, and which his mother steadfastly refuses to call him). As the play unfolds, we find that he's feeling suffocated by his parents' love. He's been shuffled from diagnosis to diagnosis, and the more attention his parents pay, the more withdrawn he has become, both from them and from his peers. He's been sent away to camp, as a counselor in training, and his mother's constant stream of letters still suffocates him. Jacobson's performance, as Joseph's mother, shifts effortlessly between the increasing contention with both her son and her husband, and reading her cheerful, chipper, homey letters to camp.
Joey has begun to open up to his fellow counselor at Camp Kickapoo, Mike (Thony Mena). Mena's performance is wonderfully compassionate, baffled by the surly, obstinate Joey who is utterly unlike the friend he's come to know. He tries to mediate between the parents and the son, and is shocked by the ferocity of their relationship.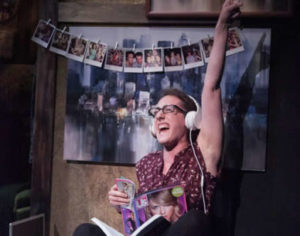 The family dynamic is completed by their daughter Nora (Shayna Blass). Nora has remained back in New York, represented by her own small corner of the stage. Although she never gets to share the physical space with her parents and brother, the family connection is potent. You can hear conversations that have clearly been going on for years, picked up right where they left off. Blass is self-assured and fearless, whether singing Taylor Swift with her ukulele or having heartfelt email conversations with her brother. A three-way cell phone conversation with her parents is utterly arresting, three tremendously skilled actors working seamlessly together. 
Anna Ziegler's script threads its way between comedy and drama, shifting points of view to reveal the interior of each character. The set, by Paige Hathaway, beautifully manifests this inside-out nature, mixing interior and exterior elements: the bed lies at the edge of the meadow; the wooden Camp Kickapoo gate stands in front of the inside wall of a lodge festooned with landscape paintings. The space has its own logic, and Shirley Serotsky's direction elegantly manages the shifts of perspective, space, and time. She's aided by the lighting design of Harold F. Burgess II, who uses several different looks to complement the current point of view, and by sound designer Matthew Nielson, who subtly fills in the background with details that highlight the present.
Ziegler's script can be a bit obvious in places. Joey's moody teenager is mostly just "moody teenager"; some background details are revealed but unfortunately all taciturn teens are going to sound a lot alike. But the script is tight and brisk, with a deft comic hand and managing the gradual buildup of tensions well. Remarkably, the play is often at its best in its smaller moments, creating genuine moments of connection.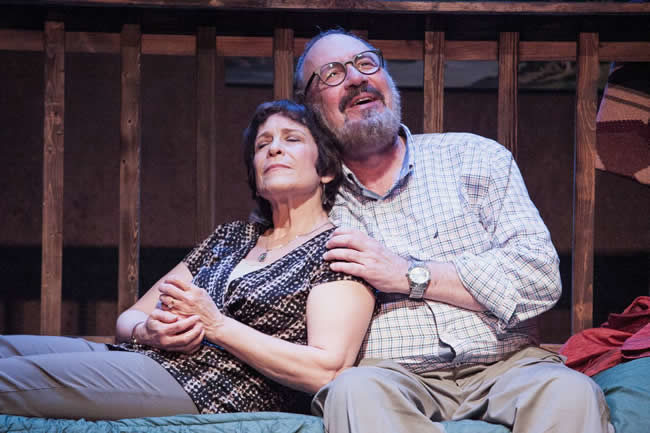 Another Way Home offers an impressive emotional range, both hilarious and poignant. Foucheux and Jacobson give standout performances, on stage for 80 straight minutes of laughter and rage, tightly connected even when yelling at each other.  The story unfolds over one highly stressful night, and if the resolution seems a bit pat, the journey is very much worth the trip.
Running Time: 80 minutes no intermission
Another Way Home plays through July 17, 2016 at Theater J in residence at the Washington DCJCC's Aaron & Cecile Goldman Theater— 1529 16th Street NW in Washington, DC. For tickets call the box office at (800) 494-8497 or purchase them online.