525,600 minutes— that's how you measure a last year on earth. And Annapolis Summer Garden Theatre is measuring the second slot of their 50th Anniversary season with their production of Rent, which is currently celebrating its 20th Anniversary of debuting on Broadway. Directed by Andy Scott, with Musical Direction Paige Austin Rammelkamp, this moving and evocative musical about real life in New York City circa the early 90's is more relevant now than ever in a world that cannot seem to realize there is no day but today. With a touching tribute to the horrific Pulse Massacre, ASGT and the cast & crew of Rent puts their colors of support proudly on display in a beautiful rainbow mural— tagged in true 90's graffiti fashion— across the back underhand of the theatre space; each name and age of the victims who tragically lost their lives in the shooting is prominently featured in a rainbow of color, hope, and optimism that the world can and will know a better, brighter tomorrow.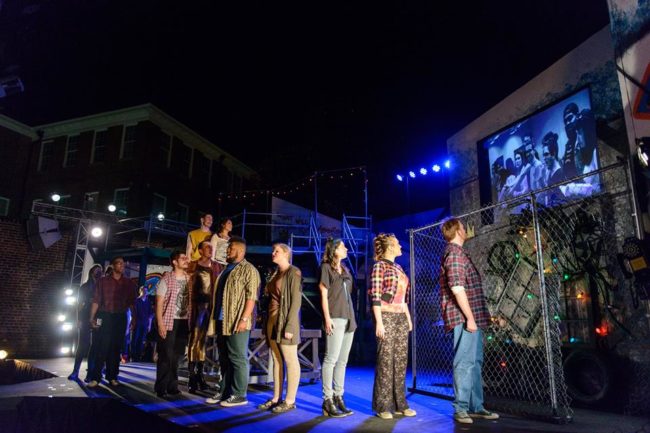 Taking a leap of faith back some 20 years, Scenic Artist Jeff Huntington and Set Designer James Raymond capture the essence of the grungy and gritty beacon that is Alphabet City inside the hub of NYC. The grody looking street scene is perfect for the handful of outdoor moments that occur within Rent and doubles up nicely for scenes that are meant to take place indoors. Enhancing the show's aesthetic is Costume Designer Kristina Marie Martin who appropriately dials back the time on the company's togs, keeping everyone in synch with the period.
Video Designer Babs Weiss deserves a nod of praise for her noble try when it comes to wrangling AV technology. When the live-feed video works (at this performance about 75% of the time) the gritty blipping film capture of what's happening on stage looks exactly as one would expect from an early 90's hand-cranked video camera. There is something about the authenticity of seeing the movie happening in real-time, as one of the show's hit lines questions "How do you document real life when real life's getting more like fiction each day?" Weiss' video footage of the Rent rehearsal process is a touching tribute to the cast and crew when its viewed as Mark's "edited film" near the end of the production.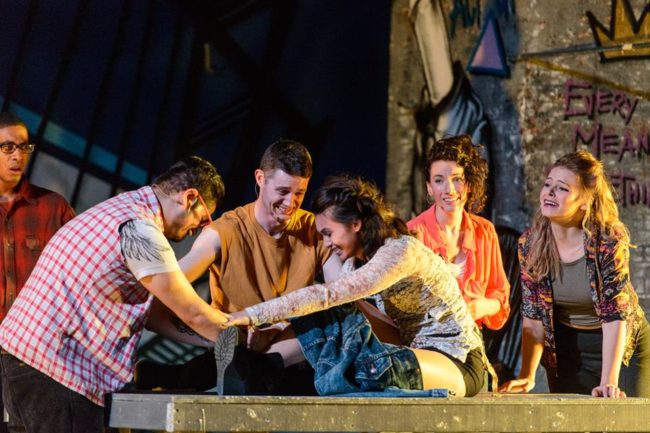 Director Andy Scott makes a few questionable choices throughout the production, but on the whole balances them with sound ones. The disproportionate use of Choreographer Casey Lynne Garner's dance routines falls into the former category especially during numbers like "Santa Fe." This routine in particular feels entirely unnecessary, especially as Garner and Scott use the disgruntled homeless from just moments prior to create a distracting dance-about, which pulls focus from the beautifully penned lyrics being sung by Collins, Angel, and Mark. The puppeteering of Roger and Mark during "Rent" is another example of this misuse of choreography, where again the excess feels superfluous. To Garner's credit, however, the representational dancing featured during "Contact" is a perfect summation of censorship to downplay the intensity of that number.
Scott's other major directorial mishaps come from casting choices. Nicholas Carter, though vocally sound in most places, feels uneasy in his character portrayal of Angel, and Scott's decision to remove the percussive drumming and showcase Carter's dancing ability (which admittedly is impressive) does not gel with the lyrics of "Today 4 U" or the construct of Angel's character on the whole. Scott's decision to use Tim German as Mark Cohen also doesn't fit the overall vibe of the production as he struggles vocally throughout the performance and portrays Mark with a campy sense of flamboyancy that detracts from the character's "outside observer" attitude.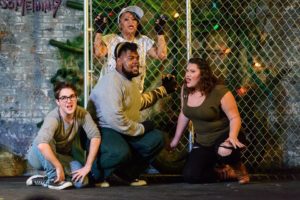 The ensemble is strong, ferocious and bold of voice for all of the group numbers. This is particularly true of "Will I?", a song that is loaded with deep emotional sincerity, and "Seasons of Love", which features Kylie Airin Sjolie and Gabe Taylor as powerhouse vocalists. Sjolie owns the beats of a belt with full heart and soul in her moment in the limelight during this song while Taylor makes his presence (and vocal prowess) felt here as well as on two distinctive character tracks earlier in the show. Appearing as "Mr. Honest Living" and the high-strung waiter at the Live Café, Taylor becomes a show-stealing talent that is well worthy of praise.
Despite the ill at ease portrayal Nicholas Carter gives as Angel, though he does seem to find his footing a bit better in the second act than he does in the first, his voice blends resplendently with Christian Gonzalez, playing Tom Collins, for duets like "Sante Fe" and "I'll Cover You." The chemistry is present right from their initial encounter, which is a strong point worth noting in their combined performances. Gonzalez hits his vocal mark during "I'll Cover Your (Reprise)" and fills the intense lyrical moment with earnest and raw vulnerable emotions.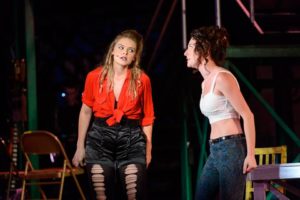 Heard about before being seen or heard, Maureen Johnson (Loghan Bazan) is a roll of thunder and a shock of light from the moment she cries, "Joanne, which way to the stage?" Blending bizarrely beautiful operatic sounds with a spirited voice that could rival the role's originator, Bazan makes her mark with "Over the Moon" and even succeeds in coercing the audience to 'moo' with her. Belting out with vocal sincerity for "Take Me or Leave Me", a duet shared with Joanne (Andy Greenwald), Bazan finds an attitude that matches the up-tempo number, both fierce and fantastic.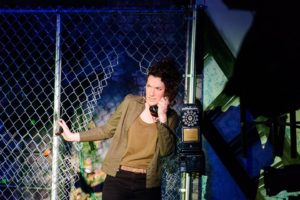 Greenwald, who is equally impressive vocally, holds her own in the aforementioned duet, and although the character of Joanne only has one brief solo, "We're Okay", it is more than obvious and consistently proved throughout that Greenwald has a firm handle on both her singing ability and character delivery. Greenwald carries the duet "Tango: Maureen", a song shared with Mark, and really lets loose vocally, allowing her panic and dawning realization of her relationship with Maureen to filter fully into the song's lyrics.
Mimi Marquez (Athena Blackwood) clad in more than just bubble wrap is a show-stopper with her seductively tempting arrival on Roger (David Colton)'s doorstep. Blackwood delivers sensational versatility as Mimi, shifting quickly from the tempting tease in "Light My Candle" to the brash and brassy lady of the night in "Out Tonight." Both numbers share a streak of sexuality a mile wide but Blackwood manages to strongly differentiate making them as different as they are similar and deliciously entertaining any way you look at it. Not without devastating heart, she drives unabashed and unapologetic nerve into "Another Day", which is abutted against Colton's taciturn lyrics in this duet.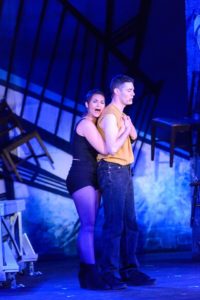 The chemistry that Colton and Blackwood share is as volatile as their relationship, racing up and down like an unpredictable fever. "I Should Tell You" and "Without You" are two of their more somber duets (though the latter has Director Andy Scott refocusing the song, almost transfixing on Mimi's addiction and what it would mean to exist without it, rather than what's happening to Angel and Collins or even to Roger and Mimi), which showcases both of their vocal ability and emotional depths. The way their voices blend in perfect harmonies during all of their shared songs is astonishing and creates a solid vocal foundation for the performance as a whole.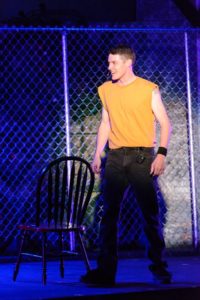 David Colton is the epitome of Roger. Moody, detached, and bound by his feelings, Colton delivers with exacting emotional precision the profound sentiment of Roger's character arc. With a mesmerizing stage presence that draws the audience into every moment that he experiences as Roger, Colton masterfully takes command of the show and makes it his story. "One Song Glory" is emotionally rooted in heady sensations that are blasted through his powerful vocal ability and "Your Eyes" takes on a similar verve though with very different feelings charging the number. Seizing each moment as a new opportunity to exist within the character's skin, Colton defines the musical as stunning, evocative, and galvanizing, making everyone want to stand up for his story.
A mostly remarkable piece of theatre, which in this day and age still holds a tremendous amount of poignancy and relevancy, Rent is not to be missed this summer season.
Running Time: Approximately 2 hours and 40 minutes with one intermission
Rent plays through July 23, 2016 at Annapolis Summer Garden Theatre— 143 Compromise Street in Historic Annapolis, MD. For tickets call the box office at (410) 268-9212 or purchase them online.