You can't stop an avalanche as it races down a hill! And this summer, Toby's Dinner Theatre of Columbia is racing down the hill of amazing theatrical experiences as they bring the heart of Baltimore to their stage with Hairspray.  In the TheatreBloom exclusive interview series, "You Can't Stop the Beat: Meet the Nicest Kids in Town" we'll be chatting over the course of the production's run with everyone from the character man and woman right up to Miss Hairspray herself, Tracy Turnblad, to find out just why you can't stop the beat this summer! In the first installment we meet the Character Tracks, played by Toby's veterans Darren McDonnell and Coby Kay Callahan.
Welcome aboard! Thanks for taking a minute to sit down with us, could you give us a quick introduction, tell us who you're playing in the show and brief us on what you've been up to as of late?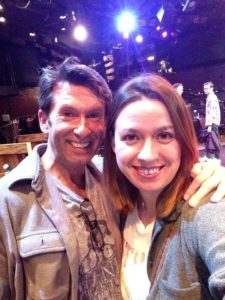 Darren McDonnell: I'm Darren McDonnell. I did Something's Afoot at Vagabond Players. I've also done South Pacific, 1776, It's a Wonderful Life, and Peter Pan. Wait— did you want in order? Because that's 1776, and then I understudied— well, I was the swing for Into the Woods and went in a lot— then Something's Afoot, Wonderful Life, South Pacific, and now we're doing Peter Pan. And now I'm rehearsing for Hairspray as the Character Man. And that includes Mr. Spritzer, Mr. Pinky, the jail guard, and the bum. I'm the bar-room stool bum from the opening number.  
Coby Kay Callahan: Hi. I'm Coby Kay Callahan. In the last year I was Emma Goldman in Ragtime, that was wonderful and I loved it. I was in It's a Wonderful Life in the ensemble. I'm currently swinging Peter Pan and I've had 14 ins so far. I'm also rehearsing for Hairspray as the Character Woman, which includes Prudy Pingleton, as well as the gym teacher, the matron of the jail, and I also play a school chaperone at the dance, and a police officer at one point. And I'm one of Pinky's employees.
Darren: Do you really? I didn't know you were one of my employees.
Coby: Yes I do!
Is this the first time you've both done Hairspray?
Darren: Yes.
Coby: Yes.
What is it like coming into a show that you've never done before?
Coby: Fun!
Darren: Yeah. Oh! I completely forgot! For this show, I'm also understudying Edna Turnblad. And I will be going on as Edna for two separate weekends. And I also understudy Corny Collins and I'll be going on as him for a weekend as well!
Coby: I also understudy Velma Von Tussle and do not currently have any scheduled appearances.
Darren: Honestly, when I saw Hairspray on Broadway? I absolutely loved it, but it's not a show that I ever thought I would do.
Coby: Me either.
Darren: But if I did, I always thought I would be Corny Collins. Never in a million years would I have ever said Edna. I think it's going to be hysterical because I will be the skinniest Edna ever.
Coby: I never thought I'd be in it either. And then I realized there was this track of all these crazy people and I said, "Oh yes, that's me!"
Darren: Oh you're so Prudy Pingleton. And you make that jail matron and that gym teacher absolutely hysterical. She's funny down. Funny down!
Coby: He's also very funny.
You mentioned that you'll be the skinniest Edna—
Darren: Well they're padding me.
Ah, okay. That's a good segue, even though Hairspray is a great fun musical, it does address some rather relevant issues for the time— including body image. Do you think that people are still being defined by their body image today the way Tracy was targeted for being the "fat girl" when she auditioned for The Corny Collins Show?
Darren: In our daily lives? Oh god, yes.
Coby: I think it's actually pushed in our faces even more now than it was then.
Darren: Look at television, look at magazines. Look at the way people are obsessed with fitness in the media.
Coby: And on social media, all the selfies—
Darren: It's crazy!
Do you believe it impacts the line of work that you guys do?
Darren: Oh! Without question! Yes! People are cast because of what they look like a lot!
Coby: For sure.
Darren: I think that makes it harder to get cast sometimes!
Coby: But it makes it easier to know what you're right for.
Darren: Correct.
Hairspray also addresses civil rights inequality; do you think those issues that surface in the show still hold topical relevance today?
Darren: I don't think it's as prevalent today. There are still problems, definitely. But they are different problems. Take the riots in Baltimore, for example.
Coby: That's what comes to mind immediately for me.
Darren: Very different in the way things are handled, at least from how they're handled in Hairspray.
Coby: And it's very difficult to make a statement on something that is such a sensitive subject. But yes, definitely and unfortunately still prevalent in our society. Hopefully one day it won't be.
This is a very dance heavy musical.
Darren: Coby wants to dance.
Coby: I'm actually very well known as a dancer now here at Toby's. Ha! No, that's just what I tell everyone.
Darren: I'm 53. I don't ever want to dance. Well, that's not true. But she's over here pushing us to dance in the finale and I'm like "no!"
Coby: I want to be in every dance number, even if it takes me a month to learn each one. Our tracks are so similar, Darren and mine's, that if I end up dancing, he gets roped into it.
Darren: I just found out that I have arthritis in my hip.
Coby: Oh, Darren! Are you okay?
Darren: Yes. Well, no, I went to the ortho…but dancing…yeah…
Coby: Listen, just the other day we were working through the curtain call and I tried to add a little leap for us. And I asked him if that was too much for him, and it was not.
Darren: Yeah, I guess the leap was fine.
Coby: It's a happy show! Why would we not leap when we bow?
Darren: Okay! We'll leap.
Darren, you mentioned you were understudying Edna, and Coby you're understudying for Velma. Is there much more dancing involved for Velma and Edna than there is on your character tracks?
Coby: Yes!
Darren: Well, I would say it's broadly musical theatre dancing, but yes.
Coby: I definitely have a lot of numbers to learn as Velma that I'm not currently in. It's the ensemble that really dances, but Velma's actually in some of that, so yeah there is definitely more dancing to be had there.
What is the most challenging thing about taking on this many roles?
Darren: I've not really done the multiple role thing before. Maybe one or two at a time, but not like this.
Coby: My track sheet is already done, it's something that I do for myself at rehearsals.
Darren: You know she's not filming this interview, you don't have to hold your track sheet to the microphone.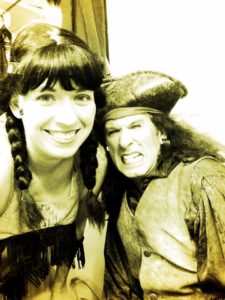 Coby: I'm showing her! She has eyeballs. That may or may not have cameras in them. But seriously, I've already made my double-sided copy of this and I carry it around with me at rehearsal. So that when I'm running around at rehearsal I know where I'm going to, where I'm coming from, and where I'm at.
Darren: Coby is very organized. Her calendar is color-coded.
Coby: My calendar is color-coded. This, is not, however. But the other copy of this that I have is highlighted in yellow. It's fun and prettier and it helps me keep track.
Darren: I think with both of us playing so many different characters we want to make each one of them very different, that's the challenge.
Coby: Yeah, but that's super fun.
How are you going about making your characters different from each other?
Darren: Well…
Coby: Posture and voice…
Darren: Yeah for me it's voice mainly.
Coby: Attitude and costume, for sure, obviously.
Darren: Oh my gosh! I just remembered! I play the principal of Patterson Park High School.
Coby: You said that.
Darren: No, I didn't. So add him to my list. That's what, five? Let's see, Spritzer is going to be the straight-laced guy. No accent, just straight-laced. And the others have accents, of course, because it's Bawlmer, hon. I'm going to be a Baltimoron. I'm just going to call my cousins and have them talk into a tape recorder because they are Baltimore hon. They are Bal-ti-more! Come on, hon. I gotta go warsh and arn the clothes. If I listen to them I should be good.
What's your favorite moment in the show?
Darren: My favorite moment is getting to play as Mr. Pinky. He's short and sweet but he's outlandish and outrageous. I get to wear a pink suit with pink hair. It is fitted.
Coby: Are you wearing a fat suit for that?
Darren: No, Mr. Pinky's not fat. I think everyone thinks that because he runs the Hefty Hideaway that he's heftier but he doesn't have to be.
Coby: I was just suggesting it as a way to make him different since all of your characters are all so slim.
Darren: I don't have time to slip into the fat suit for Mr. Pinky. And look, Larry (Costume Designer Lawrence B. Munsey) will kill you if you say Mr. Pinky is supposed to be fat, he's already fitted me in the suit.
Coby: I don't know how to choose one!
Darren: I know what my favorite moment is to watch her. When she plays the gym teacher. And the matron of the jail. Oh my God, she's hysterical. Her character and the lines do it all! The gym teacher is very butch. Now she could be a little padded. She reminds me of that character from Saturday Night Live from years ago…what was her name?
Coby: Pat?
Darren: Yes!
Coby: Okay that is not my inspiration…
Darren: Can you imagine if your gym teacher came out in a wig and glasses like that?
Coby: Yeah, they'd be like "That's Pat, from SNL? What is Pat doing her?"
Darren: Ha! Most people probably don't even remember who Pat is.
Coby: Well, you'll get to see her costume soon enough, so don't worry.
What does, "you can't stop the beat" mean to you?
Coby: Well, you can't change people's happiness.
Darren: You can't stop this feeling inside of me!
Coby: Right.
Darren: You're not going to stop me and my feeling! Whatever that may be, to each individual. You can't stop me from feeling positive with who I am. This is who I am, take it or leave it, let's go! Hashtag— hooked on Darren.
Coby: Everything he just said. You can't stop the beat also goes against that body image thing that we were speaking on. It doesn't matter what you weigh or how you look, as long as you are happy with you, that's what's important.
Darren: Absolutely.
Does your character have a favorite comfort food and is it different from your favorite comfort food?
Darren: Ooh, which character?
Coby: Oh dear, dear, dear, not all of them, just our favorites, right?
Darren: Yeah, let's do favorites. Mr. Pinky is mine…so let's see…Mr. Pinky likes cotton candy. And Darren McDonnell likes chicken wings.
Coby: The gym teacher probably wants steak on the bone which she then eats with her hands. Ooh, or maybe a meatloaf. And my favorite comfort food is mac-n-cheese, no question.
Darren: Really?
Coby: Yes!
Darren: That's your favorite food?
Coby: Yes, it's my favorite comfort food. I make my own. I'm such a snobby mac-n-cheese person, they cannot be bland and there must be black pepper. You said chicken wings? That's a good one, you like them from Clyde's?
Darren: Now I'm into Hip-Hop Chicken. They're delicious! You get 12 wings, plus French fries and two pieces of bread for $9.53. It's amazing.
What is doing this show teaching you about yourselves?
Darren: To retire.
Coby: Well, he said he was going to be honest.
Darren: I'm kidding. I'm kidding!
Coby: Did you win the lottery yet, hon?
Darren: Ha. It's teaching me— what's it teaching you?
Coby: You mean the show itself? Or the job? The job is helping me remain organized in my brain and also reminding me how much I like these character tracks. I certainly do not have to be the star of the show. As long as I have something interesting to do, I love that. The show is teaching me to let it all go, you know just have fun, live your life, and that being a nice person is more important than being a pretty person.
Darren: The show is teaching me to learn two different characters as an understudy— and that's something I've never done before.
Coby: I mean he's basically learning the entire show. He's got all of his characters in his track—
Darren: Yeah, and then I'm understudying the leading man and one of the big supporting men. And I go on for both of them. I mean you learn those roles when you're an understudy regardless but knowing that I go on for both of them is putting a lot of pressure on making sure that I really get it right. I think it's a self-inflicted stress, a rise-to-the-challenge stress, but I'm accepting it and I'm taking it on and it's really teaching me that I can take it on.
What is it that gives you that "Good Morning, Baltimore!" feel? What gets your morning routine going?
Coby: Puppy!
Darren: Yeah.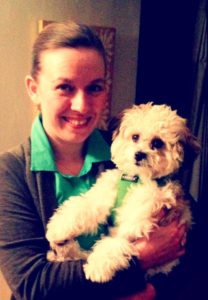 Coby: Also Steve. But puppy for sure! Dharma. She's a Zuchon, so she's half Shih Tzu and half Bichon Frise. She will be a year old on July 21, and she sleeps in the bed with Steve and me and she wakes us up with kisses. Even if it's really early, I can't be mad because she's just so sweet and I love her so much.
Darren: I have to say the same thing.
Coby: We love our dogs.
Darren: Except my dogs are middle-aged.  
Coby: Oh so just like Darren! Are they retiring?
Darren: Hush! Our vet told us they are senior dogs. They're eight. Hudson and Decker, they'll be nine. They're King Charles Cavaliers and they're so cute!
Coby: I'd bring Dharma to the theatre every day if I could.
Why do you want people to come and see Hairspray?
Darren: Because it's fun.
Coby: It's super fun.
Darren: And it's a great cast.
Coby: It's a great thing to do in the summer. Come sit in the air-conditioning and enjoy some food and a fun show. And like Mark (Director and Choreographer Mark Minnick) said at rehearsal, every number can be a show-stopper if we rise to the challenge, and we're rising!  
Darren: It's just such a good fun cast with lots of energy and really great numbers.
Hairspray plays through September 4, 2016 at Toby's the Dinner Theatre of Columbia— 5900 Symphony Woods Road in Columbia, MD. For tickets please call (301) 596-6161 or purchase them online